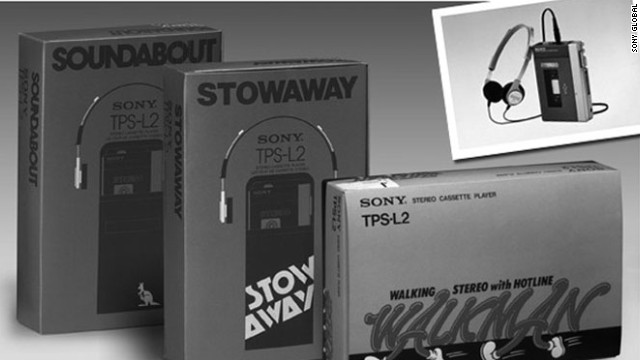 Released in 1979, the TPS-L2 was the first model of Walkman that Sony released. It wasn't the very first portable cassette player designed to let users listen on the go. But the earlier product, called the Stereobelt, was considered too big, ugly and expensive and didn't last long.
"Walkman" is an iconic brand name today. But originally, the Japanese Sony was afraid English-speaking customers would find the name odd and shipped it in the U.S. and other countries as "Soundabout." The company quickly recognized the error and returned to the original name.
Sony was originally unsure how popular its groundbreaking music player would be. Many analysts thought it wouldn't sell because it only played cassettes and couldn't record.
Two years later, in 1981, came the Walkman II. It was smaller than the original and barely bigger than a cassette tape. It sold around 1.5 million units. The Walkman II originally came only in silver, but black and red models were later added.
You know the Walkman was cutting-edge techology if NASA crews were using it. Here, space shuttle Discovery crew Michael L. Coats (pilot, left) and Steven A. Hawley (mission specialist, right) fall asleep listening to music on the lower deck of the shuttle in 1984.
The Walkman was a delicate piece of tech that you could carry around with you, as long as you were careful with it. Then came the "Sports Walkman," the WM-F5, in 1984, with an extra-thick plastic casing that made it water resistant and more durable.
It wasn't all about cassettes. The Discman was released in 1984, just two years after CDs were first mass-produced. With it, Sony helped solidify the compact disc's status as a viable music format. The D-50 (or D-5 in some countries, including the United States) was about the size of four compact disc cases and sold for $350.
In the early '90s, few things were more iconic than "Seinfeld" and the Walkman. Here, Michael Richards as Cosmo Kramer sports a version of the portable cassette player.
If the Fresh Prince sported one, it had to be cool, right? It's hard to be sure, but this may be a WM-EX88 that Will Smith is using. That model featured an all-new design and was built for ease-of-use, as well as having an LCD display of song information and a "skip track" feature.
The Walkman line has lost much of its shine in the iPod era. But like the rest of the tech world, Sony has gone digital with its iconic product. The most recent Walkman mp3 players include last year's NWZ-W273. Smaller than many headphones, the set even lets you wear them in the pool.
35 years of the Walkman
The original
Early doubts
Walkman II
The Walkman ... in space
Walkman Sports
Discman
Walkman in pop culture
More from the '90s
The new generation