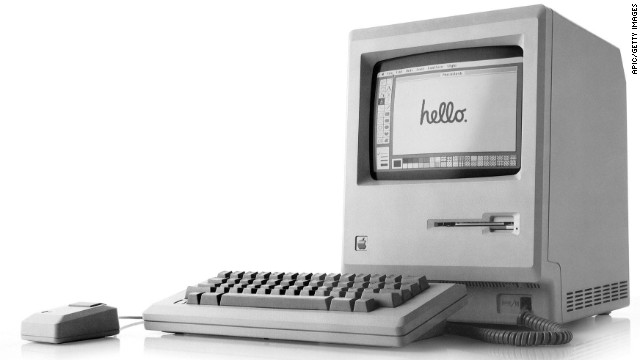 This week marks the 30th anniversary of Apple's Mac desktop computer, which was introduced by Steve Jobs on January 24, 1984. In this gallery, we take a look at some of the many faces of the iconic machine.
Apple co-founder Steve Jobs poses in 1984 with a room full of original Macintoshes. The machine packed 128K of memory -- tiny by today's standards -- and sold for $2,495.
Released September 20, 1989, the Macintosh IIci featured the revamped, compact design of the second wave of Macs. It was one of the most popular Macs ever, continuing to sell until it was discontinued in 1993.
Released in 1993, the Macintosh Color Classic II was an iteration of Apple's first color compact computer. With a look that harked back to the original Macs, the Color Classic shipped with the trademark Apple keyboard and mouse. The II, which packed double the RAM and speed, was released in Japan, Canada and elsewhere, but not the United States.
You can't win 'em all. The Macintosh TV, released in 1993, was Apple's first effort at television-computer integration. It was black, a departure from the usual Mac look, with a 14-inch screen. Only about 10,000 were made, though, before it was discontinued in February 1994.
1994's Power Macintosh 6100 was the first Mac to use the new Power PC processor built by IBM and Motorola. The first computer to run Apple's Mac OS9 operating system, it came in what came to be known as the "pizza box" design.
Sold to mark Apple's 20 years in existence, the Twentieth Anniversary Macintosh sold in 1996 for $7,495. It featured metallic gold-green paint and was one of the first computers to include an LCD display.
The B&W (Blue and White) version followed a more traditional beige Power Mac G3 in 1999. While it shared a name and processor with the previous version, little else was the same.
Steve Jobs introduces the new Power Mac G4 computer in San Francisco in 1999.
Another member of the iMac G3 family, 1999's DV stood for "digital video."
This 2000 computer's boxy design was a throwback to the NeXt device that Steve Jobs worked on during his hiatus from Apple. Designed by Apple's Jony Ive, there's a G4 in New York's Museum of Modern Art.
Jobs introduces the all-new flat-panel iMac computer during his keynote speech at the Macworld Expo in January 2002.
Short for "education Mac," the eMac was originally intended to be marketed to schools, but was later offered in wider release.
PowerMac G5 was Apple's name for its first 64-bit computer, which featured IBM's PowerPC G5 CPU. It was easily Apple's most powerful computer to date.
Jobs opens the Apple Worldwide Developers conference in June 2005 while using a Mac G5 with an Intel processing chip. In the presentation Jobs announces that Apple will be switching from IBM to Intel for its processing chip.
A new Apple Mac Pro desktop computer is displayed at the 2006 Apple Worldwide Developer's Conference in San Francisco.
People check out the new iMac and wireless keyboard after Jobs introduced new versions of the iMac and iLife applications on August 7, 2007.
By the mid-2000s, Macs were increasingly laptops instead of desktops. Here Jobs holds up the new MacBook Air after a keynote speech kicking off the 2008 Macworld conference in San Francisco.
the new Mac Pro
is Apple's high-end workhorse computer for users with intense graphic and video needs. It's a silver and black cylinder that stands 10 inches tall.
Released in December 2013,
Today's Mac has come a long way from its beige, boxy and black-and-white beginnings. Here is Apple's newest iMac, with a 27-inch monitor.
Thirty years of the Macintosh
The original Macintosh
Macintosh IIci
Macintosh Color Classic II
Macintosh TV
Power Macintosh 6100
Twentieth Anniversary Macintosh
Power Macintosh G3
'Flower Power' iMac
Power Mac G4
iMac DV
Power Mac G4 Cube
Flat-panel iMac
eMac
PowerMac G5
Mac G5
Mac Pro
iMac
MacBook Air
Mac Pro
iMac, again
(CNN) -- Here's some background information about Apple, Inc.
Facts: The company declared almost $171 billion in revenue in 2013. It is currently the most valuable company in the world.
It employs approximately 50,000 people in the United States.
Timeline: 1971 - Steve Jobs and Steve Wozniak meet through mutual friend Bill Fernandez.
April 1, 1976 - Apple Computers, Inc. is founded by Jobs and Wozniak with the debut of the Apple I.
January 3, 1977 - Apple is incorporated.
February 1977 - Michael Scott becomes Apple's president.
June 1977 - The Apple II, the first personal computer for a mass market, is released to the public.
1978 - Apple releases the Apple Disk II, an external floppy-disk drive.
May 1980 - The Apple III debuts.
December 1980 - Apple conducts an initial public offering of 4.6 million shares at $22 per share, a valuation of approximately $1.8 billion.
1981 - Mike Markkula becomes president and Steve Jobs becomes chairman.
September 1981 - Apple introduces the ProFile hard disk, a 5MB mass storage system.
July 1982 - Apple introduces the Apple Dot Matrix printer.
January 1983 - Apple introduces the Lisa, a new brand of personal computer.
April 1983 - John Sculley becomes president and CEO of Apple.
May 1983 - Apple joins the Fortune 500.
January 22, 1984 - The Macintosh is introduced to the world during the Super Bowl. It launches two days later.
April 1985 - Apple discontinues the Lisa after a disappointing run.
September 16, 1985 - Steve Jobs leaves Apple.
February 1987 - Steve Wozniak resigns from his role at Apple, but technically remains an employee.
March 1987 - Apple releases the Macintosh II, the first color Mac.
March 1988 - Apple files a lawsuit against Microsoft for copyright infringement.
September 1989 - Apple releases the Macintosh Portable.
November 1990 - Michael Spindler becomes Apple's president.
May 1991 - Apple announces QuickTime, a digital media player.
June 1993 - Michael Spindler becomes CEO while John Sculley becomes Apple chairman.
August 1993 - Apple's suit against Microsoft is dismissed.
October 1993 - John Sculley resigns, and Mike Markkula takes his place.
February 1996 - Gil Amelio becomes the chairman and CEO of Apple.
December 1996 - Apple buys NeXT Software, Steve Jobs' second company.
January 1997 - Steve Jobs comes back to Apple as an adviser.
July 9, 1997 - Gil Amelio resigns.
August 1997 - Microsoft and Apple announce a five-year technology alliance.
September 16, 1997 - Steve Jobs becomes interim CEO.
May 1998 - Apple changes its OS strategy with the introduction of OS X.
August 15, 1998 - The first iMac, an all-in-one version of the Macintosh, ships out.
September 1999 - Apple releases the iBook, a more economical laptop than the PowerBook.
January 2000 - Steve Jobs officially becomes CEO.
2001 - iTunes, Apple's digital media player, is created.
March 24, 2001 - OS X debuts.
October 23, 2001 - The iPod makes its debut.
January 2002 - Apple debuts the flat-panel G4 iMac, marking the end of CRTs for the company.
January 2003 - Apple releases iLife, a suite that includes iPhoto, iMovie, and iTunes, along with Safari, Apple's web browser.
April 28, 2003 - Apple introduces the iTunes Store.
October 2003 - Apple releases iTunes for Windows.
January 2004 - The iPod mini is introduced.
June 2004 - iTunes Store goes international with introductions in France, Germany and the UK.
October 2004 - The iPod gets its first color screen.
January 2005 - Apple introduces the Mac mini and the iPod shuffle.
September 2005 - Apple introduces the iPod nano.
January 2006 - Apple rolls out its first Intel-based Macs, the iMac and the MacBook Pro.
January 9, 2007 - The iPhone is unveiled to the world, and the company changes its name to Apple, Inc.
January 2008 - Apple announces the Macbook Air, their thinnest laptop at the time.
January 27, 2010 - The iPad is announced to the world.
June 6, 2011 - Apple announces iCloud, an online media storage system.
August 24, 2011 - Steve Jobs resigns as CEO. Tim Cook takes his place.
October 5, 2011 - Steve Jobs dies.
October 23, 2012 - Apple announces the iPad mini.
February 6, 2013 - iTunes sells its 25 billionth song.
August 9, 2013 - In one of many patent lawsuits between the tech giants, Apple wins two of six patent infringements against Samsung.
March 2014 - Apple sells their 500 millionth iPhone.
May 28, 2014 - Apple announces deal to buy Beats for $3 billion.
June 9, 2014 - Apple conducts a stock split, bringing the price down from $647.50 to $92.50.
September 9, 2014 - Apple unveils several new products: the iPhone 6 and iPhone 6 Plus, a mobile payment service, called ApplePay, and the AppleWatch, a wearable computer/watch.
December 16, 2014 - Apple wins an antitrust lawsuit brought by eight million iPod owners who alleged that Apple abused its monopoly power in the music industry to force out competition.