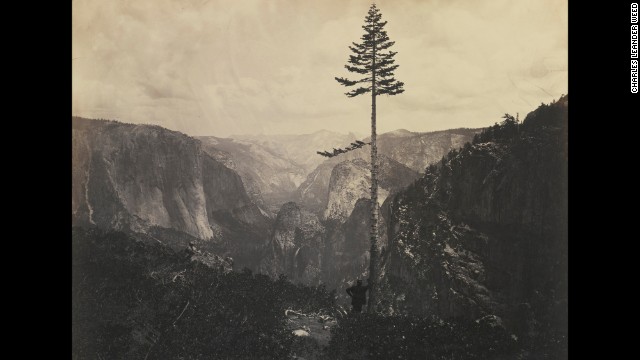 In the midst of the Civil War, President Abraham Lincoln signed the
Yosemite Grant Act
on June 30, 1864, paving the way for the national park system. American photographer Charles Leander Weed captured this view of Yosemite Valley that same year.
President Theodore Roosevelt
, left, and conservationist and Sierra Club founder John Muir stand on Yosemite National Park's Glacier Point in 1903. After camping in the wilderness, Roosevelt wrote: "It was like lying in a great solemn cathedral, far vaster and more beautiful than any built by the hand of man."
Wawona Tree
in the Mariposa Grove, near Yosemite's South Entrance. A tunnel was cut through the tree in 1881 and remained a popular tourist attraction until it was toppled by a snowstorm in 1969.
A horse-drawn cart passes through the
The Hetch Hetchy Reservoir
, now the largest single body of water in the park, still provides water to residents of San Francisco and the Bay Area.
Yosemite National Park guards climb the staircase leading to the outlet valves of the O'Shaughnessy Dam, which was authorized by Congress in 1913 and completed in 1938.
Ahwahnee Hotel
during World War II and used it as a convalescent hospital.
Sailors gather near a tree on the park's Sentinel Dome on July 24, 1944. The Navy took over the
The valley
does have a winter ice rink dating back to the 1930s, and the Badger Pass ski area is home to the state's oldest downhill skiing area.
While the valley doesn't usually have enough snow for skiing during the winter, there's proof it has happened: A skier heads in from the Yosemite Valley on December 13, 1945.
Three young women get ready for work in their three-person tent at Camp Curry in Yosemite National Park, where they were employed for the summer of 1955.
Hikers walk past a rainbow caused by mist from Vernal Falls, circa 1962. There are
Yosemite Firefall
. The nightly summertime spectacle started in the 1870s and was permanently canceled in 1969.
Hot embers are dumped over the edge of Glacier Point, creating what was called the
Rock climbers Dean Caldwell, left, and Warren Harding climb El Capitan, which rises more than 3,000 feet above the Yosemite Valley floor, on November 14, 1970. In 1958, Harding led the first team to climb El Capitan, the largest monolith of granite in the world.
Queen Elizabeth II visits Yosemite National Park while touring the West Coast of the United States in 1983.
Hang gliders take off over Yosemite Valley from Glacier Point, circa 1985.
camping
and
picnicking sites.
(Reservations are strongly recommended for camping.) A family enjoys a picnic with a view of the Upper Yosemite Falls.
For visitors who prefer calmer activities, there are several popular
4 million visitors annually
. With the federal government shutdown in 2013, the park still welcomed 3.7 million visitors last year.
Yosemite regularly attracts
Yosemite became a national park in 1890, nearly 125 years ago. The park will continue the celebrations by marking that anniversary in 2015.
150 years of Yosemite
150 years of Yosemite
150 years of Yosemite
150 years of Yosemite
150 years of Yosemite
150 years of Yosemite
150 years of Yosemite
150 years of Yosemite
150 years of Yosemite
150 years of Yosemite
150 years of Yosemite
150 years of Yosemite
150 years of Yosemite
150 years of Yosemite
150 years of Yosemite