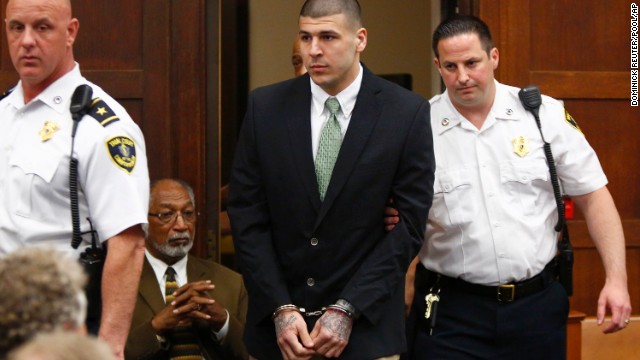 Former New England Patriots tight end Aaron Hernandez is led into the courtroom to be arraigned on homicide charges on Wednesday, May 28, in Boston. Hernandez pleaded not guilty in the 2012 killings of Daniel de Abreu and Safiro Furtado. He has also been charged in the 2013 death of semipro football player Odin Lloyd.
At a press conference on May 15, Suffolk County District Attorney Dan Conley announces that Hernandez has been indicted for the July 2012 killings of de Abreu and Furtado and charged with three counts of armed assault with attempt to murder. Prosecutors allege Hernandez killed de Abreu and Furtado after de Abreu bumped into Hernandez at a nightclub, causing him to spill his drink.
Hernandez is brought into the Attleboro, Massachusetts, District Court for his arraignment on June 26, 2013. He was charged with first-degree murder in Lloyd's death. Hernandez was release by the Patriots less than two hours after his arrest.
Hernandez answers questions during Media Day on January 31, 2012, before Super Bowl XLVI against the New York Giants in Indianapolis.
Hernandez carries the ball as the Patriots play the Cincinnati Bengals in Foxborough, Massachusetts, on September 10, 2010.
Hernandez looks up after being tackled during a game against the Philadelphia Eagles on November 27, 2011, in Philadelphia.
Tattoos on Hernandez's arm are visible during the pregame warmup on December 4, 2011.
Hernandez scores a touchdown against the Buffalo Bills on January 1, 2012, in Foxborough, Massachusetts.
Hernandez catches a pass against Chase Blackburn and Aaron Ross of the New York Giants during Super Bowl XLVI on February 5, 2012, in Indianapolis.
Hernandez runs for a 12-yard touchdown past Deon Grant of the New York Giants in the third quarter of Super Bowl XLVI on February 5, 2012, in Indianapolis.
Hernandez celebrates his touchdown in the third quarter of Super Bowl XLVI.
Hernandez, center, reacts during the SEC Championship game between the Florida Gators and the Alabama Crimson Tide on December 6, 2008. The Gators went on to win the national title.
Rise and fall of Aaron Hernandez
Rise and fall of Aaron Hernandez
Rise and fall of Aaron Hernandez
Rise and fall of Aaron Hernandez
Rise and fall of Aaron Hernandez
Rise and fall of Aaron Hernandez
Rise and fall of Aaron Hernandez
Rise and fall of Aaron Hernandez
Rise and fall of Aaron Hernandez
Rise and fall of Aaron Hernandez
Rise and fall of Aaron Hernandez
Rise and fall of Aaron Hernandez
STORY HIGHLIGHTS
Aaron Hernandez has been charged with three killings
He has pleaded not guilty
The weapon used in the death of Odin Lloyd has not been found
Editor's note: Watch Susan Candiotti's documentary "Downward Spiral: Inside the Case against Aaron Hernandez" Monday at 9 p.m. and midnight ET.
(CNN) -- If prosecutors plan to argue former New England Patriot Aaron Hernandez was the one who fired seven rounds into Odin Lloyd, they won't be able to show the alleged murder weapon to make their case.
That's because the .45 caliber gun used to kill Lloyd has never been found.
"That's a hurdle," attorney and sports analyst Michael McCann told CNN.
Prosecutors have charged Hernandez, Ernest Wallace and Carlos Ortiz with first-degree murder, however, more than a year since the June 17, 2013, homicide, prosecutors have yet to definitively say who was the alleged trigger man.
All three men have pleaded not guilty.
Despite extensive searches of Hernandez's home, his apartment, his cars, an uncle's home, the crime scene, woods, dumpsters, and a lake in Hernandez's hometown of Bristol, Connecticut, what happened to the alleged murder weapon remains a mystery.
Inside the case against Aaron Hernandez
"To be sure, someone can be convicted without a murder weapon," McCann said. "We know that. But it's harder."
Authorities said in court that they recovered five rounds from Lloyd's body. An autopsy revealed two more rounds went through his body. Those rounds were later dug up from the soil in the industrial park where Lloyd was shot. A shell casing was also found in the rental car that prosecutors say Hernandez drove to the crime scene.
All the rounds are .45 caliber, according to authorities.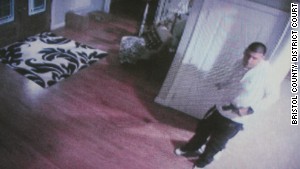 Prosecutors believe surveillance video shows Aaron Hernandez with what they think is the murder weapon.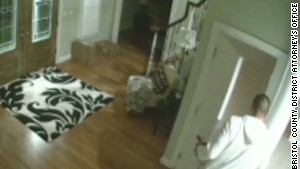 See Hernandez on night of Lloyd's death
Surveillance video from Hernandez's home security system shows the former NFL player arriving back at his house with two other people, according to the district attorney. Prosecutors believe the gun seen in Hernandez's left hand is the alleged murder weapon, according to a source with knowledge of the investigation.
"He's last seen with the firearm before he goes down to the basement door," Bristol County District Attorney William McCauley told a judge at a June 16 hearing.
Two witnesses have testified before a grand jury that Hernandez kept a .45 gun in a black metal box in his basement, McCauley told the court.
The day after Lloyd's body was found, Hernandez sent a mysterious "coded" text message to his fiancée Shayanna Jenkins and asked her get something out of their basement, according to search warrant affidavits.
"Go back in back of the screen in movie room when u (sic) get home an (sic) there is a box...jus (sic) in case u (sic) were looking for it!!! ... WAS JUST THINKIN bout that lol wink wink love u TTYL....K"
"TTYL" is common shorthand for "talk to you later."
2013: Investigation turns to fiancée
A home surveillance video shows Jenkins leaving the house about an hour later and carrying something "rigid" and "consistent to a lock box or safe" placed inside a garbage bag and covered with children's clothing, according to the documents.
Jenkins later testified before a grand jury. According to prosecutor McCauley, "She said it was a box ... and it was heavy, it was approximately 25 pounds."
On video, Jenkins is allegedly seen returning home without the "rigid" item. Prosecutors said Jenkins testified she got rid of the box.
"It goes into the dumpster," McCauley told a judge. "Later on when she's questioned about that, she can't recall where she put that. That item or items were never recovered."
Jenkins has been charged with perjury and has pleaded not guilty. Her attorneys have said they will not comment on her case.

Inside the case against Aaron Hernandez
In pre-trial hearings, Hernandez's lawyers have argued prosecutors have no evidence as to what was in the box.
"I mean, who knows?" co-counsel James Sultan told the court. "It could be drugs, it could be something that was connected to this crime that he knew about, that he was covering up for somebody else after the fact. There are all kinds of possibilities ... But that's not probable cause that he committed murder."
Authorities did seize other guns from the former tight end's home and apartment, as well as .45 caliber ammunition. Hernandez also has pleaded not guilty to five other weapons-related charges.
Unlike the missing weapon in the Lloyd case, police have found a .38 caliber gun they accuse Hernandez of using to kill Safiro Furtado and Daniel Abreu in Boston in July 2012. Police have not established a connection between the gun and Hernandez.
Hernandez is charged as the sole shooter in that case and has pleaded not guilty.
Can prosecutors persuade a jury in the Lloyd case that they don't need to see the weapon involved?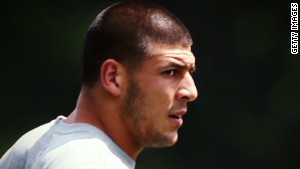 What jail is like for Aaron Hernandez
"Given the large number of TV shows devoted to crime ... jurors are always receptive to the popular defense argument that 'missing evidence' creates reasonable doubt in prosecutor's case," said CNN analyst and former New York prosecutor Paul Callan.
Yet, Callan added, authorities can argue there was plenty of time to ditch the weapon.
"After all we still haven't found Jimmy Hoffa, so explaining away a missing gun is not particularly difficult if other evidence is compelling and persuasive," he said.
Michelle Rozsa and Laura Dolan contributed to this report.