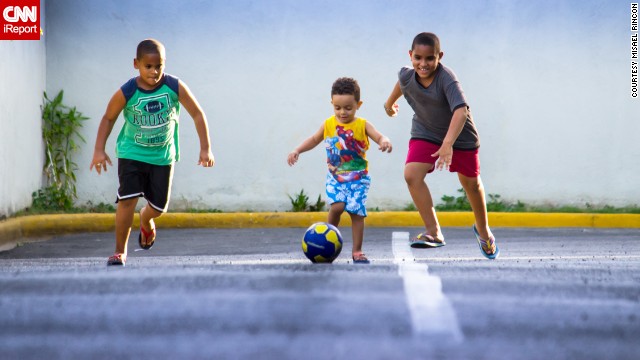 Whether you call it soccer or football, this game is beloved around the world. In the Dominican Republic, Misael Rincon's kids and their cousin "have
World Cup fever
!" Here, they race for the ball outside Rincon's Santo Domingo home. "My kids love the baseball but for a few days here [they] have replaced the bat and glove for a football," he said. Click through the gallery to see more joyful photos that illustrate the world's love affair with soccer.
Score! Cristian Catanescu's 9-year-old son celebrates after
getting a goal
on his family's terrace in Singapore. "Football brings joy to this boy! He changed places and continents several times and his best way to connect to local people is through football," said Catanescu.
quick game of pick-up soccer
. Photographer Reynaldo Leal captured the game while documenting the conflict in Syria in 2013.
A group of Free Syrian Army fighters in Aleppo, Syria, takes a break for a
This match took place in the courtyard of an abandoned elementary school in Syria, said Leal. "Everything had been so serious on the front lines that day, so I was surprised to find the fighters playing a pick-up game of football," he said.
flies into the net
during a youth training session in Singapore. "Parents hide in the shade while kids run around for hours. Hard to understand how can they take so much sun. They must be crazy about football," said Catanescu.
A ball
battle for the ball
in a Westchester County, New York, soccer league.
You can see the intensity and determination on these women's faces as they
fight for the ball
in Cebu, Philippines, says Clarson Fruelda. They're playing in an annual local soccer tournament with divisions for all ages.
These kids "have their game faces on" as they
"Imagine you drive to the middle of nowhere to deliver soccer balls to kids who never had one," said Ron Eisen. "After you make the delivery, a woman appears, without shoes, and has mad soccer skills!" Eisen, a volunteer with the charity Ball To All, photographed the woman in Shangani, Zimbabwe, as she demonstrated her prowess. He
made a video
, too.
flies through the air
as he approaches the ball at a tournament in Phuket, Thailand. "William currently plays on a soccer team with teammates from Singapore, England, Japan, Australia, Romania, Canada and India," said his mom, Tracy. "Our mutual passion for soccer has brought this unlikely group together."
William Hyndman
sweeper
in the Phuket tournament.
William digs in as he plays
practices his shot
at a park in Studio City, California.
Get 'em started early! Marie Sager's 4-year-old grandson, Mason Banks,
The world's favorite game
The world's favorite game
The world's favorite game
The world's favorite game
The world's favorite game
The world's favorite game
The world's favorite game
The world's favorite game
The world's favorite game
The world's favorite game
The world's favorite game
The world's favorite game
STORY HIGHLIGHTS
In 2002 Roxanne Jones struggled over whether to put soccer on cover of ESPN magazine
Jones: Fast forward to 2014's World Cup frenzy and it seems U.S. finally gets 'futbol'
Why? American parents like it: It's safer, cheaper, diverse, and a true team sport, she says
Jones: American football won't be soon overcome, but soccer likely to keep growing
Editor's note: Roxanne Jones is a founding editor of ESPN The Magazine and a former vice president at ESPN. She is a national lecturer on sports, entertainment and women's topics and a recipient of the 2010 Woman of the Year award from Women in Sports and Events. She is the co-author of "Say It Loud: An Illustrated History of the Black Athlete," (Random House) and CEO of Push Media Strategies. The opinions expressed in this commentary are solely those of the author.
(CNN) -- The year was 2002, and group of young editors was trying to decide how risky it would be to put the United States soccer team on the June cover of ESPN Magazine.
It was a tough call for a magazine that had gotten off to a spectacular start serving up a strictly meat-and-potatoes diet of NFL, with a side of baseball (Homerun Derby Only, please.) or NBA mixed in.
But seriously, Landon Donovan, Demarcus Beasley, Clint Mathis? They were the backbone of Team USA in 2002 and the guys we wanted on the cover. Sure, they are all household names now -- at least for sports fans -- but back then we wondered: "How many real sports fans even know these guys?"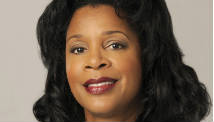 Roxanne Jones
You see, 12 years ago, talking anything but NFL or baseball with diehard sports fans in the U.S. would get you laughed out of the room. Soccer (never futbol) was considered a fringe sport -- a game mostly played and left behind in grade school. And certainly putting a soccer team on the cover of a national sports magazine was bound to flop on the newsstands.
But we went with it anyway, thinking it would be fun to change things up a little bit -- give our readers a surprise.
Oh, how times have changed. Unless you have been locked in a dark closet this week, you know: America is in the grips of futbol fever.
How can we tell? Back in 2002, the Men's World Cup match between the United States and South Korea was seen in an average of 1.36 million television homes -- the most-watched soccer telecast ever on ESPN2 at the time -- based on a 1.62 rating, according to Nielsen Media Research Data.
This year, an average of 18.2 million Americans tuned in to ESPN to watch the World Cup game between the U.S. and Portugal, according to Nielsen numbers released by the network. That game also broke a record for the most-viewed U.S. match on Univision Deportes, with 6.5 million viewers.
And NFL? Step aside: The U.S.-Portugal match posted the kind of numbers typically reserved for "Monday Night Football." Those MNF games averaged 13.6 million viewers last year, according to Nielsen numbers provided by ESPN.
Who's driving this soccer obsession? The younger generations, encouraged by a few 40-something Gen-X parents.
I'm no soccer mom, but given a choice, I'd much rather see my kid pick soccer than just about any other sport. It's safer, cheaper, and more diverse. And it's a true team sport. No one player is bigger than the team. Everyone plays and everyone has a chance to help the team win.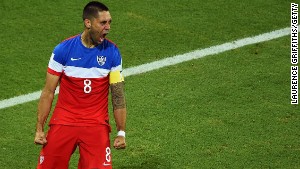 What are the odds Team USA will advance?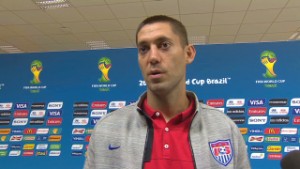 Clint Dempsey: We need to do better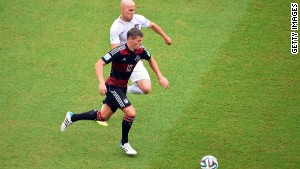 How did the U.S. advance after losing?
But how did this new love affair with the game happen? How did the Sports Nation allow futbol to come onto our turf and take over? They've even stolen our name.
Vince Howley, watching the U.S.-Germany game at a beachside bar in Costa Rica Thursday, thinks he knows:
"Look, 40 years ago when I was growing up, we never even heard of Futbol in Boston. But then my family moved to California. There, all my sons played soccer.
"They were bored with baseball. Kids today want excitement. Baseball was slow. You needed a ton of equipment and a big field. But soccer was exciting. I started coaching and my family loved it. The game became our lives."
But not so fast Uncle Vince. Is soccer really ready to surpass the NFL as America' favorite sport? His younger nephew, Patrick Howley, thinks differently.
Howley, who is a physical education teacher at James Hubert Blake High in Silver Springs, Maryland, agrees soccer has become the go-to sport for most young kids in America. He thinks it's the perfect sport for young people because it teaches the fundamentals of every sport: offense, defense, and spatial movements. But at least for now, football -- not futbol -- remains king.
"American Football will tough to overcome but I do know that soccer will continue to grow," says Howley, who has played and coached club soccer. "All my students love the game and follow it on an international level. It's really neat to see."
This diehard sports fan is sold. I love futbol. It's fast, furious and fun. And it's a game that both boys and girls can excel at and enjoy.
And as I travel the world this summer and walk into the local sports bar to watch the World Cup games, you can be sure that I am the loudest, proudest American in the house.
Go USA!
Read CNNOpinion's new Flipboard magazine
Follow us on Twitter @CNNOpinion.
Join us on Facebook.com/CNNOpinion.