STORY HIGHLIGHTS
NEW: Landmine activists welcome U.S. action, but some say it doesn't go far enough
NEW: Critics want U.S. to reject use of current stockpiles, set date to join anti-landmine treaty
U.S. officials announced they wouldn't acquire any more anti-personnel mines
More than 160 nations have signed the anti-landmine treaty
(CNN) -- The United States will phase out its stockpiles of landmines designed to target people, moving closer to joining a global ban on a weapon that kills more than 15,000 people a year -- most of them civilians.
U.S. officials made the declaration at an anti-mine conference in Maputo, Mozambique, according to a statement issued by National Security Council spokeswoman Caitlin Hayden.
Activists have long pressured the United States to join the international treaty banning the production, stockpiling and use of anti-personnel landmines -- the kind meant to kill or maim when someone steps on them.
Such mines are easily triggered when stepped on, unlike anti-vehicle mines. Those weapons can still kill, but only go off when heavy vehicles pass over them.
Anti-personnel mines, many of them placed during earlier conflicts dating back years, kill more than 15,000 people a year, according to the United Nations. Thousands more are maimed.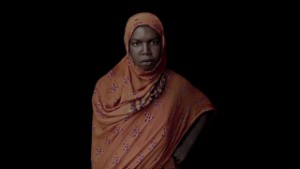 Photographing landmine victims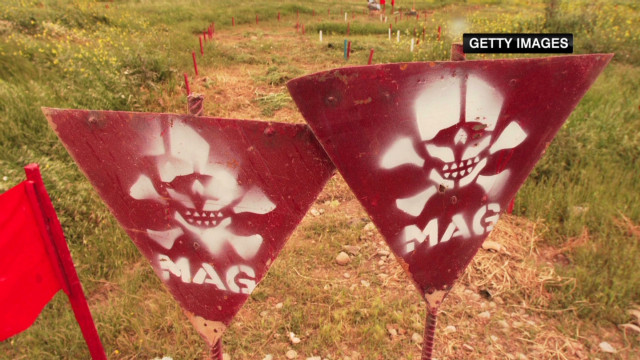 2013: Egypt struggles with landmines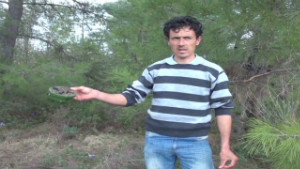 2012: Syrian man helps clear landmines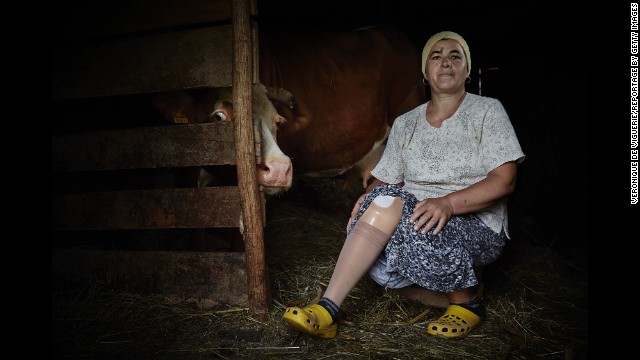 Zilka Durmisevic was injured by a land mine in 1999 while she was cleaning her parents' house in the Bosnian village of Kamenica. Her leg had to be amputated below the knee. Land mines remain a threat in many areas around the world that were once war zones.
Photojournalist Veronique de Viguerie recently documented the effects of land mines in Bosnia-Herzegovina. She was one of five photographers commissioned by the International Committee of the Red Cross in partnership with Getty Images.
Land mine victims take part in a sitting volley ball match at the Doboj Gym Hall in Zenica, Bosnia.
A deminer from Norwegian People's Aid, a humanitarian organization, uses a dog to locate mines in Grebnice, Bosnia.
Edin Osmanbegovic had both his legs amputated in 1992 after he stepped on a land mine in Bosnia. He now teaches economics at the University of Tuzla. "Any effort you make will be rewarded," he said. "Anything you learn in life will be enriching. Never give up."
Veterans from both sides of the Bosnian War can be found at the Doboj Gym Hall in Zenica. The team sports are seen as an important part of the reconciliation process.
Photographer Brent Stirton was sent to cover the situation in Mozambique, one of the most heavily land mine-ridden countries in the world. The APOPO demining company has used African pouched rats to detect land mines in the country since 2003.
The HALO Trust demining camp is seen in the Chinsunga mountains in Mozambique's Tete province. The organization has cleared more than 22,700 anti-personnel mines and reclaimed more than 500,000 square meters of land for the local population. Mozambique is pushing to be land mine-free by the end of 2014.
Requina Jimu lost her leg in 1987 to a land mine laid by Rhodesian forces at the Mozambique-Zimbabwe border in the 1970s. Her husband was killed by a land mine a year later. "Everything changed when I lost my leg," she said. "Now I am a beggar."
Matteo Muxambo lost his foot in 1995. He was walking along a trail near the Mozambique-Zimbabwe border when he stepped off the path to allow a woman to pass. He was blown back by an anti-personnel mine, which took off his foot and severely injured the passing woman.
Former Mozambique Liberation Front soldiers are seen at their squatter housing in an abandoned building. Most of them are disabled as a result of land mine blasts. They receive a small pension every month from the government.
Sebastian Liste, a Spanish photographer based in Brazil, says he was impressed by the resilience of the land mine victims he met in Nicaragua. Juan Ramón López started his own gold mining business after losing both his legs.
Carlos José García Agurto was injured in 1985 by an anti-personnel mine near the Honduras-Nicaragua border. After the accident, he went to law school and now works as a lawyer.
Shelves hold prosthetics at the Aldo Chavarria Hospital in Managua, Nicaragua.
José Luís López Casas lost his left leg to a land mine near the Nicaragua-Honduras border in 1987. Now he works as an industrial mechanic.
Milton Ivan Olivar Gómez was injured in 1984 by an anti-personnel mine in the Rio Pire near Condega, Nicaragua. He lost both his hands and had damage to his eyes and ears. Since the accident, he has studied and worked in a printing office and as a radio journalist.
A technician works in the rehabilitation center at the Aldo Chavarria Hospital in Managua.
A deminer from Iraqi Kurdistan Mine Action Agency practices next to a mine field in the Iraqi village of Mawilian. The mines were placed by the Iraqi Army during the Iraq-Iran war in the 1980s. Marco di Lauro, who photographed the Iraq War in 2003, returned in 2014 to document the country's struggles with landmines.
Bassim Miftin was working as a shepherd in 2004 when he stepped on a land mine in the Iraqi village of Zorbatya. He lost his left leg above the knee and injured his right foot.
Prosthetic feet are stored at the ICRC's physical rehabilitation center in Najaf, Iraq.
A technician manufactures prosthetics at the rehabilitation center in Najaf.
Auob Omar Hammadamin lost his right hand during the Iraq-Iran war in 1981. He was 11 and playing with his friends in the street when a land mine exploded, killing a young girl.
Sajad Faleh, 12, waits for his assessment at the rehabilitation center in Najaf. He lost both his legs to a land mine in 2006. He also lost two of his brothers in the blast.
One of the land mine victims photographer Paula Bronstein met in Laos was a 10-year-old named Aiyaok. He is seen here playing soccer with other children in the village of Tamluang.
Aiyaok lost his leg in 2012. Families were gathered around a fire to keep warm when a bomb buried underground exploded, killing four people.
Another victim in Laos lost his hand and was blinded by a land mine he found while farming more than three decades ago. He picked it up, and it went off.
Three mothers hold framed portraits of their sons on the same dirt road in Laos where they were killed in January. The children found a cluster bomb and started playing with it like it was a toy.
A member of the UXO Lao clearance team gets ready to detonate munitions found after a day of work in the Lateuang village. The government-run organization has been clearing land mines in Laos since 1996.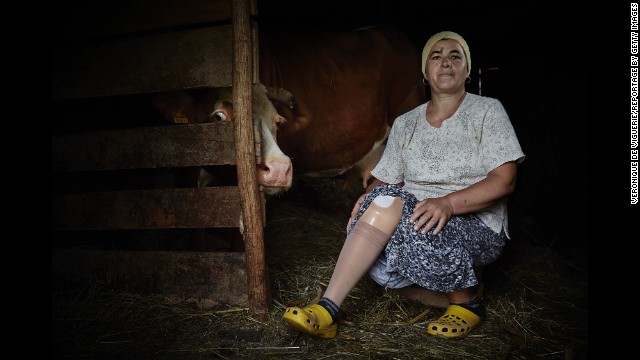 Photos: Hidden terrors
As of last year, 161 nations were parties to the treaty, commonly known as the Ottawa Convention, but major powers including the United States, China and Russia are not, according to the Arms Control Association.
In a statement, Hayden said, "Our delegation in Maputo made clear that we are diligently pursuing solutions that would be compliant with and ultimately allow the United States to accede to the Ottawa Convention."
She said other aspects of U.S. landmine policy remain under review.
The White House later issued a statement saying "the United States shares the humanitarian goals of the Ottawa Convention."
Activists welcomed the U.S. statement.
"The message to the international community is clear -- the Mine Ban Treaty is the only solution to eliminate the suffering caused by landmines," said the head of the International Campaign to Ban Landmines delegation to the Maputo conference.
But some criticized the United States for failing to commit to a ban on the use of its current stockpiles of mines, and chastised the Obama administration for failing to set a date to join the treaty.
"By not setting a firm date to complete this task, the U.S. runs the risk of allowing its landmine policy review to drift beyond President Obama's term in office as president," said Elizabeth MacNairn, executive director of Handicap International U.S.
More than 100 million mines are believed to be in stockpiles around the world, with millions already in the ground in 59 countries, according to the Arms Control Association.
In 1997, the Clinton administration made a goal of joining the treaty by 2006, but President George W. Bush reversed the decision in 2004, according to Human Rights Watch.
In a policy announced that year, the United States said it would no longer use mines made to be invisible to metal detectors and those that don't self-destruct after a set time.
In 2009, the United States announced a comprehensive landmine policy review. Anti-landmine activists had been pressuring the Obama administration to announce the results of that review before the Maputo conference.
Despite not being part of the treaty, the United States is the largest donor worldwide to efforts to combat landmines and help victims, providing more than $2 billion in aid since 1993, according to the International Campaign to Ban Landmines.
Landmines: Explosive remnants of war