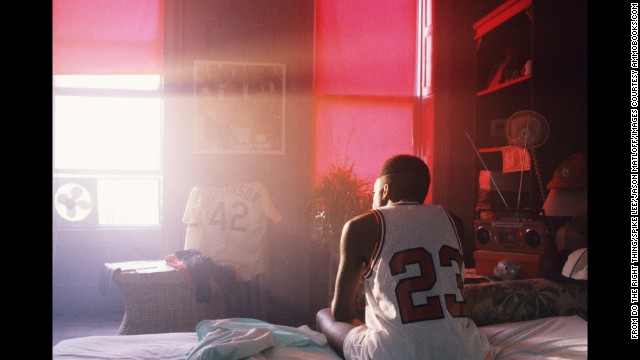 Spike Lee's film "Do the Right Thing" was released on June 30, 1989. Critics were concerned that the controversial motion picture, which took on a number of hot-button issues, would inflame passions. Instead, it provoked dialogue -- and has since become a classic. Click through to see images taken on set and published in the book "Do the Right Thing" by Spike Lee and Jason Matloff.
The film is set on a hot day in Brooklyn, New York, and follows the lives of several characters. One of them, Radio Raheem (Bill Nunn), likes to walk around the neighborhood playing Public Enemy's "Fight the Power" at high volume, annoying some and entertaining others.
"Do the Right Thing" was shot on location in Brooklyn's Bedford-Stuyvesant neighborhood. Among the performers with small roles was Martin Lawrence, second from left.
Sal, played by Danny Aiello, right, owns a local pizzeria, an Italian in what's become an African-American neighborhood. His son Pino (John Turturro) is prejudiced against the locals. The pizzeria, a neighborhood gathering spot, eventually becomes the center of trouble.
Rosie Perez plays Tina, girlfriend of Spike Lee's pizza delivery man, Mookie. The pair have a young son, but little hope: Mookie is immature and Tina is struggling. On this hot day, it's all she can do to simply keep cool.
Radio Raheem wears "love" and "hate" on his rings, a reflection of the neighborhood's volatility (and a nod to Robert Mitchum's preacher character in "Night of the Hunter," who has the words tattooed on his knuckles). Another character, a mentally challenged man named Smiley, sells pictures of Malcolm X and the Rev. Martin Luther King Jr., another symbol of duality.
Sal's son Pino (Turturro) has a tense relationship with Mookie (Lee). His other son, Vito (Richard Edson), is friendly with the delivery man. Still, the trio's conversation often resolves nothing and highlights the gulf between them.
Samuel L. Jackson plays local DJ "Mister Senor Love Daddy," whose mellifluous chatter continually comments on the day. Jackson had a major role in Lee's next film, "Jungle Fever," which proved to be his big break.
Among the set visitors was Eddie Murphy, left, then at the height of his fame. He and Lee, right, had a sometimes rocky relationship, with Lee criticizing Murphy for not using his clout to help African-Americans in the movie business.
"Do the Right Thing" ended up both a financial and critical success. The film was nominated for Oscars in two categories best supporting actor (Danny Aiello) and original screenplay (Spike Lee). The film was ranked the 96th greatest of all time in a 2007 American Film Institute survey.
25 years since 'Do the Right Thing'
25 years since 'Do the Right Thing'
25 years since 'Do the Right Thing'
25 years since 'Do the Right Thing'
25 years since 'Do the Right Thing'
25 years since 'Do the Right Thing'
25 years since 'Do the Right Thing'
25 years since 'Do the Right Thing'
25 years since 'Do the Right Thing'
25 years since 'Do the Right Thing'