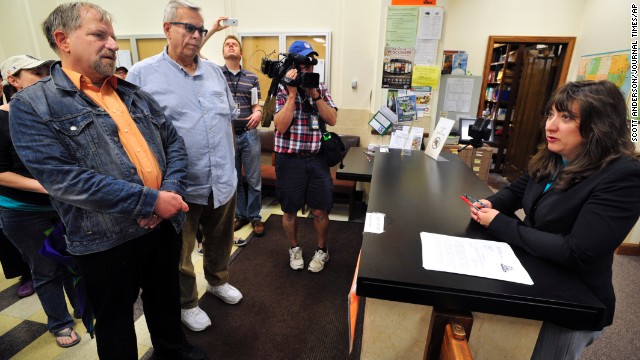 The Rev. Tony Larsen and his partner, Craig Matheus, are refused a marriage license by Racine County Clerk Wendy Christensen, right, in the clerk's office in Racine, Wisconsin, on Friday, June 13. The county does not grant marriage licenses to same-sex couples despite a judge's ruling that the state ban on gay marriage is unconstitutional.
Pastor Carol Hill from Epworth United Methodist Church speaks during a beachfront marriage equality ceremony at the Kathy Osterman Beach in Chicago, on Sunday, June 1, 2014. June 1 marked the first day that all of Illinois' 102 counties could begin issuing marriage licenses to same-sex couples.
William Roletter, left, and Paul Rowe, right, press close to one another after having their photo taken with their newly acquired marriage certificate at City Hall in Philadelphia, Pennsylvania, on May 21.
Same-sex couples get their marriage licenses at the Oakland County Courthouse in Pontiac, Michigan, on Saturday, March 22, a day after a federal judge overturned Michigan's ban on same-sex marriage.
Utah state Sen. Jim Dabakis, left, and Stephen Justesen acknowledge the crowd after being married in Salt Lake City on Friday, December 20. A federal judge struck down Utah's ban on same-sex marriage, saying it conflicted with the constitutional guarantees of equal protection and due process. Many Utah counties began issuing marriage licenses before the state appealed to the U.S. Supreme Court. The high court temporarily blocked enforcement of the lower court ruling until the constitutional questions are fully resolved.
Plaintiffs Laurie Wood, left, and Kody Partridge, center, and attorney Peggy Tomsic leave a federal courthouse in Salt Lake City on Wednesday, December 4, after a judge heard arguments challenging Utah's same-sex marriage ban.
Hawaiian Gov. Neil Abercrombie, left, and former Sen. Avery Chumbley celebrate with a copy of the Star-Advertiser after Abercrombie signed a bill legalizing same-sex marriage in Hawaii on Wednesday, November 13, in Honolulu. Hawaii's same-sex marriage debate began in 1990, when two women applied for a marriage license, leading to a court battle and a 1993 state Supreme Court decision that their rights to equal protection were violated by not letting them marry. Now the state is positioning itself for an increase in tourism as visitors arrive to take advantage of the law, which took effect December 2.
Newark, New Jersey, Mayor Cory Booker officiates a wedding ceremony for Joseph Panessidi and Orville Bell at City Hall on Monday, October 21. The state Supreme Court denied the state's request to prevent same-sex marriages temporarily, clearing the way for same-sex couples to marry.
A couple celebrates at San Francisco City Hall upon hearing about the U.S. Supreme Court rulings on same-sex marriage on June 26, 2013. The high court cleared the way for same-sex couples in California to resume marrying after dismissing an appeal on Proposition 8 on jurisdictional grounds.
In the other June 26 ruling, the Supreme Court struck down a key part of the Defense of Marriage Act, a 1996 federal law defining marriage as between a man and a woman. Jamous Lizotte, right, and Steven Jones pose for photos while waiting for a marriage license in Portland, Maine, in December 2012.
signing a same-sex marriage bill on March 1, 2012
. The law was challenged, but voters approved marriage equality in a November 2012 referendum.
Maryland Gov. Martin O'Malley, center, shakes hands with Senate President Thomas V. "Mike" Miller after
Washington Gov. Chris Gregoire celebrates after signing marriage equality legislation
into law on February 13, 2012. Voters there approved same-sex marriage in November 2012.
Olin Burkhart, left, and Carl Burkhart kiss on the steps of the New Hampshire Capitol in Concord in January 2010 as the
Maine state Sen. Dennis Damon left, hands Gov. John Baldacci the bill that the
Beth Robinson of the Vermont Freedom to Marry Task Force, who is among those who fought for marriage equality, on April 7, 2009.
Amy Klein-Matheny, left, and her wife, Jennifer, exchange vows in
Michael Miller, left, and Ross Zachs marry on the West Hartford Town Hall steps after same-sex marriages became legal in Connecticut on November 12, 2008.
Massachusetts approved same-sex marriage.
Massachusetts was the first state in the U.S. to do so.
Lara Ramsey, left, and her partner of eight years, Jane Lohmann, play with their 7-month-old son, Wyatt Ramsey-Lohmann. The two wed in 2004 after
Same-sex marriage in U.S.
Same-sex marriage in U.S.
Same-sex marriage in U.S.
Same-sex marriage in U.S.
Same-sex marriage in U.S.
Same-sex marriage in U.S.
Same-sex marriage in U.S.
Same-sex marriage in U.S.
Same-sex marriage in U.S.
Same-sex marriage in U.S.
Same-sex marriage in U.S.
Same-sex marriage in U.S.
Same-sex marriage in U.S.
Same-sex marriage in U.S.
Same-sex marriage in U.S.
Same-sex marriage in U.S.
Same-sex marriage in U.S.
Same-sex marriage in U.S.
Same-sex marriage in U.S.
Same-sex marriage in U.S.
Same-sex marriage in U.S.
Same-sex marriage in U.S.
Same-sex marriage in U.S.
Same-sex marriage in U.S.
Same-sex marriage in U.S.
STORY HIGHLIGHTS
Debates over same-sex marriage in Utah could be mirrored on national stage
Kody Partridge and Laurie Wood are among the 1,300 same-sex couples who married in Utah
Federal appeals court has now struck down Utah's ban on same-sex marriage
(CNN) -- Kody Partridge and Laurie Wood did not wait to tie the knot.
Within minutes of hearing a federal judge strike down Utah's ban on same-sex marriage, the Salt Lake City couple rushed to the county government building to get a license. It was just five days before Christmas 2013. They were joined by other lesbian and gay couples seeking to wed, along with some unexpected witnesses.
"It was very sudden, we didn't have time to plan," said Wood, 59. "There were a lot of (media) cameras and a lot of chaos, but when the minister began saying the words, all I could see was Kody and it couldn't have been better."
The two were among the original plaintiffs challenging the state's voter-approved ban, and for the record, had months earlier tried to get a marriage license.
"The female clerk behind the counter was so kind," recalled Partridge, 47. "She knew we were two women, she took our driver's licenses, she looked at them and said, 'I am so sorry, but right now in the state of Utah, we do not recognize same-sex marriages.' And then she said, 'But hold on to that application, you never know.' And when we went there on (December) 20th, she did not process our license, but she was there. She smiled and she said, 'I guess you did not have to wait as long as you expected.'"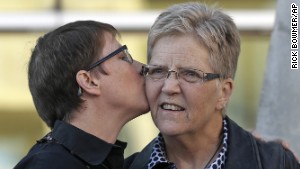 Kody Partridge, left, and Laurie Wood were among the original plaintiffs challenging Utah's ban on same-sex marriage.
In February, they went back to the clerk's office for a third time, bringing chocolates to thank the staff personally.
More than 1,300 gay and lesbian Utah couples were legally wed during a 17-day period beginning in late December. But on the following January 6, the U.S. Supreme Court granted the state's request for a stay, halting any more same-sex weddings and leaving in doubt the status of the marriages that took place during that brief window.
'Not motivated by hate'
The legal, social, and political conversation over expanding the definition of marriage that is playing out in Utah is by no means unique, merely another thread of an issue that is being confronted -- often uncomfortably -- in courtrooms and living rooms nationwide.
Same-sex marriage is legal in the District of Columbia and 19 states: California, Connecticut, Delaware, Hawaii, Illinois, Iowa, Maine, Maryland, Massachusetts, Minnesota, New Hampshire, New Jersey, New Mexico, New York, Oregon, Pennsylvania, Rhode Island, Vermont, and Washington. Massachusetts was the first to make it legal, in 2004.
The U.S. Supreme Court's precedents on same-sex marriage a year ago set the stage for round two of the debate.
And the emotional highs and lows reached another crescendo on Wednesday when a federal appeals court -- for the first time in the nation's history -- struck down a state's ban, saying Utah's law was clearly unconstitutional.
Partridge and Wood were out gardening in their yard when the dramatic ruling was issued by the 10th Circuit U.S. Court of Appeals. They went inside to hear a phone message from one of their lawyers, Jennifer Fraser Parrish, screaming that they had won.
"We looked at each other, I think in a state of shock," Wood told CNN a short time later. "Kody, true to form, cried with joy. It was pretty exciting."
Enforcement of the decision has been delayed temporarily.
However, a near unbroken string of state and federal court victories nationwide in the past year gives marriage equality supporters unbridled encouragement that their ultimate goal will be achieved: eliminating all laws limiting the rights of gay men and lesbians to wed.
That is what makes Utah so important -- events there could set the template for the debate expected to be ultimately decided by the nation's highest court, perhaps by this time in 2015.
"I can assure you, we are not motivated by hate, we are not targeting -- out of animus or sinister motives -- any particular individuals or families in Utah," said the state's new attorney general, Sean Reyes.
He and Gov. Gary Herbert are defending the ban in the courts, and in public opinion. Utah is spending about $300,000 in that effort.
Celebration turns to worry
But for all the excitement same sex couples may enjoy in one of the most conservative states, comes an equal measure of anxiety and anticipation. Wood and Partridge are now playing another game of wait-and-see.
The couple's personal relationship remains strong, but their marriage continues to be unacknowledged by their home state. Put simply, "We are in limbo," said Partridge.
What you need to know about same-sex marriage
"We understand that the judicial system needs time to consider the different options, and Laurie and I have the luxury of time," Partridge told CNN. "But we know couples who are facing very important medical decisions, we have friends who are trying to adopt, we have friends who don't have health insurance. We understand being patient, but we are concerned for those in the community who are really hurting because of this."
But on the larger questions, the appeals court opinion affirms gays and lesbians have an "equal protection" right enjoyed by opposite-sex couples. The arguments mirror pending lawsuits in all 31 states with current bans, including Utah.
A stunning ruling
U.S. District Court Judge Robert Shelby struck down Utah's ban on same-sex marriage in December, saying the state's "current laws deny its gay and lesbian citizens their fundamental right to marry and, in so doing, demean the dignity of these same-sex couples for no rational reason. Accordingly, the court finds that these laws are unconstitutional."
The ruling drew national attention partly because Utah is viewed as among the more conservative states, and because it was among the first sweeping rulings by the lower federal courts since the Supreme Court ruled last summer on separate issues involving same-sex marriage.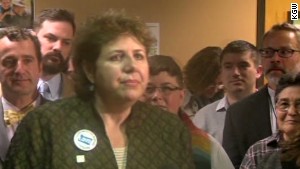 Gay rights advocate: America is ready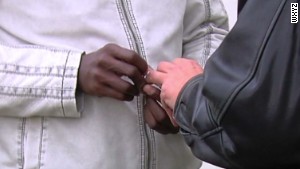 Church changes its marriage definition
Citing that high court precedent, Shelby's ruling was hailed by civil rights groups. But because he did not issue a stay pending appeal, it also created a measure of uncertainty.
"It is very unfortunate that so many Utah citizens have been put into this legal limbo," said Reyes, who was appointed to office just three days after Shelby's stunning ruling.
Reyes' staff later admitted it was a confusing situation and announced that while Utah would provide marriage certificates to those who properly applied during the 17-day window between the ruling and the stay, it would not recognize them as valid, at least for the time being.
Growing public support
Utah may seem like an unusual battleground for gay and lesbian rights, but the level of activism and growing public support is no surprise to many residents.
A recent Williams Institute survey found among large cities, the Salt Lake City metropolitan area had the nation's highest rate of same-sex couples raising children, at 26%. Memphis, Tennessee; Virginia Beach, Virginia; Detroit; and San Antonio were not far behind. Among states, Mississippi led the list, also at 26%.
When it was passed in 2004, Utah's Prop 3, which banned same-sex marriage, had 66% voter support. But after Shelby's ruling, a Salt Lake City Tribune poll found residents there equally divided on whether same-sex couples should be allowed to get state-issued marriage licenses.
Politically, the issue remains controversial, a reflection of the nationwide debate over how it will be resolved: whether judges, state legislatures, or voters should decide the future of same-sex marriage.
"That's not the job of the courts," said Austin Nimocks, senior counsel at the legal ministry Alliance Defending Freedom, which supports traditional marriage. "Whether right or wrong, good or bad, the people are entitled, we believe, to make that decision."
The cases could turn on defining the boundaries of marriage, within the context of family and children.
The Mormon factor in Utah
It is a debate Utah has been through before.
Its admission as the 45th state in 1896 was on the condition that a ban on polygamy be written into the state Constitution. Members of the Church of Jesus Christ of Latter Day Saints -- Mormons -- still make up about 62% of the state's population and are generally considered conservative in their political views.
But while the ruling striking down the same-sex marriage ban is opposed by many residents, it has not caused the kind of huge social outcry many state leaders predicted.
"I grew up, actually, Mormon in Utah," said Kate Kendell, who leads the National Center for Lesbian Rights, which is helping to fight the state's ban in court. "I would often hear: oh my gosh, Utah, that will be the last place we're ever going to win something like marriage equality.
"And while in some ways support for marriage equality is opposed to basic Mormon doctrine, the idea that LGBT people should be entitled to dignity and worth is exactly a core Mormon value. So it did not enormously surprise me that Utah now sits where it does on this issue -- but it is shocking to some."
Kendell cited the unflinching support from her own relatives when her eldest daughter married her same-sex partner in Utah last December.
'A mom and a dad'
But the state cites the will of the voters -- and a wealth of social science -- to argue "that moms and dads are different, not interchangeable, and that the diversity of having both a mom and a dad is the ideal parenting environment. ... As between mutually exclusive models of marriage, the man-woman model is simply the one the state and its people believe is best for children."
And officials argued in their court briefs that, "By defining marriage as being between one man and one woman, Utah does not interfere with adults' ability to commit to an exclusive, loving relationship with others of the same sex, or to bring children into that relationship.
"Instead, the laws at issue here simply encourage a familial structure that has served society for thousands of years as the ideal setting for raising children. Nothing in the federal Constitution prevents Utah's citizens from making that choice."
Map: Same-sex marriage in the United States
Facing hatred
Wood and Partridge had just returned from an interfaith service when they spoke to CNN. To them, their local community is, in many ways, their family. The two educators know the role religion plays in their public and private lives and those of many of their fellow citizens -- and how that has shaped the evolving views over defining and expanding marriage.
You don't combat hatred with hate -- you reach out.
Laurie Wood
"You don't combat hatred with hate -- you reach out," said Wood. "Just as it has taken many years for (gay and lesbian) people to come out, so it will take some people time to come to terms with same-sex marriage."
Their lawyer cited the women's "courage" in challenging Utah's law.
"They saw it as a once-in-a-lifetime opportunity to put themselves on the line and truly make a difference. They have conducted themselves with respect and honor and have done nothing but be understanding and loving with people who don't believe in their position," said Salt Lake City attorney Peggy Tomsic. "That makes them a hard target for opponents" of same-sex marriage."