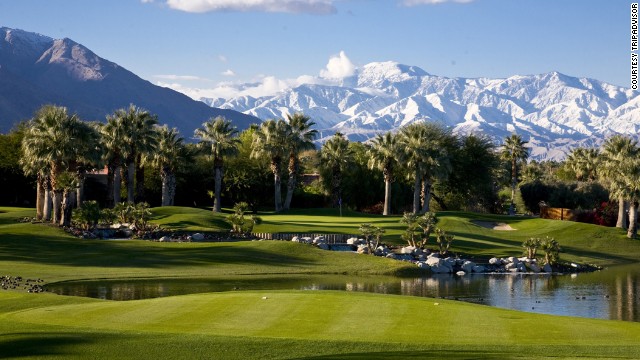 With more than 200 golf courses, 50,000 pools and a desert oasis of outlet shopping nearby, Palm Springs, California, tops TripAdvisor's index for vacation rental value. About $1,250 will get you a week's rental and a few extras. Just be prepared for temperatures topping 100˚ Fahrenheit.
For a little more money, Disney World and 100 other nearby attractions offer families their choice of fun in Orlando, Florida.
While enjoying the great outdoors, visitors to Gatlinburg, Tennessee, can explore Great Smoky Mountain National Park, take a stroll or hop on a trolley through the lively downtown for about $1,400.
Long stretches of sand and nightly summer celebrations on the boardwalk are just a few of the things a Myrtle Beach, South Carolina, vacation offers for about $1,400 for a weeklong stay and some extras.
White sand beaches, coconut palms, lush tropical foliage and crystal blue water await you on Florida's Sanibel Island, where about $1,500 lets you explore paradise.
The casual coastal town of South Padre Island, Texas, has 34 miles of uninterrupted beaches, offering visitors adventures like water sports, fishing and many more.
For about $1,600, a family of four can spend a week on the boot-shaped sea island of Hilton Head, South Carolina.
The nation's oldest seashore resort and a National Historic Landmark, Cape May, New Jersey, is rich in history and architecture, with plenty of beaches for families to explore.
With a lively culture, centuries-old architecture and a variety of festivals running throughout the summer, families will have no shortage of things to do in New Orleans. A weeklong stay runs about $2,000.
The third Florida location to make the list and the southernmost point in the Continental United States, Key West also runs about $2,000 for a weeklong stay.
Nestled in the elbow of Cape Cod, Massachusetts, the classic New England vacation spot of Chatham has spectacular views and kid-friendly calm beaches.
The second largest of the Hawaiian Islands, Maui is known for its tropical flowers and shimmering beaches. Covered with quaint towns and scenic drives, Maui is a dream destination for many, if you can afford the airfare. A weeklong rental with some extras is about $2,300, according to TripAdvisor's index.
The coastal resort city of Miami is home to an abundance of beaches, world-renowned nightlife and close to the Everglades.
At about $2,500 for a weeklong stay, the seaside town of La Jolla, California, boasts dramatic cliffs, breathtaking beaches and secluded coves.
Martha's Vineyard, Massachusetts, is the most expensive of the 15 popular locations on TripAdvisor's vacation rental index. Priced around $3,500, this Cape Cod island is an affluent summer colony.
1. Palm Springs, California
2. Orlando, Florida
3. Gatlinburg, Tennessee
4. Myrtle Beach, South Carolina
5. Sanibel Island, Florida
6. South Padre Island, Texas
7. Hilton Head, South Carolina
8. Cape May, New Jersey
9. New Orleans, Louisiana
6. Key West, Florida
11. Chatham, Massachusetts
12. Maui, Hawaii
13. Miami Beach, Florida
14. La Jolla, California
15. Martha's Vineyard, Massachusetts