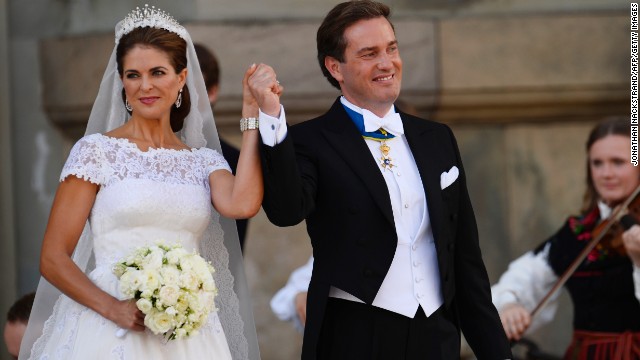 A trip down the aisle shouldn't mean stumbling into debt. Experts say it's important to determine your spending priorities as a couple -- and then skimp on the rest as needed.
Favors are frequently left behind on the tables. As one expert says, guests just don't care -- they're just there to party. If you really want your guests to go home with a token, consider making it edible.
Wedding cake makes a great photo op, but many guests just take a bite or two, if any. Consider a small "show cake" and a less-expensive dessert bar.
Wedding planners say full glasses of Champagne are routinely left un-sipped. Skip the Champagne toast and just have it as option at the bar, or offer sparkling cider.
A bride may have dreamed of a frothy, fancy designer dress since childhood, but many come to regret the expense and the discomfort of wearing it all night. Plenty of brides say they're just as happy having an off-the-rack or sample dress altered so it fits perfectly.
Fancy shoes also might not be worth the splurge. They're often hidden under the dress, and brides slip them off the first second they can.
A vintage veil that's been passed down for generations is one thing. But many brides find that the cumbersome veil they've spent a fortune on is the first thing to go the second the ceremony is over.
One bride says she worked out a deal with her florist to "rent" the flowers, which were collected at the end of the night and brought in to decorate local hotels and restaurants.
Printed programs and menus are lovely, but often skippable. If you're determined to have a menu for everyone, print each guest's name at the top so it becomes a place card.
It might seem incredibly necessary to drape every last surface with flowing fabric, it's often less expensive just to focus on better lighting. Plus -- guests are too busy drinking, dancing and merrymaking to look up and see what's above them.
Wedding $: Where to skip or splurge
Wedding $: Where to skip or splurge
Wedding $: Where to skip or splurge
Wedding $: Where to skip or splurge
Wedding $: Where to skip or splurge
Wedding $: Where to skip or splurge
Wedding $: Where to skip or splurge
Wedding $: Where to skip or splurge
Wedding $: Where to skip or splurge
Wedding $: Where to skip or splurge
STORY HIGHLIGHTS
When Kristy Griggs got engaged, she didn't anticipate what it would do to her brain
She calls this state "Wedding World," an alternate reality where planning takes over
There's a lot of bliss involved -- right before the freakout sets in
She finds most engaged couples go through it and find their way back to normalcy
Editor's note: Kristy Griggs is a freelance writer who lives in Atlanta with her husband, Brandon, and their cat, Cash. Last week, she celebrated 11 years of a very happy marriage, but she still has nightmarish flashbacks to the wedding planning.
(CNN) -- Doing 75 mph down a winding canyon on an otherwise calm afternoon evoked some discomfort from my then-fiance passenger, white-knuckling his door handle.
"Am I making you nervous, Sweetie?" I asked. I was enjoying the speed thrill and was acutely aware that he was not.
"Not really," he managed to squeak. But we were a month and a half away from the "biggest day" of our lives, and I knew better. The nerves were starting to fray a bit. Five seconds of silence before he said: "I just don't want anything to happen to us before the wedding."
And there it is. The very sentence that summarizes what I like to call "Wedding World" -- an alternative reality not elicited by drugs, engaged in by the weak of heart, nor entered often by choice. A place where you believe, unequivocally, that the universe does revolve around you. A place that gave me some sympathy for the narcissists in my life.
This frame of mind is entirely limiting. There is no time to enjoy a beautiful sunset when you've got to put lotion on your skin for the fifth time that day.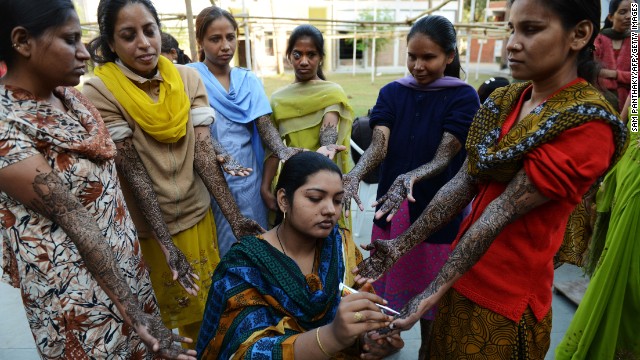 Farzana Shaikh applies henna to visually impaired brides at the Andh Kanya Prakash Gruh institute as part of a ritual ahead of their marriages in Ahmedabad, India.
A bride rides to church in the western Macedonian village of Galicnik.
Belorussian brides take part in an annual Bride Parade in central Minsk.
Rows of newly wedded brides and grooms mingle at the Unification Church's mass wedding at its headquarters in Gapyeong, South Korea, on February 17, 2013. About 3,500 couples matched by the church tied the knot.
An Indian Muslim bride during a mass wedding ceremony at the ancient Sarkhej Roja in Ahmedabad.
iReporter Mikael Ruttkay Hylin shared this striking photos from his trip to Mbour, Senegal, where he witnessed a traditional Muslim Senegalese wedding.
Pakistani brides attend a mass marriage ceremony in Karachi. Some 110 couples participated in the ceremony organized by a local charity welfare trust.
Brides line up with their grooms during a group Valentine's Day wedding at the National Croquet Center on February 14, 2013, in West Palm Beach, Florida. The group wedding is put on by the Palm Beach Country Clerk & Comptroller's office, and approximately 40 couples tied the knot.
Couples prepare for marriage during a mass wedding ceremony on December 12, 2012, in Yogyakarta, Indonesia. The day saw a surge in marriage around the globe to mark 12/12/12.
A Jewish bride is surrounded by relatives during her wedding to the great-grandson of the rabbi of the Tzanz Ultra-Orthodox Hasidic community in Netanya.
In Jerusalem, Hannah Batya Penet dances with her relative during her wedding to Rabbi Shalom Rokach, the grandson of the Belz rabbi.
A Japanese bride and her groom sail through a canal for their wedding procession after their wedding ceremony at Katori city in Chiba prefecture.
A bride checks her messages while getting ready for a group picture after a mass wedding outside a Chinese temple in Kuala Lumpur on December 12, 2012.
Musali Mohammed al-Mujamaie, a 92-year-old Iraqi farmer, sits next to Muna Mukhlif al-Juburi, his new 22-year-old wife, the new wives of his grandsons and one of his grandsons during celebrations after their group wedding in his home village of Gubban, Iraq.
A crowd cheers as a Lebanese bride and groom pose for pictures at the site of a car bomb just days before in Beirut, Lebanon.
Syrian soldiers celebrate with their their brides during a group wedding in Latakia province.
A dozen brides wait to be married during a ceremony for a radio station contest at the Little Chapel of the Flowers on December 12, 2012, in Las Vegas.
Lini Sasanto waits to fill out marriage papers at a busy City Clerk's office on December 12, 2012, in New York.
A bride walks holding her wedding dress at the Gandan monastery on October 18, 2012, a special day on the lunar calendar for wedding ceremonies, in Ulaanbaatar, Mongolia.
Luz Carmen Gonzalez marries Jesus Chacon in the last Maya wedding before the end of the Maya Long Count Calendar -- Baktun 13 -- and the beginning of a new era on December 17, 2012, in Merida, Mexico.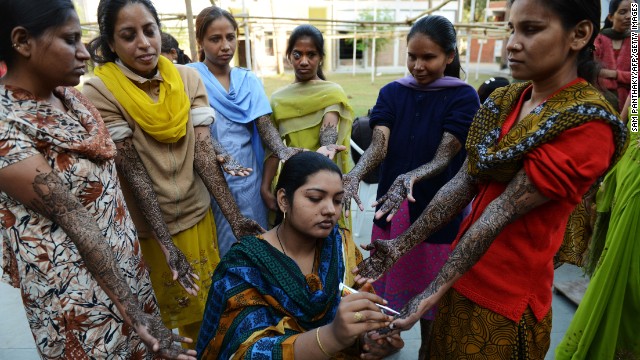 Brides around the world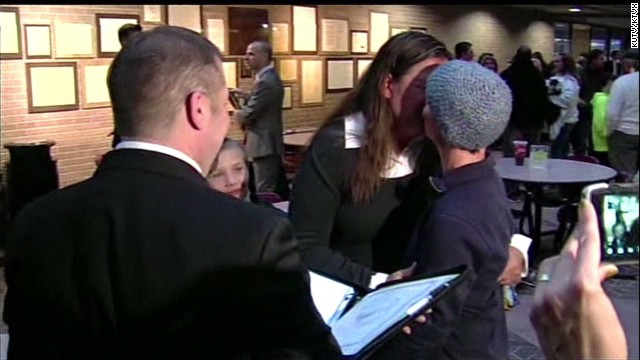 Court strikes down same-sex marriage ban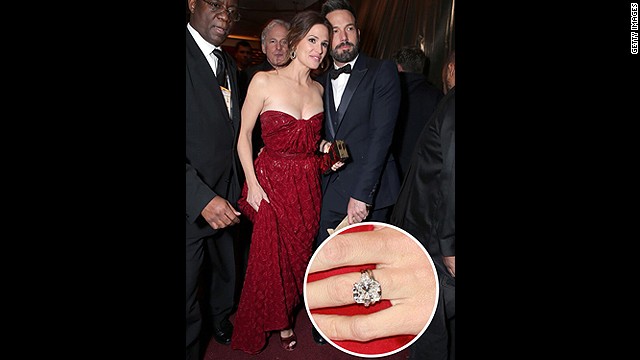 The actor-turned-award-winning-director declared his love for wife Jennifer Garner with this 4.5-carat gem.
Jay-Z didn't just put a ring on it -- he went above and beyond for wife Beyoncé with a huge 18-carat diamond ring.
After seven years of dating, Brad Pitt popped the question with this 16-carat custom-designed Robert Procop diamond ring.
Though they managed to keep their engagement and wedding private, there's no way Blake Lively's Lorraine Schwartz diamond can go under the radar.
One of Hollywood's longest standing marriages started when Matthew Broderick gave Sarah Jessica Parker this beautifully cut yellow gold diamond ring.
Despite this gorgeous yellow 10-carat engagement ring (given to Heidi Klum on top of a glacier!), Klum and Seal's marriage sadly ended in 2012.
Justin Timberlake proposed to longtime girlfriend Jessica Biel with this vintage-inspired six-carat diamond.
Soccer star David Beckham sealed the deal with wife Victoria Beckham with this massive diamond-encrusted engagement ring.
Katie Holmes's five-carat oval-shaped engagement ring from ex-husband Tom Cruise is definitely a stunner for the books.
Formerly belonging to the late Princess Diana, this 18-carat sapphire diamond may just be the most famous engagement ring in the world.
Justin Theroux popped the question to Jennifer Aniston on his 41st birthday with the help of this massive sparkler.
Ellen DeGeneres famously proposed to Portia de Rossi in 2008 with a three-carat Neil Lane diamond ring while they were both tending to a pet goldfish.
The recently engaged Kelly Clarkson said "yes" after she was presented with this huge yellow diamond ring.
Gavin Rossdale designed this unique diamond-studded gold ring before proposing to Gwen Stefani in 2002.
With this Neil Lane antique platinum and gold engagement ring, no wonder Brooke Shields has been happily married to Chris Henchy for over a decade.
With a square-cut diamond ring, the Coldplay frontman declared his love for Gwyneth Paltrow.
Jim Toth secured his spot in Reese Witherspoon's heart with this four-carat stunner. -- See even more celebrity engagement rings at Elle.com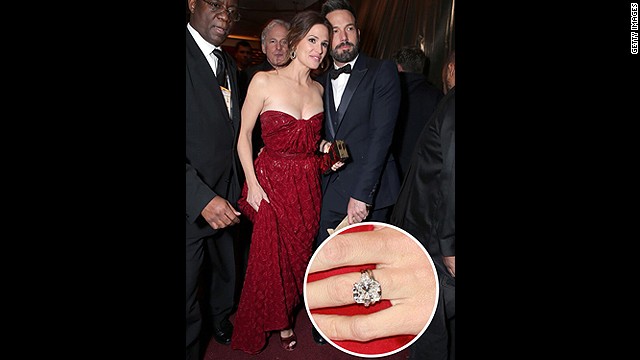 Celebrity engagement rings
Let me clarify. I love my husband dearly. I wanted to get married, and I think, as an observer, weddings are beautiful occasions. Everyone is smiling, and if they're crying it's because they're so very happy. Weddings are inspirational events, evoking notions of summer evenings, blushing brides, silly pranks by younger brothers and pretty bridesmaids all in a row. That's what a wedding is all about, right?
I was the sort of bride-to-be who prided herself on not capitulating to the capitalist wedding-day requirements. Yes, I know that the average U.S. wedding costs a staggering $28,000, but those "free spirits" who serve Cheetos and Ho Ho cakes at their soirees didn't seem that bad to me. I was certain that I would not lose sight of what the occasion was all about: marrying the man I love.
Four months before our big day, after we moved into a house large enough to accommodate a polygamist family, I realized things were getting out of hand. It wasn't explicitly said, but we chose that house knowing his family and friends were coming into town and would not be impressed by our basement apartment. We chose that house to have a big-ass rehearsal dinner.
People do crazy stuff in Wedding World.
Soon I was faced with such "heavy" decisions as: Reserved or open seating? Band or DJ? One or two entrees? Veil or no veil? Roses or tulips? 6:00 or 6:30? Guitar player or violinist? Pachelbel's "Canon" or "Over the Rainbow"? Sanity or nuthouse?
After all was said and done, our wedding was wonderful. I have the best husband a woman could ask for, but it turned out that leaving Wedding World was not so easy. As part of my 12-step Wedding World cessation program, it helped me to identify six fairly distinct phases of this common affliction -- and laugh at our silly ways.
Phase 1: The post-engagement high
This is a blissful, short-lived period when the wedding still feels like an exotic, far-off event. "Yay, we're getting married!" You and your partner bat around loose ideas about what sort of wedding you each want ("Oh, maybe we can get married in Hawaii!") and leave it at that, which brings me to the next phase.
Phase 2: Denial for two
For me, this lasted too long -- about five months of our nine-month engagement. Toward the end of this phase, a mutual friend said over drinks at a bar, "You know what I love about you guys? That you never talk about your wedding. Engaged couples get so consumed and you guys aren't like that at all." Her comments made me, um, think about things.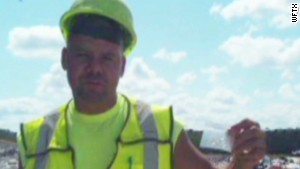 Wedding ring recovered from landfill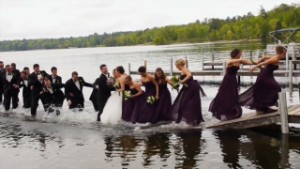 Wedding party takes a big plunge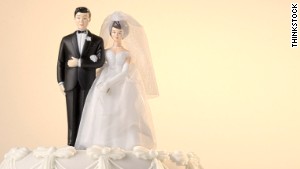 Bride: Here's why you're NOT invited
Phase 3: Reality bites
In this phase you collide with the fact that you're essentially throwing the largest party of your life for the most important people in your life. And you realize you want very badly for this party to go extremely well.
We picked out invitations and tasted cakes as if Martha Stewart were on the guest list. We scoured weddings sites as though our very lives depended on finding the perfect location -- would people prefer the view of a mountain or a beautiful garden? -- and went to Napa Valley to taste wines. OK, this one was an excuse to take a break from this phase, which boils down to a package of stress with the delivery date pounding your brain every minute.
Phase 4: Crunch time
This phase, mere weeks away from the main event, was actually more bearable for me. My fiance and I talked as if we were planning a military operation: "I've got the flowers covered, the RSVPs are coming in and we should have a final count by Tuesday at 16:00, but the backyard is the fly in the ointment." The wedding loomed larger than ever, but we were too busy to stress about it.
Don't miss out on the conversation we're having at CNN Living.
Follow us on Twitter
and
Facebook
for the latest stories and tell us what's influencing your life.
Phase 5: The big day
This is the phase Wedding World folks live for. It is the height of WW, the reason you do it all. It absolutely amazes me how wonderful this phase was. We got pre-ceremony massages. There were pretty bridesmaids all in a row and it was a summer evening. No silly pranks were played, but we danced the night away and love was all around us.
Still, it's ironic that this is the shortest phase. We spent how many months planning -- for a five-hour event?
Phase 6: Post-honeymoon detox
This last phase is much less stressful, but definitely the silliest. My husband and I actually volunteered to videotape and DJ a friend's wedding one week after we returned from our honeymoon. We double-handedly sought to make it an affair to remember. I gave a toast in front of 250 people, of whom I knew approximately 15. My husband became DJ and announcer. We danced to every song, hoping to inspire people to get footloose. I think our freakish, post-wedding energy scared and confused guests as they remained firmly planted in their seats.
Despite the stomach knots, obsessive thoughts and money squandering, Wedding World is ultimately a difficult place to leave. If you know people who are in this alternative reality, cut them some slack. Their days are strange and their logic skewed.
Don't be afraid to approach them when they're poring over wedding pictures like dealers with a new load of premium cocaine. This phase will end. You'll get your friends or loved ones back, and when it's your turn to get married they'll be there to help you. And you'll be glad that they are.
A version of this story originally appeared in the Salt Lake City Weekly. Share your stories from Wedding World in the comments below.