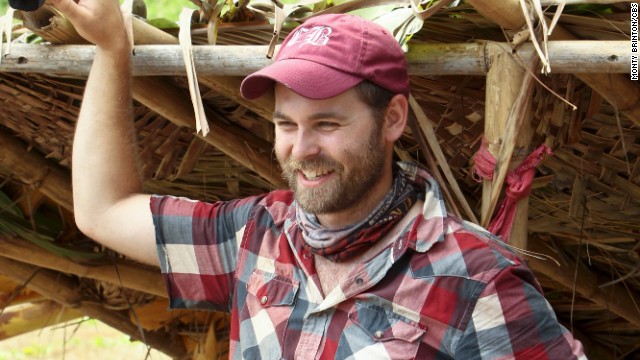 Former "Survivor" contestant Caleb Bankston died while working on a coal train near Birmingham, Alabama, on Tuesday, June 24, a railway official confirmed to CNN. Bankston, 27, was a contestant on "Survivor: Blood vs. Water" last year, along with his fiance, Colton Cumbie, according to the CBS show's website.
Eric Hill
, who was a contestant in the 2014 season of "The Bachelorette," died in April from injuries suffered in a paragliding accident. Hill is seen here in a photo taken from his Facebook page. He was 31.
"MasterChef" runner-up Joshua Marks was in "the battle of his life fighting mental illness" when he killed himself on October 11, his family said.
Gia Allemand appeared on Season 14 of ABC's "The Bachelor." In a statement, her family said the 29-year-old's death apparently was suicide.
found dead
in April 2013 in Kanawha County, West Virginia, authorities said. The body of Gandee, 21, was discovered in a vehicle along with the bodies of his uncle, David Dwight Gandee, 48, and Donald Robert Myers, 27.
Shain Gandee of MTV's "Buckwild" was
breast cancer
after her stint on the reality show.
Jennifer Lyon, who appeared on "Survivor: Palau" in 2005, died at her home in Oregon in January 2010. The 37-year-old was diagnosed with
"The Real World: Hollywood" cast member Joey Kovar died of a suspected drug overdose in August 2012 at 29. Kovar also appeared on the third season of "Celebrity Rehab."
said Assumption Parish Sheriff Mike Waguespack.
Another person, who did not want to be identified, performed CPR and called 911.
"Swamp People" star Mitchell Guist, right, died in Louisiana in May 2012. He was working to build a houseboat when he appeared to have a seizure and fell backward in his boat,
"The Real World: San Francisco,"
cast member Pedro Zamora shared his struggle with HIV/AIDS. After Zamora died in November 1994, President Bill Clinton said the Cuban-born reality star "changed the face of HIV and AIDS in America forever."
In 1994's
Capt. Phil Harris died
in February 2010 at 53. The reality star was hospitalized after he suffered a stroke on January 29.
"Deadliest Catch's"
police said
. The 34-year-old died from "blunt and thermal trauma" in the fiery crash, according to the autopsy report.
"Jackass" star Ryan Dunn was drunk and speeding up to 140 mph when his 2007 Porsche 911 GT3 crashed and caught fire on a Pennsylvania highway in June 2011,
cystic fibrosis
, a genetic disorder that affects the lungs and digestive track, was 25 when she died in June 2007.
Frankie Abernathy was a cast member on "The Real World: San Diego," which aired on MTV in 2004. Abernathy, who was diagnosed with
Bravo's "Real Housewives of Beverly Hills."
The series featured his estranged wife, Taylor, grappling with the aftermath of his suicide.
Russell Armstrong, left, hanged himself in 2011 while appearing on
Reality stars we've lost
Reality stars we've lost
Reality stars we've lost
Reality stars we've lost
Reality stars we've lost
Reality stars we've lost
Reality stars we've lost
Reality stars we've lost
Reality stars we've lost
Reality stars we've lost
Reality stars we've lost
Reality stars we've lost
Reality stars we've lost
Reality stars we've lost
Reality stars we've lost