STORY HIGHLIGHTS
Michael Jackson's music still on Top 10 charts five years after his death
Bodyguards reveal secrets of Jackson's last years in a new book
"When we actually saw that he really does like girls, we were high-fiving," guard says
Trials reveal Jackson died in a desperate search for sleep during comeback effort
Los Angeles (CNN) -- Michael Jackson died on June 25, 2009, in a desperate search for sleep as he prepared for a comeback tour that he hoped would pull him out of deep debt and restore his reputation as the world's top entertainer.
Events of the past five years revealed how that desperation ultimately killed Jackson, while his wealth and fame have been secured in the wake of his death.
Jackson's final days
Michael Jackson left the United States with his three young children soon after his June 13, 2005 acquittal on child molestation charges. He quietly returned to the country in late 2006, after spending a year exiled in Bahrain and several months in Ireland.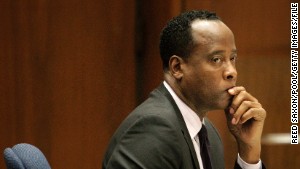 Conrad Murray: A look back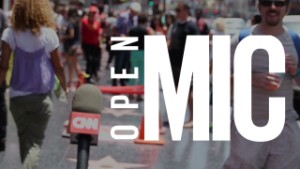 Open Mic: Celebrating Michael Jackson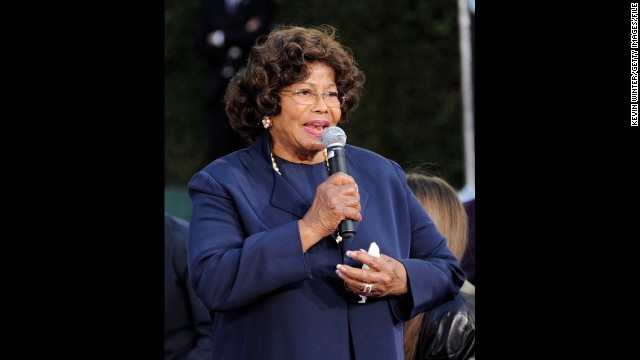 Katherine Jackson is the matriarch of the Jackson family. Here she attends the hand and footprint ceremony for son Michael at Grauman's Chinese Theatre in January 2012 in Los Angeles.
Joseph Walker "Joe" Jackson is the patriarch of the Jackson family. He's pictured at a March 2011 press conference in Madrid, Spain.
Maureen Reillette "Rebbie" Jackson is Joe and Katherine's oldest child. She scored a hit in the 1980s with the song "Centipede." She has three children: Stacee, Yashi and Austin "Auggie" Brown. Here she attends the world premiere of "Michael Jackson: The Life of an Icon" in London in November 2011.
Yashi Brown, Rebbie Jackson's second child, is a poet and advocate on mental health issues.
Rebbie Jackson's youngest, Austin "Auggie" Brown, is a musician. He's pictured at a December 2012 benefit in Hollywood.
Sigmund Esco "Jackie" Jackson, center, is the second of Joe and Katherine's children. He has two children with Enid Spann: Sigmund Esco "Siggy" Jackson Jr. and Brandi Jackson. Here he performs with brothers Tito, left, and Marlon Jackson in Los Angeles in July 2012.
Toriano Adaryll "Tito" Jackson, the third of the Jackson children, has three sons: Toriano Adaryll "Taj"Jackson Jr., Taryll Adren Jackson and Tito Joe "TJ" Jackson, who are members of the group 3T. Tito Jackson performs in Liverpool, England, in 2009.
Toriano Adaryll "Taj" Jackson Jr., Tito Jackson's oldest son, is part of the group 3T. Here he performs in Cardiff, Wales, in October 2011.
Taryll Adren Jackson, Tito Jackson's middle son, performs with his bothers in memory of his uncle, Michael, in 2011.
Tito Joe "TJ" Jackson performs in honor of his uncle, Michael.
Jermaine La Jaune Jackson is the fourth of Joe and Katherine's children. He has seven children. With Hazel Gordy, Jackson had three children: Jermaine Lu Juane Jr., Autumn Joy and Jaimy. He had two children with Margaret Maldonado: Jeremy and Jourdynn. His two youngest children, Jaffar and Jermajesty, were born to Alejandra Oaziaza. He has no children with his current wife, Halima Rashid. Jackson and Rashid are pictured at the Royal Festival Hall in London in October 2010.
La Toya Yvonne Jackson, the fifth of Joe and Katherine Jackson's children, attends the world premiere of "Dancing In Jaffa" at the Tribeca Film Festival in New York in April. She is one of the film's executive producers.
Marlon David Jackson was born a year before brother Michael Jackson. He has three children with Carol Parker: Valencia, Brittany and Marlon David Jr.
Pop superstar Michael Jackson, the most famous of Joe and Katherine's children, had three kids. He fathered his first two, Prince Michael Joseph Jackson Jr. and Paris Katherine Jackson, with Deborah Jeanne Rowe. His youngest, Prince Michael Joseph "Blanket" Jackson II, was born to an unidentified woman. The singer died in 2009.
Prince Michael Joseph Jackson Jr. attends a baseball game in August 2012 during a visit to his late father's hometown of Gary, Indiana.
Paris Jackson attends a party at the Regent Beverly Wilshire Hotel in Beverly Hills, California, in October 2012.
Prince Michael Joseph "Blanket" Jackson attends the Las Vegas premiere of "Michael Jackson: The Immortal World" by Cirque du Soleil in December 2011. He is Michael Jackson's youngest son.
Steven Randall "Randy" Jackson is the second-youngest of Joe and Katherine Jackson's children. He has four children: Steveanna, Genevieve, Donte and Steven Randall Jr. Alejandra Oaziaza is the mother of the latter three. She later married and had two children with Randy's brother Jermaine.
Genevieve Jackson, pictured in November 2011, is Randy Jackson's second child.
Janet Damita Jo Jackson is the youngest of Joe and Katherine Jackson's children. The pop star has no children. She was briefly married to singer James DeBarge before secretly marrying dancer Rene Elizondo in 1991. The couple divorced in 2000, and she married businessman Wissam Al Mana in 2012. She's pictured performing at the Sydney Opera House in 2011 in Australia.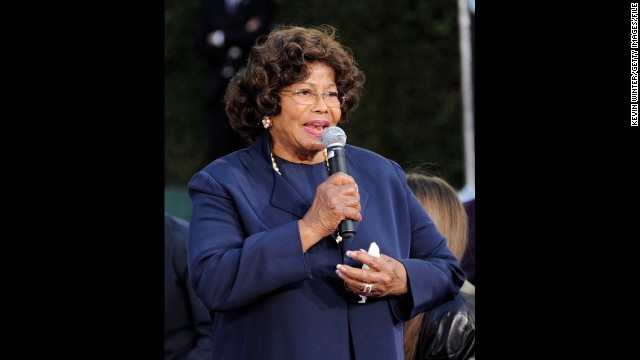 Photos: All in the Jackson family
Jackson's sanctuary in Gulf kingdom short-lived
Bill Whitfield and Javon Beard spent the next two years as Jackson's bodyguards, which they detail in a just-published book "Remember the Time: Protecting Michael Jackson in His Final Days."
When Jackson stepped off the private jet in Las Vegas, his entourage consisted only of his children and their nanny.
"He was all alone," Whitfield recalled in a CNN interview. "It became an unreal thing. Something's not right. This is a joke."
The guards, who sometimes went for months without pay, often used their own money to fund the household when Jackson's credit cards were declined.
Lawsuits and debt collectors hounded Jackson. The guards often drove the singer to lawyers' offices for depositions where he would have to answer questions for hours.
His managers were "beefing with security" and "doing deals behind his back," Beard told CNN. "The guy was mentally exhausted."
Opinion: The immortality of Michael Jackson
Whitfield and Beard revealed that Jackson did have a secret distraction, known only perhaps to some of his more obsessive fans. Jackson had girlfriends. The guards' book details short visits Jackson would make to hotels to visit with two women known to them only as "Friend" and "Flower."
The King of Pop would have make-out sessions with a woman behind a curtain in the backseat of his SUV as his guards drove, they said.
"When we actually saw that he really does like girls, we were high-fiving," Beard said. "We knew it! To be able to see him kissing it was 'Yes!' Seeing it for our own eyes."
The women, who the guards believed to be from Europe, never visited his home and never met Jackson's children. He would always return home from his dates before Prince, Paris and Blanket would wake up in the morning, they wrote. They remained a secret part of his last years.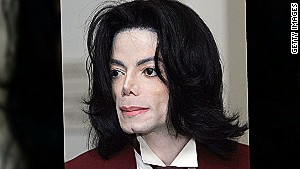 Michael Jackson still making millions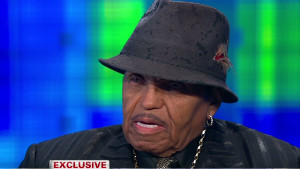 Jackson: Family couldn't get to him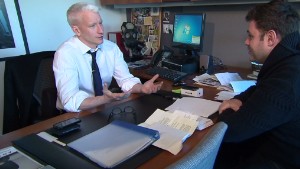 Cooper surprised by Murray's Santa song
Jackson instructed his guards to keep his brothers, sisters and father away, although his mother was always allowed to pass through his gates, they said. Jackson's relationship with most of his family seemed "null and void" in those last two years, Beard said.
It was Beard's cousin who recommended Dr. Conrad Murray when Jackson asked for a doctor to visit his rented home in Las Vegas to treat daughter Paris for a cold.
Beard and Whitfield didn't work for Jackson after he moved from Las Vegas to Los Angeles and signed a contract with AEG Live. They weren't fired, just ignored when Jackson's manager hired a new Los Angeles security team, Whitfield said. Murray, however, did move with Jackson to become his full-time physician as he began rehearsals for his comeback tour.
Lawsuit evidence: Michael Jackson lost dance moves in last days
Testimony and evidence presented at Murray's manslaughter trial and the AEG Live trial revealed Jackson's physical and mental deterioration over May and June 2009 -- a period where he was getting nightly infusions of the surgical anesthetic propofol to put him to sleep.
Conrad Murray from jail: 'I was in the wrong place at the wrong time'
Murray told investigators that he used propofol every night for 60 nights to treat Jackson's intractable insomnia, with the exception of two nights just before his death. Pharmacy records showed Murray ordered four gallons of the drug for Jackson's use.
Detective: Doctor's money woes may have led him to 'break the rules'
A Harvard Medical School sleep expert, hired by Jackson lawyers, made a startling conclusion about how the drug affected the entertainer in his last weeks.
Expert: Michael Jackson went 60 days without real sleep
Michael Jackson may be the only human ever to go two months without REM -- rapid eye movement -- sleep, which is vital to keep the brain and body alive.
"The symptoms that Mr. Jackson was exhibiting were consistent with what someone might expect to see of someone suffering from total sleep deprivation over a chronic period," Dr. Charles Czeisler testified at the wrongful-death trial.
Jackson could not do standard dances or remember words to songs he sang for decades at rehearsals, according to e-mails sent between show producers and choreographers. He became paranoid, was talking to himself and hearing voices, and experienced severe weight loss, Czeisler said. "I believe that that constellation of symptoms was more probably than not induced by total sleep deprivation over a chronic period."
Jackson days before death: 'God keeps talking to me'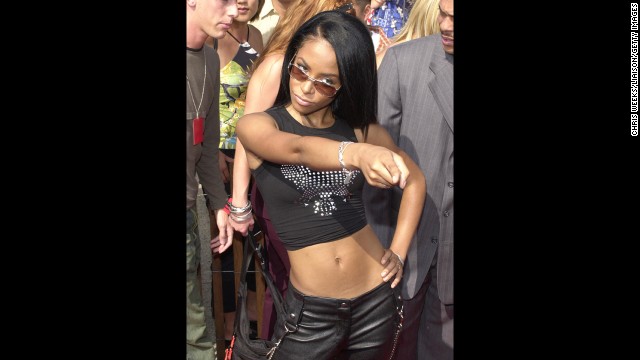 Singer Aaliyah was just hitting her stride when her life ended in an August 2001 plane crash in the Bahamas. The 22-year-old had released her third album the month prior, and was lining up future movie projects as well. Investigators said the plane was overloaded with luggage at the time of the crash, which killed all nine people on board.
On September 7, 1996, Tupac Shakur was leaving a boxing event in Las Vegas when he was shot multiple times. Six days later, he was dead at 25. He left behind an ever-increasing fan base, a catalog of music and one of culture's most persistent mysteries. The presumption is that his death was caused by the volatile East Coast/Wast Coast rap war of the era, a feud that held Tupac and New York rapper Notorious B.I.G. as its avatars. Although nearly every fan has his or her own theory on who was involved in the young talent's death, his murder remains unsolved.
Actress Brittany Murphy's death hit like a bombshell in December 2009 when she unexpectedly died at 32. A coroner later said that the actress died from a combination of pneumonia, an iron deficiency and multiple drug intoxication. Her husband, Simon Monjack, died five months later of acute pneumonia and severe anemia, "just like Brittany," the coroner said. Her father is contesting those findings and questioning whether she was poisoned.
Michael Jackson's 2009 death from an overdose of propofol stunned the world. Four years later, we're still talking about the King of Pop's passing, as his family confronts AEG Live in court with claims that the company is liable in the star's death.
James Dean's death is part of his legend. The actor's life and career were cut tragically short on September 30, 1955, when the 24-year-old got into a collision while driving his Porsche 550 Spyder on a California highway. He never lived to see his iconic movie, "Rebel Without A Cause," arrive in theaters that October.
"The Adventures of Superman" star, George Reeves, was found dead in his home on June 15, 1959, at the age of 45. He died from a gunshot wound to the head, which was ruled as suicide. But many still believe that Reeves was murdered.
The August 5, 1962, death of Marilyn Monroe is still shrouded in mystery. The screen siren died in her Los Angeles home at the age of 36. The official cause of death was an overdose, but that hasn't stemmed the tide of persistent theories that something more nefarious led to Monroe's untimely passing.
Actress Natalie Wood mysteriously drowned in the Pacific Ocean on November 29, 1981, in a death that was initially ruled accidental. That changed in 2012 when a renewed investigation into Wood's death caused the Los Angeles coroner to amend her cause of death to "drowning and other undetermined factors" because of questions surrounding the bruises found on Wood's body.
Guitarist Brian Jones, a founding member of the Rolling Stones, was found dead in a swimming pool in July 1969 after a party at his home. The hard-living 27-year-old's passing was ruled death by misadventure, yet theories abounded that he'd been the victim of a crime. In 2009, police in Sussex, England, began to look into his death once again.
The gruesome 1969 murder of actress Sharon Tate -- along with four others -- left a mark on pop culture that still appears today. Tate, who was married to director Roman Polanski, was 26 years old and eight months pregnant when she was murdered, an act committed by members of the Manson Family.
Jimi Hendrix is another legend who died young, passing away at 27 in September 1970. According to Rolling Stone, police said at the time that it was a drug overdose, and that he'd died of suffocation in his own vomit. We can only imagine what the rock star could have gone on to create, given the incredible influence he had on music in the short span of time he was internationally known.
Musician and poet Jim Morrison of The Doors was found dead in the bathtub of his Paris apartment in 1971, also at the age of 27. But the cause of his death has been a hot topic of debate: His passing was officially due to natural causes, but a 2007 book fueled theories that there was a cover-up.
As a master of martial arts and an action star, Bruce Lee was reaching the zenith of his career when he died at 32 in July 1973. He was in Hong Kong at the time of his death, which was blamed on a brain edema caused by an allergic reaction to painkillers. His sudden and shocking passing came just a month before the premiere of his classic 1973 film, "Enter the Dragon."
Elvis Presley's death at 42 in August 1977 left some fans so shocked they refused to believe it. Hopeful conspiracy theorists swore that the King was still alive and well in the years following his collapse in his bathroom at Graceland. Although Elvis' death was ruled to be the result of an irregular heartbeat, there were accusations that prescription drug abuse was a factor.
The final chapter in the lives of Sid Vicious and his girlfriend Nancy Spungen is one of music's most famous. In October 1978, Nancy died from a stab wound in Room 100 of New York's Chelsea Hotel, and Sid was arrested as a top suspect. Four months later and out on bail, Sid died of a drug overdose.
"Hogan's Heroes" actor Bob Crane was found bludgeoned to death in his apartment on June 29, 1978, at the age of 49. Even after the case was reopened in 1990, Crane's murder has still not been solved.
John Lennon was shot and killed outside of his Manhattan apartment on December 8, 1980. In 2010, the convicted assailant, Mark David Chapman, told a parole board that he gunned down the Beatles giant because he thought at the time "that by killing John Lennon I would become somebody." Lennon's widow, Yoko Ono, has poignantly referred to Lennon's death in efforts to curb gun violence.
Twenty years after his father Bruce Lee's death, actor Brandon Lee died at 28 after being fatally wounded on the set of "The Crow." The shooting was accidental -- it was supposed to be Hollywood gun play for the sake of the scene -- but it sparked plenty of rumors that Lee's death wasn't an accident.
Even though Kurt Cobain died 19 years ago, many of a certain age can still recall the exact place they were in when they learned the Nirvana frontman had been found dead at 27. As Rolling Stone explains, "People looked to Kurt Cobain because his songs captured what they felt before they knew they felt it," and that remains true even after his death -- which some aren't convinced was a suicide, as authorities ruled it to be.
Already the "Queen of Tejano" to fans of the genre, singer Selena was on the cusp of crossing over into pop stardom when she was murdered by Yolanda Saldivar in March 1995. Although she was just 23 at the time, the Grammy-winning artist had established an incredible legacy at the time of her death, one that her husband, Chris Perez, recently chronicled in the book "To Selena, With Love."
Just a year after the loss of Tupac, hip-hop weathered the death of another giant of the genre, Notorious B.I.G. The rapper was shot and killed at 24 while leaving a music industry party in March 1997. Like Tupac's, his slaying remains unsolved.
Fashion designer Gianni Versace was fatally shot on the steps of his Miami Beach, Florida, mansion on July 15, 1997. Police believe a 27-year-old named Andrew Cunanan killed the 50-year-old head of the renowned fashion empire, although they couldn't uncover a motive. Cunanan took his own life on a nearby houseboat a week after Versace's death.
An official inquest into the August 1997 death of Princess Diana ruled that it was her "grossly negligent" driver and the paparazzi who trailed him that caused the car crash that ended her life. The beloved Princess of Wales was just 36 when she died in Paris. Although the inquest aimed to offer closure to the grieving, there are those who've claimed the British Royal family had something to do with Diana's passing.
The death of comedic actor and "Saturday Night Live" star Phil Hartman stunned fans in May 1998, when he and his wife were discovered shot to death in their Los Angeles home in an apparent murder-suicide. Autopsies revealed that Hartman had been shot in the head several times, while his wife, Brynn, died of a single self-inflicted gunshot wound.
Topless dancer-turned-model-turned reality TV star Anna Nicole Smith died at 39 in February 2007, after being found unconscious in her Florida hotel room. Smith died of an accidental overdose of prescription drugs, but her death led to a two-year legal drama that involved Smith's lawyer-boyfriend and two doctors. The three were accused of conspiring to feed Smith's drug addiction, and using false names to obtain the drugs, but most of the charges were tossed out in 2011. That wasn't all: Following Smith's death, there were also legal battles over custody of the former Playboy Playmate's body, as well as the custody of her daughter, Dannielynn.
Heath Ledger, too, was poised to ascend to a new level of stardom when he died at 28 in January 2008. The actor had already been nominated for an Oscar for 2005's "Brokeback Mountain" and was set for another nod for "The Dark Knight" when he was found dead in his New York apartment. Police later said he died from an accidental overdose of prescription medications, including painkillers, anti-anxiety drugs and sleeping pills. He didn't live to see the Academy award him the best supporting actor Oscar for his role of The Joker.
Brit songstress Amy Winehouse was found dead in her London home in July 2011, just 27 years old. The soulful singer, who openly struggled with drug and alcohol abuse during her career, died of accidental alcohol poisoning -- a finding that sparked a global conversation on the nature of substance abuse and its treatment.
Whitney Houston was on the verge of a comeback when she was found unresponsive in her Beverly Hilton hotel room in February 2012. The 48-year-old had been in Los Angeles with plans to attend a pre-Grammys party, and had just performed an impromptu duet two days before her sudden death. An autopsy later showed that the music icon drowned face down in a tub of water about 12 inches deep; the drowning was ruled as accidental with the "effects of atherosclerotic heart disease and cocaine use" listed as contributing factors.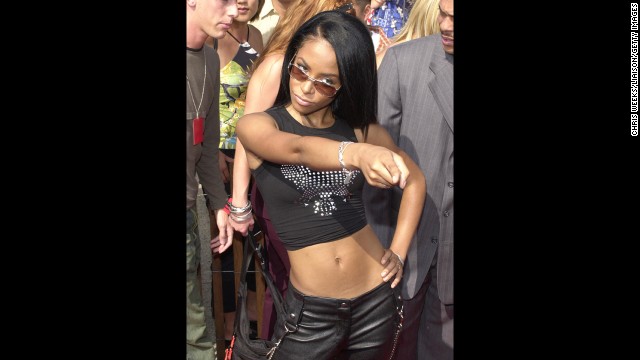 Photos: Controversial celebrity deaths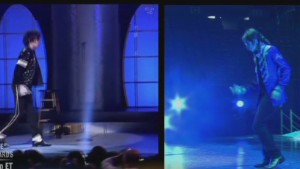 Compare Michael Jackson in 2001 to 2009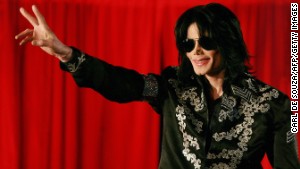 Hear newly-released Michael Jackson song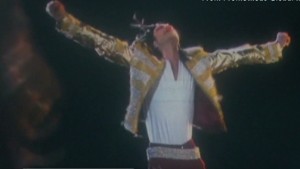 Michael Jackson hologram hits the stage
If the singer had not died on June 25, 2009, of an overdose of the surgical anesthetic, the lack of REM sleep may have taken his life within days anyway, Czeisler said. Lab rats die after five weeks of getting no REM sleep. It was never tried on a human until Murray gave Jackson nightly propofol infusions for two months, he said.
Whitfield and Beard said that while they would have not been able to protect Jackson from Murray's treatments if they had been with him in Los Angeles, they might have been able to protect him from the troubles that robbed him of sleep.
"There was no one there just to step up and say he needed to rest," Whitfield said.
Michael Jackson's mom: 'I want to know what really happened'
Murray served two years of a four-year jail sentence for involuntary manslaughter, while a jury in the civil wrongful death trial of concert promoter AEG Live decided he was competent to treat the singer.
The Jackson family
The world's first unshielded look at Michael Jackson's three children came at the televised memorial service on July 7, 2009. We saw Blanket, then 7, holding a doll of his father. Prince, 12, stood silently while Paris, 11, insisted on speaking about her father.
Paris Jackson emerges as surprise voice of memorial
"Ever since I was born, daddy has been the best father you could ever imagine," Paris said, triggering a cascade of tears on faces around the world.
Paris, now 16, is living away from her two brothers at an undisclosed school, a move made after she cut her wrists in a suicide attempt a year ago.
Prince, a 17-year-old honors student at a private school in Los Angeles, and Blanket, a home-schooled 12-year-old, live with their grandmother Katherine Jackson, in a gated luxury neighborhood in Calabasas, California.
The family's relationship with the men named in Jackson's will as executors of his estate was rocky from the start, with both of the singer's parents challenging them for control in the first months after his death.
That turbulence is gone five years later, evidenced by a message posted on patriarch Joe Jackson's website last week: "I would like to thank the Estate of Michael Jackson for taking care of my wife Katherine and my grandchildren Prince, Paris and blanket."
The peace between Joe Jackson, 85, and the executors coincidentally -- or not -- came just as the estate purchased the home they had previously been renting for the family. Joe Jackson does not live there and is not a direct beneficiary of the estate.
Katherine Jackson, 84, remains active. She attended most days of the criminal trial of Conrad Murray and the civil trial of her lawsuit against the concert promoter AEG Live.
Jackson family feud caught on tape
She is assisted in overseeing Michael Jackson's children by her grandson T.J. Jackson, who was appointed as a co-guardian after she went missing for several days during a bizarre family power struggle in July 2012.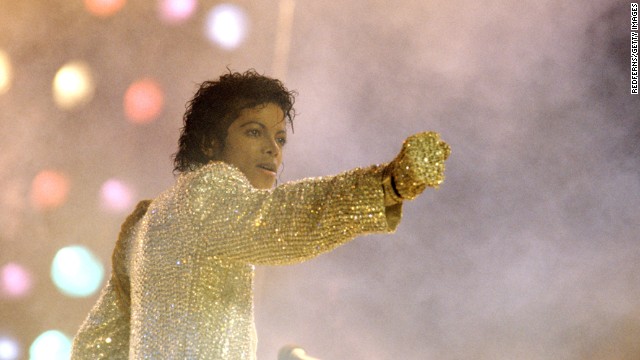 The death in 2009 of superstar Michael Jackson, who died of cardiac arrest at the age of 50, sent shockwaves around the world.
The Jackson 5 perform on a TV show circa 1969. From left, Tito Jackson, Marlon Jackson, Michael Jackson, Jackie Jackson and Jermaine Jackson.
Michael Jackson quickly became the stand out star of the Jackson 5. Here he performs onstage circa 1970.
Michael Jackson poses during a portrait session in Los Angeles in 1971.
Michael Jackson performs with The Jacksons in New Orleans on October 3, 1979.
Jackson achieved superstardom with his solo career in the 1980s. Here Jackson is shown on stage in Kansas in 1983.
Michael Jackson performs on stage circa 1990.
Jackson broke a world record during the Bad tour in 1988 when 504,000 people attending seven sold-out shows at Wembley Stadium in London.
Jackson perfoms in concert circa 1991 in New York City.
Known for his dance moves, Jackson is seen here jumping in the air while performing during the Dangerous tour in 1992.
Michael Jackson performs in Rotterdam, Netherlands.
Jackson performs with his brothers.
Jackson performs during the Bad tour at Wembley Stadium in London.
Jackson performs during the taping of "American Bandstand's 50th: A Celebration" in 2002.
Michael Jackson earned the Legend Award during the MTV Video Music Awards in Tokyo in 2006.
Jackson is seen in this handout photo provided by AEG Live on June 23, 2009, two days before his death, rehearsing at the Staples Center in Los Angeles.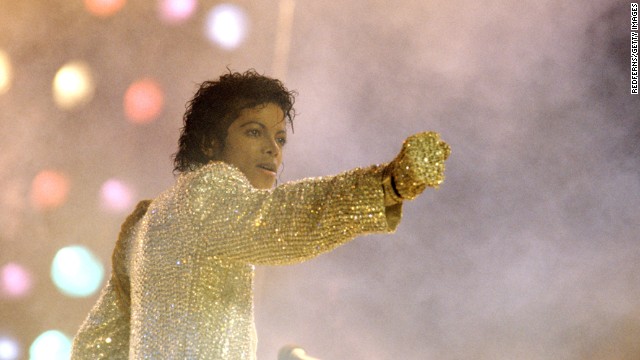 Photos: Michael Jackson, King of Pop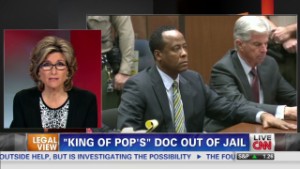 Conrad Murray released from jail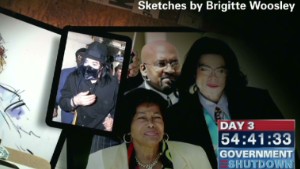 Unanimous Jackson verdict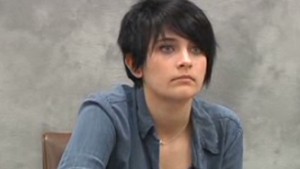 Paris Jackson deposition played in court
Prince Jackson blasts aunts, uncles over grandmother's treatment
Four of Michael's brothers -- Jackie, Tito, Jermaine and Marlon -- reunited onstage in recent years. The Jackson brothers recently completed a residency in Las Vegas and are touring the world, singing their Jackson 5 hits and some of the music Michael made without them.
Sister La Toya Jackson has built a reality TV career since her brother's death, appearing on Donald Trump's "Celebrity Apprentice" and her own "Life With La Toya."
Janet Jackson, one of the world's top selling recording artists, continues to work on music projects after her marriage to a Qatari billionaire announced last year.
Michael's Music
Michael Jackson's music did not stop with his death.
Columbia's Epic, Jackson's label for three decades, released two posthumous albums under a long-term contract with the singer's estate to mine the large archive of music left behind. The first LP released in December 2010 -- titled "Michael" -- was met with some negative reaction from fans and Jackson family members who complained some of the vocals were not Michael's voice
Michael Jackson's 'Xscape': What's the verdict?.
The second album -- "Xscape" -- was a global hit and more accepted by fans. The album, produced from nearly-completed Jackson tracks that current producers "contemporized," sold over 2.3 million copies in the first three weeks of its release in May. It remained in the top 10 on album charts in United States, Canada, Germany, Japan and the United Kingdom a month later.
The single "Love Never Felt So Good," which included tracks added by Justin Timberlake, was certified gold and a top 10 single in the United States the week leading up to the fifth anniversary of Jackson's death. That makes Michael Jackson the only artist to chart in the top 10 of Billboard's Hot 100 in five different decades. Michael did it in six decades when you count his Jackson 5 singles.
The highlight of the 2014 Billboard Music Awards was a Michael Jackson "hologram" performance of one of his new songs -- although technically it was not a "hologram" nor Jackson, but a video illusion created to appear as a live performance.
Another telling measure of Jackson's popularity today is measured by social media. The 75 million "likes" to his Facebook fan page is more than Justin Bieber, Lady Gaga, Katy Perry, Taylor Swift and Bruno Mars.
Jackson is 35th and rising this week on Billboard's "Social 50" chart -- which is becoming a more important ranking for artists in the music industry as album sales fall. Timberlake is one position below at 36. The chart is based mostly on Twitter, Facebook, YouTube and Instagram followers and conversations.
Cirque du Soleil's "Immortal World Tour," built around Jackson's music and choreography, is ranked as the ninth top grossing tour of all time. The live show has grossed $360 million since its premiere in October 2011. At least 3 million people in 135 cities in 27 countries over four continents have seen it.
Cirque du Soleil is also regularly selling out its Las Vegas residency show "Michael Jackson ONE," which premiered last summer.
"This Is It," the documentary based on video of Jackson's last weeks of preparation for his never-to-be comeback tour, became the biggest grossing documentary, with box office sales of $263 million just months after his death.
If Michael were alive today
Michael Jackson would be approaching 56 this summer had he not died. His autopsy revealed that Jackson was in good health when he overdosed from a combination of the propofol and sedatives while preparing for his comeback tour.
Autopsy reveals Michael Jackson's secrets
Would Jackson have completed his tour, which called for shows around the world after the first 50 concerts in London? Would he still be performing? Would his comeback have lifted him from the huge debt that burdened his last years?
An entertainment industry expert testifying for Jackson's mother at the AEG wrongful death trial said he was "reasonably certain" Jackson would have performed 260 shows around the world as part of his "This Is It" tour. He would have earned $890 million over the three years of concerts in Europe, Asia, South America, North America and Australia, said Arthur Erk.
An AEG expert witness, however, disagreed. He testified that even if Jackson had not died on June 25, 2009, he may not have survived the London shows because of his use of propofol to treat his insomnia.
Erk testified that he would have expected Jackson would do four more world tours before his 66th birthday.
Michael Jackson planned to focus on making movies after his "This Is It" tour, according to trial testimony. His first discussions with AEG Live -- which led to the concert contract -- were about making a film about Egypt's King Tut with AEG, witnesses said.
Jackson planned to buy a large estate in Las Vegas with part of his profits from his three-year contract with AEG Live, according to testimony. But did he plan to live in Las Vegas and perform there, instead of traveling on tour in his later years?
Whitfield and Beard, the former bodyguards who worked for Jackson most of his last two years, said that while Jackson said he wanted to do shows in Las Vegas, he would have found a permanent home elsewhere.
"He likely would have stayed out of the country," Beard said.
Jackson, who had endured the child molestation trial in California, believed people in the United States were "mean" to him, Whitfield said. "Those were his words. 'It's so mean here and how wonderful people are in other countries.' The way I took it, the dude is out."