'Hunger Games': The Capitol wants you
updated 8:27 AM EDT, Fri June 27, 2014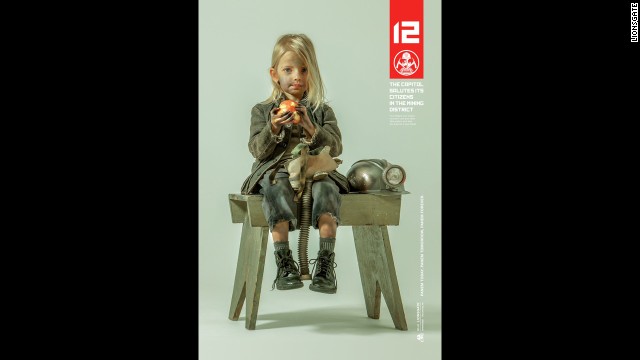 All hail The Capitol! In anticipation of the November 2014 release of "The Hunger Games: Mockingjay Part 1" the franchise has released posters of "district heroes" representing their areas. Here Lily Elsington, the 6-year-old ambassador from the Mining District, District 12, is shown.
Clad in tire rubber, Malcolm Kastel represents District 6, which is the Transportation District.
Fibre Bissette hailes from District 3, the Technology District.
Naida Dolan clutches the catch of the day in honor of the Fishing District, District 4.
District 10's Felix Stam wears fur and cradles a goat in tribute to being from the Livestock District.
Teen Triti Lancaster's outfit incorporates wheat since she represents District 9, the Grain District.
District 7 is the Lumber District and Elias Haan, 26, has kept the ax handed down to him by his great-grandfather as a reminder of the hardships he and his great District have overcome.
Hunger Games posters
Hunger Games posters
Hunger Games posters
Hunger Games posters
Hunger Games posters
Hunger Games posters
Hunger Games posters
STORY HIGHLIGHTS
Lionsgate has released posters from "The Hunger Games: Mockingjay -- Part 1"
There is also an address from "President Snow" (played by Donald Sutherland)
The latest film in the hit series is set to hit theaters in November
(CNN) -- Get ready to bow to The Capitol.
"The Hunger Games: Mockingjay -- Part 1" is set to hit theaters in November, and on Wednesday, the immense fandom got a taste of what's to come.
Lionsgate has released "propaganda" posters from the forthcoming film, which salute the hero citizens of Panem. Each poster contains a representative from each of the districts dressed to represent their region, along with slogans such as "Panem Today, Panem Tomorrow, Panem Forever."
The studio also released a video of "President Snow's Panem Address," which sees Donald Sutherland as the villainous President Snow delivering a not-so-veiled threat to his nation.
Even the YouTube description for the teaser indicates the kind of place Panem is. "CITIZENS," the description begins, "The Capitol requires your viewing of President Snow's official Panem Address, 'Together As One,' brought to you by Capitol TV in stunning 4K.
"Your districts are the body," Sutherland's Snow says. "The capital is the beating heart. Your hard work feeds us, and in return, we feed and protect you."
He's joined by Josh Hutcherson as Peeta Mellark, whom fans know isn't being himself at this point in the story.
The films are based on the wildly successful "Hunger Games" trilogy of young adult novels written by Suzanne Collins. The third and final book, "Mockingjay," has been split into two films. Part 1 is set to be released on November 21.