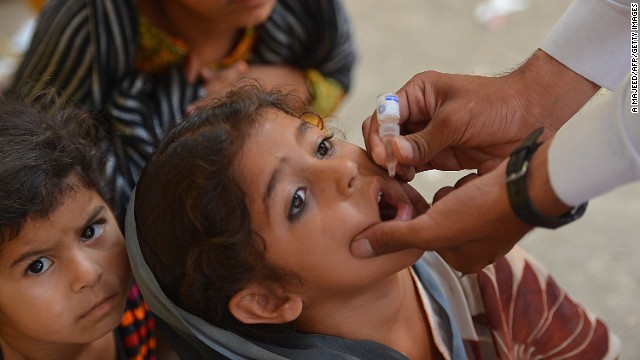 A Pakistani health worker gives a dose of polio vaccine to a child in Bannu on June 25. The World Health Organization has launched a campaign to stop the spread of the illness as hundreds of thousands of people flee North Waziristan.
Displaced Pakistani civilians rest on their arrival in Bannu on June 24. The Pakistani Army launched an offensive on militants near their homes in North Waziristan, forcing many to seek safety.
The influx of displaced people has put pressure on the town. The World Food Programme has started supplying aid, but some say it was too slow coming. Here, a man walks with a wheelbarrow of provisions from the WFP food distribution point.
Pakistani soldiers stand guard near the WFP distribution point as displaced persons from the North Waziristan region wait to receive provisions.
A displaced Pakistani civilian protests against the food shortage. Many expressed anger anger at the long delays.
Civilians gather to receive food aid on June 23. Many have opted to stay with family or rent accommodation rather than residing in the government-run camp.
Displaced Pakistanis force their way into a food distribution center.
A Pakistani soldier frisks a civilian at the Bannu Frontier Region registration point for displaced people on June 22. At registration centers, people are receiving cash handouts to buy food and other items, the U.N. says.
Displaced Pakistani Christians attend a church service. Most of the people fleeing are women and children. The men have stayed at home to protect their homes and livestock.
A displaced Pakistani woman takes care of her sick child at the Women and Children Hospital in Bannu on June 21.
A sick child falls asleep after receiving treatment at the Women and Children Hospital. The United Nations says more facilities are needed to cater for the large numbers of women and children from North Waziristan.
Pakistani children arrive by truck in Bannu, after fleeing the North Waziristan tribal region on June 20. As of Wednesday, 455,000 people had fled, according to the United Nations and the government.
Hungry Pakistani children eat rice together on their arrival in Bannu.
Pakistani troops patrol as displaced civilians cross a checkpoint.
Children being given polio vaccines
Pakistani Army launches offensive
Food in short supply
Police and troops keep order
Angry scenes as people wait for aid
Queuing for food
For some, the wait was too long
Government is registering those fleeing
A place of refuge
Women, children far from home
Delivering aid
Villagers flee North Waziristan
Rations being shared
Passing government checkpoints