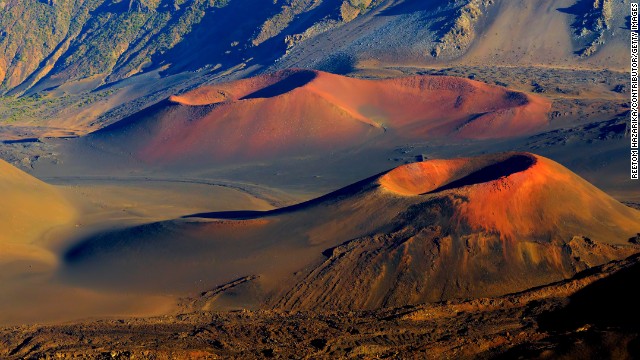 Maui reigns supreme in this year's list of "Top Places to Visit in the USA," and with its serenity and pristine beaches, it's no surprise. Water activities such as windsurfing, kiteboarding and snorkeling remain extremely popular, but lesser known are the island's artisan communities, friendly locals and famous organic cuisine.
Since it was established in 1872, Yellowstone National Park has become an icon of wildlife and natural beauty. Top attractions include Old Faithful Geyser, Mammoth Hot Springs and its own Grand Canyon of the Yellowstone. With over 2.2 million acres of land, the park sits mostly in Wyoming (with small sections in Idaho and Montana).
Our nation's capital offers more than a tour through the White House. The National Zoo, the Smithsonian museums, and war memorials -- all of which are free -- offer a variety of options for the entire family.
Travel through the country's oldest Chinatown and its cutting edge restaurant scene before taking the obligatory picture at the Golden Gate Bridge. Another can't miss: the hippie haven that is Haight-Ashbury, once home to psychedelic rock performers such as The Grateful Dead and Janis Joplin.
With endless activities, attractions and millions of people, the nation's largest city is a must-see for any tourist. If it's your first visit, stop by Times Square, tour Wall Street, take in a Broadway show and visit the Statue of Liberty.
Some of the nicest beaches in California call San Diego home. On one of the city's many sunny days, cool off at La Jolla Shores or Mission Beach before traveling to the world-famous San Diego Zoo. Check out the zoo's collection of more than 20 koalas.
A California wilderness wonderland, Yosemite National Park offers great year-round activities for any visitor. Designated a World Heritage Site in 1984, this 747,000 acres of wildlife once paved the way for the National Park system thanks to the naturalist John Muir. The park offers rock climbing, bird watching, and a range of other outdoor activities.
The state capital and most populated city in Hawaii, Honolulu is great for a beach getaway with a hint of urban flair. Stop through the city, visit the famous Diamond Head volcanic cone, and finish the day at world-famous Waikiki Beach. Of course, the city is also home to the USS Arizona Memorial located at Pearl Harbor.
What's not to love about Orlando? With Walt Disney World Resorts, Sea World and Busch Gardens, there is an endless supply of fun for all ages. Don't miss Legoland Florida and the expanded Wizarding World of Harry Potter at Universal Orlando. The kids won't be disappointed.
A Caribbean experience without the hassle of monetary conversion, the U.S. Virgin Islands consists of three main islands: St. Croix, St. John and St. Thomas. The islands have a rich history dating back to 1493.
During the summer, visitors to Alaska's biggest city can fish, hike and kayak through some of the country's most picturesque landscape. In winter, visitors can sled, ski and snowboard in addition to exploring the hinterland beyond the city limits.
An area traditionally inhabited by sailors and artists, the beauty of Cape Cod is in its light and simplicity. The lighthouses of the Massachusetts peninsula are an attraction within themselves, but the seafood is also great. Each summer, the Naukabout Music Festival features local and national music talent, and is an attraction for all ages.
With "Second City" offering loads of free activities including Millennium Park and Lincoln Park Zoo, the Midwestern charm of Chicago may be in its small-town vibe. Forget comparisons to New York City: Each surrounding neighborhood has its own social calendar, filled with music, arts and festivals --including the famous Lollapalooza.
Take a break from the big city in Wyoming's wide-open spaces. A stone's throw from Yellowstone National Park, Jackson Hole also offers the National Elk Refuge and Teton Village, a skier's paradise. The Jackson Town Square is full of retailers to fit any need, including a bakery and a shooting range.
No matter what trail you choose, Arizona's Grand Canyon is sure to offer the breathtaking views. The Grand Canyon stretches for 277 miles of the Colorado River, which runs through the bottom of the canyon. From the canyon floor to the South Rim, the distance measures a full vertical mile.
The charm of Charleston, South Carolina, cannot be overstated. With beautiful beaches, architecture and rich Gullah culture, this city could relax a stress ball.
A party oasis for the world, what happens in Las Vegas can lead to a lifetime of happy memories. Outside of the casinos and nightlife, the food is worth the airfare alone, with enough buffets and fine dining to feed the largest or pickiest of appetites.
Culture-rich and burden-free, "the Big Easy" is a great place for a getaway weekend. Soak in the vibrant nightlife, delicious food and great music.
Gloomy weather or not, this Washington city is a relaxed, low-cost option for any family vacation. Its excellent seafood and unique hip culture give the city a personality all its own. If you enjoy sports, the Seattle Sounders of Major League Soccer have a fan base whose passion is World Cup-like.
Aspen is the coolest winter town around, with high-end shops, restaurants and nightlife to outline its famous ski and snowboarding slopes. If the glitz is too blinding, head to the Maroon Bells-Snowmass Wilderness for a relaxing backpacking trip.
1. Maui, Hawaii
2. Yellowstone National Park, Wyoming
3. Washington D.C.
4. San Francisco, California
5. New York City
6. San Diego, California
7. Yosemite National Park, California
8. Honolulu, Hawaii
9. Orlando, Florida
10. United States Virgin Islands
11. Anchorage, Alaska
12. Cape Cod, Massachusetts
13. Chicago, Illinois
14. Jackson Hole, Wyoming
15. Grand Canyon, Arizona
16. Charleston, South Carolina
17. Las Vegas, Nevada
18. New Orleans, Louisiana
19. Seattle, Washington
20. Aspen, Colorado