Joan Lunden, former 'GMA' host, has cancer
updated 6:45 PM EDT, Tue June 24, 2014
STORY HIGHLIGHTS
Lunden announced her diagnosis on Tuesday
A mammogram didn't reveal the tumor
She said she's now in "warrior mode"
(CNN) -- Former "Good Morning America" co-host Joan Lunden revealed on Tuesday that she has been diagnosed with breast cancer.
Posting to fans via Twitter and a letter on her website JoanLunden.com, Lunden said she had received an all-clear two weeks ago after her annual mammogram, but "for women who have dense fibrous breast tissue, as I do, often our doctors will recommend an ultrasound as well."
"My ultrasound that day revealed a tumor in my right breast," she wrote. "After a core biopsy was performed, I heard those words that every woman fears and that I never thought I'd hear: 'you have breast cancer.' "
Lunden, who co-hosted "GMA" from 1980 to 1997, said she initially considered keeping the news private, but decided to go public with her diagnosis.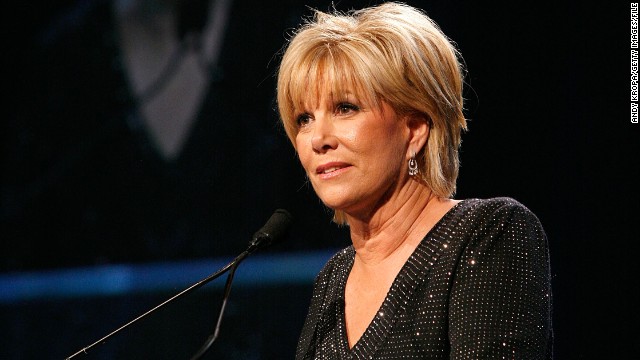 Joan Lunden returned to her old stomping grounds, ABC's "Good Morning America," with a personal news update on June 24. The former "GMA" host revealed that she's facing an "aggressive" form of breast cancer.
Hugh Jackman took to Instagram on May 8 for the second time in six months to share a photo of his bandaged nose as a result of removing basal cell carcinoma and extolling the virtues of sunscreen.
Former "Dancing With the Stars" co-host Samantha Harris has breast cancer and will undergo a double mastectomy, according to People. The 40-year-old says she detected a lump during a self-exam and then followed up with a specialist after receiving a clean mammogram, the magazine reported.
Actress Brittany Daniel of "Sweet Valley High" and "The Game" has been quietly dealing with stage IV non-Hodgkin's lymphoma. The 38-year-old recalls in an issue of People magazine that her 2011 diagnosis "happened so suddenly," but she's been able to face it with the support of her family.
Jake "The Snake" Roberts is known for never backing down from a fight, and that now includes a battle against cancer. According to TMZ, the pro wrestler has a cancerous tumor behind his knee. Roberts hasn't let the news stop him, though. He planned to have the tumor removed in time for an upcoming match.
Famed journalist Tom Brokaw revealed in February that he's been diagnosed with multiple myeloma, a cancer which affects blood cells in the bone marrow.
Getting a mammogram live on "Good Morning America" for cancer awareness month revealed to ABC's Amy Robach that she had breast cancer in November.
Radio personality Robin Quivers quietly battled cancer for months, but had happy news to share with "Howard Stern" listeners in September 2013. On the show, Quivers revealed that her doctors now believe she's cancer-free, after receiving treatment, including chemotherapy.
Singer Melissa Etheridge became an advocate for the use of medical marijuana after her 2004 breast cancer diagnosis.
Sharon Jones, performing here in 2011, held off plans to tour and release a new album with the Dap-Kings after being diagnosed with stage 1 bile duct cancer in 2013.
Michael Douglas offered some interesting insight as to how he may have developed the throat cancer that he was diagnosed with in August 2010. Douglas later told the "Today" show that his tumor was gone.
Buffalo Bills Hall of Fame quarterback Jim Kelly has been diagnosed with cancer of the upper jaw bone. "Doctors have told me that the prognosis for my recovery is very good," Kelly said in a statement from his former club.
Actress Christina Applegate had a bilateral mastectomy in 2008. Doctors had diagnosed her with cancer in her left breast and offered her the options of either radiation treatment and testing for the rest of her life or removal of both breasts.
In 2006, singer Sheryl Crow underwent minimally invasive surgery for breast cancer. In 2012, she revealed she had a noncancerous brain tumor.
KISS band member Peter Criss sat down with CNN's Elizabeth Cohen in 2009, a year after his battle with breast cancer. The musician said he wanted to increase awareness of the fact that men can also get the disease.
Cynthia Nixon not only joined the cast of Showtime's "The Big C," about a woman battling the disease, and portrayed a woman with cancer in the Broadway play "Wit" -- Nixon was diagnosed with breast cancer in 2006.
Zoraida Sambolin was diagnosed with breast cancer in April 2013, and chose to have a double mastectomy. Sambolin said in May that Angelina Jolie's New York Times opinion piece about undergoing the procedure gave her courage to share her story.
"Good Morning America" co-host Robin Roberts had been cancer-free for five years in 2012 after beating breast cancer when she revealed she had been diagnosed with myelodysplastic syndrome, also called MDS.
"Three's Company" star Suzanne Somers spoke with CNN's Piers Morgan in 2012 about her stem cell surgery and her bout with breast cancer. She was diagnosed in 2001, which is when she began researching alternative methods to reconstructive surgery.
Olivia Newton-John was diagnosed in 1992, and the singer has become an advocate for breast self-examination.
E! co-host Giuliana Rancic underwent a double mastectomy in 2011 after a breast cancer diagnosis.
Actress Kathy Bates didn't share news of her battle until 2012, eight years after she was diagnosed with ovarian cancer.
Australian singer Kylie Minogue was only 36 when she was diagnosed with breast cancer in 2005.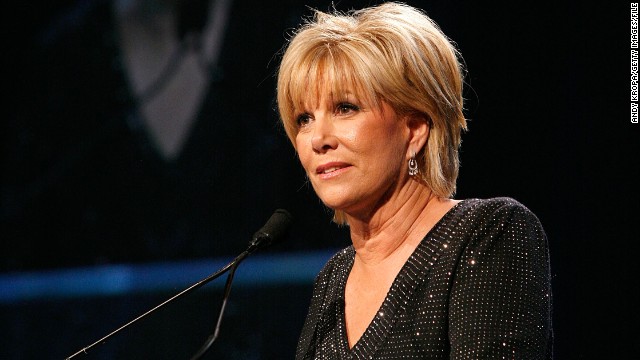 Photos: Celebrities battle cancer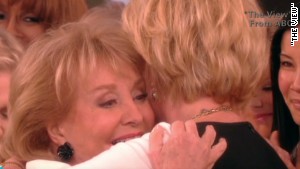 Surprises for Barbara Walters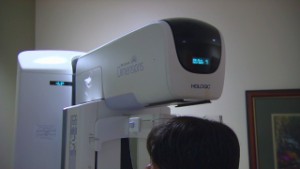 Breast Cancer Imaging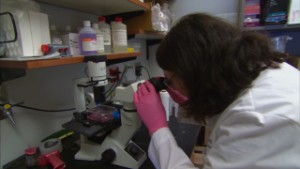 Cancer cost crisis forces tough choices
"I have decided to talk about my breast cancer because since the moment I took the job at 'Good Morning America' I have lived my life sharing my joys and my disappointments with all of you: my pregnancies, my relationships, my career," she said. "I have shared my journey. So it certainly didn't feel right keeping this part of my journey a secret."
Lunden turned to current "GMA" co-host and breast cancer survivor Robin Roberts to offer her first TV interview about having the disease. The news hit home for the staff, as "GMA" co-host Amy Robach is currently being treated for breast cancer.
Lunden told Roberts that the form of cancer she has is particularly aggressive.
"In the beginning it's such a shock, it's a stunner," Lunden told Roberts. "For me, I'm a health advocate, I'm all over America talking to women saying, 'Make sure you get all of your checkups.' In the beginning you almost feel like 'What did I do wrong?'"
Lunden, whose late father was a cancer surgeon, said she gets mammograms every year. She is now in "warrior mode" learning everything she can about the disease and is currently undergoing chemotherapy, she said.