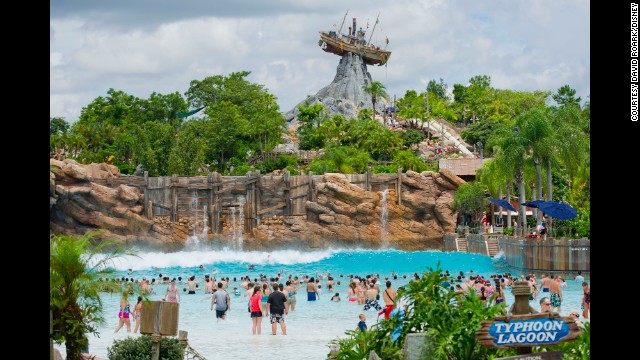 Typhoon Lagoon at Walt Disney World in Orlando, Florida, attracted more people than any other U.S. water park in 2013, with 2.1 million visitors.
Disney's Blizzard Beach at Walt Disney World was the second most visited water park in the U.S. in 2013.
Ihu's Breakaway Falls is the newest thrill ride at Aquatica, SeaWorld's Waterpark, the third most popular water park in the United States. The park claims its new drop slide is the steepest and only multidrop tower slide of its kind in Orlando.
The Surf Lagoon looks tame from afar but the Orlando Wet 'n Wild park attraction actually features 4-foot waves in a 17,000 square-foot wave pool. Wet 'n Wild in Orlando was the fourth most visited water park in the United States in 2013, with 1.3 million visitors.
Schlitterbahn Waterpark & Resort in New Braunfels, Texas, drew just over a million visitors in 2013.
Even historical playground Colonial Williamsburg has a water park, the sixth most visited U.S. park in 2013. Water Country USA, features the largest wave pool in Virginia. The 4-foot waves at Surfers Bay Wave Pool start crashing every 10 minutes, and each wave cycle lasts 8 minutes.
Take a break from the thrill rides of Adventure Island in Tampa, Florida, to relax on the Rambling Bayou ride (shown here). This half-mile tube ride tours a rain forest at the seventh most popular water park in the United States in 2013.
The Cliffhanger Speed Slides are one of the star attractions at the Schlitterbahn Waterpark in Galveston, Texas. Starting at 81 feet high, riders can free fall to reach speeds approaching 40 mph. The park attracted more than a half million visitors in 2013.
On Hyland Hills Water World's Turbo Racer (shown here) in Denver, Colorado, riders start headfirst, belly-down on a thin mat, dashing down an eight-lane, racetrack slide. The park was the ninth most visited water park in 2013.
Death-defying rides like the Tornado (shown here) at Six Flags Hurricane Harbor in Arlington, Texas, will soak and thrill you during hot summer days. The park ranked 10th in attendance among U.S. water parks in 2013.
1. Disney's Typhoon Lagoon, Orlando, Florida
2. Disney's Blizzard Beach, Orlando
3. Aquatica, SeaWorld's Waterpark, Orlando
4. Wet 'n Wild, Orlando
5. Schlitterbahn, New Braunfels, Texas
6. Water Country USA, Williamsburg, Virginia
7. Adventure Island, Tampa, Florida
8. Schlitterbahn, Galveston, Texas
9. Hyland Hills Water World, Denver, Colorado
10. Six Flags Hurricane Harbor, Arlington, Texas