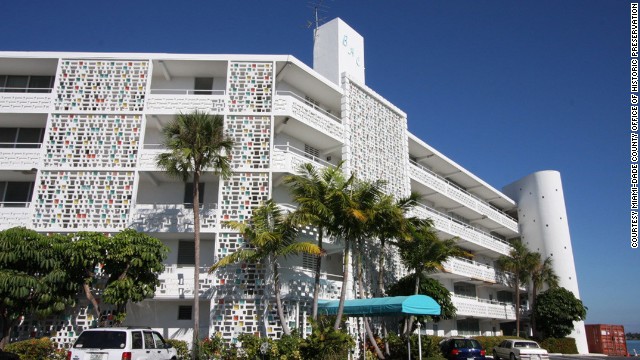 Bay Harbor's East Island in Miami, Florida, features a collection of Miami Modern buildings, a style of architecture popular from 1945 until the mid 1960s. Development proposals threaten the area with demolition.
The State Office Building in Chattanooga, Tennessee, is slated for demolition by its new owner. Decommissioned in 2013, the mid-century landmark in the heart of downtown is no longer used by city and state employees.
Florida's only private residence designed by Frank Lloyd Wright, Spring House in Tallahassee was constructed in 1954. Weathered over time, its "hemicycle" design is one of the few that have survived.
Hawaii's first Christian Church, Mokuaikaua in Kona has been standing since 1837. Earthquake damage and natural wear and tear have led to the landmark's endangered status.
Cincinnati, Ohio's Music Hall is designated as a Historic Landmark and has played a significant role in the city's culture. Built in 1878, Springer Auditorium is one of the many facets of the hall that has been subject to extensive deterioration.
Generations of residents and visitors have enjoyed the scenic cliffs of New Jersey's Palisades. With the Hudson River running below, the landscape could be forever altered if LG builds a tower office, as planned.
Telling the story of Japanese-American immigrants in Southern California, the American pioneer property of Historic Wintersburg in Huntington Beach is now at risk for demolition.
Housing a nightclub in the 1940s, St. Louis, Missouri's Palladium Building is not protected by local or national historic designations. Although it was restricted to whites-only, it still played an important role in African-American music.
Solomon Northup's jail in "12 Years a Slave" is located in Richmond, Virginia's Shockoe Bottom. Still containing many underground artifacts, Shockoe was once a center of American slave trade.
The second endangered site in Cincinnati, Ohio, Union Terminal is an iconic symbol of the city. It is a world-class example of Art Deco architecture, but repairs are needed.
The main administration building of Battle Mountain Sanitarium in Hot Springs, South Dakota, marks the entrance to the facility that's provided medical care to veterans for more than a century.
Bay Harbor's East Island, Florida
Chattanooga State Office Building, Tennessee
Spring House, Florida
Mokuaikaua, Hawaii
Music Hall, Ohio
The Palisades, New Jersey
Historic Wintersburg, California
Palladium Building, Missouri
Shockoe Bottom, Virginia
Union Terminal, Ohio
Battle Mountain Sanitarium, South Dakota