Aaron Hernandez taken to hospital
updated 1:00 PM EDT, Mon June 23, 2014
STORY HIGHLIGHTS
Aaron Hernandez spent less than a half hour at a hospital in Massachusetts
Federal privacy law doesn't allow hospital to disclose why Hernandez was there
Hernandez is in jail awaiting his first-degree murder charge
He's accused in the shooting deaths of three men in 2012 and 2013
Susan Candiotti's documentary, "Downward Spiral: Inside the Case Against Aaron Hernandez," airs on CNN at 9 p.m. ET Tuesday.
(CNN) -- Former New England Patriot player Aaron Hernandez was transported from his Massachusetts jail cell to a nearby hospital this weekend, according to Bristol County Sheriff Thomas Hodgson.
Hernandez spent less than a half hour Saturday afternoon at St. Luke's Hospital in New Bedford, Hodgson told CNN.

Inside the case against Aaron Hernandez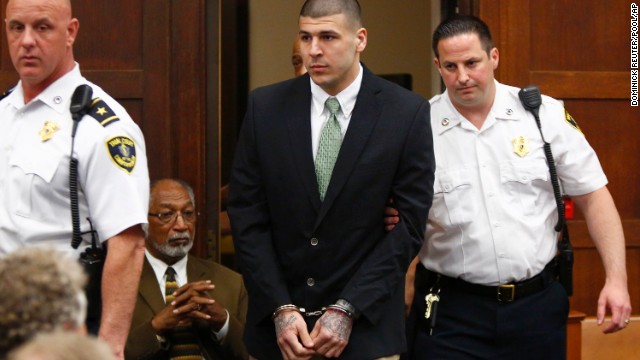 Former New England Patriots tight end Aaron Hernandez is led into the courtroom to be arraigned on homicide charges on Wednesday, May 28, in Boston. Hernandez pleaded not guilty in the 2012 killings of Daniel de Abreu and Safiro Furtado. He has also been charged in the 2013 death of semipro football player Odin Lloyd.
At a press conference on May 15, Suffolk County District Attorney Dan Conley announces that Hernandez has been indicted for the July 2012 killings of de Abreu and Furtado and charged with three counts of armed assault with attempt to murder. Prosecutors allege Hernandez killed de Abreu and Furtado after de Abreu bumped into Hernandez at a nightclub, causing him to spill his drink.
Hernandez is brought into the Attleboro, Massachusetts, District Court for his arraignment on June 26, 2013. He was charged with first-degree murder in Lloyd's death. Hernandez was release by the Patriots less than two hours after his arrest.
Hernandez answers questions during Media Day on January 31, 2012, before Super Bowl XLVI against the New York Giants in Indianapolis.
Hernandez carries the ball as the Patriots play the Cincinnati Bengals in Foxborough, Massachusetts, on September 10, 2010.
Hernandez looks up after being tackled during a game against the Philadelphia Eagles on November 27, 2011, in Philadelphia.
Tattoos on Hernandez's arm are visible during the pregame warmup on December 4, 2011.
Hernandez scores a touchdown against the Buffalo Bills on January 1, 2012, in Foxborough, Massachusetts.
Hernandez catches a pass against Chase Blackburn and Aaron Ross of the New York Giants during Super Bowl XLVI on February 5, 2012, in Indianapolis.
Hernandez runs for a 12-yard touchdown past Deon Grant of the New York Giants in the third quarter of Super Bowl XLVI on February 5, 2012, in Indianapolis.
Hernandez celebrates his touchdown in the third quarter of Super Bowl XLVI.
Hernandez, center, reacts during the SEC Championship game between the Florida Gators and the Alabama Crimson Tide on December 6, 2008. The Gators went on to win the national title.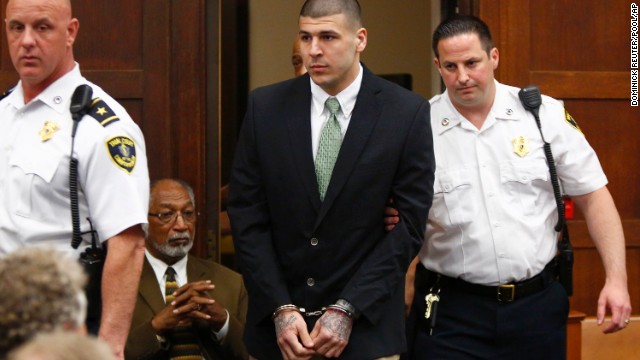 Photos: Rise and fall of Aaron Hernandez
Hodgson was unable to disclose why Hernandez was admitted to the hospital because of federal health privacy law, except to say that it was not caused by a fight, security issue or any other problem at the jail.
Hernandez has since returned to Bristol County House of Correction, where he awaits a trial on first-degree murder charges in the June 2013 death of semi-pro football player Odin Lloyd.
Prosecutors allege Hernandez orchestrated the killing of Lloyd, whose body was found in a remote spot at an industrial park about a mile from the former Patriots player's home.
He's also charged with two counts of first-degree murder in the July 2012 deaths of Daniel de Abreu and Safiro Furtado.
The two were shot to death in what prosecutors described as an ambush as they drove on a Boston street following a "chance encounter" with Hernandez at a lounge.
Hernandez may have been the shooter in that incident, according to court documents.
He has pleaded not guilty in all three killings.
Hernandez played tight end for the New England Patriots for three seasons after leaving Florida for the 2010 NFL draft. The Patriots dropped Hernandez the day he was arrested in Lloyd's death.
A year after Odin Lloyd's death, loved ones cling to memories
Source: Hernandez's anger over two trivial incidents linked to killing
CNN's Leigh Remizowski contributed to this report.