STORY HIGHLIGHTS
The White House wants advisers to assess the dangers ISIS poses
They will also support Iraqi troops by forming joint operation centers
Experts are split on what they will actually do -- gather intel in offices or advise troops closely
They also disagree on whether or not they should go at all
Washington (CNN) -- How big of a threat is ISIS really?
The White House wants to find out and is deploying as many as 300 military advisers to Iraq to assess the might of the Islamic State in Iraq and Syria.
The jihadi group's rash battlefield successes make it look extremely fierce.
ISIS militants have surged from the border with Syria to blitz major cities in Iraq's northern Sunni region, taking Tal Afar and Mosul, then moving quickly south. Hundreds of thousands of civilians fled from their path, creating a new refugee crisis.
They have advanced on Baquba, just north of Baghdad, and are threatening to attack the capital.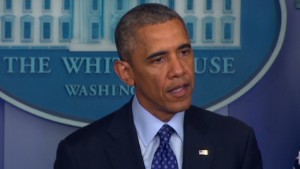 Obama: No combat for U.S. troops in Iraq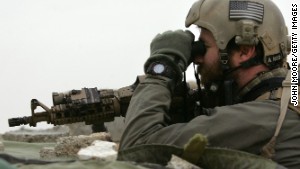 Pentagon ready to send troops to Iraq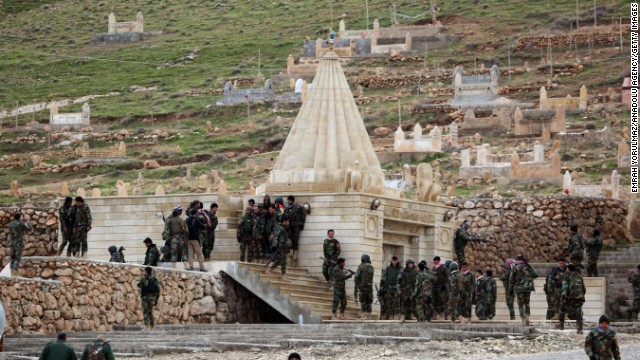 Kurdish Peshmerga fighters assemble at a shrine on Iraq's Mount Sinjar on Friday, December 19. The Kurdish military said that with the help of coalition airstrikes, it has "cleansed" the area of ISIS militants. ISIS has been advancing in Iraq and Syria as it seeks to create an Islamic caliphate in the region.
A Peshmerga fighter looks down at the body of an alleged ISIS fighter in Zummar, Iraq, on Thursday, December 18.
A Kurdish fighter stands next to a destroyed armored vehicle in northern Iraq on December 18. The vehicle was destroyed by an improvised explosive device placed by ISIS militants.
Peshmerga fighters stop to check a vehicle in Zummar on December 18 as they continue to battle ISIS fighters near the border with Syria.
Pro-Iraqi government forces guard a shrine in Balad, Iraq, on Monday, December 15.
A Yazidi woman displaced by ISIS militants tends to a fire Wednesday, December 10, at a shelter in Dohuk, Iraq.
A Kurdish child from the Kobani, Syria, area holds laundry at a refugee camp in Suruc, Turkey, on Monday, November 17. Tens of thousands of people have fled Kobani, known in Arabic as Ayn al-Arab, to escape ISIS.
Smoke rises from Kobani following airstrikes on November 17. The United States and several Arab nations have been bombing ISIS targets to take out the group's ability to command, train and resupply its fighters.
A Kurdish child from the Kobani area holds on to a fence at a refugee camp in Suruc on Sunday, November 16.
People in Suruc watch smoke rise near the Syrian border during clashes between ISIS members and armed groups on Thursday, November 13.
A bomb (upper left) falls on an ISIS position in Kobani during an airstrike by the U.S.-led coalition on Saturday, November 8.
Iraqi military forces take up position in Jurf al-Sakhar, Iraq, on November 8.
Fire and smoke rise from Kobani following airstrikes against ISIS on Thursday, October 30.
Iraqi special forces search a house in Jurf al-Sakhar on October 30 after retaking the area from ISIS.
Smoke rises during fighting in Kobani on Monday, October 27.
ISIS militants stand near the site of an airstrike near the Turkey-Syria border on Thursday, October 23.
An explosion rocks Kobani during a reported car-bomb attack by ISIS militants on Monday, October 20.
People watch Kobani from a hill near the Turkey-Syria border on October 20.
Kurdish fighters walk to positions as they fight ISIS forces in Kobani on Sunday, October 19.
A U.S. Air Force plane flies above Kobani on Saturday, October 18.
Heavy smoke rises in Kobani following an airstrike by the U.S.-led coalition on Saturday, October 18.
Cundi Minaz, a female Kurdish fighter, is buried in a cemetery in the southeastern Turkish town of Suruc on Tuesday, October 14. Minaz was reportedly killed during clashes with ISIS militants in nearby Kobani.
Turkish police officers secure a basketball stadium in Suruc on October 14. Some Syrian Kurds have been held there since crossing from Syria into Turkey.
Kiymet Ergun, a Syrian Kurd, celebrates in Mursitpinar, Turkey, after an airstrike by the U.S.-led coalition in Kobani on Monday, October 13.
Smoke rises from Kobani on Sunday, October 12.
Syrian Kurds from Kobani stand outside the grounds of a refugee camp in Suruc on Saturday, October 11.
Alleged ISIS militants stand next to an ISIS flag atop a hill in Kobani on Monday, October 6.
In this photo released by the U.S. Air Force on Saturday, October 4, a U.S. Navy jet is refueled in Iraqi airspace after conducting an airstrike against ISIS militants.
A Kurdish Peshmerga soldier who was wounded in a battle with ISIS is wheeled to the Zakho Emergency Hospital in Duhuk on Tuesday, September 30.
Iraqi Shiite militiamen aim their weapons during clashes with ISIS militants in Jurf al-Sakhar on Sunday, September 28.
Syrian Kurds wait near a border crossing in Suruc as they wait to return to their homes in Kobani on Sunday, September 28.
Syrian Kurds wait behind border fences to cross into Suruc on September 28.
Tomahawk missiles, intended for ISIS targets in Syria, fly above the Persian Gulf after being fired by the USS Philippine Sea in this image released by the U.S. Navy on Tuesday, September 23.
Turkish Kurds clash with Turkish security forces during a protest near Suruc on Monday, September 22. According to Time magazine, the protests were over Turkey's temporary decision to close the border with Syria.
Syrian Kurds fleeing ISIS militants wait behind a fence in Suruc on Sunday, September 21.
A elderly man is carried after crossing the Syria-Turkey border near Suruc on Saturday, September 20.
A Kurdish Peshmerga fighter launches mortar shells toward ISIS militants in Zummar on Monday, September 15.
An ISIS flag flies on the other side of a bridge at the front line of fighting between ISIS and Kurdish Peshmerga fighters in Rashad, Iraq, on Thursday, September 11.
U.S. Secretary of State John Kerry reads on a flight en route to Iraq on Wednesday, September 10. Kerry traveled to the Mideast to discuss ways to bolster the stability of the new Iraqi government and combat ISIS.
Kurdish Peshmerga fighters fire at ISIS militant positions from their position on the top of Mount Zardak, east of Mosul, Iraq, on Tuesday, September 9.
An Iraqi fighter jet flies over Amerli, Iraq, on September 3. Amerli had been under siege by ISIS militants.
Iraqi volunteer fighters celebrate breaking the Amerli siege on Monday, September 1. ISIS militants had surrounded Amerli, 70 miles north of Baquba, Iraq, since mid-June.
Kurdish Peshmerga forces stand guard at their position in the Omar Khaled village west of Mosul on Sunday, August 24.
Kurdish Peshmergas fight to regain control of the town of Celavle, in Iraq's Diyala province, on August 24.
Peshmerga fighters stand guard at Mosul Dam in northern Iraq on Thursday, August 21. With the help of U.S. military airstrikes, Kurdish and Iraqi forces retook the dam from ISIS militants on August 18. A breach of the dam would have been catastrophic for millions of Iraqis who live downstream from it.
Displaced Iraqis receive clothes from a charity at a refugee camp near Feeshkhabour, Iraq, on Tuesday, August 19.
A fighter with Kurdish Peshmerga forces battles ISIS militants near Mosul on Monday, August 18.
Peshmerga fighters inspect the remains of a car that reportedly belonged to ISIS militants and was targeted by a U.S. airstrike in the village of Baqufa, north of Mosul, on August 18.
Kurdish Peshmerga fighters fire at ISIS in Khazair, Iraq, on Thursday, August 14.
Volunteers of the Iraqi Red Crescent Society unload boxes of goods before distributing them August 14 to families who fled from ISIS.
From the flight deck of the USS George H.W. Bush, which is in the Persian Gulf, two U.S. fighter jets take off for a mission in Iraq on Monday, August 11. U.S. President Barack Obama authorized airstrikes against Islamic militants and food drops for Iraqis who are trapped by the militants.
Aziza Hamid, a 15-year-old Iraqi girl, cries for her father while she and some other Yazidi people are flown to safety Monday, August 11, after a dramatic rescue operation at Iraq's Mount Sinjar. A CNN crew was on the flight, which took diapers, milk, water and food to the site where as many as 70,000 people were trapped by ISIS. But only a few of them were able to fly back on the helicopter with the Iraqi Air Force and Kurdish Peshmerga fighters.
Thousands of Yazidis are escorted to safety by Kurdish Peshmerga forces and a People's Protection Unit in Mosul on Saturday, August 9.
Iraqi Shiite volunteers who have joined government forces to fight ISIS take part in a training session near Basra, Iraq, on Thursday, August 7.
Thousands of Yazidi and Christian people flee Mosul on Wednesday, August 6, after the latest wave of ISIS advances.
A Baiji oil refinery burns after an alleged ISIS attack in northern Selahaddin, Iraq, on Thursday, July 31.
A Syrian rebel fighter lies on a stretcher at a makeshift hospital in Douma, Syria, on Wednesday, July 9. He was reportedly injured while fighting ISIS militants.
Iraqis who fled fighting in the cities of Mosul and Tal Afar try to enter a temporary displacement camp in Khazair on Wednesday, July 2.
Peshmerga fighters check cars at the entrance of a temporary displacement camp in Khazair on Thursday, June 26.
Kurdish Peshmerga take their positions behind a wall on the front line of the conflict with ISIS militants in Tuz Khormato, Iraq, on Wednesday, June 25.
Peshmerga fighters clean their weapons at a base in Tuz Khormato on June 25.
New army recruits gather in Najaf, Iraq, on Wednesday, June 18, following a call for Iraqis to take up arms against Islamic militant fighters.
An MH-60R Sea Hawk helicopter lands on the aircraft carrier USS George H.W. Bush in the Persian Gulf on Tuesday, June 17.
Newly recruited Iraqi volunteer fighters take part in a training session in Karbala, Iraq, on June 17.
Members of ISIS prepare to execute soldiers from Iraq's security forces in this image, one of many reportedly posted by the militant group online. CNN cannot independently confirm the authenticity of the images.
Iraqi men chant slogans outside of an army recruiting center to volunteer for military service Thursday, June 12, in Baghdad.
Kurdish Peshmerga forces, along with Iraqi special forces, deploy their troops and armored vehicles outside of Kirkuk, Iraq, on June 12.
Children stand next to a burnt vehicle during clashes between Iraqi security forces and ISIS militants in Mosul on Tuesday, June 10.
Civilians from Mosul escape to a refugee camp near Irbil, Iraq, on June 10.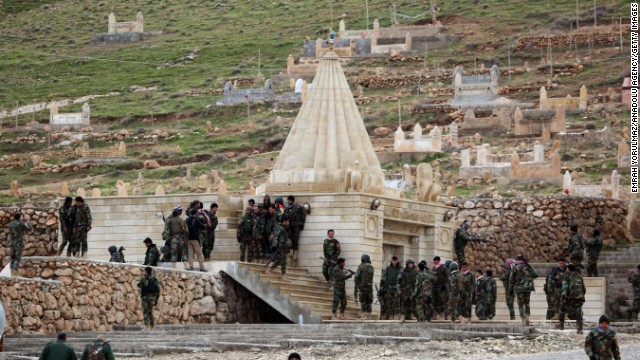 Photos: The ISIS terror threat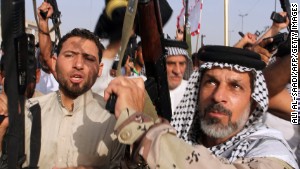 VP Biden speaks with Iraqi Leaders
The Obama administration has said there will be no more American boots on the ground after the drawdown of all American troops -- tens of thousands of them.
It's up to the advisers to help Iraqi security forces vanquish ISIS on their own.
Washington officials have said little about what they'll actually be doing, and expert opinions on that and on whether they should be in Iraq at all are split.
Who are they?
They are high-ranking officers. They are Navy SEALs and Army Rangers, said retired Marine Sgt. Adam Banotai.
Banotai, who scrapped through the brutal battle for Falluja during the Iraq war, thinks the term "adviser" is misplaced.
"It is political semantics," he said. "We are calling them adviser now ... instead of combat troops or boots on the ground," he said.
"They are the most elite fighters we have," he added. "So, if they aren't going to be combat troops, I'm not quite sure who the President is going to refer to as combat troops."
Where will they be?
"They'll be sitting in offices, not out on the front lines, and they'll be looking at the maps," said retired Lt. Col. Douglas Ollivant.
"So, they're sort of holed up, giving advice," he said. It would be unwise to put them on the front lines, where ISIS could capture them.
How will they work?
The plan is for the advisers to divide into small teams of about a dozen each and partner with Iraqis to form joint operation centers, senior administration officials said.
What will they do?
Their job will be to gather intelligence, in case President Barack Obama decides to pull the trigger on airstrikes, a possibility he's weighing.
The advisers will also pass on intelligence to Iraqi forces, said retired Lt. Gen. Mark Hertling, who commanded U.S. forces during operation Iraqi Freedom.
Baghdad tense as military seeks to halt ISIS militants' advance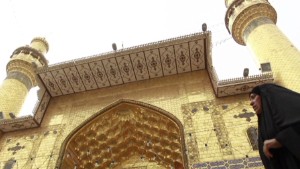 Iran to help save Iraqi temples?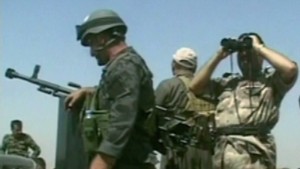 Iraq asks for U.S. aid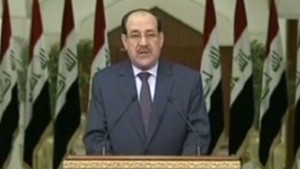 Does Iraqi prime minister have to go?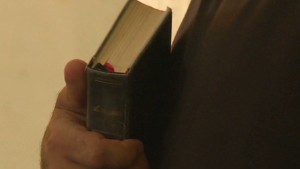 Iraqi Christians living in fear of ISIS
Should they be there?
That depends on whom you ask.
Ret. Col. Doug MacGregor says no. He says it's a largely meaningless gesture.
"They'll be at risk," he said. He says he thinks sending them was the least bad of a list of bad options presented to the President, who felt he had to do something.
Maj. Gen. James "Spider" Marks disagrees.
The United States has to push back against ISIS, he said.
How dangerous are the militants?
MacGregor calls them "semi-illiteral (illiterate) thugs driving around in pickup trucks with machine guns."
They won't pose a military threat to the United States, he said. "They're occupied with decapitating Shiites and trying to establish an Islamist state in vast open stretches of empty, irrelevant desert."
Picking up on MacGregor's term, Marks said that "Illiteral (illiterate) thugs" have struck the United States before and could come again.
"We can't allow that to occur any more than it is right now in Iraq," he said.
The group has shown signs of sophistication, publishing complex reports on its finances.
It has recruited fighters from multiple countries and bonded with professional ex-members of former Iraqi leader Saddam Hussein's armed forces. And Sunni tribal leaders have also joined their ranks.
ISIS also holds much of the northernmost region of Syria.
Kerry: U.S. would communicate with Iran, not work with it, against ISIS
Will the advisers' presence help?
That's yet to be seen.
Obama has said that his goal is to prevent Iraq from becoming a haven for terrorists.
Some have criticized him for not leaving a residual force in the country to prevent the type of invasion ISIS has mounted.
But Obama is quick to point out Iraq's role in that choice by not protecting U.S. troops from Iraq's justice system in the event of bloodshed.
"The Iraqi government and Prime Minister (Nuri al-Maliki) declined to provide us that immunity," Obama said.
Retired Sgt. Banotai feels iffy about Iraqi soldiers' commitment.
When the ISIS jihadis overran the northern cities, many Iraqi troops put up little resistance and fled.
"I had friends over there who had the exact opposite experience where over 50% of a unit would desert at a given time and a firefight would happen and they would drop their rifles and run."
Opinion: Cheney's amazing chutzpah on Iraq
Transcript: Obama's remarks on U.S. response to Iraq crisis
Current fighting pushes Iraqi refugee population past 1 million
CNN's Jim Acosta contributed to this report.