Rare albino whale 'parades' off Australian coast
updated 10:33 AM EDT, Thu June 19, 2014
STORY HIGHLIGHTS
One of world's only known albino humpbacks is spotted off Australia
Nicknamed "Migaloo," the whale's movements are being tracked by researchers
Migaloo was first seen in 1991 as a juvenile, experts say
This is the third year in a row he's been spotted
(CNN) -- "Thar he blows!" In a scene straight out of Moby Dick, a rare white whale is back and putting on a show for his fans off the eastern coast of Australia this week.
First spotted on Tuesday, the albino humpback has been nicknamed "Migaloo" by researchers who track his movements.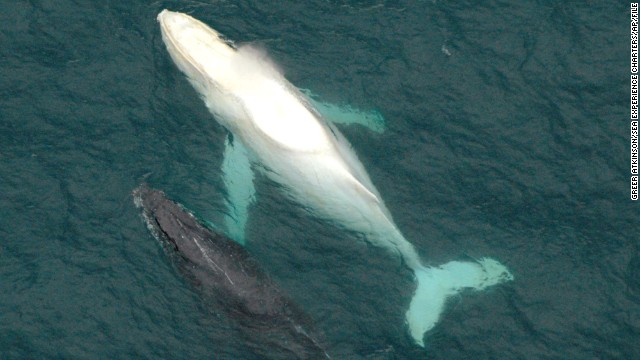 The albino humpback whale nicknamed Migaloo cruises along the eastern coast of Australia near Coffs Harbour with another whale in 2005. On Thursday, June 19, he was spotted swimming along the coast near Sydney on his annual migration.
A rare 300-pound marlin was caught and released off the coast of Costa Rica during a fishing trip run by Maverick Yachts and Maverick Sportfishing Tours on March 11. It's being called the first-ever recorded albino blue marlin, according to the company's Facebook page. It's unclear whether the fish was albino or leucistic, retaining some essence of its normal pigmentation.
An albino killer whale nicknamed Iceberg, the only all-white, adult killer whale ever spotted, travels in a pod of 13 orcas near Bering Island off the coast of Russia.
A rare albino tammar wallaby and its twin at Chris Humfrey's Wild Action Zoon in Macedon, Australia.
Two-week-old Sri Lankan Albino cobras at the National Zoological Gardens in Colombo, Sri Lanka.
An albino baby turtle swims with green sea turtle babies in a pond at Khram island, Thailand.
A wild white donkey on the island of Asinara, Italy. The donkey is an albino variant of the more common Sardinian donkey.
These two white albino alligators live in the Alligator Bay zoological park in Beauvoir, France.
Two albino porcupines compete for a corn cob at the Kamla Nehru Zoological Garden in Ahmedabad, India.
An albino hedgehog in the Zoo of the Botanical Garden in the Russian Black Sea resort of Sochi.
A rare albino buffalo grazes in Hellsgate National Park in Naivasha, Kenya.
An albino squirrel in Hout Bay, South Africa.
A rare albino southern right whale calf surfaces at West Australia's Flinder's Bay.
A rare baby two-humped camel stands with its mother in a private zoo at the Crimean resort of Yalta.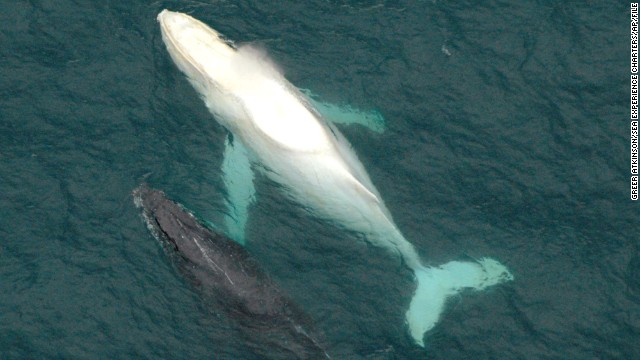 Photos: Albinos of the animal kingdom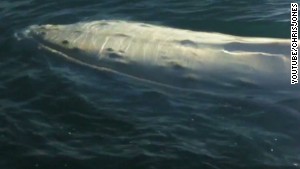 See rare albino whale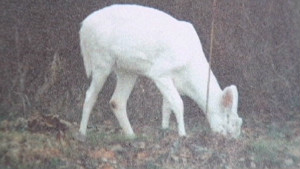 Albino deer killed illegally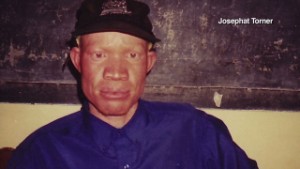 Josephat Torner: Living with albinism
On Thursday he was seen swimming along Sydney's coast on his annual migration. This is the third year in a row he's been spotted.
Albino whales are rare and Migaloo is one of only a small handful of documented all-white humpback adults, according to Oskar Peterson, who runs a website that tracks sightings of white whales around the globe.
"We have photos of a junior Migaloo from a few years ago, but we haven't seen him since so we don't know if he survived the South Ocean," said Peterson.
"But there is a 100% white whale we've seen photographic proof of in Norway, so Migaloo isn't quite as unique as we once thought."
Migaloo was first seen in 1991 when he was a juvenile and researchers believe he is now in his 20s.
He doesn't show up every year, but his journey is part of the humpbacks' annual migration from the Antarctic to their breeding grounds along the Great Barrier Reef.
"The helicopter crews are all out photographing him today," said Oskar Peterson. "He's giving us all quite a parade this year."
Migaloo passed by Cronulla in Sydney's south on Thursday afternoon and would soon be seen by whale watchers at Bondi Beach, Peterson said.
Spotters of the whale are sharing sightings, photos and video at his Twitter account, Migaloo1.
Male humpbacks can travel up to 140 kilometers (87 miles) a day during their migration, according to experts.
Researchers warn fans to steer clear -- at least 500 meters away at all times -- to ensure the whale's survival. Too much noise and chasing can disturb him and cause him to use precious energy he needs for migration.
But whale watchers may be able to enjoy Migaloo for decades. Humpback whales are believed to survive as long as 90 years in the wild.
Rare goblin shark wasn't the only thing that surfaced
What devoured this great white shark?
One-ton shark headed to Texas coast