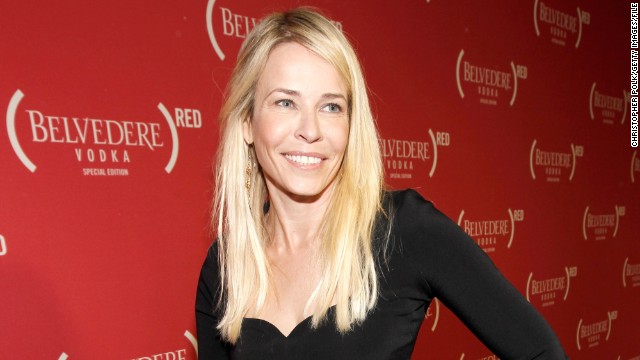 Don't worry about missing Chelsea Handler. She is ending her E! talk show, "Chelsea Lately," this summer after seven years, but
Netflix has announced she will host a talk show for the streaming TV service premiering in 2016.
Handler has been the only woman in late night lately so here we make a plea for some other funny women to take up the torch:
With her improv background and impeccable comedic timing, Amy Poehler, as TV critic Ken Tucker notes, would make a perfect host ... if only she'd step away from her critically adored prime-time comedy, "Parks and Recreation." Now that the show is wrapping up, our fingers are crossed.
Ellen DeGeneres is well-received in daytime, and given that when she took the selfie that took down Twitter at this year's Oscars, it's clear she's a slam dunk at night. Plus, as she always shows, she knows how to use humor to strong effect in her celebrity interviews.
It would probably be tough to find anyone who doesn't want to see Tina Fey lead her own show. She shares the same improv and "Saturday Night Live" background as Poehler, and we know she can write with the best of them, thanks to her work on the small screen and at the movies. And, as she showed with her pal Poehler at the Golden Globes, Fey also makes a fantastic awards ceremony host.
only lasted one season
, but who knows what could happen if she stepped into one of the established brands?
Besides being a gifted comedian, Wanda Sykes is an old pro -- she hosted and executive produced "The Wanda Sykes Show" on Fox in 2010. The show
Like Sykes, Kathy Griffin is a veteran comic with experience hosting her own show. Unfortunately, Bravo pulled the plug on "Kathy" after two seasons.
We know her now as the moderator on "The View," but Whoopi Goldberg knows how to host to a broad crowd, having been the master of ceremonies for the Oscars and the Tony Awards in the past. She also had her own syndicated talk show, "The Whoopi Goldberg Show," for one season in 1992.
Melissa McCarthy is more of a wild card, considering that she doesn't have any experience hosting. But with the dedication she's brought to her stints leading "Saturday Night Live" and her known fearlessness when it comes to physical comedy, we imagine a McCarthy-led hour would be a riot.
Can you host a variety show and a talk show at the same time? Like her "SNL" co-stars, Maya Rudolph is a sharp and accessible comedian who can appeal to both genders. If Jimmy Fallon was plucked from his movie career to lead "Late Night," we don't see why the same couldn't happen with Rudolph.
Yes, Sarah Silverman -- much like Chelsea Handler, should she ever reconsider her stance on broadcast TV -- would be on the saltier side for broadcast TV, but we've seen what she can do and it's funny.
Joan Rivers broke the mold in 1986 when she stepped out on her own on with "The Late Show," and we see no reason why she couldn't return to late-night broadcast TV. "Maybe we'll see an old lady slide into 3 a.m.," she joked with CNN.
We'd watch these ladies on late night
We'd watch these ladies on late night
We'd watch these ladies on late night
We'd watch these ladies on late night
We'd watch these ladies on late night
We'd watch these ladies on late night
We'd watch these ladies on late night
We'd watch these ladies on late night
We'd watch these ladies on late night
We'd watch these ladies on late night
We'd watch these ladies on late night