STORY HIGHLIGHTS
Conservative hawks says Obama didn't go far enough
President Obama outlines steps to bolster Iraq against ISIS fighters
CNN military analyst: "It is boots on the ground"
U.S. forces will advise Iraq's military, collect intelligence
Washington (CNN) -- Seeking a middle ground between calls for tough military action and none at all, President Barack Obama said Thursday he was sending up to 300 military advisers to Iraq to help the embattled government hold off a lightning advance from the north by Sunni militants.
Obama told White House reporters the goal was to prevent a civil war in Iraq that could destabilize the region, and also prevent creation of a terrorist safe haven in northern Iraq and neighboring Syria from which U.S. enemies could plan and launch attacks against American interests.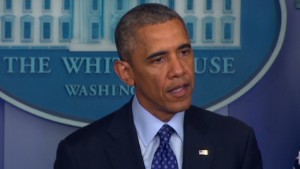 Obama: No combat for U.S. troops in Iraq
At the same time, Obama sought to allay fears of a military escalation that could relaunch the eight-year war he halted by withdrawing U.S. troops in 2011.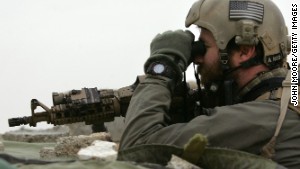 Pentagon ready to send troops to Iraq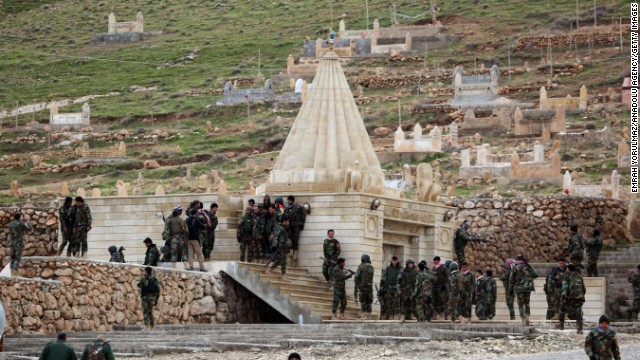 Kurdish Peshmerga fighters assemble at a shrine on Iraq's Mount Sinjar on Friday, December 19. The Kurdish military said that with the help of coalition airstrikes, it has "cleansed" the area of ISIS militants. ISIS has been advancing in Iraq and Syria as it seeks to create an Islamic caliphate in the region.
A Peshmerga fighter looks down at the body of an alleged ISIS fighter in Zummar, Iraq, on Thursday, December 18.
A Kurdish fighter stands next to a destroyed armored vehicle in northern Iraq on December 18. The vehicle was destroyed by an improvised explosive device placed by ISIS militants.
Peshmerga fighters stop to check a vehicle in Zummar on December 18 as they continue to battle ISIS fighters near the border with Syria.
Pro-Iraqi government forces guard a shrine in Balad, Iraq, on Monday, December 15.
A Yazidi woman displaced by ISIS militants tends to a fire Wednesday, December 10, at a shelter in Dohuk, Iraq.
A Kurdish child from the Kobani, Syria, area holds laundry at a refugee camp in Suruc, Turkey, on Monday, November 17. Tens of thousands of people have fled Kobani, known in Arabic as Ayn al-Arab, to escape ISIS.
Smoke rises from Kobani following airstrikes on November 17. The United States and several Arab nations have been bombing ISIS targets to take out the group's ability to command, train and resupply its fighters.
A Kurdish child from the Kobani area holds on to a fence at a refugee camp in Suruc on Sunday, November 16.
People in Suruc watch smoke rise near the Syrian border during clashes between ISIS members and armed groups on Thursday, November 13.
A bomb (upper left) falls on an ISIS position in Kobani during an airstrike by the U.S.-led coalition on Saturday, November 8.
Iraqi military forces take up position in Jurf al-Sakhar, Iraq, on November 8.
Fire and smoke rise from Kobani following airstrikes against ISIS on Thursday, October 30.
Iraqi special forces search a house in Jurf al-Sakhar on October 30 after retaking the area from ISIS.
Smoke rises during fighting in Kobani on Monday, October 27.
ISIS militants stand near the site of an airstrike near the Turkey-Syria border on Thursday, October 23.
An explosion rocks Kobani during a reported car-bomb attack by ISIS militants on Monday, October 20.
People watch Kobani from a hill near the Turkey-Syria border on October 20.
Kurdish fighters walk to positions as they fight ISIS forces in Kobani on Sunday, October 19.
A U.S. Air Force plane flies above Kobani on Saturday, October 18.
Heavy smoke rises in Kobani following an airstrike by the U.S.-led coalition on Saturday, October 18.
Cundi Minaz, a female Kurdish fighter, is buried in a cemetery in the southeastern Turkish town of Suruc on Tuesday, October 14. Minaz was reportedly killed during clashes with ISIS militants in nearby Kobani.
Turkish police officers secure a basketball stadium in Suruc on October 14. Some Syrian Kurds have been held there since crossing from Syria into Turkey.
Kiymet Ergun, a Syrian Kurd, celebrates in Mursitpinar, Turkey, after an airstrike by the U.S.-led coalition in Kobani on Monday, October 13.
Smoke rises from Kobani on Sunday, October 12.
Syrian Kurds from Kobani stand outside the grounds of a refugee camp in Suruc on Saturday, October 11.
Alleged ISIS militants stand next to an ISIS flag atop a hill in Kobani on Monday, October 6.
In this photo released by the U.S. Air Force on Saturday, October 4, a U.S. Navy jet is refueled in Iraqi airspace after conducting an airstrike against ISIS militants.
A Kurdish Peshmerga soldier who was wounded in a battle with ISIS is wheeled to the Zakho Emergency Hospital in Duhuk on Tuesday, September 30.
Iraqi Shiite militiamen aim their weapons during clashes with ISIS militants in Jurf al-Sakhar on Sunday, September 28.
Syrian Kurds wait near a border crossing in Suruc as they wait to return to their homes in Kobani on Sunday, September 28.
Syrian Kurds wait behind border fences to cross into Suruc on September 28.
Tomahawk missiles, intended for ISIS targets in Syria, fly above the Persian Gulf after being fired by the USS Philippine Sea in this image released by the U.S. Navy on Tuesday, September 23.
Turkish Kurds clash with Turkish security forces during a protest near Suruc on Monday, September 22. According to Time magazine, the protests were over Turkey's temporary decision to close the border with Syria.
Syrian Kurds fleeing ISIS militants wait behind a fence in Suruc on Sunday, September 21.
A elderly man is carried after crossing the Syria-Turkey border near Suruc on Saturday, September 20.
A Kurdish Peshmerga fighter launches mortar shells toward ISIS militants in Zummar on Monday, September 15.
An ISIS flag flies on the other side of a bridge at the front line of fighting between ISIS and Kurdish Peshmerga fighters in Rashad, Iraq, on Thursday, September 11.
U.S. Secretary of State John Kerry reads on a flight en route to Iraq on Wednesday, September 10. Kerry traveled to the Mideast to discuss ways to bolster the stability of the new Iraqi government and combat ISIS.
Kurdish Peshmerga fighters fire at ISIS militant positions from their position on the top of Mount Zardak, east of Mosul, Iraq, on Tuesday, September 9.
An Iraqi fighter jet flies over Amerli, Iraq, on September 3. Amerli had been under siege by ISIS militants.
Iraqi volunteer fighters celebrate breaking the Amerli siege on Monday, September 1. ISIS militants had surrounded Amerli, 70 miles north of Baquba, Iraq, since mid-June.
Kurdish Peshmerga forces stand guard at their position in the Omar Khaled village west of Mosul on Sunday, August 24.
Kurdish Peshmergas fight to regain control of the town of Celavle, in Iraq's Diyala province, on August 24.
Peshmerga fighters stand guard at Mosul Dam in northern Iraq on Thursday, August 21. With the help of U.S. military airstrikes, Kurdish and Iraqi forces retook the dam from ISIS militants on August 18. A breach of the dam would have been catastrophic for millions of Iraqis who live downstream from it.
Displaced Iraqis receive clothes from a charity at a refugee camp near Feeshkhabour, Iraq, on Tuesday, August 19.
A fighter with Kurdish Peshmerga forces battles ISIS militants near Mosul on Monday, August 18.
Peshmerga fighters inspect the remains of a car that reportedly belonged to ISIS militants and was targeted by a U.S. airstrike in the village of Baqufa, north of Mosul, on August 18.
Kurdish Peshmerga fighters fire at ISIS in Khazair, Iraq, on Thursday, August 14.
Volunteers of the Iraqi Red Crescent Society unload boxes of goods before distributing them August 14 to families who fled from ISIS.
From the flight deck of the USS George H.W. Bush, which is in the Persian Gulf, two U.S. fighter jets take off for a mission in Iraq on Monday, August 11. U.S. President Barack Obama authorized airstrikes against Islamic militants and food drops for Iraqis who are trapped by the militants.
Aziza Hamid, a 15-year-old Iraqi girl, cries for her father while she and some other Yazidi people are flown to safety Monday, August 11, after a dramatic rescue operation at Iraq's Mount Sinjar. A CNN crew was on the flight, which took diapers, milk, water and food to the site where as many as 70,000 people were trapped by ISIS. But only a few of them were able to fly back on the helicopter with the Iraqi Air Force and Kurdish Peshmerga fighters.
Thousands of Yazidis are escorted to safety by Kurdish Peshmerga forces and a People's Protection Unit in Mosul on Saturday, August 9.
Iraqi Shiite volunteers who have joined government forces to fight ISIS take part in a training session near Basra, Iraq, on Thursday, August 7.
Thousands of Yazidi and Christian people flee Mosul on Wednesday, August 6, after the latest wave of ISIS advances.
A Baiji oil refinery burns after an alleged ISIS attack in northern Selahaddin, Iraq, on Thursday, July 31.
A Syrian rebel fighter lies on a stretcher at a makeshift hospital in Douma, Syria, on Wednesday, July 9. He was reportedly injured while fighting ISIS militants.
Iraqis who fled fighting in the cities of Mosul and Tal Afar try to enter a temporary displacement camp in Khazair on Wednesday, July 2.
Peshmerga fighters check cars at the entrance of a temporary displacement camp in Khazair on Thursday, June 26.
Kurdish Peshmerga take their positions behind a wall on the front line of the conflict with ISIS militants in Tuz Khormato, Iraq, on Wednesday, June 25.
Peshmerga fighters clean their weapons at a base in Tuz Khormato on June 25.
New army recruits gather in Najaf, Iraq, on Wednesday, June 18, following a call for Iraqis to take up arms against Islamic militant fighters.
An MH-60R Sea Hawk helicopter lands on the aircraft carrier USS George H.W. Bush in the Persian Gulf on Tuesday, June 17.
Newly recruited Iraqi volunteer fighters take part in a training session in Karbala, Iraq, on June 17.
Members of ISIS prepare to execute soldiers from Iraq's security forces in this image, one of many reportedly posted by the militant group online. CNN cannot independently confirm the authenticity of the images.
Iraqi men chant slogans outside of an army recruiting center to volunteer for military service Thursday, June 12, in Baghdad.
Kurdish Peshmerga forces, along with Iraqi special forces, deploy their troops and armored vehicles outside of Kirkuk, Iraq, on June 12.
Children stand next to a burnt vehicle during clashes between Iraqi security forces and ISIS militants in Mosul on Tuesday, June 10.
Civilians from Mosul escape to a refugee camp near Irbil, Iraq, on June 10.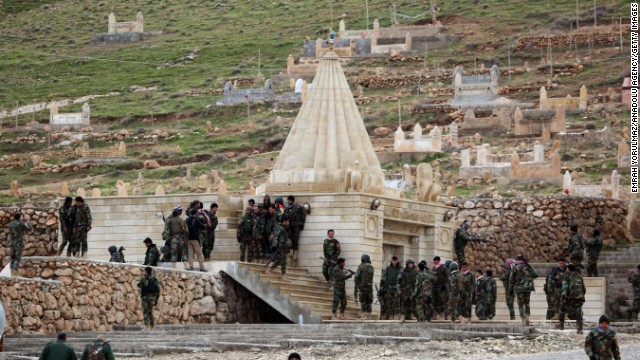 Photos: The ISIS terror threat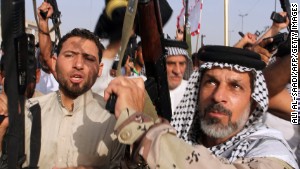 VP Biden speaks with Iraqi Leaders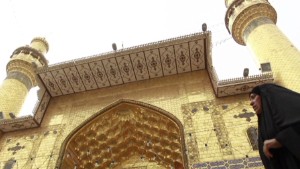 Iran to help save Iraqi temples?
"We have had advisers in Iraq through our embassy and we are prepared to send a small number of additional American military advisers -- up to 300 -- to assess how we can best train, advise and support Iraqi security forces going forward," the President said.
"American forces will not be returning to combat in Iraq but we will help Iraqis as they take the fight to terrorists who threaten the Iraqi people, the region and American interests as well," he added.
Obama also said his strategy meant that "going forward, we will be prepared to take targeted and precise military action if and when we determine that the situation on the ground requires it."
Possible airstrikes
The language signaled possible airstrikes against the Islamic State in Iraq and Syria (ISIS) fighters who have swept toward Baghdad in recent weeks.
Senior administration officials told reporters after Obama's statement that the United States will be sending the advisers to multiple joint command locations in Baghdad and elsewhere in Iraq.
Several initial teams of about a dozen special forces members from units in the region would begin arriving in Iraq soon, said one of the officials on a White House phone conference conducted on condition of anonymity.
Earlier, several U.S. officials told CNN that the Pentagon proposed sending Green Berets, Army Rangers and Navy SEALs to Iraq as military advisers and to collect intelligence.
The term military adviser evokes memories of the Vietnam War, when the U.S. government used that label for initial American forces sent over in what ended up as a long and costly engagement. U.S. officials acknowledged the American military advisers would likely face danger based on their location.
Boots on the ground
CNN military analyst Rick Francona said the decision amounts to U.S "boots on the ground" in Iraq, no matter how the administration characterizes it.
"This is the first step. This is how you get drawn into these situations," said Francona, adding that the mission must be clearly defined to avoid greater military involvement.
In response to questions from reporters after his statement, Obama rejected criticism that bringing home troops from Iraq three years ago contributed to the current crisis, saying it was Iraqi Prime Minister Nuri al-Maliki who rejected a residual force agreement over the need for a core requirement that would immunize U .S. troops from local prosecution.
Obama also made clear that he blamed al-Maliki for worsening Iraq's deep sectarian divide by failing to include Sunni and Kurdish interests in his policies.
He called on a new Iraqi government recently elected to adopt more inclusive policies, and said he was sending Secretary of State John Kerry to the region to promote such an approach. U.S. sources say Kerry is expected to travel to Iraq soon.
"Unless there is a coming together and elimination of the mistrust and addressing of the sense of isolation of different segments of Iraqi society -- unless people are brought together in order to try to bring the country together it's going to be -- there is no single military solution," Kerry told reporters on Thursday.
New government
On the White House call, a senior administration official said a main goal of the moves announced by Obama was to allow the constitutional process of setting up a new Iraqi government to occur within the legally required time frame.
The freshly elected Parliament will choose a new prime minister and president, and the Obama administration has signaled the need for a different approach than the sectarian polices of al-Maliki.
To conservative hawks in Congress, Obama's moves didn't go far enough.
"We are deeply concerned that the President continues to make political change in Iraq the prerequisite for greater U.S. military and other actions that could begin reversing the momentum of ISIS and improving the security situation in the country," said a statement by Republican Sens. John McCain of Arizona and Lindsey Graham of South Carolina, two leading critics of what they consider to be the President's soft foreign policy.
U.S. officials familiar with the Pentagon plan, who spoke to CNN on condition of not being identified, said the teams of military advisers would be placed around Iraq in the headquarters of Iraqi military brigades and tasked with gathering intelligence on ISIS forces, such as their location, numbers and weaponry.
Such information could provide needed intelligence if Obama decides to proceed with airstrikes on ISIS fighters, as requested by Iraq.
Baghdad tense as military seeks to halt ISIS militants' advance
Airstrikes an option
For days, military sources have said ISIS fighters are dispersed and mixed in with local populations, making them difficult to target precisely with airstrikes.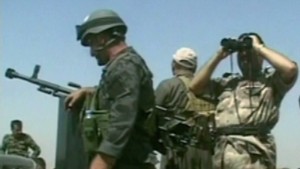 Iraq asks for U.S. aid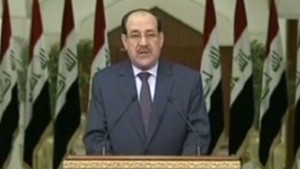 Does Iraqi prime minister have to go?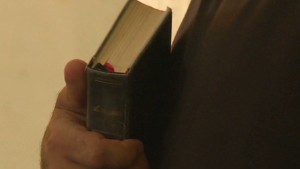 Iraqi Christians living in fear of ISIS
Francona noted that the U.S. special forces would be "in a great position to call in any air strikes" if Obama decided to use that option, too.
On Wednesday, the President met with congressional leaders and later with Kerry on the Iraq crisis, which has prompted GOP criticism of U.S. foreign policy in the hyper- partisan environment of an election year in Washington.
According to a White House statement, Obama went over efforts to "strengthen the capacity of Iraq's security forces to confront the threat" from ISIS fighters, "including options for increased security assistance."
Earlier, spokesman Jay Carney spelled out one limit to any help, saying: "The President hasn't ruled out anything except sending U.S. combat troops into Iraq."
Congressional authorization
While the White House statement emphasized Obama would continue to consult with Congress, Senate Republican leader Mitch McConnell of Kentucky said the President "basically just briefed us on the situation in Iraq and indicated he didn't feel he had any need for authority from us for the steps that he might take."
House Democratic leader Nancy Pelosi of California agreed with McConnell's assessment, adding she believed congressional authorization for military force in Iraq back in 2001 and 2003 still applied.
A few hours earlier, Defense Secretary Chuck Hagel and Joint Chiefs Chairman Gen. Martin Dempsey said they were working out details on possible U.S. steps that could include airstrikes on ISIS fighters.
The two leaders agreed with senators on a budget subcommittee that the Iraq crisis amounted to a threat to U.S. interests in the region and, down the road, a possible threat to the homeland if northern Iraq and neighboring Syria become a safe haven for al Qaeda-affiliated Islamists.
Kerry: U.S. would communicate with Iran, not work with it, against ISIS
Washington politics
Obama has advocated less unilateral U.S. intervention abroad than his predecessor, GOP President George W. Bush, who led America into wars in Iraq and Afghanistan following the September 11, 2001, terrorist attacks.
Republicans hoping to win control of the Senate and maintain their House majority in the November election have sought to depict Obama's foreign policy as weak and ineffective. They claim that a U.S. failure to intervene more forcefully on behalf of Syrian opposition forces created an opening for the Sunni militant movement now marching toward Baghdad.
House Speaker John Boehner, who attended the White House meeting with Obama a day earlier, told reporters on Thursday that the Iraq crisis amounted to a broader foreign policy failure by the administration.
"When you look it is not just Iraq," the Ohio Republican said. "It is Libya, it's Egypt, it's Syria. The spread of terrorism has increased exponentially under this President's leadership."
Administration officials blame Iraq's crisis on the failure of Prime Minister Nuri al-Maliki to govern more inclusively over a nation with major sectarian divisions, especially between the Sunni-dominated north and Shia-dominated south.
Democratic Sen. Dianne Feinstein of California, the head of the Senate Intelligence Committee, said al-Maliki needs to be convinced that his retirement would be in his country's best interest.
"I think that most of us that have followed this are really convinced that the Maliki government, candidly, has got to go if you want any reconciliation," she said this week.
Other Democrats grudgingly supported Obama's announcement.
"To help Iraqis contain the current violence and protect our national security interests, I support President Obama's decision to deploy a very limited number of advisers to Iraq for a non-combat training mission," said a statement Thursday by Senate Majority Leader Harry Reid of Nevada.
He said that "any U.S. role in Iraq must remain sharply limited in scope," arguing that government funds should be for rebuilding infrastructure at home instead of more war in Iraq.
Opinion: Cheney's amazing chutzpah on Iraq
Transcript: Obama's remarks on U.S. response to Iraq crisis
Current fighting pushes Iraqi refugee population past 1 million
CNN's Ted Barrett, Jim Sciutto and Laura Koran contributed to this report.