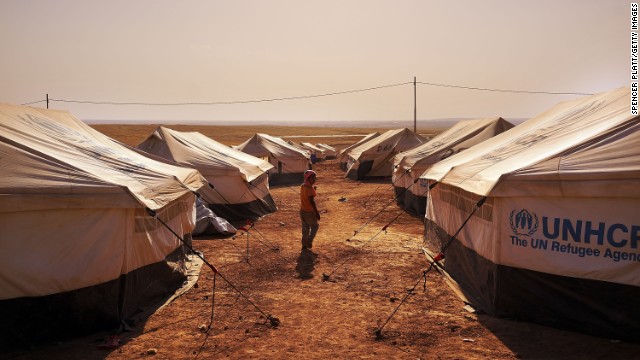 An Iraqi child walks through a displacement camp Saturday, June 28, in Khazair, Iraq. Vast swaths of northern Iraq, including the cities of Mosul and Tal Afar, have fallen as the Islamic State in Iraq and Syria, or ISIS, advances toward Baghdad, the capital. The ISIS militants want to establish a caliphate, or Islamic state, in the region, stretching from Iraq into northern Syria.
An Iraqi woman walks with her child outside of a displacement camp on June 28 in Khazair, now home to an estimated 1,500 internally displaced persons.
Peshmerga fighters, or Kurdish warriors, check cars at the entrance to a temporary displacement camp in Khazair, Iraq, for people caught in the fighting in and around the city of Mosul on Thursday, June 26.
A group of women wait outside the temporary displacement camp in Khazair on June 26.
Smoke rises in the Karakus district of Mosul as clashes between Iraqi forces and ISIS militants on June 26.
Food is handed out at the displacement camp in Khazair.
A child walks over discarded water bottles and trash at a registration area at the displacement camp in Khazair on June 26.
Kurdish Peshmerga take their positions behind a wall on the front line of the conflict with ISIS militants in Tuz Khormato, Iraq, on Wednesday, June 25.
Peshmerga fighters clean their weapons at a base in Tuz Khormato, Iraq, on June 25.
Female Peshmerga between 18 and 45 years old form a special unit that is called to serve in any conditions. A soldier is pictured here on June 25.
A woman gathers bread in a temporary displacement camp for Iraqis caught up in the fighting in and around Mosul on Tuesday, June 24.
An ISIS fighter takes control of a traffic intersection in Mosul on Sunday, June 22.
An ISIS member distributes a copy of the Quran, Islam's holy book, to a driver in Mosul on June 22.
Members of ISIS patrol in Falluja, 40 miles west of Baghdad, on Saturday, June 21.
Volunteers raise their weapons and chant slogans during a parade in the Shiite stronghold of Sadr City, Baghdad, on Saturday, June 21.
Iraqi men register to volunteer to fight alongside security forces against Sunni Muslim militants and jihadists on Friday, June 20, at a recruitment center in Baghdad.
New Iraqi army recruits gather in Najaf on Wednesday, June 18, following a call for Iraqis to take up arms against Islamic militant fighters.
Soldiers with an Iraqi anti-terrorism unit are on guard June 18 in Baghdad.
A Kurdish Peshmerga fighter injured in clashes with members of ISIS lies in a hospital in Irbil on June 18.
An MH-60R Sea Hawk helicopter lands on the aircraft carrier USS George H.W. Bush in the Persian Gulf on Tuesday, June 17. The carrier moved into the region to give President Barack Obama
Newly recruited Iraqi volunteer fighters take part in a training session in Karbala on June 17.
Iraqi tribesmen gather in Baghdad on Monday, June 16, to show their readiness to join Iraqi security forces in the fight against Islamic militants.
Iraqi Christian children gather inside the Church of the Virgin Mary for prayers in Bartala, Iraq, a town near Mosul, on Sunday, June 15. Militants seized Mosul last week, reportedly leading more than 500,000 people to flee Iraq's second-largest city.
Shiite tribal fighters raise their weapons and chant slogans against ISIS in Basra, Iraq, on June 15.
Members of ISIS prepare to execute some soldiers from Iraq's security forces in this image, one of many reportedly posted by the militant group online. CNN cannot independently confirm the authenticity of the images.
A woman cradles her baby Thursday, June 12, at a temporary camp set up in Aski Kalak, Iraq, to shelter those fleeing the violence in northern Nineveh province.
A girl fleeing from Mosul arrives at a Kurdish checkpoint on June 12.
Iraqi men chant slogans outside of an army recruiting center to volunteer for military service June 12 in Baghdad.
Kurdish Peshmerga forces, along with Iraqi special forces, deploy their troops and armored vehicles outside of Kirkuk, Iraq, on June 12.
Children stand next to a burnt vehicle during clashes between Iraqi security forces and ISIS militants in Mosul on Tuesday, June 10.
Civilians from Mosul escape to a refugee camp near Irbil, Iraq, on June 10.
Iraqis fleeing the violence wait in their vehicles at a Kurdish checkpoint in Aski Kalak on June 10.
Iraq under siege
Iraq under siege
Iraq under siege
Iraq under siege
Iraq under siege
Iraq under siege
Iraq under siege
Iraq under siege
Iraq under siege
Iraq under siege
Iraq under siege
Iraq under siege
Iraq under siege
Iraq under siege
Iraq under siege
Iraq under siege
Iraq under siege
Iraq under siege
Iraq under siege
Iraq under siege
Iraq under siege
Iraq under siege
Iraq under siege
Iraq under siege
Iraq under siege
Iraq under siege
Iraq under siege
Iraq under siege
Iraq under siege
Iraq under siege
Iraq under siege
Iraq under siege
Iraq under siege