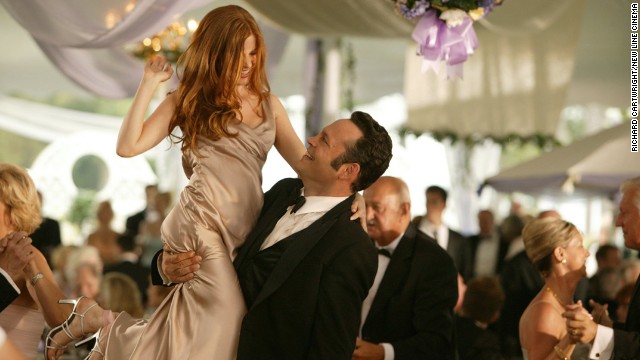 Everyone loves a good wedding movie -- especially when the guests are behaving terribly. Here are a few of our favorite faux pas from films. "
Wedding Crashers":
Vince Vaughn and Owen Wilson make a habit of crashing strangers' weddings, feasting on the freebies and occasionally making, uh, friends with tipsy bridesmaids such as Isla Fisher, left, in this 2005 comedy.
"Bride Wars": Sometimes the worst guest is your best friend. Kate Hudson, center left, and Anne Hathaway play battling Bridezillas whose weddings are inadvertently scheduled on the same day in this 2009 movie.
"Arthur": In this 2011 remake, Russell Brand reprises Dudley Moore's 1981 turn as a wealthy, hapless alcoholic who will do anything to sabotage his arranged marriage to a socialite, because he's in love with a working-class woman of whom his family does not approve.
"My Best Friend's Wedding": Speak now or forever hold your peace. And for the record now should be weeks, months or years before your longtime crush's wedding to someone else. In this 1997 comedy, Julia Roberts plays a woman who chooses to ignore this advice and realizes she's in love with her male best friend at a most inconvenient time.
"The Hangover": What's the worst thing a best man could do? Lose the groom right before the wedding, leaving the bride-to-be (Sasha Barrese) and her parents (Jeffrey Tambor and Sondra Currie) at a loss. This 2009 box-office smash (which spawned two sequels) retraces the steps of a party of bachelors, played by Bradley Cooper, Ed Helms and Zach Galifianakis, who can't find the groom (Justin Bartha) after a wild night in Vegas.
"Bridesmaids": In this 2011 comedy, maid of honor Annie (Kristin Wiig, far right) hits a rough patch right before the wedding of best friend Lillian (Maya Rudolph, second from right) and accidentally sabotages everything from the dress fitting to the bachelorette party. Her increasingly erratic behavior strains her friendship with the overwhelmed bride until she's fired from the wedding -- and her friendship.
"Bachelor Party": In this 1984 flick, Tom Hanks plays a good-guy bachelor taken aback when his friends throw him the debauched evening of a lifetime -- complete with some very adult entertainment.
"The Wedding Singer": When's a horrible time to meet your soul mate? When you're about to get married to someone else. In this 1998 comedy, Adam Sandler plays a wedding singer with a star-crossed crush on a bride-to-be (Drew Barrymore).
"Rachel Getting Married": A bride (Rosemarie DeWitt, second from right) has enough to worry about without wondering if her sister (Anne Hathaway, left), freshly released from rehab, is going to spoil the wedding day with her bad behavior in this 2008 film.
"The Wedding Planner": Yes, the groom (Matthew McConaughey) is adorable in this 2001 romantic comedy, but a wedding planner (Jennifer Lopez) ought to know better than to fall for a client. But then where would the fun be?
"American Wedding": The "American Pie" gang has grown older and graduated to wedding cake in this 2003 sequel, but that doesn't mean they've grown up. At the nuptials of Michelle and Jim (Alyson Hannigan and Jason Biggs), messy antics ensue. (And yes, Stifler's mom makes quite a splash.)
Bachelorette: A tip -- frenemies don't make good bridesmaids. In this 2012 film, Isla Fisher, left, Lizzy Caplan, center, and Kirsten Dunst are members of the wedding party of a woman they used to taunt in high school, and find that little has changed.
"Runaway Bride": Bridesmaids aren't the issue at Maggie Carpenter's (Julia Roberts) nuptials -- it's her inability to show up at the altar at her own wedding in this 1999 romantic comedy.
"The Five-Year Engagement": Both bride (Emily Blunt) and groom (Jason Segel) are potential no-shows at the altar over the course of a long engagement and behave pretty awfully along the way in this 2012 comedy.
Movie wedding guests behaving badly
Movie wedding guests behaving badly
Movie wedding guests behaving badly
Movie wedding guests behaving badly
Movie wedding guests behaving badly
Movie wedding guests behaving badly
Movie wedding guests behaving badly
Movie wedding guests behaving badly
Movie wedding guests behaving badly
Movie wedding guests behaving badly
Movie wedding guests behaving badly
Movie wedding guests behaving badly
Movie wedding guests behaving badly
Movie wedding guests behaving badly