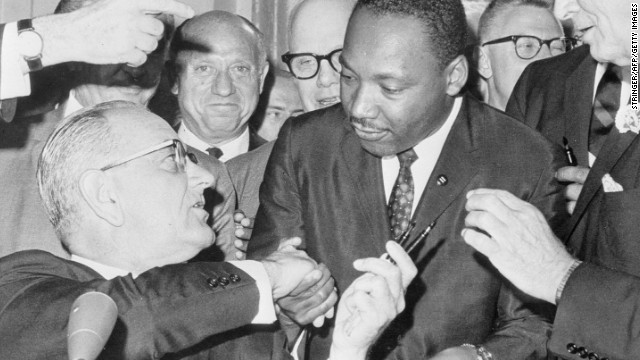 President Lyndon B. Johnson shakes hands with civil rights leader Martin Luther King Jr. after signing the Civil Rights Act of 1964. The LBJ Presidential Library is hosting a Civil Rights Summit this week to mark the 50th anniversary of the legislation.
Jackie Robinson, who broke Major League Baseball's color barrier, poses in the dugout with some of his Brooklyn Dodgers teammates during his first game on April 15, 1947.
Rosa Parks poses for her booking photo after she was arrested in Montgomery, Alabama, for refusing to give up her bus seat to a white passenger in 1955.
Students of Central High School in Little Rock, Arkansas, shout insults at Elizabeth Eckford as she walks toward the school building on the first day of school in 1957. Schools in Arkansas integrated races after the Supreme Court ruling in Brown v. Board of Education.
As part of his training for sit-in protests in 1960, student Virginius Thornton practices not reacting to smoke being blown in his face.
Freedom Riders sit on a bus during a trip from Montgomery to Jackson, Mississippi, in 1961. The Freedom Riders would brave mobs and endure savage beatings to desegregate interstate travel.
A black woman and a white woman sit next to each other at a New York City restaurant in 1962.
A police dog jumps at a 17-year-old civil rights demonstrator in Birmingham, Alabama, on May 3, 1963. The image appeared on the front page of The New York Times the next day.
Firefighters turn their hoses on demonstrators in Birmingham in July 1963. When civil rights protesters stalled in Birmingham, the city's African-American children took to the streets. Their bravery facing water hoses and dogs riveted the nation.
King addresses the crowd at the Lincoln Memorial in Washington, where he delivered his famous "I Have a Dream" speech on August 28, 1963.
People gather on the National Mall during the March on Washington on August 28, 1963.
Sarah Jean Collins, 12, lies in bed after being blinded by the dynamite that killed her sister in the bombing of a Birmingham church in September 1963. Four African-American girls were killed in the blast.
The family of Carol Robertson, a 14-year-old girl killed in the church bombing, attend a graveside service for her in Birmingham on September 17, 1963.
A 1964 FBI poster seeks information on the whereabouts of Andrew Goodman, James Earl Chaney and Michael Henry Schwerner. The three civil rights workers disappeared in rural Mississippi in the summer of 1964. Their bodies were found 44 days later. They had been tortured before they were murdered.
Nation Of Islam leader and civil rights activist Malcolm X poses for a portrait in 1965. Malcolm was a symbol of black defiance who ridiculed King's stance on nonviolence.
The car belonging to Viola Liuzzo sits off the road near Selma, Alabama, in 1965. Liuzzo, a white housewife from Detroit, felt compelled to drive to Selma to help the civil rights movement after seeing demonstrators beaten on television. While driving on a deserted road in the small town one night, Liuzzo's car was run off the road and she was shot to death. Her death showed the nation that the civil rights movement was not just an African-American struggle -- it was an American struggle.
Memphis sanitation workers hold signs with the slogan "I am a man" during a strike in 1968. Their campaign against discrimination and poor conditions in the workplace brought King to Memphis.
King lies bleeding at the feet of other civil rights leaders after he was shot on the balcony of the Lorraine Motel in Memphis, Tennessee, on April 4, 1968.
King's widow, Coretta Scott King, and their daughter Yolanda sit in a car on their way to his funeral in Atlanta on April 9, 1968.
U.S. Olympians Tommie Smith, center, and John Carlos raise their fists in protest during the U.S. national anthem, which was being played after Smith won the 200 meters at the 1968 Summer Olympics in Mexico City.
The civil rights movement in photos
The civil rights movement in photos
The civil rights movement in photos
The civil rights movement in photos
The civil rights movement in photos
The civil rights movement in photos
The civil rights movement in photos
The civil rights movement in photos
The civil rights movement in photos
The civil rights movement in photos
The civil rights movement in photos
The civil rights movement in photos
The civil rights movement in photos
The civil rights movement in photos
The civil rights movement in photos
The civil rights movement in photos
The civil rights movement in photos
The civil rights movement in photos
The civil rights movement in photos
The civil rights movement in photos