STORY HIGHLIGHTS
Iraqi government must be "much more inclusive," says Hillary Clinton
Iraqi Prime Minister reportedly fires four top military officers
He accuses Saudis of giving radical groups material, moral support
Former Bush official Paul Wolfowitz says mistakes were made in Iraq
Baghdad, Iraq (CNN) -- As Islamic militants continue their murderous advance across Iraq, they have a new target in their sights: the city of Baquba, less than 40 miles north of Baghdad.
Gunbattles erupted in the city, only a 45-minute drive from the capital, on Tuesday as fighters and Iraqi government forces clashed.
Civilians are fleeing violence there and elsewhere in Iraq even as the United States bolsters its manpower in the region while it mulls what action to take.
According to a Baquba police official and an official in the Baquba governor's office, militants from the Islamic State in Iraq and Syria, or ISIS, have "made a great advance on Baquba" and are pushing very hard to take it, but the city has not fallen.
The Baquba officials told CNN that ISIS is moving in on the western side of Baquba and that villages just west of the city, as well as some areas in western Baquba, are under ISIS control.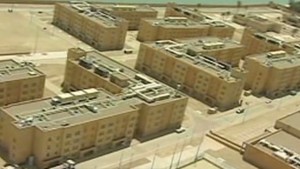 U.S. embassy on alert in Iraq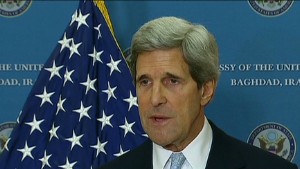 Kerry: U.S. could partner with Iran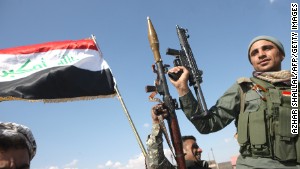 Obama to send 275 U.S. troops to Iraq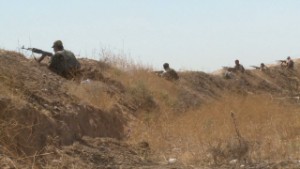 Kurdish fighters hold back ISIS
Some families, mainly Shiite, are fleeing that side of the city, the officials said. They are moving deeper into Baquba or leaving the city altogether to escape the looming violence.
The ISIS push started late Monday with a large-scale attack on the Al Wahda police station on the western edge of Baquba.
Heavy clashes between Iraqi security forces and ISIS militants ensued, leaving at least one Iraqi security force member and nine militants dead, according to the Baquba officials.
At least 44 prisoners in the jail at the Al Wahda police station were also killed, though there were conflicting reports as to how.
Two police officials in Baquba told CNN the prisoners were killed after ISIS militants fired four mortar rounds on the prison.
But a health official and a police official claimed that most of the prisoners were shot in the head and chest, and that none showed signs of having been killed in explosions.
Meanwhile, Iraqi state television reported that 52 prisoners were killed after ISIS militants threw hand grenades into the local prison.
In Baghdad, police told CNN that six bombs exploded, resulting in at least a dozen deaths and many more injuries. It's unclear who was behind the carnage.
Kurdish security sources also reported violence near Saadiya, about 55 miles (89 kilometers) north of Baghdad, as Kurdish fighters, known as Peshmerga, seek to retake control from ISIS militants there. The two sides are battling for control of Bashir village, southwest of Kirkuk city, as terrified civilians flee shelling by ISIS.
Separately, Prime Minister Nuri al-Maliki fired four top military officers who "deserted and did not fulfill their professional and national duty," according to a statement read on state TV.
U.S. beefs up presence
Meanwhile, the Pentagon is moving more firepower and manpower into the region to prepare for whatever President Barack Obama orders.
Already at the U.S. Embassy in Baghdad, dozens of Marines and Army troops have moved in to beef up security. Another 100 personnel are in the region to provide support if needed, the Pentagon said.
The aircraft carrier George H.W. Bush and five other warships are now in the Persian Gulf. More than 500 Marines and dozens of helicopters are on standby. A top priority: evacuate all Americans at the embassy, if it comes to that.
"Urgent assistance is clearly required. But we also need to help Iraq build the capacity to confront threats over the long term," Vice President Joe Biden said in Brazil, where he was attending the World Cup. "And that's going to require setting aside sectarianism, dealing with legitimate grievances, building up an inclusive security force, and ensuring that all communities live together and have their voices heard."
"The bottom line here is that Iraqis have to put together and pull together in order to defeat this enemy, and then move toward building a better future for Iraqi -- all Iraqi people. And we will help them in that effort."
Speaking at a CNN town hall meeting on Tuesday, Hillary Clinton, former secretary of state and a potential 2016 presidential candidate, said the Iraqi government made a "mistake" by failing to forge an agreement with the United States to keep American troops in Iraq after the war.
"It's imperative that the government of Iraq, currently led by Maliki, be much more inclusive, much more willing to share power, involve all the different segments of Iraq.
"And I believe strongly that if Maliki is not the kind of leader who can do that, then the Iraqi people need to think seriously about the kind of leader they need to try to unite Iraqis against what is a terrible, imminent threat from these most extreme terrorists," she said.
Also Tuesday, British Prime Minister David Cameron said at a news conference that ISIS's advances in Syria and Iraq constitute the "most serious threat to Britain's security that there is today."
"The number of foreign fighters in that area, the number of foreign fighters including those from the UK who could try to return to the UK, this is a real threat to our country," Cameron said. "And we will do absolutely everything that we can to keep our people safe."
It means, he said, "arresting people who are involved in plots" and "focusing our security, our policing, our intelligence effort" on the area of the world where ISIS operates.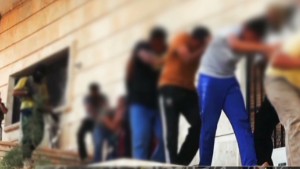 ISIS photos seem to show mass execution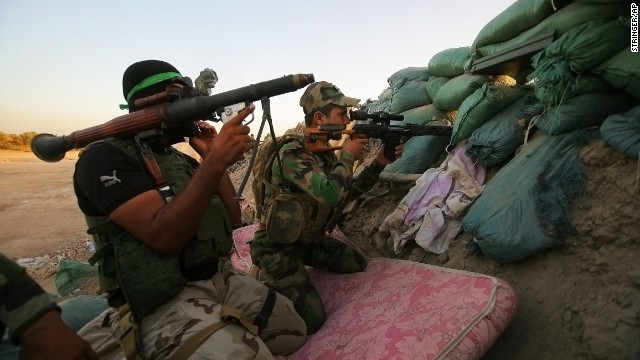 Iraqi Shiite militiamen aim their weapons during clashes with ISIS militants in Jurf al-Sakhar, Iraq, on Sunday, September 28. Some of the world's top diplomats have pledged support for Iraq, including military assistance, in its fight against ISIS militants. ISIS has taken over large swaths of northern and western Iraq as it seeks to create an Islamic caliphate that stretches from Syria to Iraq.
An Iraqi Shiite militiaman stands alert after clashes with ISIS militants September 28 in Jurf al-Sakhar.
An ISIS militant peers over a barricade near the Mullah Abdullah Bridge, located on the road between Irbil and Kirkuk, Iraq, on Saturday, September 27.
A man walks amid debris at the site of a car bomb attack in Baghdad, Iraq, on Wednesday, September 24.
People inspect the aftermath of a car bomb attack in Baghdad on Tuesday, September 23.
A woman walks around the site of a car bomb attack in Baghdad on Friday, September 19.
An Iranian Kurdish female member of the Freedom Party of Kurdistan is seen in Dibis, Iraq, on Monday, September 15.
A Kurdish Peshmerga fighter holds a position Thursday, September 11, in Yangije, Iraq, where heavy clashes against ISIS fighters took place the previous night.
An ISIS flag flies on the other side of a bridge at the front line of fighting between ISIS and Kurdish Peshmerga fighters in Rashad, Iraq, on September 11.
U.S. Secretary of State John Kerry, left, shakes hands with new Iraqi Prime Minister Haider al-Abadi after a meeting in Baghdad on Wednesday, September 10. Kerry is in the Mideast this week to discuss ways to bolster the stability of the new Iraqi government and combat ISIS.
Kurdish Peshmerga fighters fire at ISIS militant positions from their position on the top of Mount Zardak, east of Mosul, Iraq, on Tuesday, September 9.
A Kurdish fighter eyes ISIS positions outside Makhmour, Iraq, on Saturday, September 6.
Iraqis on Friday, September 5, exhume bodies from a mass grave found after Kurdish forces and Shiite militiamen retook the Iraqi town of Sulaiman Bek.
Iraqi Shiite militia fighters fire a rocket toward ISIS positions outside Tikrit, Iraq, on Wednesday, September 3.
An Iraqi fighter jet flies over Amerli, Iraq, on September 3. Iraqi forces recently broke the siege of Amerli from ISIS fighters.
Iraqi volunteer fighters on Monday, September 1, celebrate breaking the Amerli siege. ISIS militants had surrounded Amerli, 70 miles north of Baquba, Iraq, since mid-June.
Iraqi Shiite Turkmen, mostly women and children, try to board an Iraqi Army helicopter bringing supplies to Amerli on Saturday, August 30.
Kurdish Peshmerga forces stand guard at their position in the Omar Khaled village west of Mosul on Sunday, August 24.
Kurdish Peshmergas fight to regain control of the town of Celavle, in Iraq's Diyala province, on August 24.
Peshmerga fighters stand guard at Mosul Dam in northern Iraq on Thursday, August 21. With the help of U.S. military airstrikes, Kurdish and Iraqi forces retook the dam from ISIS militants on August 18. A breach of the dam would have been catastrophic for millions of Iraqis who live downstream from it.
Displaced Iraqis receive clothes from a charity at a refugee camp near Feeshkhabour, Iraq, on Tuesday, August 19.
A woman holds her sister during a sandstorm at a refugee camp in Feeshkhabour on August 19.
A fighter with Kurdish Peshmerga forces battles ISIS militants near Mosul on Monday, August 18.
A Shiite fighter defends a post while backing the Iraqi army in its fight against ISIS militants south of Baghdad on August 18.
A Kurdish Peshmerga fighter patrols near the Mosul Dam in Chamibarakat, Iraq, on Sunday, August 17.
Smoke rises after a U.S. airstrike near the Mosul Dam on August 17.
A Kurdish Peshmerga fighter prepares his weapon August 17 at a combat position near the Mosul Dam.
Trucks carrying Kurdish Peshmerga fighters head to the Mosul Dam on August 17.
From a position manned by the Kurdish Peshmerga south of Kirkuk, Kirkuk Gov. Najm al-Din Omar looks through binoculars toward Islamist jihadist positions on August 17.
Kurdish Peshmerga fighters stand behind a sand barricade set up close to the village of Bashir, Iraq, on August 17.
Kurdish Peshmerga fighters fire at ISIS in Khazair, Iraq, on Thursday, August 14.
Volunteers of the Iraqi Red Crescent Society unload boxes of goods before distributing them August 14 to families who fled from ISIS.
Displaced Iraqis of the Yazidi faith reach for bottled water at the Bajid Kandala refugee camp in Iraq's Dohuk province on Wednesday, August 13.
A Yazidi woman and children take shelter inside a tent at the Bajid Kandala camp on August 13.
From the flight deck of the USS George H.W. Bush, which is in the Persian Gulf, two U.S. fighter jets take off for a mission in Iraq on Monday, August 11. U.S. President Barack Obama has authorized airstrikes against Islamic militants and food drops for Iraqis who are trapped by the militants.
Displaced Iraqis of the Yazidi faith cross the Syria-Iraq border on Sunday, August 10.
Iraqi soldiers fan out into a field in Jurf al-Sakhar on August 10 after they reportedly pushed back Islamic jihadist fighters from the area.
An Iraqi man inspects the debris of houses in Falluja, Iraq, after an apparent air raid by the Iraqi Air Force on August 10.
An F/A-18C Hornet lands on the flight deck of the USS George H.W. Bush on August 10.
An Iraqi Yazidi child, whose family fled their home a week ago when ISIS militants attacked their town, looks on at a makeshift shelter August 10 in Dohuk, which is in Iraq's autonomous Kurdistan region.
Displaced Iraqis from the Yazidi community settle outside the Bajid Kandala camp on Saturday, August 9.
Displaced Iraqis ride on a truck on a mountain road near the Turkish-Iraq border, outside Dahuk, on August 9.
Thousands of Yazidis are escorted to safety by Kurdish Peshmerga forces and a People's Protection Unit in Mosul on August 9.
Humanitarian aid for Iraq is loaded onto an aircraft in Norton, England, on Friday, August 8.
Pallets of bottled water are loaded aboard a U.S. Air Force aircraft in preparation for a humanitarian airdrop over Iraq on August 8.
Smoke rises after airstrikes targeted ISIS militants outside Irbil on Friday, August 8.
Kurdish Peshmerga fighters take position on the front line on August 8.
Displaced Iraqi Christians settle at St. Joseph Church in Irbil on Thursday, August 7.
Iraqi Shiite volunteers who have joined government forces to fight ISIS take part in a training session near Basra, Iraq, on August 7.
Thousands of Yazidi and Christian people flee Mosul on Wednesday, August 6, after the latest wave of ISIS advances.
Kurdish Peshmerga forces and members of the Syrian People's Protection Units engage ISIS members in the Mahmudiye village of Mosul on Tuesday, August 5.
Yazidi women who fled violence in Sinjar, Iraq, take shelter at a school in Dohuk on August 5.
People in Mosul walk on the rubble of the destroyed Mosque of The Prophet Yunus, which is Arabic for Jonah, on Thursday, July 24.
An Iraqi child walks through a displacement camp Saturday, June 28, in Khazair, Iraq.
An Iraqi woman walks with her child outside of a displacement camp June 28 in Khazair.
Peshmerga fighters check cars at the entrance of a temporary displacement camp in Khazair on Thursday, June 26.
A group of women wait outside the temporary displacement camp in Khazair on June 26.
Smoke rises in the Karakus district of Mosul as clashes between Iraqi forces and ISIS militants take place on June 26.
Food is handed out at the displacement camp in Khazair.
A child walks over discarded water bottles and trash at a registration area in the displacement camp in Khazair on June 26.
Kurdish Peshmerga take their positions behind a wall on the front line of the conflict with ISIS militants in Tuz Khormato, Iraq, on Wednesday, June 25.
Peshmerga fighters clean their weapons at a base in Tuz Khormato on June 25.
Female Peshmerga between 18 and 45 years old form a special unit that is called to serve in any conditions. A soldier is pictured here on June 25.
A woman gathers bread in a temporary displacement camp for Iraqis on Tuesday, June 24.
An ISIS fighter takes control of a traffic intersection in Mosul on Sunday, June 22.
An ISIS member distributes a copy of the Quran, Islam's holy book, to a driver in Mosul on June 22.
Members of ISIS patrol in Falluja on Saturday, June 21.
"Peace Brigade" volunteers raise their weapons and chant slogans during a parade in the Shiite stronghold of Sadr City on Saturday, June 21, in Baghdad. The armed group was formed to protect Shiite holy shrines against possible attacks by Sunni militants.
Iraqi men register to fight alongside security forces Friday, June 20, at a recruitment center in Baghdad.
New army recruits gather in Najaf, Iraq, on Wednesday, June 18, following a call for Iraqis to take up arms against Islamic militant fighters.
Soldiers with an Iraqi anti-terrorism unit are on guard June 18 in Baghdad.
A Kurdish Peshmerga fighter injured in clashes with ISIS lies in a hospital in Irbil on June 18.
An MH-60R Sea Hawk helicopter lands on the aircraft carrier USS George H.W. Bush in the Persian Gulf on Tuesday, June 17.
Newly recruited Iraqi volunteer fighters take part in a training session in Karbala, Iraq, on June 17.
Iraqi tribesmen gather in Baghdad on Monday, June 16, to show their readiness to join Iraqi security forces in the fight against Islamic militants.
Iraqi Christian children gather inside the Church of the Virgin Mary for prayers in Bartala, Iraq, a town near Mosul, on Sunday, June 15.
Shiite tribal fighters raise their weapons and chant slogans against ISIS in Basra on June 15.
Members of ISIS prepare to execute some soldiers from Iraq's security forces in this image, one of many reportedly posted by the militant group online. CNN cannot independently confirm the authenticity of the images.
A woman cradles her baby Thursday, June 12, at a temporary camp set up in Aski Kalak, Iraq, to shelter those fleeing the violence in northern Nineveh province.
A girl fleeing from Mosul arrives at a Kurdish checkpoint on June 12.
Iraqi men chant slogans outside of an army recruiting center to volunteer for military service June 12 in Baghdad.
Kurdish Peshmerga forces, along with Iraqi special forces, deploy their troops and armored vehicles outside of Kirkuk on June 12.
Children stand next to a burnt vehicle during clashes between Iraqi security forces and ISIS militants in Mosul on Tuesday, June 10.
Civilians from Mosul escape to a refugee camp near Irbil on June 10.
Iraqis fleeing the violence wait in their vehicles at a Kurdish checkpoint in Aski Kalak on June 10.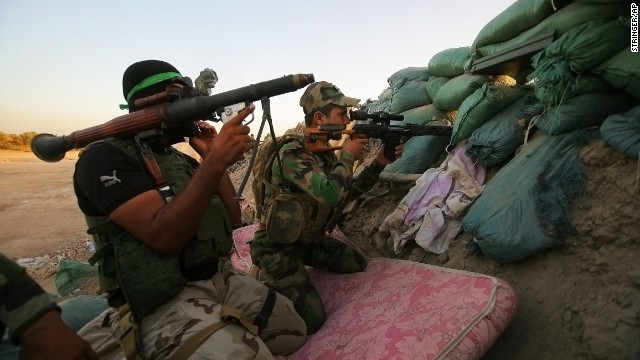 Photos: Iraq under siege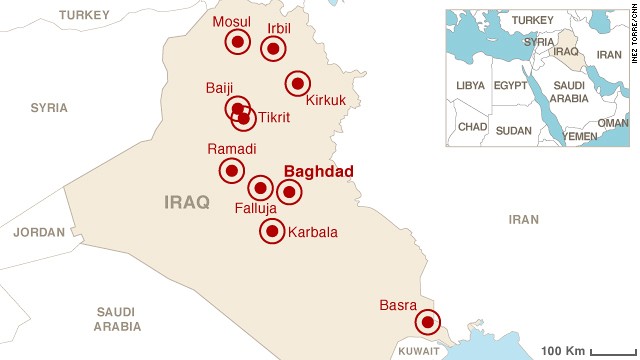 Map: Unrest in Iraq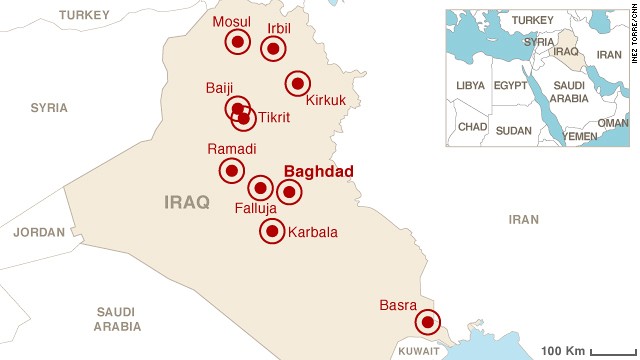 Map: Unrest in Iraq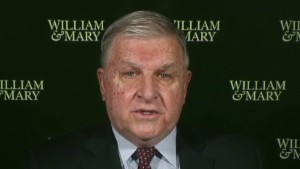 General: Don't make deal with the devil
Opinion: ISIS a fanatical force -- with a weakness
An unpalatable option
On Monday, Secretary of State John Kerry, in an interview with Yahoo! News, acknowledged that airstrikes on Iraqi targets are under consideration.
"Well, they are not the whole answer, but they may well be one of the options that are important to be able to stem the tide and stop the movement of people who are moving around in open convoys and trucks and terrorizing people," he said.
ISIS militants, who already control a chunk of war-torn Syria, began an offensive last week that has seen vast swaths of northern Iraq fall out of government hands. The extremist group has dominated parts of western Anbar province for months already, amid worsening sectarian division.
Iran plays a key role since it's an ally of Iraq's Shiite-led government. The ISIS militants are Sunni.
A senior security official in Baghdad told CNN last week that the country had sent about 500 Revolutionary Guard troops to help fight the ISIS militants. Iranian President Hassan Rouhani denied the report over the weekend, but said he would be open to helping if asked.
Given the forces at play, some analysts favor direct talks with Iranian officials.
"If we engage in a military action without a political solution, we will be seen as backing Maliki in a Sunni-Shia civil war. And that is exactly the opposite of what we want to do," said retired Army Col. Peter Mansoor.
Al-Maliki's media adviser, Ali al Mosawi, told CNN on Tuesday that the leader's meeting with the U.S. ambassador to Iraq had been "productive."
The government hopes "there will be more cooperation from the American side to combat terrorism," Mosawi said. "There is cooperation, but we are looking for more support."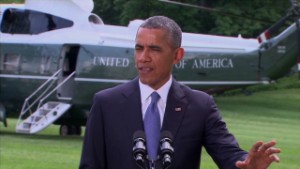 Obama criticized over handling of Iraq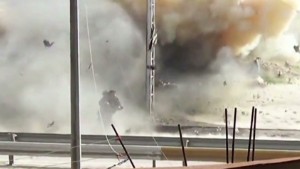 Hollywood-type videos show ISIS killings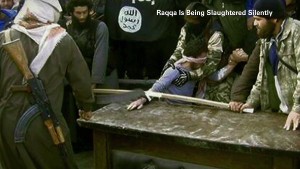 Meet the terrorists who scare al Qaeda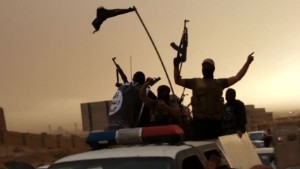 Where does ISIS get its money?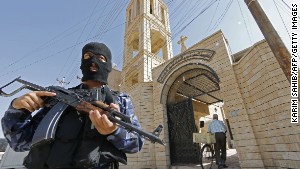 Who's to blame for Iraq chaos?
At the same time, a statement from al-Maliki's office accused Saudi Arabia of appeasing terrorists and providing radical groups with material and moral support.
"The Saudi government must bear responsibility of the serious crimes committed by these groups," the statement reads.
Saudi Arabia provided "monetary and moral support to the terrorist groups," the statement reads, according to a translation from Arabic.
ISIS uses social media to wage propaganda war
Tough choices
The United States and Iran held "very brief discussions" about Iraq and the threat posed by ISIS in Vienna, Austria, on Monday, State Department spokeswoman Marie Harf said.
Deputy Secretary of State William Burns is in Vienna for nuclear talks with Iran.
The Obama administration faces some tough choices should it opt to respond.
The U.S. has increased drone surveillance over western and northern Iraq in an effort to gather more intelligence. But using fighter jets to strike at militant targets could be difficult.
"It's the same reason it was so hard to target them when we had 160,000 troops there: They intermingle with the people," said retired Lt. Gen. Mark Hertling. "I think the uninitiated might say: 'Hey, What's so hard about that? Let's just drop a couple bombs.' "
Obama has ruled out U.S. troops on the ground.
Former U.S. Deputy Defense Secretary Paul Wolfowitz, one of the original architects of the U.S. invasion of Iraq in 2003, told CNN's "New Day" that the United States "should have found a way to keep an American presence in Iraq."
American military forces ended their withdrawal from the country in December 2011. At the time of the U.S. drawdown, Iraq's leadership had agreed that a residual U.S. military presence was desirable, but talks broke down over the prickly issue of legal immunity for U.S. troops in Iraq.
Wolfowitz acknowledged that "a lot of mistakes" had been made in Iraq and that it was not "set up well for Obama when he came in," but he said Obama could have done more after taking power to renegotiate the terms of the U.S. withdrawal agreed on under former President George W. Bush.
"I think we could have kept a substantial, not a huge, American presence -- not a combat presence, but the kind of support that would've kept Maliki better under control, that would've given the Iraqi army better ability to function," he said.
Pillay: War crimes likely
U.N. Secretary-General Ban Ki-moon told reporters Tuesday in Geneva, Switzerland, that he was "deeply concerned" about the rapidly deteriorating situation in Iraq.
U.N. High Commissioner for Human Rights Navi Pillay on Monday condemned the violence, citing reports that "hundreds of non-combatant men were summarily executed over the past five days," including surrendered soldiers and police.
"Although the numbers cannot be verified yet, this apparently systematic series of cold-blooded executions, mostly conducted in various locations in the Tikrit area, almost certainly amounts to war crimes," she said.
Significant victories
As ISIS continues its violent march, capturing cities along the way, many fear its fighters may reach Baghdad.
The group, which wants to establish an Islamic state, or caliphate, extending from Syria to much of Iraq, has dominated the towns of Falluja and Ramadi, in Anbar province to the west of Baghdad, for months.
The Obama administration, however, appears to have some confidence the insurgents will fail to take the capital.
A senior intelligence official drew a contrast between Iraqi Security Forces defending Baghdad and other Iraqi soldiers who melted away in the face of ISIS fighters across northern Iraq earlier this month.
"ISF elements protecting Baghdad are assessed to be more loyal to the regime and are composed of mostly Shia who are more likely to resist," the official said. "These factors, plus the fact that they are defending the capital, should motivate the ISF elements in Baghdad to put up a better fight."
In recent days, the group, also known as the Islamic State in Iraq and the Levant, has racked up several more significant victories, including the northwestern city of Tal Afar, two villages in Diyala province and Iraq's second-largest city, Mosul.
Hundreds of thousands have fled, prompting fears of a humanitarian crisis. Iraq's Cabinet said Tuesday it would give more than $850,000 in aid to help those displaced in Nineveh, Salaheddin and Diyala provinces.
Heavy clashes erupted near an Iraqi border crossing with Syria, officials said Tuesday, between Iraqi security forces and gunmen believed to be with the al-Nusra Front and other Syrian rebel groups.
So far, gunmen have taken over two small villages near al-Qaim, about 500 kilometers (311 miles) west of Baghdad, officials said.
As the violence spreads, the government has pleaded for volunteers to help fight the militants.
On Monday, a video surfaced that appeared to show a man in an Iraqi military uniform after he was shot in the face.
A militant fighter boasted on Facebook that he was proud of killing the man and said the video should be passed around to show what could happen to other Shiites.
The new images follow others apparently posted by ISIS to jihadi Internet forums appearing to show the executions of Iraqi security forces and a tweet, on what was claimed to be an ISIS account, saying its members had killed at least 1,700 Shiites.
'Foreign legion' in Iraq and Syria may bring jihad to West
Terrifying execution images in Iraq; U.S. Embassy in Baghdad relocates some staff
Opinion: Bush's toxic legacy in Iraq
Opinion: Obama, don't get sucked into Iraq III
CNN's Nic Robertson reported from Baghdad, Mohammed Tawfeeq reported in Atlanta and Laura Smith-Spark wrote in London. CNN's Jim Sciutto, Barbara Starr, Jim Acosta, Ted Barrett, Lisa Desjardins, Dana Ford, Ali Younes, Salma Abdelaziz and Raja Razek contributed to this report.