STORY HIGHLIGHTS
A well-orchestrated social media war is accompanying fighting in Iraq
Islamic State of Iraq and Syria recruits terror fighters on Twitter
Online videos showing group's attacks are glossy, high-quality
Google appears to have banned app used by ISIS to spread news
(CNN) -- It's a truth of warfare in the digital era: Bullets and bombs often are augmented by status updates and tweets.
The bloody conflict taking place in Iraq is no different. And Islamic State of Iraq and Syria, or ISIS, a terror group so extreme that al Qaeda has denounced it, is taking the lead with a social media propaganda war the likes of which has never been seen.
From recruiting fighters to spreading word of their violent attacks, ISIS is taking to the Web in what analysts say is a more sophisticated manner than previous combatants.
Perhaps as a result, Iraqis have been reporting widespread outages of social sites, a common refrain during recent unrest in the Middle East and elsewhere.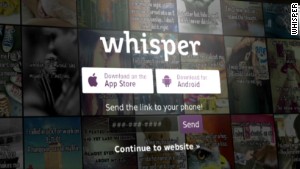 Frightened Iraqis take to anonymous app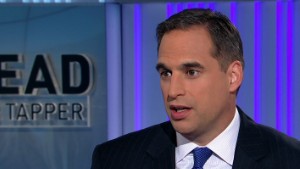 Expert: 'Dozens' of Americans with ISIS

What is the cost of U.S. action in Iraq?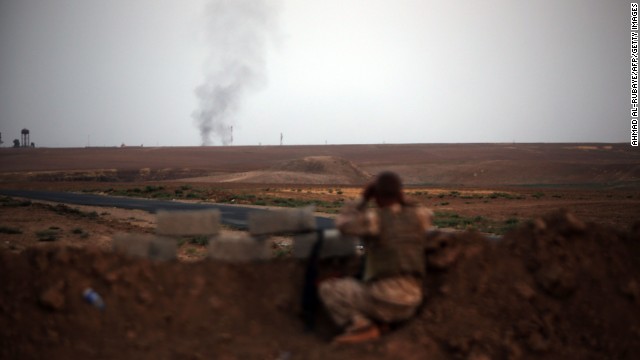 A fighter with Kurdish forces known as the Peshmerga is on the front lines battling ISIS militants near Mosul on Monday, August 18. ISIS has taken over large swaths of northern and western Iraq as it seeks to create an Islamic caliphate that stretches from Syria to Iraq.
A Shiite fighter defends a post while backing the Iraqi army in its fight against ISIS militants south of Baghdad on August 18.
A Kurdish Peshmerga fighter patrols near the Mosul dam in Chamibarakat on Sunday, August 17. With the help of U.S. military airstrikes, Kurdish and Iraqi forces retook the strategic dam from ISIS militants. A breach of the dam would have been catastrophic for millions of Iraqis who lived downstream from it.
Smoke rises near Mosul after a U.S. airstrike near the dam on August 17.
A Kurdish Peshmerga fighter prepares his weapon on August 17 at a combat position near the Mosul dam in Chamibarakat.
Trucks carrying Iraqi Kurdish Peshmerga fighters head to the Mosul dam on the Tigris River on August 17.
The governor of Kirkuk and head of the security committee, Najm al-Din Omar, looks through binoculars toward Islamist Jihadist positions on August 17 from a position manned by the Kurdish Peshmerga south of the oil hub city of Kirkuk.
Kurdish Peshmerga fighters stand behind a sand barricade set up close to the village of Bashir on August 17.
Kurdish Peshmerga fighters fire at ISIS in Khazar, Iraq, on Thursday, August 14.
Volunteers of the Iraqi Red Crescent Society unload boxes of goods before distributing them August 14 to families who fled from ISIS.
Displaced Iraqis of the Yazidi faith reach for bottled water at the Bajid Kandala refugee camp in Iraq's Dohuk province on Wednesday, August 13.
A Yazidi woman and children take shelter inside a tent at the Bajid Kandala camp on August 13.
From the flight deck of the USS George H.W. Bush, which is in the Persian Gulf, two U.S. fighter jets take off for a mission in Iraq on Monday, August 11. U.S. President Barack Obama has authorized airstrikes against Islamic militants and food drops for Iraqis who are trapped by the militants.
Displaced Iraqis of the Yazidi faith cross the Syria-Iraq border on Sunday, August 10.
Iraqi soldiers fan out into a field in Jurf al Sakhr, Iraq, on August 10 after they reportedly pushed back Islamic jihadist fighters from the area.
An Iraqi man inspects the debris of houses in Falluja, Iraq, after an apparent air raid by the Iraqi Air Force on August 10.
An F/A-18C Hornet lands on the flight deck of the USS George H.W. Bush on August 10.
An Iraqi Yazidi child, whose family fled their home a week ago when ISIS militants attacked their town, looks on at a makeshift shelter August 10 in Dohuk, which is in Iraq's autonomous Kurdistan region.
Displaced Iraqis from the Yazidi community settle outside the Bajid Kandala camp on Saturday, August 9.
Displaced Iraqis ride on a truck on a mountain road near the Turkish-Iraq border, outside Dahuk, on August 9.
Thousands of Yazidis are escorted to safety by Kurdish Peshmerga forces and a People's Protection Unit in Mosul, Iraq, on August 9.
Humanitarian aid for Iraq is loaded onto an aircraft in Norton, England, on Friday, August 8.
Pallets of bottled water are loaded aboard a U.S. Air Force aircraft in preparation for a humanitarian airdrop over Iraq on August 8.
Smoke rises after airstrikes targeted ISIS militants outside the Iraqi city of Irbil on Friday, August 8.
Kurdish Peshmerga fighters take position on the front line on August 8.
Displaced Iraqi Christians settle at St. Joseph Church in Irbil on Thursday, August 7.
Iraqi Shiite volunteers who have joined government forces to fight ISIS take part in a training session near Basra, Iraq, on August 7.
Thousands of Yazidi and Christian people flee Mosul on Wednesday, August 6, after the latest wave of ISIS advances.
Kurdish Peshmerga forces and members of the Syrian People's Protection Units engage ISIS members in the Mahmudiye village of Mosul on Tuesday, August 5.
Yazidi women who fled violence in Sinjar, Iraq, take shelter at a school in Dohuk on August 5.
People in Mosul walk on the rubble of the destroyed Mosque of The Prophet Yunus, which is Arabic for Jonah, on Thursday, July 24.
An Iraqi child walks through a displacement camp Saturday, June 28, in Khazair, Iraq.
An Iraqi woman walks with her child outside of a displacement camp June 28 in Khazair.
Peshmerga fighters check cars at the entrance of a temporary displacement camp in Khazair on Thursday, June 26.
A group of women wait outside the temporary displacement camp in Khazair on June 26.
Smoke rises in the Karakus district of Mosul as clashes between Iraqi forces and ISIS militants take place on June 26.
Food is handed out at the displacement camp in Khazair.
A child walks over discarded water bottles and trash at a registration area in the displacement camp in Khazair on June 26.
Kurdish Peshmerga take their positions behind a wall on the front line of the conflict with ISIS militants in Tuz Khormato, Iraq, on Wednesday, June 25.
Peshmerga fighters clean their weapons at a base in Tuz Khormato on June 25.
Female Peshmerga between 18 and 45 years old form a special unit that is called to serve in any conditions. A soldier is pictured here on June 25.
A woman gathers bread in a temporary displacement camp for Iraqis on Tuesday, June 24.
An ISIS fighter takes control of a traffic intersection in Mosul on Sunday, June 22.
An ISIS member distributes a copy of the Quran, Islam's holy book, to a driver in Mosul on June 22.
Members of ISIS patrol in Falluja on Saturday, June 21.
"Peace Brigade" volunteers raise their weapons and chant slogans during a parade in the Shiite stronghold of Sadr City on Saturday, June 21, in Baghdad. The armed group was formed to protect Shiite holy shrines against possible attacks by Sunni militants.
Iraqi men register to fight alongside security forces Friday, June 20, at a recruitment center in Baghdad.
New army recruits gather in Najaf, Iraq, on Wednesday, June 18, following a call for Iraqis to take up arms against Islamic militant fighters.
Soldiers with an Iraqi anti-terrorism unit are on guard June 18 in Baghdad.
A Kurdish Peshmerga fighter injured in clashes with ISIS lies in a hospital in Irbil on June 18.
An MH-60R Sea Hawk helicopter lands on the aircraft carrier USS George H.W. Bush in the Persian Gulf on Tuesday, June 17.
Newly recruited Iraqi volunteer fighters take part in a training session in Karbala, Iraq, on June 17.
Iraqi tribesmen gather in Baghdad on Monday, June 16, to show their readiness to join Iraqi security forces in the fight against Islamic militants.
Iraqi Christian children gather inside the Church of the Virgin Mary for prayers in Bartala, Iraq, a town near Mosul, on Sunday, June 15.
Shiite tribal fighters raise their weapons and chant slogans against ISIS in Basra on June 15.
Members of ISIS prepare to execute some soldiers from Iraq's security forces in this image, one of many reportedly posted by the militant group online. CNN cannot independently confirm the authenticity of the images.
A woman cradles her baby Thursday, June 12, at a temporary camp set up in Aski Kalak, Iraq, to shelter those fleeing the violence in northern Nineveh province.
A girl fleeing from Mosul arrives at a Kurdish checkpoint on June 12.
Iraqi men chant slogans outside of an army recruiting center to volunteer for military service June 12 in Baghdad.
Kurdish Peshmerga forces, along with Iraqi special forces, deploy their troops and armored vehicles outside of Kirkuk, Iraq, on June 12.
Children stand next to a burnt vehicle during clashes between Iraqi security forces and ISIS militants in Mosul on Tuesday, June 10.
Civilians from Mosul escape to a refugee camp near Irbil on June 10.
Iraqis fleeing the violence wait in their vehicles at a Kurdish checkpoint in Aski Kalak on June 10.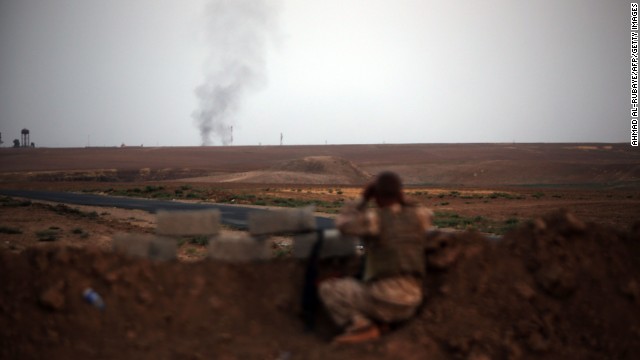 Photos: Iraq under siege
CNN's Nick Paton-Walsh in Turkey interviewed a defector from ISIS who said he used to recruit Westerners for the cause through direct messages on Twitter.
Opinion: Will ISIS brutality backfire?
"There was special treatment for the Europeans. One British guy said he was called Ibrahim, then told me he was from Manchester," said the man, who said he left the movement after it killed two of his relatives. "One asked my boss if he should fight in his own country or come to Syria. He was told, 'If God doesn't give you martyrdom in Syria,' then he could wage war in his own country."
The man, now in hiding, said he was part of a team that ran an online chat welcoming new recruits to ISIS.
"There are things I am allowed to answer and things I must ask my supervisor about," he said. "Specific questions about religion -- I have to get their permission to message anyone. I can't talk on Skype. Everything is written down so they can monitor everything."
As the Islamist group's fight has moved from Syria to Iraq, that savvy Web strategy has expanded to include online video posts much slicker than the grainy, shaky clips that have popped up from al Qaeda and other terror groups.
Recently, a slickly produced, hourlong ISIS video titled "The Clanging of the Swords" surfaced, showcasing killings, roadside bombings and other acts of terror for which ISIS claimed credit.
The video vividly displays these scenes in a style reminiscent of Hollywood efforts like "The Hurt Locker" and "Zero Dark Thirty," complete with elaborate aerial shots.
"This is funded," said Nadia Oweidat, a Middle East analyst. "This is geopolitics. There is money behind it. It's not just idiots; these idiots have somebody controlling them and providing them with equipment that is very expensive. You can't just get it in a cave."
On another front, at least one analyst says ISIS was recently using a mobile app made available in Google's Play Store to inflate its presence on social media. Called The Dawn of Glad Tidings, or just Dawn, the app was promoted as a way to keep up to date with news from ISIS. According to J.M. Berger, editor of national-security blog IntelWire, the Dawn app would post updates to users' Twitter feeds.
By midafternoon Tuesday, Google appeared to have removed the app from its store. Google did not immediately reply to a message seeking comment for this story.
With the digital assault accompanying a ground offensive that saw ISIS fighting Tuesday just 40 miles north of Baghdad in the city of Baquba, access to social media has been disappearing across much of Iraq.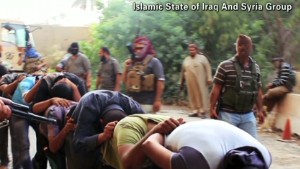 Brutality of ISIS on display in Iraq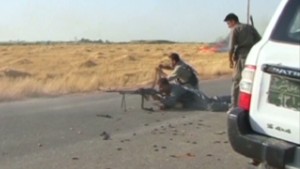 ISIS battles for Baquba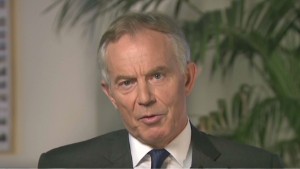 Blair on Iraq: This challenge is complex
There has been no confirmation that the Iraqi government is behind a blackout. But both Facebook and Twitter have reported a precipitous drop in the number of people in Iraq using their products in the past few days.
"Users in #Iraq are reporting issues accessing our service. We're investigating their reports and we hope service will be restored quickly," Twitter said on its global policy team's account Friday.
Facebook has issued a similar statement.
"We are disturbed by reports of access issues in Iraq and are investigating. Limiting access to Internet services — essential for communication and commerce for millions of people — is a matter of concern for the global community," read a Facebook statement sent to CNN.
Facebook's internal numbers show that, since June 12, the volume of visits to its site and apps were as low as 30% of their normal volume in Iraq. There are no technical problems on its end, Facebook said.
Web software firm Akamai reports that visits to Twitter in Iraq dramatically plummeted early Saturday. A Twitter spokesman said its internal traffic reports mirror Akamai's.
Iraqis have increasingly turned to Whisper, a mobile app that lets users post anonymous images, in an apparent effort to get around the social-media issues. Neetzan Zimmerman, Whisper's editor in chief, told CNNMoney that Whisper usage in Iraq more than doubled between June 12 and June 15.
During Arab Spring uprisings in places like Egypt and Iran, as well as more recent conflicts in places like Syria, unrest has been met with Internet outages and the blocking of social media sites. In virtually all cases, the opposition has accused sitting governments, who control their nation's Internet infrastructure, of blocking access to make coordination more difficult and keep news of the conflicts from spreading.
READ: Terrifying execution images in Iraq
READ: ISIS a fanatical force -- with a weakness