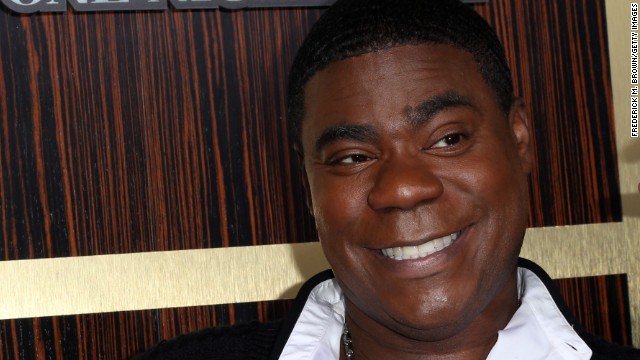 Actor Tracy Morgan is still recovering from injuries suffered in a six-vehicle accident in New Jersey on June 7. The former "Saturday Night Live" cast member and "30 Rock" star was riding in a limo bus when the accident occurred.
Morgan got his start as a stand-up comedian, working at Harlem's Apollo Theater before landing his gig with "Saturday Night Live." He was a cast member from 1996 until 2003. In the October 3, 1998 "Big Bernard" skit, Morgan performs with basketball star Shaquille O'Neal.
Tracy Morgan with Maya Rudolph in the "On The Subway" skit on April 13, 2002.
In 2003, Morgan left SNL to start "The Tracy Morgan Show," but it ran for only one season before it was canceled.
Morgan's acting career branched out from television to include movie titles such as "30 Years To Life." Director Vanessa Middleton, left, appeared with Allen Payne and Morgan at the premiere on March 27, 2002.
Actor Tracy Morgan and his wife Sabina pose on the red carpet during the premiere of "Are We There Yet?" at the Mann Village on January 9, 2005 in Los Angeles. The couple divorced in 2009 after 23 years of marriage.
Tracy Morgan and Tina Fey worked together after SNL on the show "30 Rock." Morgan played Tracy Jordan, a character that was loosely based on himself.
Members of the cast of "30 Rock" joke around with their award for outstanding comedy series backstage at the 60th Primetime Emmy Awards in Los Angeles on September 21, 2008. Morgan was also nominated for Outstanding Supporting Actor in a Comedy Series.
Morgan starred with Bruce Willis in the 2010 movie "Cop Out."
Morgan has stirred up controversy with some of his comments in his comedy acts. "I hurt people with this, so from the bottom of my heart I apologize to everybody who I offended with my words on stage," he said in 2011 after an anti-gay rant in one of his shows. Stand-up comedy should "heal people, not hurt."
Tracy Morgan promotes his new book "I Am The New Black" at Barnes & Noble Union Square on October 22, 2009 in New York City.
Tracy Morgan's comedy career
Tracy Morgan's comedy career
Tracy Morgan's comedy career
Tracy Morgan's comedy career
Tracy Morgan's comedy career
Tracy Morgan's comedy career
Tracy Morgan's comedy career
Tracy Morgan's comedy career
Tracy Morgan's comedy career
Tracy Morgan's comedy career
Tracy Morgan's comedy career