STORY HIGHLIGHTS
NEW: Hundreds observe moment of silence in Kiev's Independence Square
NEW: Prime Minister vows Ukraine will wipe out the killers
World leaders hold telephone talks with Putin, Poroshenko
The government blames insurgents in eastern Ukraine
(CNN) -- Hundreds gathered in Kiev's Independence Square on Sunday to honor the victims of violence that has ravaged Ukraine for months, including 49 people killed when a military plane was shot down.
Ukraine President Petro Poroshenko had declared Sunday a day of mourning. The crowd in Kiev observed a moment of silence at noon local time (5 a.m. ET).
"We bow our heads to the heroes who lost their lives for the sake of their country, to prevent the war from coming into the house of each of us," Prime-Minister Arseniy Yatsenyuk said.
"They lost their lives because they defended men and women, children and the elderly who found themselves in a situation facing a threat to be killed by invaders and sponsored by subhumans," he said. "First, we will commemorate the heroes by wiping out those who killed them and then by cleaning our land from the evil."
The Ilyushin-76 military transport plane went down early Saturday while approaching an airport in the eastern Ukrainian city of Luhansk, said military spokesman Vladislav Seleznyov. Ukrinform said the plane was carrying paratroopers, equipment and food.
"All those involved in the cynical act of large-scale terrorism must necessarily be punished," Poroshenko told Ukrinform, the state news agency. "Ukraine needs peace. Terrorists, however, will receive an adequate response."
Ukraine's defense ministry said the plane, which was transporting military personnel, was shot down by insurgents using anti-aircraft machine guns. Ukrinform also said three soldiers were killed Saturday morning near Mariupol.
The attack on the plane, which represents one of the bloodiest single events in that nation's current period of turmoil, spurred a diplomatic flurry to limit further escalation of the crisis.
Telephone diplomacy
French President Francois Hollande and German Chancellor Angela Merkel held a telephone discussion Saturday with Russian President Vladimir Putin on the crisis in Ukraine.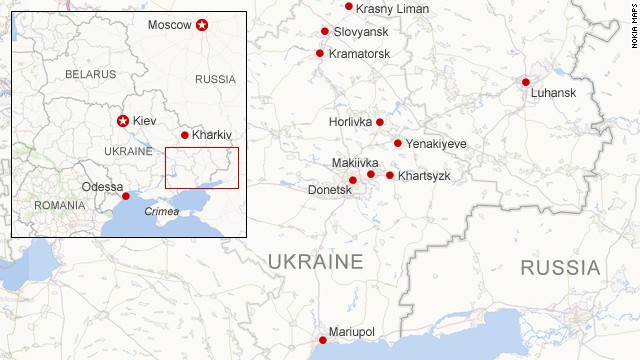 Where unrest has occurred in E. Ukraine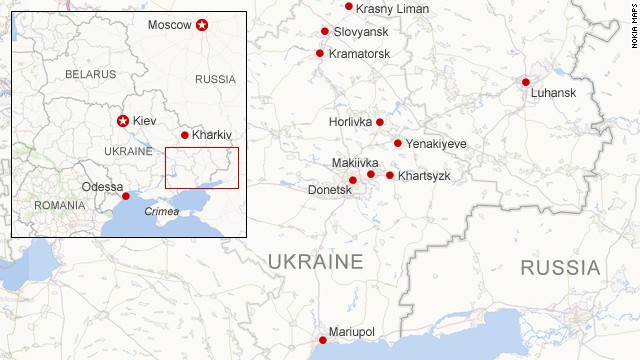 Where unrest has occurred in E. Ukraine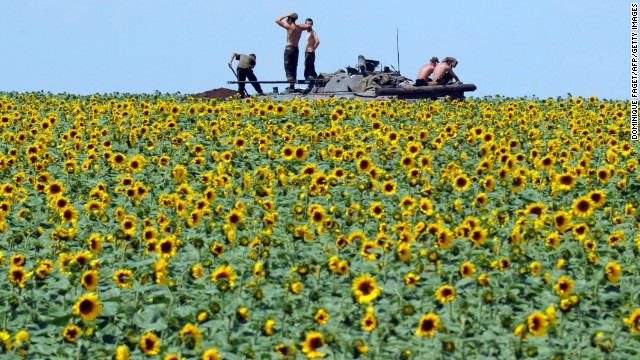 Ukrainian soldiers sit on an armored vehicle as they take up a position in a sunflower field near Donetsk, Ukraine, on Thursday, July 10. Here's a look at the upheaval that has persisted in eastern Ukraine since the election of President Petro Poroshenko.
A man rides a bike past the tail of a bombshell outside Slovyansk, Ukraine, on July 10.
Eugenia Gubareva cries on July 10 after finding clothes belonging to her parents, who were killed during a bomb shelling in Mikolaivka, Ukraine.
A man cleans up debris in his apartment after a shelling in Slovyansk on July 10.
People walk under a destroyed railroad bridge near the village of Novobakhmutivka on Monday, July 7.
A woman cries as her house burns after a bombing in Slovyansk on Monday, June 30.
People say goodbye to volunteer soldiers in Kiev, Ukraine, before they leave for the eastern part of the country to join the ranks of a special battalion on Monday, June 23.
People take refuge in a bomb shelter during clashes between Ukrainian troops and pro-Russia fighters in Slovyansk on Sunday, June 22.
Riot police surround the Kiev Pechersk Lavra, an Orthodox Christian monastery in Kiev where radical masked activists gather to protest against separatists on June 22.
Ukrainian President Petro Poroshenko awards wounded soldiers with state awards in a military hospital in Kiev on Saturday, June 21.
Debris lies scattered at an airport in Luhansk, Ukraine, on Saturday, June 14, after the crash of a Ukrainian Ilyushin-76 military transport plane. A military spokesman said the aircraft was shot down by pro-Russian separatists, killing all 49 aboard.
A pro-Russian fighter collects ammunition from the debris of the downed military aircraft on June 14.
Pro-Russian fighters walk past the wreckage of the downed aircraft.
A military vehicle was destroyed during a clash between Ukrainian troops and pro-Russian separatists Friday, June 13, in Mariupol, Ukraine.
Locals in Mariupol gather around a burning military vehicle at the site of a battle between Ukrainian troops and pro-Russian fighters on June 13.
A pro-Russian fighter in Slovyansk checks a woman's documents as she leaves the city on Thursday, June 12.
A pro-Russian fighter stands guard at a checkpoint in Slovyansk on June 12.
A girl looks out of a bus window as she leaves Slovyansk on Monday, June 9.
Poroshenko holds the ceremonial mace during his inauguration ceremony Saturday, June 7, in Kiev. Poroshenko was elected three months after the ouster of former President Viktor Yanukovych.
A Ukrainian tank opens fire during a battle with pro-Russian separatist fighters in Slovyansk on Friday, June 6.
A Ukrainian soldier prepares explosives during a battle with pro-Russian separatists in Slovyansk on June 6.
A Ukrainian soldier observes the road at a checkpoint outside of Amvrosiivka, Ukraine, on Thursday, June 5.
Ukrainian soldiers take position during a battle with pro-Russian separatists outside Slovyansk on June 5.
Pro-Russian militants stand guard at a barricade and checkpoint in Donetsk on Sunday, June 1.
A Ukrainian soldier shoots a grenade launcher during a battle with pro-Russian separatists in Slovyansk on Saturday, May 31.
A protester from Kiev's Independence Square gestures May 31 as fellow protesters burn tires to protect their barricades from being dismantled by communal services.
A Ukrainian armored personnel carrier takes position during a battle with pro-Russian separatist fighters May 31 in Slovyansk.
Ukrainian soldiers rest at a checkpoint outside Slovyansk on Thursday, May 29.
Smoke rises from a shot-down Ukrainian Army helicopter outside Slovyansk on May 29.
A man stands in front of a truck that was bombed by Ukrainian soldiers during clashes with armed rebels Tuesday, May 27, in Donetsk.
Medical staff prepare to clean the body of a pro-Russian militant at the Kalinina morgue in Donetsk on May 27.
The body of a pro-Russian militant lies on a stretcher at a morgue in Donetsk on May 27. He was killed in clashes around Donetsk's airport, which was seized by pro-Russian separatists a day earlier. Ukrainian forces moved in and reclaimed the facility.
Firefighters work on extinguishing a fire at a local sports hall in Donetsk on May 27.
People pile up sandbags to set up a shooting position on the road leading from the Donetsk airport on May 27.
A man dressed in a prisoner costume takes part in a protest against government corruption May 27 in Kiev.
Pro-Russian militants take position on the roof of Donetsk International Airport on Monday, May 26.
A pro-Russian militant takes position on the roof of the Donetsk airport on May 26.
A man runs for cover during fighting around the airport on May 26.
Smoke rises from the airport on May 26 after an airstrike by the Ukrainian military.
Pro-Russian gunmen take positions near the airport on May 26.
Men stand next to pro-Russian militants as a woman runs away during clashes near the airport on May 26.
A pro-Russian militant guards a checkpoint on May 26, blocking a highway that links the Ukrainian city of Kharkiv with Rostov-on-Don, Russia.
A pro-Russian militant teaches recruits how to use a machine gun in Senyonovka, Ukraine, on May 26.
A woman walks May 26 near barricades built by protesters in Kiev's Independence Square. Vitali Klitschko, Kiev's future mayor and a former boxing champion, promised to dismantle the iconic protest encampment that helped oust Yanukovych but now clogs traffic and draws public complaints.
Ukraine's newly elected president, Petro Poroshenko, talks alongside Klitschko, right, during a news conference in Kiev on May 26. Poroshenko, a billionaire candy tycoon known as the "Chocolate King," is a seasoned politician known for his pro-European Union views.
Election commission officials count ballots at a polling station in Kiev on Sunday, May 25.
Artist Ivan Voronov, 91, and his wife, Svetlana Samoilechenko, 86, cast votes from their Kiev home on May 25.
An elderly woman casts her vote May 25 as a mobile Ukrainian election committee visited Orane, a village north of Kiev.
A woman holds the hand of a pro-Russian gunman in Donetsk's Lenin Square on May 25. A large separatist rally was held in Donetsk around lunchtime. The protesters chanted pro-Russian slogans as they were addressed by separatist leaders.
A man prepares a ballot at a polling station in the eastern Ukrainian town of Dobropillya on May 25. See the crisis in Ukraine before the election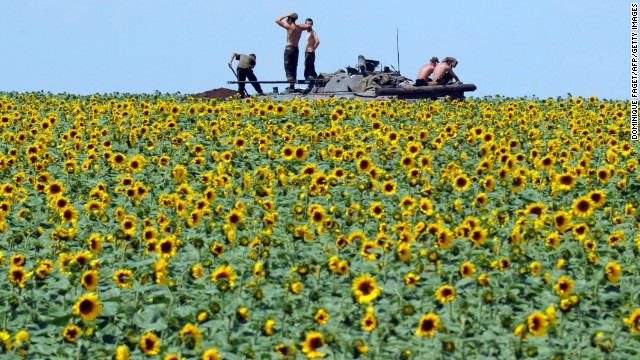 Photos: Ukraine after the election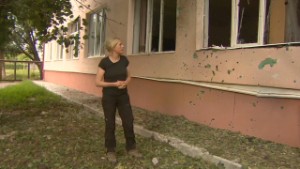 Inside Slovyansk: A week of bombardment
Hollande and Merkel expressed their deep concern about the ongoing fighting in eastern Ukraine, particularly Saturday's attack, the Elysee Palace said. The French and German leaders stressed the importance of reaching a cease-fire in Ukraine and avoiding the transfer of fighters and weapons across the Ukrainian-Russian border, according to Hollande's office.
The Kremlin said the three leaders also talked about the drafting of a United Nations Security Council resolution aimed at promoting a settlement. The European leaders stressed the need for an agreement on continuing Russian natural gas deliveries to Ukraine, according to the Elysee.
In a phone conversation with Hollande, Poroshenko urged the European Union to immediately consider sanctions against Russia, including the termination of "military-technical cooperation," Poroshenko's office said.
Ukrainian Prime Minister Arseniy Yatsenyuk spoke by phone with U.S. Secretary of State John Kerry, who expressed condolences for the loss of life and "strong concern" about the flow of heavy weapons and militants across the border from Russia, a senior State Department official said.
Kerry also talked with Russian Foreign Minister Sergey Lavrov, voicing his concern over the downing of the Ukrainian transport plane and pressing Lavrov to "make clear" Russia's commitment to peace, a cease-fire and political dialogue, the state department official said.
Video shows plane shot down
In a statement, Poroshenko said the army and state border service had closed 248 kilometers of Ukraine's border.
"The goal is for us to take back control of Ukraine over the state border and provide adequate response to terrorists," he said.
Video posted to YouTube claimed to show the plane being shot down. Small flashes can be seen climbing skyward, followed by large flashes on the ground on the distant horizon.
The plane was also carrying military machinery and supplies, the ministry said. Officials originally had said the incident occurred late Friday but later updated the time.
In an indication of the continued opposition from some quarters to the Kiev government, the state security office said in a statement Saturday that a homemade bomb was found overnight outside a gate to Poroshenko's office.
The device was made of grenades and a kilogram of other material, such as metal screws, and had a threatening note attached that demanded that the President stop military action against the separatists, the statement said. The person who left it was spotted but fled without detonating it.
The Kiev-based government is carrying out what it calls an anti-terrorist operation, centered in the Donetsk and Luhansk regions, to try to regain control from pro-Russia separatists.
Russia and Ukraine have been engaged in a tense standoff since March, when Russia annexed Crimea and massed troops along its border with Ukraine. Moscow has since begun to withdraw those forces.
READ: Europe's new frontline: Inside Slovyansk
READ: Ukraine's President vows to defend territory 'no matter what'