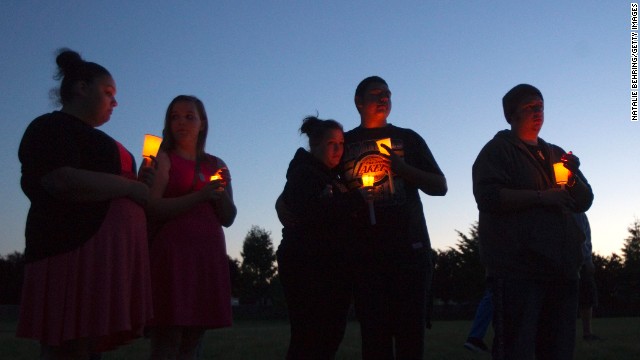 Friends, family and others hold candles for the victim of a school shooting at a vigil Tuesday, June 10 in Troutdale, Oregon, near Portland. A student shot and killed another student at Reynolds High School before apparently taking his own life, law enforcement sources said.
Troutdale Mayor Doug Daoust addresses reporters at a June 10 press conference in a Safeway parking lot near the school.
Students look for family members after arriving at a shopping center parking lot June 10 in Wood Village, Oregon, after the shooting in nearby Troutdale.
Parents anxiously wait for their children at the shopping center parking lot in Wood Village on June 10.
Buses arrive at a grocery store parking lot in Wood Village on June 10 to reunite students with their parents after the shooting.
A distraught woman waits for news after the school shooting June 10.
The shooting happened at about 8 a.m., said Sue Strickland of the Troutdale Police Department. A semiautomatic weapon was involved in the shooting, she said.
Family and friends of Reynolds High School students waited outside for word of students' safety. Details about what led to the shooting weren't immediately available.
About an hour after the shooting, Oregon State Police said the area was secure and the situation was contained.
Troutdale, about 12 miles east of Portland, has a population of about 16,400, according to the Census Bureau.
Shooting at Oregon high school
Shooting at Oregon high school
Shooting at Oregon high school
Shooting at Oregon high school
Shooting at Oregon high school
Shooting at Oregon high school
Shooting at Oregon high school
Shooting at Oregon high school
Shooting at Oregon high school
Shooting at Oregon high school