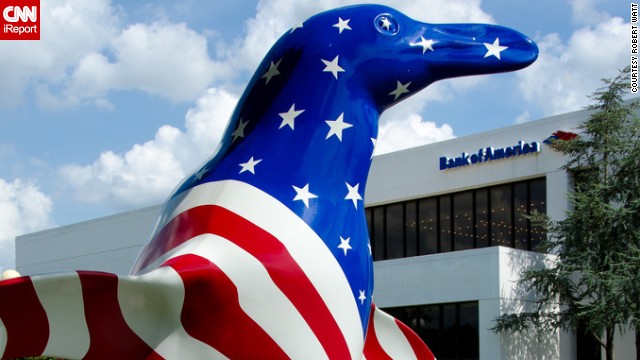 In celebration of America's independence, we ventured to find out the most unusual places you've spotted the American flag.
Robert Watt
kicks this gallery off with a photo of a patriotic penguin installation in Tulsa, Oklahoma. The art project was created to celebrate the 75th anniversary of the Tulsa Zoo and raise money for its penguin exhibit in 2012.
Billy Ocker
photographed the stars and stripes gliding down with a parachutist during the annual Fourth of July parade in Sebastian, Florida, in 2013.
You often see the American flag flying in the sky, but this is an over-achievement.
pile of patriotism
during an outing in Sebastian.
These flag-inspired vanity license plates will make any driver feel patriotic. Ocker spotted this
Ken Fager
took this photo while visiting the derelict building in March 2012.
A tattered American flag hangs over the now demolished Schlitz Brewery in Milwaukee, Wisconsin. Urban explorer
Christian Baki
found this American flag still attached to a Sikorsky H-37 helicopter that was submerged in the freshwater quarry.
While diving in Dutch Springs in Bethlehem, Pennsylvania,
Razmik Nazaryan
made this colossal American flag with 108 crushed cars. The artist works in auto recycling and was inspired to create his masterpiece in July 2013.
Talk about patriotism,
Buck Tanner
inherited this 1950 stars and stripes Jeep from his father in 2005. The truck gets a lot of salutes when Tanner drives it, and has been in a couple of July 4th parades in his hometown of Morgan Hill, California
Sales engineer
Lynyrd Skynyrd
signed memorabilia after their performance at the Heroes Red, White, and Blue Inaugural Ball in 2013. Johnny Colt, the band's bassist, shared this photo from the concert, which was a tribute to veterans of American armed forces.
Members of the rock band
Paul Lurrie
visited the Breezy Point community in New York soon after the storm came through. "I felt a bit like I was walking on sacred ground. I sensed a solemn and somber atmosphere, but this is a close-knit community," he said.
An American flag drapes over the rails of a home that was ravaged by Superstorm Sandy in November 2012.
Angie McCrary
photographed this life-size snow sculpture of troops raising a flag at Iwo Jima in Triangle, Virginia, on February 14. The sculpture was created by two Marines, Tim Lewis and Derek Reynolds, for the National Museum of the Marine Corps.
Geoffrey Arthur Drewyor
decided to create a parody version of the Sochi Winter Olympics with an obstacle course around his home in Cortlandt Manor, New York. The challenges included running through piles of snow while trying to capture an American flag.
After shoveling 8 inches of snow in February 2014,
Paul Tamasi
created this American flag-inspired dish for Flag Day in June 2009. "I am proud to be an American and an American flag always flies in the breeze outside my restaurant," he said.
Care for a slice? Pizza maker
Painted on a penguin statue
Trailing behind a parachutist
On a pile of license plates
Hanging in an abandoned brewery
Submerged in a freshwater lake
Recreated with recycled cars
Painted onto a vintage truck
Underneath Lynyrd Skynyrd's signature
In the aftermath of a superstorm
On a snow sculpture
In a Winter Olympics parody obstacle course
On a pizza