STORY HIGHLIGHTS
You can hire an excellent photographer, but a few little tricks are totally in your control
Details matter, from the shape of a clipboard to the shape of your drinking vessel
Speaking of drinking -- a glass of wine might help make you a little calmer in front of the camera
Time is on your side when it comes to great lighting, so aim for early morning or two hours before sunset
(CNN) -- Every bride wants gorgeous wedding photos, but for many it will be her first time in front of a professional camera. While it's the photographer's responsibility to capture you in your most flattering light, there are little tips and tricks that you and your groom can employ to get the best photos.
We turned to some of the most sought-after photographers in the industry to get their advice on everything — from how to wear your hair to where to get ready (and even when to have a drink!) — to ensure that every aspect of your big day is captured flawlessly.
Brides: The Most Flattering Wedding Dress for Your Body Type
1. "Before posing for portraits, roll your shoulders a few times to release tension. It will make you look at lot more relaxed in the pictures." — Annabel Braithwaite, Belathée Photography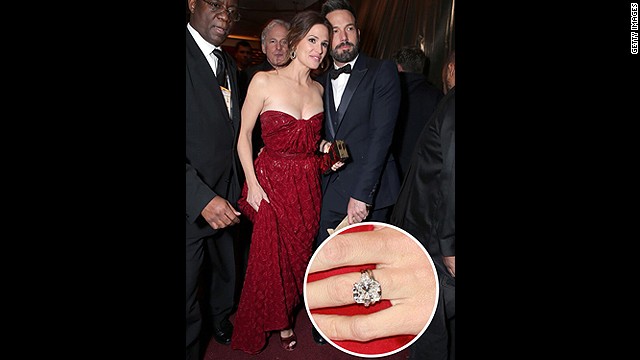 The actor-turned-award-winning-director declared his love for wife Jennifer Garner with this 4.5-carat gem.
Jay-Z didn't just put a ring on it -- he went above and beyond for wife Beyoncé with a huge 18-carat diamond ring.
After seven years of dating, Brad Pitt popped the question with this 16-carat custom-designed Robert Procop diamond ring.
Though they managed to keep their engagement and wedding private, there's no way Blake Lively's Lorraine Schwartz diamond can go under the radar.
One of Hollywood's longest standing marriages started when Matthew Broderick gave Sarah Jessica Parker this beautifully cut yellow gold diamond ring.
Despite this gorgeous yellow 10-carat engagement ring (given to Heidi Klum on top of a glacier!), Klum and Seal's marriage sadly ended in 2012.
Justin Timberlake proposed to longtime girlfriend Jessica Biel with this vintage-inspired six-carat diamond.
Soccer star David Beckham sealed the deal with wife Victoria Beckham with this massive diamond-encrusted engagement ring.
Katie Holmes's five-carat oval-shaped engagement ring from ex-husband Tom Cruise is definitely a stunner for the books.
Formerly belonging to the late Princess Diana, this 18-carat sapphire diamond may just be the most famous engagement ring in the world.
Justin Theroux popped the question to Jennifer Aniston on his 41st birthday with the help of this massive sparkler.
Ellen DeGeneres famously proposed to Portia de Rossi in 2008 with a three-carat Neil Lane diamond ring while they were both tending to a pet goldfish.
The recently engaged Kelly Clarkson said "yes" after she was presented with this huge yellow diamond ring.
Gavin Rossdale designed this unique diamond-studded gold ring before proposing to Gwen Stefani in 2002.
With this Neil Lane antique platinum and gold engagement ring, no wonder Brooke Shields has been happily married to Chris Henchy for over a decade.
With a square-cut diamond ring, the Coldplay frontman declared his love for Gwyneth Paltrow.
Jim Toth secured his spot in Reese Witherspoon's heart with this four-carat stunner. -- See even more celebrity engagement rings at Elle.com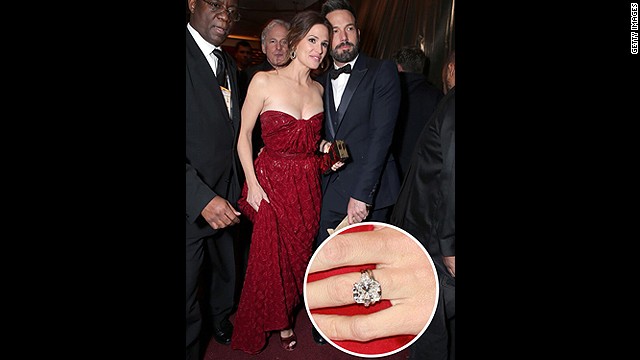 Celebrity engagement rings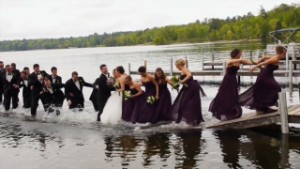 Wedding party takes a big plunge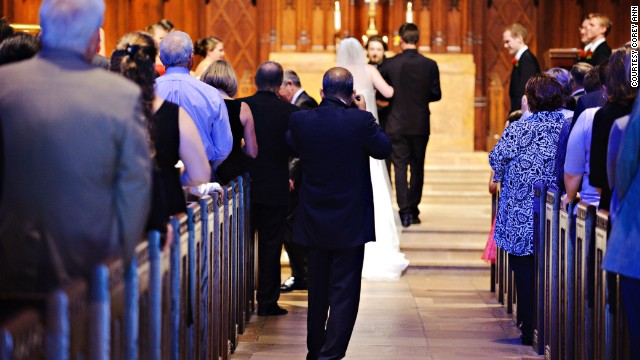 While some newlyweds are turning to technology to crowd-source wedding day images, other couples want guests to "unplug" and put away their cameras. Couples who had unplugged weddings say it keeps snap-happy guests from blocking views or photo-bombing the official photographer's shots. Check out more examples of how guests unintentionally get in the way.
Sometimes, guests really can't help it.
When more than one person is taking pictures of the wedding party, eyes go all over the place, wedding photographer Corey Ann Balazowich said. In this image, everyone kept glancing over Balazowich's shoulder at the man behind her, making it hard to get one shot of everyone looking at her.
This is what happens when guests take pictures with flash while the photographer is taking formal portraits, Balazowich said. Eventually she gets the perfect shot, it just takes more tries to make sure the subjects aren't blinking and that other flashes aren't ruining the image.
When guests plant themselves right in front of the couple, there's only so much a photographer can do to get around them, Balazowich said. She was able to go to the sides to crop him out of most pictures but for the kiss, but "the center shot is the one people want," she said.
Some houses of worship have strict rules forbidding photographers from moving around during the ceremony, Balazowich said. In those cases, guests not only intrude upon the shot but distract the focal point.
Couples choose unplugged weddings not just to ensure the quality of professional images. They also do it to keep guests engaged and focused on the ceremony itself.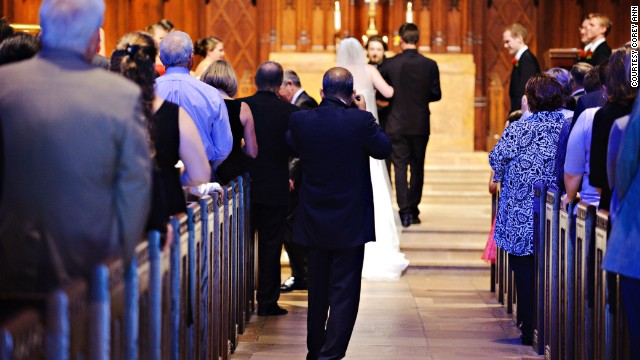 Wedding photos: When guests get in the way
2. "Don't ignore the mundane little details that could have a big impact on your photos. For instance: If you're drinking water while you're getting ready, a plastic bottle will be in all of your photographs. Instead, be sure to have a nice drinking glass, so it adds to the image rather than providing a distraction.
Another example: Consider the ceremony. There are beautiful flowers, a gorgeous venue, a lovely wedding party — and then your officiant approaches the podium and pulls out his notes on an office clipboard! As a bride, something like this would be difficult to anticipate. Give your officiant something more aesthetically pleasing to read notes off, it will make a huge difference in all of your ceremony photos." — Christian Oth
Brides: Couples that Found Love on The Bachelor and The Bachelorette
3. "Get closer than what feels natural when posing with your groom. Gaps that might not feel awkward during the shoot can be amplified in photos and look like there's a lack of intimacy. Don't be afraid to snuggle up to one another!" — Kate Murphy
4. "There are two times during the day when the lighting is incredible: I love starting shoots at 7 a.m., when the city is still asleep and you practically have it to yourselves. But if you're not a morning person, start your photos about two hours before sunset for a romantic dusky shoot." — Roey Yohai
Don't miss out on the conversation we're having at CNN Living.
Follow us on Twitter
and
Facebook
for the latest stories and tell us what's influencing your life.
Brides: The Most Creative Wedding Cakes of the Year
5. "Although wearing your hair down can be beautiful, it does pose a problem for candid photos. If you're not directly facing the camera, it can obscure your face. I always advise brides and bridal party members to make sure that their hair is pulled back a bit on the sides." — Julie Skarratt
Brides: Flattering and Affordable Wedding Dresses
6. "Smile so there are no awkward lip puckers while kissing, and do something with your arms. Put them on your partner's waist or cheeks, or even keep your hands in your pocket — just don't let them hang." — Courtney de Jauregui, Erin Hearts Court
Brides: Gorgeous Colorful Wedding Dresses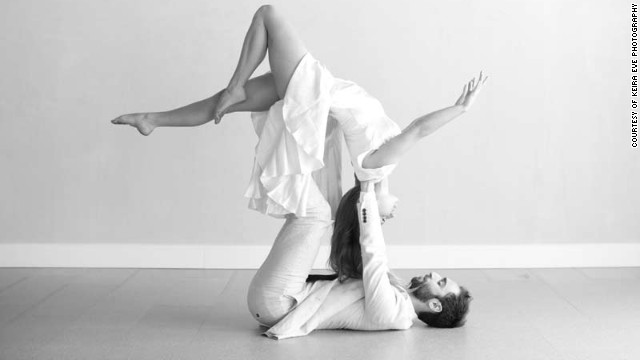 Kelsey and Isaac: June 23, 2012, in the backyard of Kelsey's yoga teacher in Orem, Utah
Tessa and Ashoke: August 3, 2013, in Sonoma, California, at Cornerstone Gardens
James and Aubrey: November 19, 2011 at their friend's ranch in Round Top, Texas
Shenae and Josh: May 2013 in a small garden
Chi and Jesse: October 6, 2012, in New York City
Zahra and Vincent: April 2013 in Washington, D.C.
Kara and Thomas: August 11, 2012, at Kara's family's home in Rockport, Maine
Maggi and Alex: June 29, 2013, at a converted barn next to a pond in Saugerties, New York
Amy and Carter: September 10, 2011, at their Traverse City, Michigan, home, which is a 100-year-old farmhouse
McKenzie and Jamie: June 2012 on a farm they rented (See more at Elle.com)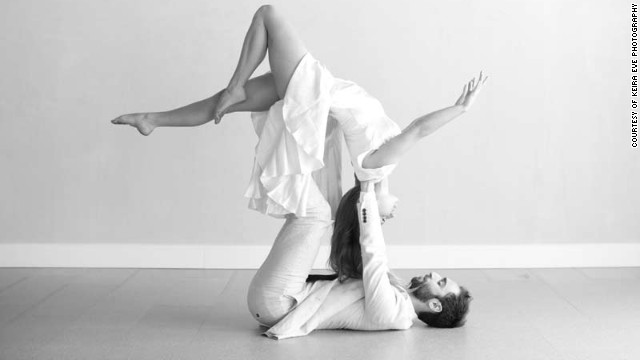 They did 'I do' their way
7. "Don't give your photographer a long shot list for group portraits. The key to getting great photos is to have a lot of time. With a shorter list, I can try different set-ups and allow each person to comfortably lean, sit, or turn at different angles that are most flattering to them. It takes time to place each person into the space and work with each individual — you can't rush through that." — Ira Lippke
Brides: Expecting (and Engaged!) Celebrities
8. "If all else fails, split a cocktail or glass of wine beforehand with your groom. It can help to take the edge off of the anxiety of being in front of the camera." — Brian Dorsey
Did you get the wedding photos you wanted? Share the tricks that made the difference in the comments below.
Reprinted with permission of Conde Nast.