JetBlue's premium service ready for takeoff
updated 7:15 AM EDT, Thu June 12, 2014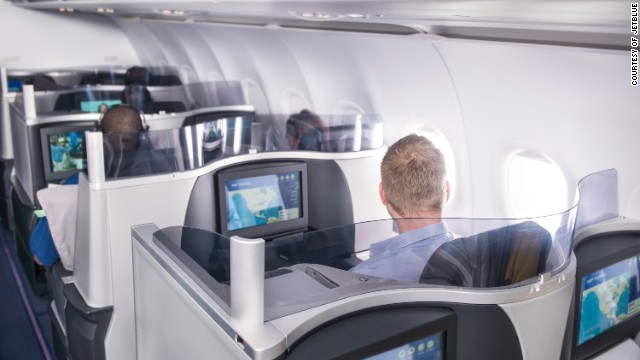 JetBlue launches its premium Mint service between Los Angeles and New York City on Sunday, June 15, competing with traditional carriers for the lucrative business traveler.
Customers will have a choice of five menus designed by New York City's Saxon + Parole restaurant.
Mint cabins feature fully lie-flat beds, which are up to 6 feet, 8 inches tall.
Four of the 16 premium seats are located inside "Mint suites," which feature closing doors.
Mint service will be offered on all seven daily flights between Los Angeles and New York City by the end of 2014, the airline says.
New business class option
JetBlue's new premium service
JetBlue's new premium service
JetBlue's new premium service
JetBlue's new premium service
STORY HIGHLIGHTS
JetBlue launches premium service between the U.S. coasts
Private suites and fully flat beds will be available
The airline is pursuing the lucrative business travel market
(CNN) -- Come Sunday, every customer won't be equal at JetBlue.
That's when the airline launches its "Mint" business class service for customers willing to pay more for flights between New York's John F. Kennedy International Airport and Los Angeles International Airport.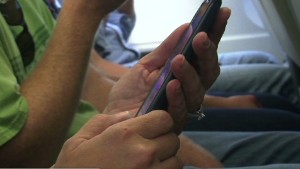 In-flight calls: To talk or not to talk?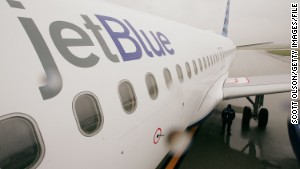 'Pool' perk for frequent JetBlue fliers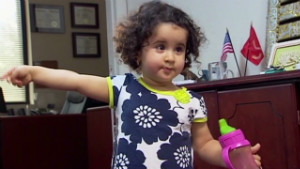 No-fly toddler? Girl removed from flight
JetBlue has won over many fliers with its newer planes and egalitarian model of nice coach seats, video programming and snacks for everyone. There was no first- or business-class seating, but that changes June 15.
It remains to be seen if Mint -- which offers fully flat beds, some private suites, dual power outlets with USB ports, amenity kits and a tapas menu -- will change perceptions of the airline.
JetBlue officials hope to attract cost-conscious business class customers away from the higher priced business- and first-class service of traditional airlines. All seven daily flights between JFK and LAX will offer Mint service by year's end, a company spokeswoman said.
JetBlue also plans to offer Mint service between New York's Kennedy Airport and San Francisco International Airport by the end of the year.
10 places we dare you to visit
The price? As low as $599 one-way. But if you spend more, you get more. One example: buy a nonstop, one-way ticket costing more than $750, excluding taxes and fees, and you don't have to pay a change fee if you need to reschedule your flight.
JetBlue plans to dedicate 11 new Airbus A321s for the two routes, each with 16 lie-flat seats (four of those are private suites).
All the benefits won't go to business class.
Coach customers will see some improvements as well. All customers will enjoy free Wi-Fi and in-seat power outlets in the new Airbus A321 aircraft. There will also be increased audio and television programming in coach seating.