STORY HIGHLIGHTS
Kevin Roper pleads not guilty to charges of vehicular homicide and assault by auto
Trucker arraigned in a New Jersey court Wednesday
Authorities allege that at the time of the crash, Roper had been awake for more than 24 hours
Under New Jersey law, a driver can be convicted if he'd been without sleep for 24 hours
(CNN) -- The driver of a truck that plowed into a bus carrying comedian Tracy Morgan pleaded not guilty during his arraignment Wednesday amid accusations that he had not slept for 24 hours before the crash.
Kevin Roper did not say much during his arraignment before Middlesex County Superior Court Judge Bradley Ferencz in New Jersey.
"Let me just give you a caution, sir," the judge told the defendant. "You make sure your lawyer knows exactly where you are. You go anywhere, you drive anywhere, you go across country somewhere else, you need to be in contact. You understand that?"
"Yes sir," Roper responded.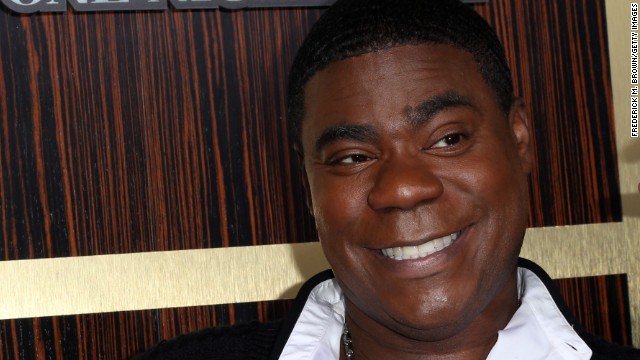 Actor Tracy Morgan is still recovering from injuries suffered in a six-vehicle accident in New Jersey on June 7. The former "Saturday Night Live" cast member and "30 Rock" star was riding in a limo bus when the accident occurred.
Morgan got his start as a stand-up comedian, working at Harlem's Apollo Theater before landing his gig with "Saturday Night Live." He was a cast member from 1996 until 2003. In the October 3, 1998 "Big Bernard" skit, Morgan performs with basketball star Shaquille O'Neal.
Tracy Morgan with Maya Rudolph in the "On The Subway" skit on April 13, 2002.
In 2003, Morgan left SNL to start "The Tracy Morgan Show," but it ran for only one season before it was canceled.
Morgan's acting career branched out from television to include movie titles such as "30 Years To Life." Director Vanessa Middleton, left, appeared with Allen Payne and Morgan at the premiere on March 27, 2002.
Actor Tracy Morgan and his wife Sabina pose on the red carpet during the premiere of "Are We There Yet?" at the Mann Village on January 9, 2005 in Los Angeles. The couple divorced in 2009 after 23 years of marriage.
Tracy Morgan and Tina Fey worked together after SNL on the show "30 Rock." Morgan played Tracy Jordan, a character that was loosely based on himself.
Members of the cast of "30 Rock" joke around with their award for outstanding comedy series backstage at the 60th Primetime Emmy Awards in Los Angeles on September 21, 2008. Morgan was also nominated for Outstanding Supporting Actor in a Comedy Series.
Morgan starred with Bruce Willis in the 2010 movie "Cop Out."
Morgan has stirred up controversy with some of his comments in his comedy acts. "I hurt people with this, so from the bottom of my heart I apologize to everybody who I offended with my words on stage," he said in 2011 after an anti-gay rant in one of his shows. Stand-up comedy should "heal people, not hurt."
Tracy Morgan promotes his new book "I Am The New Black" at Barnes & Noble Union Square on October 22, 2009 in New York City.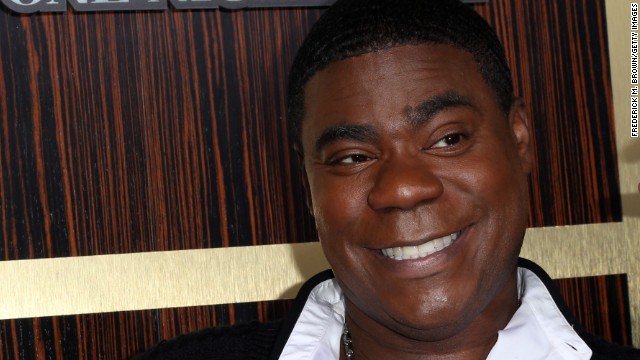 Photos: Tracy Morgan's comedy career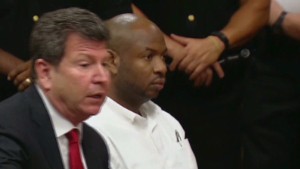 Driver pleads not guilty in Morgan crash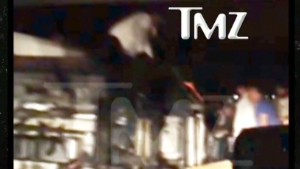 New video of Tracy Morgan crash
Prosecutors charged him with vehicular homicide and assault by auto in the Saturday pileup that killed comedian James McNair and injured Morgan and three others in the limo bus on the New Jersey Turnpike.
"We enter a not guilty plea across the board obviously -- the fatality and the remaining counts of assault by auto," defense lawyer David Glassman told the court.
Morgan, a former cast member of "Saturday Night Live" and the comedy series "30 Rock," remains in critical but stable condition. Comedian Ardie Fuqua, Jeffrey Millea and Harris Stanton were also injured; Stanton is the only one who has been released from the hospital.
Funny man Tracy Morgan has known fame and foibles
Shortly after the accident, Roper, who drives a Walmart truck, posted $50,000 bond and was released the same night. The bail was kept the same.
In the criminal complaint, police said Roper had been awake for more than 24 hours at the time of the crash. He failed to notice traffic slowing in front of him and hit Morgan's bus despite trying to swerve out of the way, according to authorities.
It's unclear how they determined the trucker was sleep-deprived.
Keith Holloway, a spokesman for the National Transportation Safety Board, said the agency had information that Roper lives in Georgia and commuted to Delaware. It's not clear when the commute occurred, but the investigation is continuing.
"As a general practice, the NTSB will look at the driver's activities during the days leading up to the accident, including any commutes," Holloway said. "We have requested the driver's log and any supporting documentation, such as fuel receipts, which we will review to determine whether the driver was or was not in violation of drivers' hours of service requirements."
Walmart said it believed Roper was operating within federal rest guidelines but said it would take full responsibility if the investigation shows its truck was to blame. Federal law mandates drivers work no more than 14 hours for any shift -- 11 of those driving.
"The details are the subject of the ongoing investigation and we are cooperating fully with the appropriate law enforcement agencies," said Brooke Buchanan, a spokeswoman for Walmart.
Under New Jersey law, a driver can be convicted if there's proof he had been without sleep for 24 hours when the accident occurred.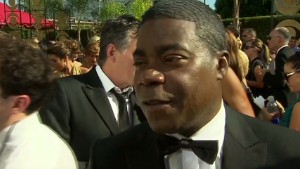 Former 'SNL' star in intensive care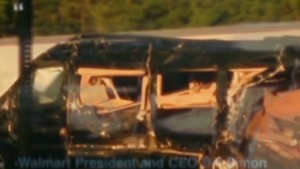 Driver: Tracy Morgan screamed in crash
Proving he was sleep-deprived is crucial to get a conviction, in this case with penalties of five to 10 years, legal analyst Paul Callan said on CNN's "Erin Burnett OutFront."
"It's very important because otherwise, it's just an ordinary accident," he said. "Anybody can have an ordinary accident; we don't take them off in handcuffs. In New Jersey, because it is so dependent on these big roads, sleep deprivation has been recognized as a form of recklessness, and it's criminal."
However, Callan said, proving the trucker was sleep-deprived will be difficult.
"Maybe you can prove he was driving for a period of time, but how do you know he didn't pull over by the side of the road and sleep? There's only one way to find out -- and that is if he confessed to it."
Morgan underwent surgery for his broken leg and is likely to remain hospitalized for several weeks, his publicist Lewis Kay said.
The comedian's fiancee, Megan Wollover, asked fans Tuesday to stop speculating about his health after rumors surfaced that he could lose his leg.
"The concern for his well-being has been overwhelming, but Megan is respectfully asking that the media await official word through these channels before speculating (mostly inaccurately) on his condition," Kay said in a statement. "Rumors about amputating his leg are completely fabricated."
The actor was scheduled to begin shooting a 10-episode FXX comedy series in August. On Wednesday, FXX's parent company, FX Network, released a statement in support of Morgan.
"The only thing we are concerned with is the health and recovery of Tracy Morgan and the victims of this tragic accident," the statement said. "We will support Tracy and his family in every way possible throughout his recovery. At the point when Tracy has recovered and decides that he is ready to go back to work, his show will be waiting for him. Right now our thoughts and prayers remain with Tracy, the other victims of the accident, and their families."
Opinion: Was Tracy Morgan crash a crime or accident?
CNN's Carolyn Sung and Rande Iaboni contributed to this report.