STORY HIGHLIGHTS
NEW: President says it makes no sense that the ferry company's believed owner remains at large
Ferry captain pleads not guilty to murder charge tied to the April 16 sinking
His lawyer says others are "more responsible," accuses some of shifting blame
Relatives of the almost 300 people killed on the ferry yell at the crew members in court
Gwangju, South Korea (CNN) -- They've waited for this day for nearly two months -- to look the crew of the doomed Sewol ferry in the eyes and tell them how they felt.
On Tuesday, inside a courtroom in the southwestern South Korean city of Gwangju, relatives of the some 300 killed on that ship -- many of them schoolchildren -- got their chance.
Yelling and screaming, those with loved ones from that stricken ferry vented Tuesday at Capt. Lee Joon-seok and 14 members of his crew. As a family representative explained in court, while weeks have passed since the April 16 sinking, their grief and anger have not.
"For us, time has stopped," he said. "When I see students wearing school uniforms, I feel like my child will come back home and say, 'Dad, I'm home.'"
While there's no bringing back those killed, the trial does intend to bring a degree of justice -- though both sides have very different ideas on what that entails.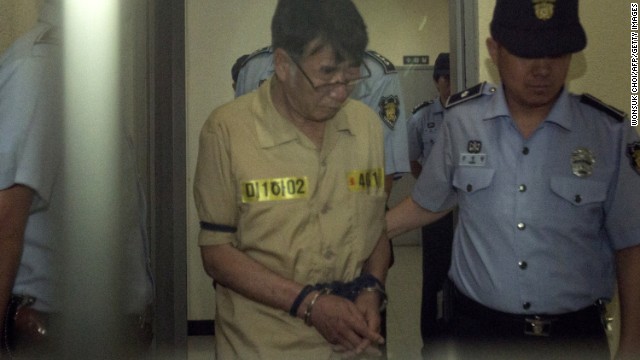 Sewol ferry captain Lee Joon-Seok was acquitted of murder, avoiding a death sentence, but was sentenced to 36 years in jail on November 11 for his role in the maritime disaster that killed more than 300.
Shoes believed to belong to the missing and the deceased are on display at the harbor.
Jindo harbor, where the search operation is based, has become a memorial for those who lost their lives. Yellow ribbons and photos are displayed as people come to pay their respects.
A joint government-civilian task force is still looking for the missing, but winter is fast approaching.
Ten are still missing from tragic ferry sinking last April, which killed more than 300. Six months later, families are still waiting for their loved ones to be found. The parents of 16-year-old Huh Da-yoon, pictured, are among them.
The families of the ten who remain missing have been waiting in Jindo Indoor Gymnasium since the first day. Families can watch search mission in real time on a large monitor in the gym.
South Korean President Park Geun-hye weeps while delivering a speech to the nation about the sunken ferry Sewol at the presidential Blue House in Seoul, South Korea, on Monday, May 19. More than 200 bodies have been found and nearly 100 people remain missing after the ferry sank April 16 off South Korea's southwest coast.
Police in Seoul detain a protester during a march Saturday, May 17, for victims of the Sewol.
A girl in Seoul holds a candle during a service paying tribute to the victims of the Sewol on Wednesday, April 30.
People pay tribute to victims at a memorial altar in Ansan, South Korea, on Tuesday, April 29.
A police officer holds an umbrella for a relative of a missing ferry passenger Monday, April 28, in Jindo, South Korea.
South Korean Buddhists carry lanterns in a parade in Seoul on Saturday, April 26, to honor the memory of the dead and the safe return of the missing.
Divers search for people in the waters near Jindo on April 26.
People in Ansan attend a memorial for the victims on April 26.
A diver jumps into the sea near the sunken ferry on Friday, April 25.
A relative of a passenger weeps while waiting for news of his missing loved one at a port in Jindo on April 25.
People attend a memorial for the victims at the Olympic Memorial Hall in Ansan on Thursday, April 24.
Yellow ribbons honoring the victims flap in the wind as a hearse carrying a victim's body leaves Danwon High School in Ansan on April 24. Most of the people on board the ferry were high school students on their way to the resort island of Jeju.
People attend a memorial for the victims at Olympic Memorial Hall in Ansan.
Search personnel dive into the sea on Wednesday, April 23.
Flares light up the search area on Tuesday, April 22.
The sun sets over the site of the sunken ferry on April 22.
A relative of a ferry passenger prays as she waits for news in Jindo on April 22.
The search for victims continues April 22 in the waters of the Yellow Sea.
Rescue workers in Jindo carry the body of a passenger on Monday, April 21.
Divers jump into the water on April 21 to search for passengers near the buoys that mark the site of the sunken ferry.
Search operations continue as flares illuminate the scene near Jindo on Sunday, April 20.
Relatives of missing passengers grieve April 20 in Jindo.
Relatives of passengers look out at the sea from Jindo on April 20.
Police officers in Jindo stand guard Saturday, April 19, to prevent relatives of the ferry's missing passengers from jumping in the water. Some relatives said they will swim to the shipwreck site and find their missing family members by themselves.
Family members of missing passengers hug as they await news of their missing relatives at Jindo Gymnasium on April 19.
South Korean Navy Ship Salvage Unit members prepare to salvage the sunken ferry and search for missing people on April 19.
Lee Joon Suk, the captain of the Sewol, is escorted to the court that issued his arrest warrant Friday, April 18, in Mokpo, South Korea.
A woman cries as she waits for news on missing passengers April 18 in Jindo.
A searchlight illuminates the capsized ferry on Thursday, April 17.
A woman cries during a candlelight vigil at Danwon High School in Ansan, South Korea, on April 17.
Family members of passengers aboard the sunken ferry gather at a gymnasium in Jindo on April 17.
The body of a victim is moved at a hospital in Mokpo on April 17.
Relatives of a passenger cry at a port in Jindo on April 17 as they wait for news on the rescue operation.
South Korean coast guard members and rescue teams search for passengers at the site of the sunken ferry on April 17.
A relative of a passenger cries as she waits for news on Wednesday, April 16.
Relatives check a list of survivors April 16 in Jindo.
Rescue crews attempt to save passengers from the ferry on April 16.
A relative waits for a missing loved one at the port in Jindo.
Parents at Danwon High School search for names of their children among the list of survivors. Ansan is a suburb of Seoul, the South Korean capital.
Helicopters hover over the ferry as rescue operations continue April 16.
Officials escort rescued passengers April 16 in Jindo.
A passenger is helped onto a rescue boat on April 16.
A passenger is rescued from the sinking ship on April 16.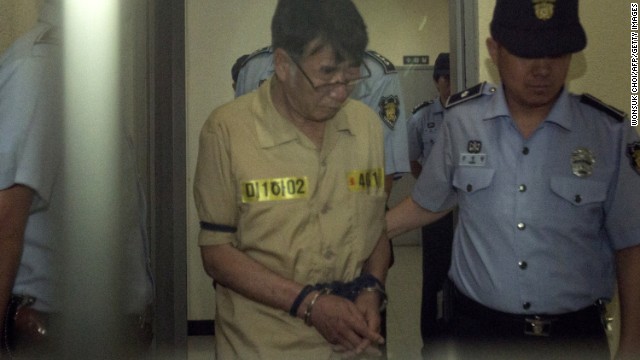 Photos: South Korean ferry sinks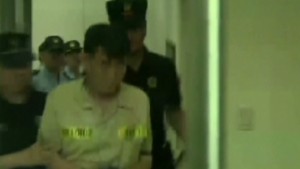 Trial underway for ferry captain, crew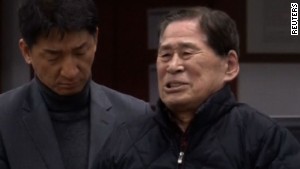 Ferry CEO charged with negligence
Lee pleaded not guilty to a murder charge.
According to his lawyer, the captain is already living with guilt from the fact he left the ferry before everybody was rescued.
Attorney Lee Gwang-jae said that Lee was only helming the ship for six days, he was the last rescued of all the crew members and he wasn't in charge of loading cargo.
Investigators have said a vast amount of cargo, more than double the ferry's limit, and the failure to tie it down properly were partly responsible for the capsizing of the Sewol, which was carrying 476 passengers and crew.
"I am concerned that those who are more responsible are shifting blame to the defendant," said the attorney.
Some in the court weren't convinced -- yelling after the lawyer's statement.
And, of course, neither was the prosecution.
According to its version of events, the crew members could have carried out a far more effective rescue operation. They could have listened to requests for help, rather than ignored them. They could have made taking care of the passengers their first priority, rather than taking care of themselves.
According to the prosecution, what several members of the crew did can be summed up in one word: Murder.
292 confirmed dead, 12 still missing
The captain and three of his crew members are facing murder charges. If convicted, they could face the death penalty, although it has been nearly two decades since capital punishment was last carried out in South Korea.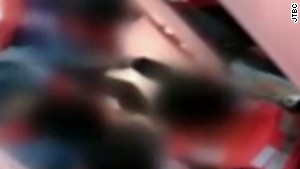 Ferry victim's haunting cry for mom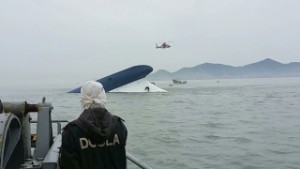 First ship on scene saw no evacuation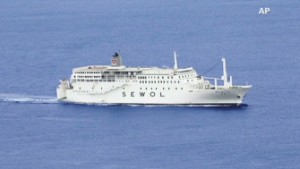 South Korean ferry company's safety issues
The other crew members have been indicted on charges of abandonment and violating a ship safety act.
The accused entered the Gwangju courtroom Tuesday wearing light green or light blue outfits. They were told to asked to stand and state their names, national ID numbers and addresses, before prosecutors read out the charges.
A judge, not a jury, will decide their fate.
His decision could provide a degree of closure to the family members. But the feelings are still raw about the sinking of a vessel that should have been on a fairly routine four-day excursion from the city of Ansan to Jeju Island.
The anger has been directed in many ways. Some blame the ferry company, saying it put profits before people in dangerously loading so much cargo. Others have chastised the government, for what they see as an inadequate response as well as regulation. And -- as was obvious in court Tuesday -- many blast crew members for not sounding the alarm sooner and doing more to help passengers to safety.
Dozens of passengers did survive. Some 292 others are confirmed dead. Twelve others remain missing.
Lawyer questions: Is a fair trial possible?
The ferry's owner, Chonghaejin Shipping Company, was targeted Tuesday by prosecutors who claimed it put money -- by loading so much cargo -- above all else.
But the crew is also culpable, the prosecution says. The cargo was not just overloaded, but badly secured, it says.
Then there are the allegations that that the crew did not use facilities at their disposal, such as life rafts, life vests and announcements to evacuate passengers. Instead, according to officials, passengers were told to stay where they were.
President Park Geun-hye has already reached her own conclusion, calling the actions of the captain and surviving crew "akin to murder."
That kind of attitude -- even before the trial began -- led a lawyer who visited the captain and two crew members in custody to question whether the trial can be fair.
Attorney Kang Jung-min says Sewol crew members have been demonized by the Korean media.
Kang told CNN: "The public and the court does not have a good impression of the crew members, so the crew are likely to become the scapegoats."
Search for ferry company owner
Meanwhile, the hunt continues for South Korea's most wanted man, who is believed to have ties to the company that operated the ill-fated Sewol ferry.
Billionaire Yoo Byung Eun, 73, and his two sons are believed to have controlled the Chonghaejin Shipping Company through an investment vehicle and subsidiary, according to the semi-official Yonhap news agency.
Yoo is wanted for questioning in connection with an investigation into alleged funds embezzlement, tax evasion and other irregularities that prosecutors say could have contributed to the sinking, and a warrant has been issued for his arrest.
South Korean TV channel YTN reported Wednesday that some 6,000 police officers had entered a large religious compound owned by the Evangelical Baptist Church, also known as Gu Won Pa -- in which Yoo is a leading religious figure.
A number of arrests have taken place, YTN reported. The officers are searching for Yoo and his son, as well as suspects believed to have helped him avoid arrest so far.
Four members of the religious group were arrested last month, accused of aiding him.
The President said Tuesday in a statement that prosecutors and police had been working hard to arrest Yoo and that "it doesn't make sense that he is still not caught."
She said authorities should look again at whether additional methods can be used, and that all measures should be considered so that Yoo faces justice.
In late April, Yoo's representatives sent a statement denying that he had any direct or indirect connection to Chonghaejin Marine Company.
READ: What went wrong on Sewol?
READ: South Korean president dismantles coast guard after ferry disaster
READ: Shocking images of ferry captain abandoning ship
CNN's Paula Hancocks and K.J. Kwon reported from South Korea; Greg Botelho wrote from Atlanta.