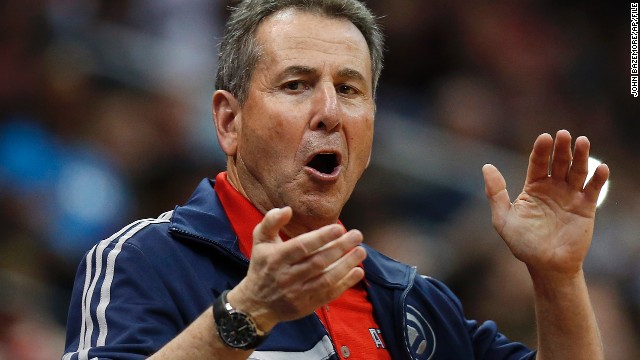 Atlanta Hawks controlling owner
Bruce Levenson
announced he will sell the team in light of an offensive email he sent. Levenson is not the first sports team owner to face the consequences of his actions:
The NBA's
dubbed Mark Cuban the "King of NBA fines.
The notoriously vocal Dallas Mavericks owner has been forced to pay more than $1.8 million in fines since he bought the team in 2000, many of them for colorful language and criticism of referees.
Bleacher Report has
Former Cincinnati Reds owner Marge Schott was suspended from Major League Baseball in 1993 and 1996 for several controversial comments, among them racial epithets against players. In a 1996 interview, she said this about Adolf Hitler: "Everybody knows that he was good at the beginning, but he just went too far." She was forced to sell her controlling interest of the Reds in 1999.
Before the announcement about Sterling's suspension, Minnesota Timberwolves owner Glen Taylor was the only owner suspended in the NBA in 68 years. The league suspended Taylor in 2000 for a season after the Timberwolves made a secret deal with a star player to circumvent salary cap rules. Now, Taylor is chairman of the NBA board of governors, which Commissioner Adam Silver has asked to vote on stripping Sterling's ownership of the Clippers.
suspended San Francisco 49ers owner Eddie DeBartolo Jr.
for his role in a racketeering scandal tied to riverboat casino licenses. DeBartolo pleaded guilty in 1998 to felony charges of failing to report an extortion case, according to Bleacher Report. By 2000
he was forced to cede control of the team to his sister
.
The NFL
The NBA said Miami Heat owner Micky Arison had been fined in 2011 for posting about the league's collective bargaining process on Twitter. The amount of the fine was not disclosed, but several media reports said it was $500,000.
The NBA slapped Aubrey McClendon, partial owner of the Oklahoma City Thunder, with a $250,000 fine in 2007 after he told an Oklahoma newspaper that he hoped to move the team, then known as the Seattle SuperSonics, to Oklahoma.
The NBA fined former Los Angeles Lakers owner Jerry Buss $25,000 and suspended him for two games in 2007 after his conviction on a misdemeanor drunk driving charge. Buss died in 2013.
The outspoken CNN founder
and former Atlanta Braves owner Ted Turner was suspended for a year in 1977 for negotiating a deal with a player who was under contract to play for the San Francisco Giants.
Team owners behaving badly
Team owners behaving badly
Team owners behaving badly
Team owners behaving badly
Team owners behaving badly
Team owners behaving badly
Team owners behaving badly
Team owners behaving badly
Team owners behaving badly
Team owners behaving badly
Team owners behaving badly
Team owners behaving badly
STORY HIGHLIGHTS
NEW: NBA Commissioner Adam Silver dismisses Donald Sterling's accusation
NEW: Silver: NBA is stepping back amid dispute between Donald, Shelly Sterling
LA Clippers co-owner Donald Sterling says he will no longer support the team's sale
Donald Sterling's lawyer says no court will believe his client is mentally incapacitated
(CNN) -- A defiant Donald Sterling calls the NBA "a band of hypocrites and bullies" in a written statement the longtime Los Angeles Clippers co-owner sent to the media through one of his lawyers. He also wrote that the NBA needs to examine its own "discriminatory practices" rather than try to take away his personal property.
"We have to fight for the rights of all Americans. We have to fight these despicable monsters," Sterling wrote in the statement, provided to CNN by Bobby Samini.
In Sterling's 420-plus word statement, he says the NBA has been able to "exact its reign of terror" through revenues from the fans.
He slams new Commissioner Adam Silver, who has worked for the league since 1992 but took over the top spot in February. Sterling said Silver is "focusing his energy on violating my rights, attempting to take my property, and signing autographs for TMZ."
Talking to ABC about the Sterling accusation at the halftime of an NBA finals game between the San Antonio Spurs and the Miami Heat, Silver said he had "no idea what he's talking about."
"This is about Donald Sterling and his conduct," the commissioner said. "And if he wants to litigate, he'll litigate."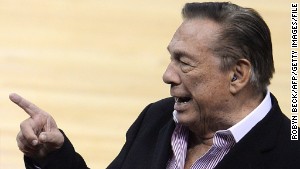 Sterling refuses to sell Clippers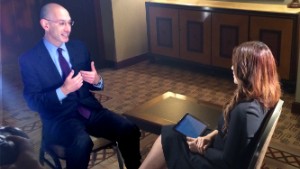 Adam Silver discusses Sterling's ouster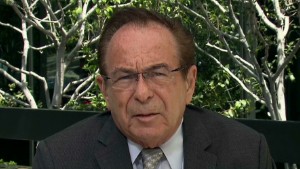 Sterling lawyer: NBA missed opportunity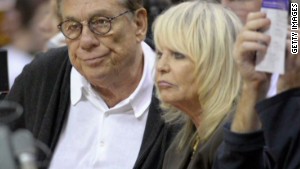 Lawyer: Taking Sterling's wife to court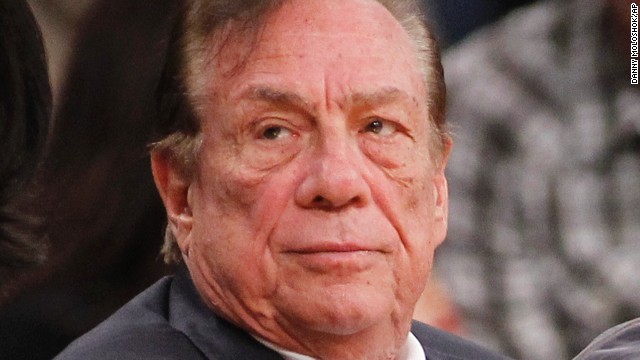 After a recording of Los Angeles Clippers owner Donald Sterling making racist remarks was released in April 2014, he was fined and banned from NBA games for life. But he's not the only well-known figure who has served as a lighting rod for discussion on race and identity.
The Washington Redskins team name and logo got heightened visibility when President Barack Obama and high-profile sportscasters Bob Costas and Christine Brennan spoke out against it in 2013. Team owner Dan Snyder insists the team's name is part of a tradition and is "not an issue."
Rancher Cliven Bundy made news in 2014 for his battle with the federal government and his comments that implied blacks would have been better off in slavery. In an interview with CNN's "New Day," he said he is not a racist.
TV personality and chef Paula Deen lost her sponsors and her Food Network show in 2013 after she admitted to use of the "n-word" and botched an apology. A racial discrimination charge against her was later dropped, and she is in the midst of a comeback, as she continues to spur controversy with her comments.
Actor LL Cool J and musician Brad Paisley collaborated on the song "Accidental Racist" that was largely panned by critics for being too simplistic in how it discussed American racial history.
Protesters hold signs in front of the U.S. Supreme Court on October 10, 2012, ahead of the high court's hearing of arguments on Fisher V. University of Texas at Austin. In 2013, the court ruled on the constitutionality of the school's consideration of race in admissions.
Miley Cyrus made twerking a household term after her controversial performance at the 2013 MTV Video Music Awards with Robin Thicke. Critics accused her of appropriating hip-hop culture and outraged parents whose children once knew her for her kid-friendly Hannah Montana character.
Nina Davuluri became the first winner of Indian descent when she won the 2014 Miss America Competition and drew headlines when her win spurred racist reactions online.
Sebastien De La Cruz, known as San Antonio's Little Mariachi, sang the national anthem before an NBA finals game between the San Antonio Spurs and the Miami Heat in 2013. When some questioned his citizenship and mariachi outfit, it sparked defense of the young singer from notables such as actress Eva Longoria.
In 2013, stop-and-frisk became a major issue in the New York mayoral campaign, and additional discussion was prompted with the George Zimmerman trial and movies such as "Fruitvale Station" that highlighted the issue.
In July 2013, George Zimmerman was acquitted in the killing of Trayvon Martin, sparking outrage in response to the verdict and later for a juror getting a book deal to discuss the case. After backlash, the book offer was revoked.
Pope Francis, the first Latin American and Jesuit pontiff, has opened up discussion about identity, equality and faith with his comments and actions.
In a highly publicized move, Sasheer Zamata was hired as a performer on "Saturday Night Live" in early 2014 after an outcry about the show's lack of diversity and not having a black female cast member in six years.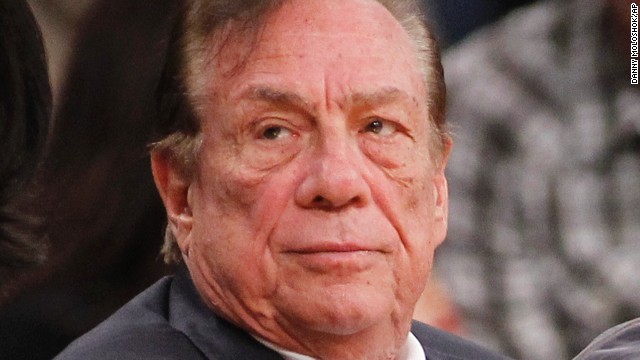 In the news: A conversation about race
Sterling said the NBA has been sued many times for discrimination. He said Silver and the NBA need to look at their own conduct and the conduct of the other 29 owners in the league and they are centering their attention on him to "draw attention away from their own discriminatory and repulsive conduct."
The statement comes as a source with knowledge of the situation told CNN that Sterling's estranged wife, Shelly Sterling, intends to ask a California probate court on Wednesday morning to "verify her standing" as the head of the family trust and rule that she had the right to sell the Clippers.
Referring to this apparent disagreement between the Sterlings about what to do with the Clippers, Adam Silver said the NBA is planning to step back and let the situation play itself out.
"This is really now a dispute between the Sterlings," he told ABC. "So we're on the sidelines."
Shelly Sterling announced May 30 that she had reached an agreement to sell the franchise that her husband bought in 1981 to former Microsoft CEO Steve Ballmer for a record $2 billion.
Technically, a family trust owns the Clippers. Last month, two sources with detailed knowledge of the situation told CNN that two neurologists have deemed Donald Sterling to be mentally incapacitated.
According to one of the sources, there is a provision in the Sterling family trust that says if either Donald Sterling or Shelly Sterling become mentally incapacitated, then the other becomes the sole trustee.
Donald Sterling is mentally sound, another lawyer, Maxwell Blecher, told CNN's Wolf Blitzer.
"It strikes me as totally incredible to argue that this man -- I talk to him every day -- is incapable of making decisions and is mentally incompetent," Blecher said on Tuesday afternoon. "And I don't believe any court is going to make a finding to the contrary."
Donald Sterling initially vowed to fight the sale and filed a lawsuit against the NBA, then said he was going along with the sale -- until Monday, when he again pulled his support. "From the onset, I did not want to sell the Los Angeles Clippers. I have worked for 33 years to build the team," Donald Sterling said.
Sterling, 80, has been embroiled in controversy since a recording of a conversation with his friend V. Stiviano surfaced. The recording included a series of racist comments.
The comments, first posted on TMZ, sparked outrage among NBA players, executives and fans. The commissioner fined Sterling $2.5 million and banned him for life from the NBA.
In Tuesday's statement, Sterling said he has apologized for the remarks and his apology is sincere.
He also made inflammatory comments to CNN's "Anderson Cooper 360" about African-Americans, which the NBA had planned to use as part of its evidence against Donald Sterling in an owners' meeting where a vote would be taken on whether to terminate Sterling's ownership rights. The meeting was canceled.
His lawsuit makes clear that he believes the NBA has no right to force such a sale, and the league was wrong in banning him for life and fining him.
In addition to damages, the lawsuit seeks a restraining order.
NBA commissioner to CNN: Donald Sterling saga not over yet