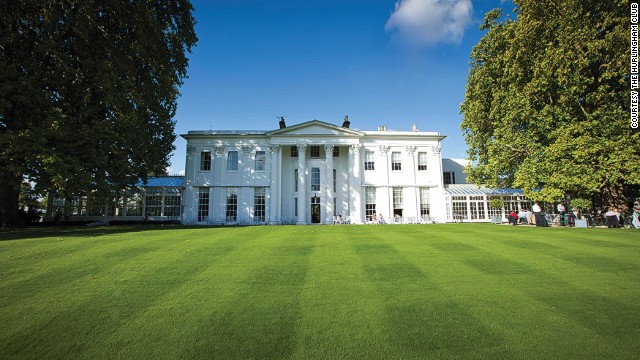 Fees:
Undisclosed. King Edward VII went pigeon shooting here. The club provides its members with first class social and sporting facilities. However, you'll probably have to wait 15 years for a current member to resign or pass on before you can become a non-voting member, then another 15 years before being considered for voting membership.
Fees: $750 per year. A haven for sophisticated jet-setting party people, this club has gorgeous hotel rooms, a great steak restaurant and original works by Andy Warhol.
Fees: HK$20,000 ($2,579) per year for annual membership; HK$50,000 ($6,448) for lifetime membership. Members usually join through referrals, and once in, get access to exclusive events with celebrities such as Bill Clinton, Sting, Michael Jordan, Gwyneth Paltrow, Christian Louboutin, Mick Jagger, Chow Yun Fat or Joel Robuchon in attendance.
Fees: ¥1.2 million ($11,697) registration fee + ¥180,000 ($1,755) per year + ¥500,000 ($4,874) refundable deposit on withdrawal of membership. Offers a 360-degree view of Tokyo from a 250-meter-high perspective. Members include business and political leaders as well as ambassadors from more than 100 countries.
Fees: £400 ($672) registration fee + £395 ($663) per year. Membership is by invitation only. In April 2014, the waiting period for consideration of membership was eight months.
Fees:
Undisclosed. The premier private business club in the Middle East, membership is by invite only and applicants must come recommended by two present club members. Many global business deals have been signed here.
Fees: £500 ($840) registration fee +£1,200 ($2,015) per year. A great spot for celebrity spotting, members include George Michael, Elton John and Tom Cruise. David and Victoria Beckham had their engagement party here.
Fees: (€1,620) $2,235 per year inclusive of deluxe concierge service. This cultural club dedicated to artistic events and concerts has a strict members recruiting policy. They only accept creatives who have shown a strong commitment to their professional fields.
Fees: (€1,750) $2,414 registration fee + (€1,507) $2,078 per year. Offers excellent networking opportunities with heads of industries, royalty and Europe's most powerful economic influencers.
Fees: $50,000 registration fee + $15,000 per year. Members include former Yahoo CEO Jerry Yang, Roger Waters of Pink Floyd and fashion designer Kenneth Cole.
The Hurlingham Club (London)
The Clubhouse (Buenos Aires)
Kee Club (Hong Kong)
Roppongi Hills Club (Tokyo)
Blacks (London)
Capital Club (Dubai, U.A.E.)
The Club at The Ivy (London)
Silencio (Paris)
Cercle de Lorraine (Brussels, Belgium)
CORE (New York)