STORY HIGHLIGHTS
NEW: Comedian Harris Stanton says Tracy Morgan was facing him when the accident occurred
NEW: Stanton tells CNN affiliate that Morgan moaned some after the accident
Stop with the rumors about Tracy Morgan's condition, Megan Wollover says through publicist
He remains in critical but stable condition, his publicist says
(CNN) -- One of the comedians who was riding in the limo bus with Tracy Morgan during a fatal accident this weekend says the actor ended up unconscious on top of him after the wreck, CNN affiliate WABC reported Tuesday night.
The station spoke with Harris Stanton, the only one of the five survivors from the limo who has been released from the hospital.
The collision killed comedian James McNair, who performed under the name Jimmy Mack, and injured four others on the bus. Morgan suffered broken ribs, a broken nose and a broken leg.
Stanton didn't realize the van had flipped after it was hit early Saturday on the New Jersey Turnpike. He asked a WABC reporter how many times the limo rolled.
He said he was sitting facing Morgan when the accident occurred, which blindsided them because the van had no windows where they were seated.
"When it stopped, Tracy was on top of me and I didn't see anyone else," Stanton said. "I was just saying, 'help me, get me out of here.'"
Morgan moaned but never appeared to be conscious, he said.
Stanton sustained a broken wrist and a bruised ankle.
A fiancee's plea
Morgan's fiancee, Megan Wollover, asked fans Tuesday to stop speculating about his health after false rumors that he could lose his leg surfaced.
"The concern for his well-being has been overwhelming, but Megan is respectfully asking that the media await official word through these channels before speculating (mostly inaccurately) on his condition," Morgan's publicist, Lewis Kay, said in a statement. "Rumors about amputating his leg are completely fabricated."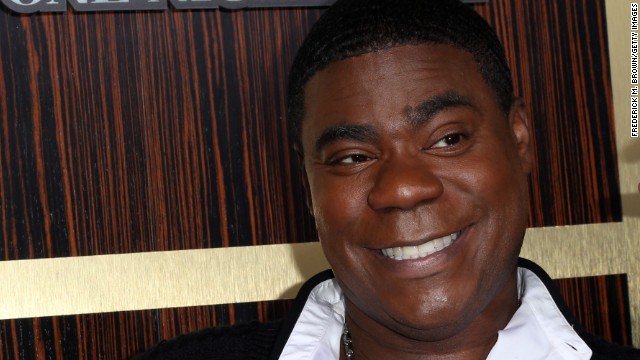 Actor Tracy Morgan is still recovering from injuries suffered in a six-vehicle accident in New Jersey on June 7. The former "Saturday Night Live" cast member and "30 Rock" star was riding in a limo bus when the accident occurred.
Morgan got his start as a stand-up comedian, working at Harlem's Apollo Theater before landing his gig with "Saturday Night Live." He was a cast member from 1996 until 2003. In the October 3, 1998 "Big Bernard" skit, Morgan performs with basketball star Shaquille O'Neal.
Tracy Morgan with Maya Rudolph in the "On The Subway" skit on April 13, 2002.
In 2003, Morgan left SNL to start "The Tracy Morgan Show," but it ran for only one season before it was canceled.
Morgan's acting career branched out from television to include movie titles such as "30 Years To Life." Director Vanessa Middleton, left, appeared with Allen Payne and Morgan at the premiere on March 27, 2002.
Actor Tracy Morgan and his wife Sabina pose on the red carpet during the premiere of "Are We There Yet?" at the Mann Village on January 9, 2005 in Los Angeles. The couple divorced in 2009 after 23 years of marriage.
Tracy Morgan and Tina Fey worked together after SNL on the show "30 Rock." Morgan played Tracy Jordan, a character that was loosely based on himself.
Members of the cast of "30 Rock" joke around with their award for outstanding comedy series backstage at the 60th Primetime Emmy Awards in Los Angeles on September 21, 2008. Morgan was also nominated for Outstanding Supporting Actor in a Comedy Series.
Morgan starred with Bruce Willis in the 2010 movie "Cop Out."
Morgan has stirred up controversy with some of his comments in his comedy acts. "I hurt people with this, so from the bottom of my heart I apologize to everybody who I offended with my words on stage," he said in 2011 after an anti-gay rant in one of his shows. Stand-up comedy should "heal people, not hurt."
Tracy Morgan promotes his new book "I Am The New Black" at Barnes & Noble Union Square on October 22, 2009 in New York City.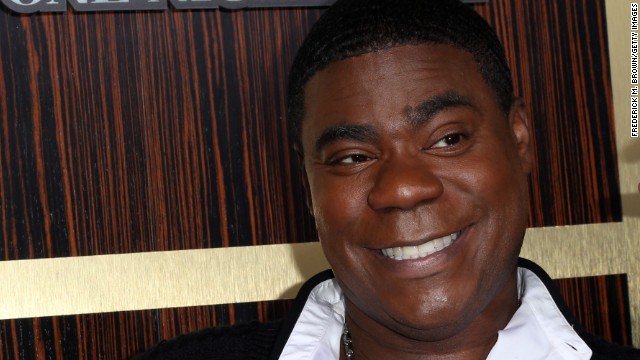 Photos: Tracy Morgan's comedy career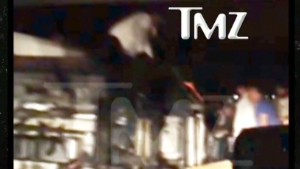 New video of Tracy Morgan crash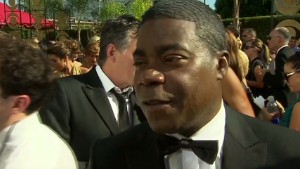 Former 'SNL' star in intensive care
Morgan underwent surgery for his broken leg Sunday and is likely to remain hospitalized for several weeks, Kay said Monday. There was no change in his condition -- critical but stable -- on Tuesday, Kay said.
"This recovery will be arduous and we hope that you can be patient during this difficult time," Kay said in an earlier statement.
Comedian Ardie Fuqua and Jeffrey Millea were also injured in the accident.
The truck driver who police say caused the accident has been charged with vehicular homicide and assault by auto.
According to a criminal complaint, Kevin Roper, 35, had been awake for more than 24 hours at the time of the crash. He failed to notice traffic slowing in front of him and hit Morgan's bus despite trying to swerve out of the way, police said.
Roper, a driver for Walmart, posted $50,000 bond and was released from jail Saturday night.
Walmart said in a statement that it believed Roper was operating within federal rest guidelines, but said it would take full responsibility should the investigation show its truck caused the accident.
Morgan, 45, was a regular on "Saturday Night Live" for seven years. He later received an Emmy nomination for his role in the comedy series "30 Rock," in which he played Tracy Jordan, an exaggerated version of himself.
Funny man Tracy Morgan has known fame and foibles
CNN's Kevin Conlon and Doug Ganley contributed to this report.