STORY HIGHLIGHTS
Clinton defends her tenure at State Department, pushes back on Benghazi critics
On the subject of Monica Lewinsky, Clinton says she has "moved on"
She says the Clintons were broke when they left the White House in 2001
She will decide on presidential run "when it feels right for me to decide"
(CNN) -- Hillary Clinton sought to clarify her "dead broke" comment that generated a critical reaction in social media and energized her detractors, saying simply that she and her husband have known periods in their lives when they struggled financially to pay off debt.
In another interview as her new memoir, "Hard Choices," hit bookstores on Tuesday, Clinton found herself again talking about her immediate post White House years when the former first family owed millions to lawyers and had nothing in the bank as they transitioned to a new life.
In an interview with ABC's Diane Sawyer that aired on Monday, Mrs. Clinton said she and former President Bill Clinton were "dead broke" and "struggled to piece together the resources" for mortgages in pricey Washington and the New York suburbs and their daughter Chelsea's tuition at prestigious Stanford University.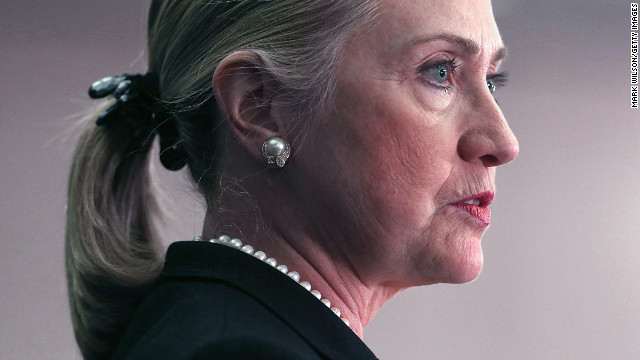 Former Secretary of State Hillary Clinton, pictured in October 2012, has become one of the most powerful people in Washington. Here's a look at her life and career through the years:
Before she married Bill Clinton, she was Hillary Rodham. Here, Rodham talks about student protests in 1969, which she supported in her commencement speech at Wellesley College in Wellesley, Massachusetts.
Rodham, center, a lawyer for the Rodino Committee, and John Doar, left, chief counsel for the committee, bring impeachment charges against President Richard Nixon in the Judiciary Committee hearing room at the U.S. Capitol in 1974.
Arkansas Gov. Bill Clinton helps first lady Rosalynn Carter on a campaign swing through Arkansas in June 1979. Also seen in the photo is Hillary Clinton, center background.
Bill Clinton embraces his wife shortly after a stage light fell near her on January 26, 1992. They talk to Don Hewitt, producer of the CBS show "60 Minutes."
With Hillary, Democratic presidential candidate Bill Clinton waves to the crowd at his victory party after winning the Illinois primary on March 17, 1992.
Al Gore, Tipper Gore, Bill Clinton and Hillary Clinton wave to supporters at the Chautauqua Institution in Chautauqua, New York, after they gave speeches on family values on August 23, 1992.
Clinton gestures at a campaign rally November 3, 1992, in Denver. After taking office, President Clinton chose his wife to head a special commission on health care reform, the most significant public policy initiative of his first year in office.
Bill and Hillary Clinton have a laugh together on Capitol Hill in 1993.
Clinton pours herself a cup of tea in 1993 while testifying to the Senate Education and Labor Committee about health care reform.
Clinton speaks at George Washington University on September 10, 1993, in Washington during her husband's first term.
Clinton waves to the media on January 26, 1996, as she arrives at federal court in Washington for an appearance before a grand jury. The first lady was subpoenaed to testify as a witness in the investigation of the Whitewater land deal in Arkansas.
Hillary Clinton looks on as President Clinton discusses the Monica Lewinsky scandal in the Roosevelt Room of the White House on January 26, 1998.
Hillary and Bill Clinton arrive at Foundry United Methodist Church on August 16, 1998, in Washington. He became the first sitting president to testify before a grand jury when he testified via satellite about the Lewinsky matter.
Clinton shakes hands during a St. Patrick's Day parade in the Sunnyside neighborhood of Queens, New York, on March 5, 2000.
Clinton waves to the crowd as she arrives on the stage at the Democratic National Convention on August 14, 2000, in Los Angeles.
Clinton campaigns for a Senate seat October 25, 2000, at Grand Central Station in New York.
Hillary Clinton is sworn in as a senator of New York in a re-enactment ceremony with, from left, President Clinton, nephew Tyler, daughter Chelsea, brother Hugh Rodham, mother Dorothy Rodham and Vice President Al Gore on January 3, 2001, in Washington.
Andrew Cuomo, Eliot Spitzer and Clinton celebrate with a crowd of Democratic supporters after their wins in various races November 7, 2006, in New York.
Clinton speaks during a post-primary rally on January 8, 2007, at Southern New Hampshire University in Manchester, New Hampshire.
The Clintons pay a visit to the 92nd annual Hopkinton State Fair in Contoocook, New Hampshire, on September 2, 2007.
Clinton speaks at a campaign rally September 2, 2007, in Portsmouth, New Hampshire. She was running for the Democratic presidential nomination.
Clinton addresses a question during a debate with other Democratic presidential candidate at Dartmouth College in Hanover, New Hampshire, on September 26, 2007. Also pictured are U.S. Rep. Dennis Kucinich of Ohio, left, and former U.S. Sen. Mike Gravel of Alaska.
Felipe Bravo, left, and Christian Caraballo are covered with Hillary Clinton stickers in downtown Manchester, New Hampshire, on January 8, 2008.
Clinton campaigns in Council Bluffs, Iowa, with her daughter, Chelsea, on January 1, 2008, two days ahead of the January 3 state caucus.
Clinton waves as she speaks to supporters at the National Building Museum on June 7, 2008, in Washington. After pulling out of the presidential race, Clinton thanked her supporters and urged them to back Barack Obama to be the next president of the United States.
Obama and Clinton talk on the plane on their way to a Unity Rally in Unity, New Hampshire, on June 27, 2008.
Obama watches Clinton address the Democratic National Convention on August 26, 2008. The two endured a long, heated contest for the 2008 nomination.
Sen. Charles Schumer, left, looks toward Secretary of State designate Clinton as Senate Foreign Relations Committee chairman Sen. John Kerry, center, looks on during nomination hearings January 13, 2009, on Capitol Hill.
Clinton testifies during her confirmation hearing for secretary of state on January 13, 2009, in Washington.
Clinton, as secretary of state, dances with a local choir while visiting the Victoria Mxenge Housing Project in Philippi, a township on the outskirts of Cape Town, South Africa, on August 8, 2009.
Clinton looks through binoculars toward North Korea during a visit to an observation post July 21, 2010, at the demilitarized zone separating the two Koreas.
Clinton walks up the steps to her aircraft as she leaves a meeting of the Association of Southeast Asian Nations on July 23, 2010, in Hanoi, Vietnam.
Hillary and Bill Clinton pose on the day of their daughter's wedding to Marc Mezvinsky on July 31, 2010, in Rhinebeck, New York.
U.S. President Barack Obama and Clinton observe a moment of silence before a NATO meeting November 19, 2010, in Lisbon, Portugal.
Clinton listens as Turkish Foreign Minister Ahmet Davutoglu makes a brief statement November 29, 2010, before a bilateral meeting at the State Department in Washington.
Clinton shakes hands with a child during an unannounced walk through Tahrir Square in Cairo on March 16, 2011.
Obama, Vice President Joe Biden, Clinton and members of Obama's national security team receive an update on the Osama bin Laden mission May 1, 2011, in the Situation Room of the White House.
Clinton checks her personal digital assistant prior to departing Malta on October 18, 2011.
Clinton dances while in Cartagena, Colombia, on April 15, 2012.
Clinton enjoys a beer at Cafe Havana in Cartagena, Colombia, on April 15, 2012.
Clinton appears with little makeup during an event in Dhaka, Bangladesh, on May 6, 2012. She tells CNN, "I feel so relieved to be at the stage I'm at in my life right now ... Because you know if I want to wear my glasses, I'm wearing my glasses. If I want to wear my hair back I'm pulling my hair back. You know at some point it's just not something that deserves a lot of time and attention."
Clinton speaks as Afghanistan President Hamid Karzai listens during a news conference at the presidential palace in Kabul, Afghanistan, on July 7, 2012.
Clinton arrives at Ben Gurion International Airport in Israel on July 15, 2012.
Clinton looks on as Obama makes a statement in response to the attack at the U.S. Consulate in Libya on September 12, 2012.
Clinton applauds Myanmar opposition leader Aung San Suu Kyi during a ceremony where Suu Kyi was presented with the Congressional Gold Medal on September 19, 2012.
Bill Clinton kisses his wife after introducing her at the Clinton Global Initiative annual meeting on September 24, 2012, in New York City.
Clinton shakes hands with Libyan President Mohamed Magariaf on September 24, 2012, in New York.
Clinton stands during a news conference following meetings at the prime minister's office in Pristina, Kosovo, on October 31, 2012. Clinton said that Kosovo's unilaterally declared independence, fiercely opposed by Serbia, was "not up for discussion."
Clinton chats with Suu Kyi before Obama speaks at the University of Yangon in Yangon, Myanmar, on November 19, 2012.
Obama looks at Clinton before the start of a bilateral meeting with Japanese Prime Minister Yoshihiko Noda, far right, during the East Asian Summit in Phnom Penh, Cambodia, on November 20, 2012.
Israeli Prime Minister Benjamin Netanyahu shakes hands with Clinton at the prime minister's office November 20, 2012, in Jerusalem.
Clinton receives a sports jersey and football helmet from Deputy Secretary Tom Nides, center, after returning to work on January 7, 2013, following a fall where she hit her head and doctors later detected a blood clot. The number 112 represented the number of countries that she had visited as secretary of state.
Clinton and her husband arrive for the inauguration for Obama's second term on January 21, 2013.
Clinton testifies before the Senate Foreign Relations Committee on Capitol Hill on January 23, 2013. Lawmakers questioned Clinton about the security failures during the Benghazi, Libya, attacks that led to the death of four Americans, including U.S. Ambassador Christopher Stevens.
From left, first lady Michelle Obama stands with former first ladies Laura Bush, Clinton, Barbara Bush and Rosalynn Carter at the opening ceremony of the George W. Bush Presidential Center in Dallas on April 25, 2013.
From left, Clinton, former first lady Laura Bush and former Presidents Bill Clinton and George W. Bush listen to speakers during the memorial service for Nelson Mandela in Soweto, South Africa, on December 10.
Clinton ducks after a woman threw a shoe at her while she was delivering remarks at the Institute of Scrap Recycling Industries conference in Las Vegas on April 10.
Clinton tours the National September 11 Memorial & Museum in New York with President Barack Obama, former New York Mayor Michael Bloomberg, first lady Michelle Obama and former President Clinton on May 15.
Clinton sits down with ABC News anchor Diane Sawyer on Thursday, June 5, for her first television interview in conjunction with the release of her new book, "Hard Choices."
Clinton makes 10-year-old Macy Friday's day as she campaigns for U.S. Sen. Mark Udall during a stop Monday, October 13, in Union Station in Denver.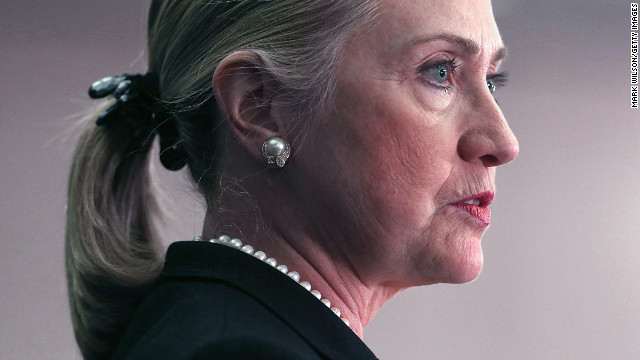 Photos: Clinton's political career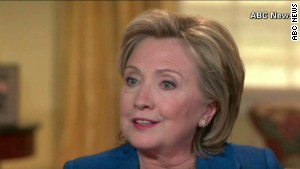 Clinton talks about Monica Lewinsky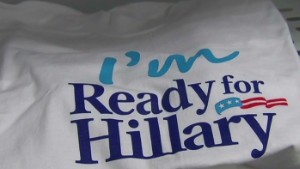 Clintons were broke after the presidency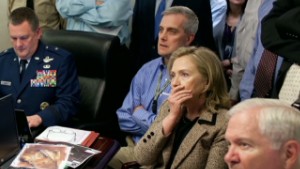 Clinton: Bill didn't know about bin Laden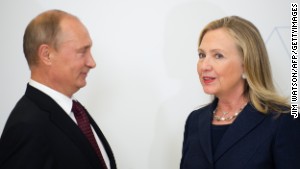 Clinton: Putin and I disagree, publicly
Clinton made the comments in defense of the hefty speaking fees she now commands as she weighs a presidential bid.
Clinton told Robin Roberts on ABC's "Good Morning America" that she understood the critical reaction to her comments, but remembers that they were "something like $12 million in debt" in the winter of 2001.
"Let me just clarify that I fully appreciate how hard life is for so many Americans today. It is an issue that I have worked on and cared about my entire adult life," said Clinton, who later noted that getting out of post-White House debt "was something that we really had to work hard" to accomplish.
She also said that she and Bill Clinton had to support themselves at a young age and pay for college, too.
"We understand what that struggle was because we had student debts, both of us, we had to pay off, we had to work," Clinton said. "We have a life experience that is clearly different in very dramatic ways from many Americans, but we also have gone through some of the same challenges as many people have."
The Clintons righted their financial circumstances reasonably quickly by capitalizing on the expected post-presidential windfall of book deals and speaking fees.
The new book
"Hard Choices" is about Clinton's years as President Barack Obama's first secretary of state, which she stepped away from early last year.
In her ABC appearances, she honed what is likely to be her book tour message -- one of a thoughtful diplomat who is prepared to reintroduce herself to voters, especially women.
With her book lining the walls of booksellers nationwide, Clinton stopped at a Barnes & Noble in Manhattan for her first book signing of the two-week tour.
Flanked by Clinton devotees, many of whom waited overnight to get a copy signed by the former first lady, Clinton said she wrote the book "for anybody who wants to think about and learn about what is happening in the world today, why America matters, and why the world matters to America."
She was forward looking in her brief remarks, telling that audience that "we have a lot of hard choices ahead of us in our country to make it as great and strong as it should be."
Outside Barnes & Noble, many in line saw themselves not just waiting for the first event of a book tour. Instead, they saw this as the kickoff to Clinton's new political future.
"I see it as the beginning of her campaign, and I think a lot of people do," said Susan Kellman of Brooklyn, who waited with her daughter overnight to be one of the first in line. "I think everybody is hopeful that that's what it is. So it's nice to be here at the beginning."
Security was tight at the event and attendees were warned beforehand that Clinton would not be personalizing each book and would not pose for photos. Book buyers, however, were happy to wait as long as they got to meet the former senator.
"I would love to get a picture, but I understand," said Natia Mosashvili as she waited in line.
Monica, Benghazi, presidential politics
On Monday, Clinton was asked by Sawyer about Monica Lewinsky, the one time White House intern whose affair with the President in the mid 1990s set the stage for his impeachment and launched a wave of books, TV specials, and yet another chapter of scandal.
Lewinsky resurfaced last month because of a Vanity Fair essay in which she reflected on her infamy and her life after the saga.
"She is perfectly free to do that," Clinton said about Lewinsky's essay. "She is, in my view, an American who gets to express herself however she chooses. But that is not something I spend a lot of time thinking about."
Clinton added that she has "moved on" and if she had the chance to talk to Lewinsky she would "wish her well."
"I hope that she is able to think about her future and construct a life that she finds meaning and satisfaction in," Clinton concluded.
Much of the Sawyer interview focused on Clinton's tenure at the State Department, including her relations with Russia, sanctions imposed on Iran and the 2012 terrorist attack that killed four Americans in Benghazi, Libya.
Clinton, as she has done before, portrayed herself as someone who moved the ball forward on diplomatic issues, not someone who fixed everything.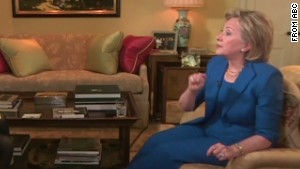 Clinton: Benghazi a mistake, but...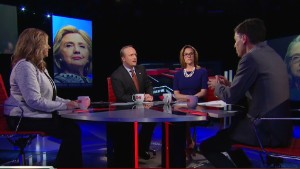 What did Hillary Clinton accomplish?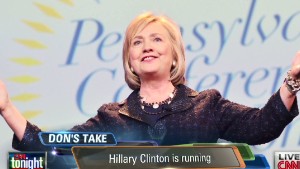 Lemon: 'Hillary Clinton is running'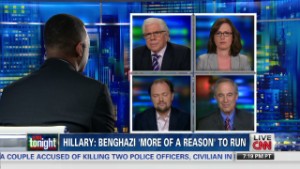 Bernstein: This is a Clinton production
"Let's talk about what was accomplished and then talk about the continuing threats," Clinton said when pressed about her State Department record.
On Benghazi, Republicans contend that the attack that killed Ambassador Christopher Stevens and three other Americans illustrates Obama administration foreign policy failures.
Democrats say ongoing Republican-led scrutiny is political and designed to undercut any potential Clinton candidacy.
"I view this as really apart from -- even a diversion from -- the hard work that the Congress should be doing about the problems facing our country and the world," Clinton said, noting that the U.S. should be "in the majors" on world affairs.
Clinton has taken responsibility before for what happened in Benghazi, and she did so again in the interview. She also defended herself by saying she "was not making security decisions" for the Benghazi compound.
Roberts pressed Clinton Tuesday about her record at the State Department and whether she will distance herself from Obama if she runs for president.
"Where I disagree with President Obama, I will be clear," Clinton said. "But in many areas, he and I worked together and I think we saw positive results. I am very proud of what we did during the time that I was there."
Republicans have seized on a number of comments from Clinton's interviews and book rollout, but none more than her comments about the family's finances.
American Rising, the pro-Republican opposition research shop that, along with the Republican National Committee, takes the lead in criticizing Clinton, was quick to ping her over her comments to ABC, saying they "reveal someone who is extremely out of touch with financial reality facing Americans."
And on running, Clinton told Sawyer she would "decide when it feels right for me to decide."
She also entertained the idea of not running.
"I like what I am doing," she said.
'Hard Choices' recalls memories, regrets from Clinton's State years
Hillary Clinton in 2001: We were 'dead broke'
CNN's Laura Dolan, Leigh Remizowski, Kevin Bohn, Donovan Long, Robert Yoon and Yon Pomrenze contributed to this report.