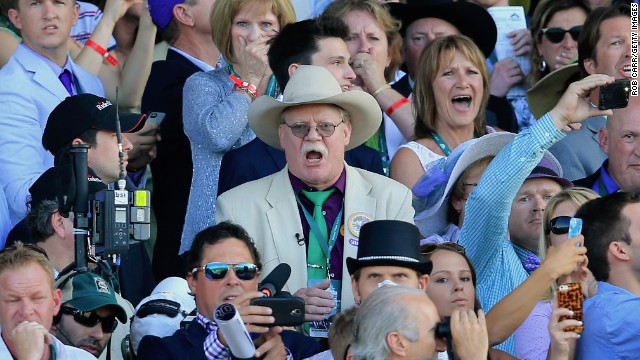 Steve Coburn:
Most horse owners might be delighted if their horse won two of the world's biggest races, snaring millions in purse money. But not Coburn. After California Chrome failed to place in the Belmont Stakes this past weekend, Coburn
directed his angst
at the horses who didn't race the Kentucky Derby or Preakness, saying their owners took "the coward's way out."
He later apologized.
Amar'e Stoudemire: After his Knicks lost 104-94 to the Miami Heat in the 2012 NBA playoffs, Stoudemire made the boneheaded decision to punch a glass case containing a fire extinguisher. The big man lacerated his nonshooting hand and missed the third game of the series. He'd return for Game 4, but it wouldn't be enough, as the Heat dismissed the Knicks in five games.
Gisele Bundchen: For such a pretty woman, she used some ugly language after her husband, Tom Brady, and his New England Patriots fell to the New York Giants in the 2012 Super Bowl. Caught on camera while she waited on an elevator after the game, the Brazilian supermodel and U.N. goodwill ambassador said, "My husband cannot (expletive) throw the ball and catch the ball at the same time."
Jose Mourinho: With seconds left in Spain's 2011 Supercopa final, Real Madrid's Marcelo unleashed a dirty tackle on Barcelona's Cesc Fabregas. Marcelo was ejected, but it wasn't enough to sate tempers between the rivals. With his Madrid team down 5-4 on aggregate and a melee ensuing, Mourinho slunk into a crowd behind Barcelona assistant coach Tito Vilanova and planted a finger firmly in his eye. This image is from a less hostile time in 2012, with Mourinho, left, shaking hands with Vilanova.
Dan Gilbert:
After Ohio's then-favorite son, LeBron James, ditched Cleveland to join Miami, Cavaliers owner Dan Gilbert went nuts on the "self-titled former king," calling him narcissistic and cowardly. Many non-Miami basketball fans had been annoyed by James' televised "Decision." But with one
comic sans tirade
, Gilbert redirected that criticism on himself and was promptly branded crazy and a racist.
Serena Williams: In a 2009 U.S. Open semifinal against Kim Clijsters, Williams lost her temper at the end of the first set and smashed her racket. Clijsters later won the match on a penalty point after Williams began cursing at a line judge and shaking her racket. Williams reportedly threatened to shove a tennis ball down the line judge's throat. Game, set, match, Clijsters.
Ara Abrahamian: The Swedish Greco-Roman wrestler threw a fit after losing to an Italian opponent at the 2008 Olympics. He shouted at the referee, confronted the judges and had to be restrained by teammates. After winning his next match, Abrahamian grudgingly mounted the podium to accept his bronze medal, which he took off and left at the center of the competition mat.
Angel Matos: Disqualified during the bronze-medal match in the 2008 Olympics, the Cuban taekwondo star was miffed. No one saw what was coming next -- certainly not referee Chakir Chelbat. Matos walked in front of Chelbat and delivered a vicious roundhouse kick to his head, leaving blood pouring from the Swedish ref's lip. It was Matos' last sanctioned match, as he was promptly banned for life.
Phillip Wellman: Baseball managers are known to tangle with umpires, but the Mississippi Braves manager raised the bar in 2007. After screaming in the ump's face for several seconds, Wellman covered home plate with dirt and did a Delta Force impression, crawling to the mound and throwing a rosin bag like a grenade before absconding with second and third base.
Cale Yarborough and Donnie Allison: NASCAR lists it as its top post-race scuffle. After some back-and-forth bumping between Yarborough, second left, and Allison, third left, led the pair to hit the wall and slide into the infield on the final lap of the 1979 Daytona 500, the two exited their cars to argue. When Allison's brother, Bobby, second right, joined the fray, a helmet was swung before a nationally televised brawl broke out.
Woody Hayes: It is one of college football's iconic meltdowns. It also ended a legendary coach's career. In the 1978 Gator Bowl, after Clemson's Charlie Bauman was tackled near the Ohio State sideline after intercepting a pass in the closing minutes, Hayes charged Bauman and punched him in the throat. It wasn't Hayes' first violent act as a coach, but it was his last.
Sore losers in sports
Sore losers in sports
Sore losers in sports
Sore losers in sports
Sore losers in sports
Sore losers in sports
Sore losers in sports
Sore losers in sports
Sore losers in sports
Sore losers in sports
Sore losers in sports