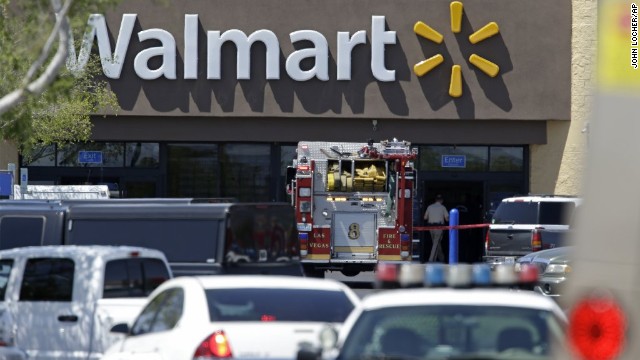 Police and firefighters on the scene of the shooting at a Las Vegas Walmart, on Sunday, June 8. Two gunmen shot and killed two police officers eating lunch and then killed a third person at the Walmart. The gunmen then killed themselves.
Las Vegas Metropolitan Police Department vehicles are parked outside a Las Vegas Cici's Pizza restaurant. Two police officers were shot while they were having lunch Sunday.
Officers Alyn Beck, left, and Igor Soldo were shot while eating lunch. Both were husbands and fathers.
A Las Vegas Metropolitan Police officer monitors the scene.
Las Vegas Metropolitan Police Department personnel gather outside the Walmart where one person was shot and killed.
Police cars and personnel gather at the scene.
Police and fire vehicles line the street near the scene.
Police officers move to enter the Walmart.
Shootings in Las Vegas
Shootings in Las Vegas
Shootings in Las Vegas
Shootings in Las Vegas
Shootings in Las Vegas
Shootings in Las Vegas
Shootings in Las Vegas
Shootings in Las Vegas
STORY HIGHLIGHTS
Tracy Smith: My friend Alyn Beck was shot by two unhinged people bent on 'revolution'
He says shooting innocents doesn't spark revolution; it wrecks lives and families
He says Alyn and his partner were good cops, not 'government henchman'
Smith: If you're angry at authority, you can start a blog or join a cause
Editor's note: Tracy Smith blogs at the site Journal of a Madman. This article is adapted from a blog that appeared on the site Monday. The opinions expressed in this commentary are solely those of the author.
(CNN) -- My friend was just murdered under the guise of revolution.
His name was Alyn Beck. He was a cop.
Two unhinged people walked into a restaurant in sunny Las Vegas and attacked my friend Alyn and his partner, Igor Soldo, shooting them dead as they ate their lunch. They then turned and yelled something about it being the "start of the revolution," witnesses said. They left behind a "Don't Tread on Me" flag and a swastika. They killed another person at a Walmart and then themselves.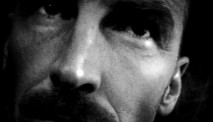 Tracy Smith
These two didn't start a revolution. They just took the lives of two heroes. They tore fathers from children and turned wives into widows. They brought darkness into the lives of all who loved these two men and another bystander. They traumatized people who witnessed the tragedy.
They left a scene of carnage for dozens of fellow police workers -- the fallen cops' friends, colleagues -- to process emotionally and mentally. All for some perverse, horrific act masquerading as revolution.
Authorities say that the shooters viewed law enforcement as oppressive and that they had participated in anti-government protests.
But you don't start a revolution by ambushing two innocent men in a fast food restaurant. These weren't policymakers. They weren't "big government henchmen." They were two good cops.
We may all have problems with cops sometimes. Who hasn't felt angry after getting pulled over?
And yeah, I know some cops are just plain bad. Some are just out to push people around. Some are drunk on their authority and try to dominate everyone they encounter. And some hurt people. But anyone who knows any cops personally knows that those are the exceptions. Because for the most part, cops are good folks simply doing our dirty work.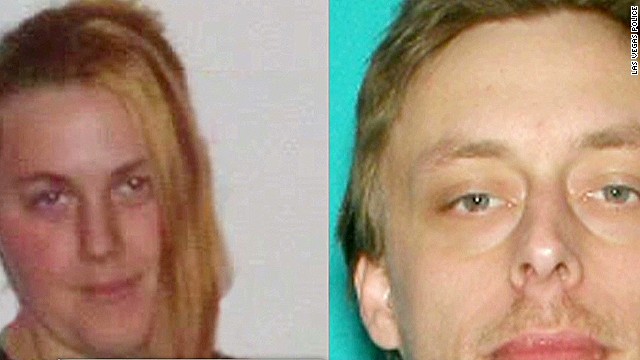 Las Vegas shooters' social media posts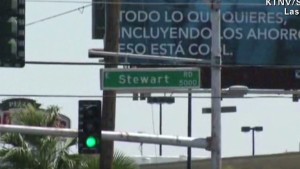 Couple yells 'revolution,' kills 2 cops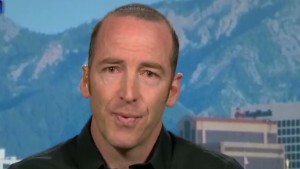 Friend of slain officer: 'He was gentle'
They are the society's janitors, taking out the trash and cleaning up the messes none of us want to deal with ourselves. Like you and me, they work for a paycheck, only their office is a squad car, their market is something like the Wild West and their briefcase is generally a 9 millimeter. Unless you are in fact "a bad guy," most of these men and women in uniform aren't making your life more difficult, they're making it easier. They are not a target of your revolution!
Whatever your desired revolution, it shouldn't take its power from cowardly acts of violence inflicted on the innocent.
Alyn's killers should be shunned in the public memory -- there is no cause that can redeem them. We must forget them.
Their brave victims are the ones to be honored and celebrated.
My friend, Alyn, was a dynamite guy. He was a riot to be around: kind and funny, capable of ridiculously juvenile behavior but also profound intellectual depth. Alyn helped me build the shed in my backyard. He insisted on helping. He was a tireless worker, and once he was done with a job, he'd be the one bringing you a lemonade.
Alyn was a family man, a devoted husband and dad, and with the birth of a daughter, he was relishing the joy of being a new father again after over a decade of raising his first two wonderful kids. He liked to swim with his kids in the backyard. He loved going dancing in clubs with his wife. He was remarkably patient in training and tolerating the family's lovable but absolutely insane dog, Marty.
As a cop, Alyn was top notch. When it came time for business, he was the first guy through the door, the one you would want showing up if you were in any kind of danger, because he was fearless and capable.
And now Alyn is dead, because two jerks decided they couldn't patiently let the system work like the rest of us. They couldn't control their impulses. They couldn't act like adults. These were not heroes or revolutionaries. They were cowardly psychopaths who chose to throw a terrifying tantrum.
If you're frustrated with government, if you're worried about the republic, if you're convinced black helicopters are watching you in the night or there is something else under your skin, there's something you can do: Start a blog, write a book, go to a protest, join a cause, call a senator, call a talk show, run for office. Do what people in a free society do, not what out-of- control adolescents in "Lord of the Flies" would do.
And if you just can't restrain yourself from going on a murderous rampage followed by your own cowardly suicide, do the rest of us a favor and do it in reverse order.
Shooting a cop doesn't make you a revolutionary. It just makes things worse for everyone.
Goodbye, Alyn. Thanks for making my life better than it would have been otherwise.
Follow us on Twitter @CNNOpinion.
Join us on Facebook.com/CNNOpinion.