STORY HIGHLIGHTS
NEW: Tonalist passes Commissioner at finish; California Chrome finishes tied for 4th
NEW: California Chrome co-owner angry that top finishers didn't run in Derby or Preakness
NEW: "It's not fair to these horses that have been in the game since Day One," says Steve Coburn
New York (CNN) -- Tonalist won the 146th Belmont Stakes Saturday, denying the heavily favored California Chrome his chance to become the first Triple Crown winner in 36 years.
Instead of a historic win by their favorite, the huge crowd at Belmont Park in Elmont, New York, witnessed a dramatic finish in which Tonalist, ridden by Joel Rosario, overtook Commissioner in his last strides to win by a head.
But the fact that none of the top three finishers had raced in both the Kentucky Derby and the Preakness Stakes, the two prerequisites to the Triple Crown, didn't sit well with California Chrome co-owner Steve Coburn.
Coburn angrily told NBC Sports that the horse owners that had skipped either race before running the Belmont took "the coward's way out."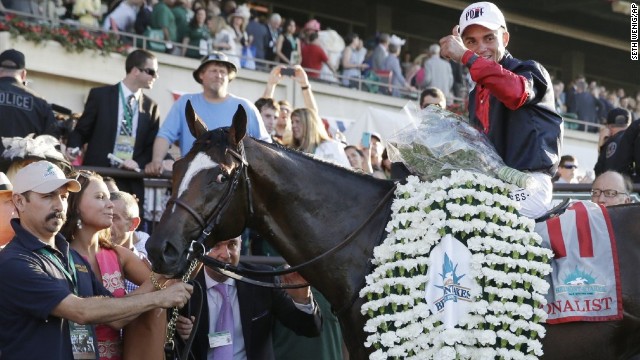 Joel Rosario poses for photos atop Tonalist after winning the 146th running of the Belmont Stakes horse race, Saturday, June 7, 2014, in Elmont, New York.
Tonalist crosses the finish line to win the Belmont Stakes on June 7 in Elmont, New York. California Chrome, far left, was bidding to become the first Triple Crown winner since 1978, but instead finished in a dead heat for fourth.
Tonalist, left, riddent by Joel Rosario, edges out Commissioner with Javier Castellano at the finish line.
Owner of Tonalist, Robert S. Evans, is presented with the trophy from New York Gov. Andrew Cuomo after winning the race.
Jockey Joel Rosario is congratulated after riding Tonalist to victory.
Victor Espinoza wipes his eye after finishing fourth aboard California Chrome.
Tonalist, ridden by Joel Rosario, races to the finish line en route to winning the 146th running of the Belmont Stakes at Belmont Park on June 7, 2014, in Elmont, New York.
The horses approach the finish line.
California Chrome, center, is flanked by Wicked Strong, left, and Tonalist, right, as they run down the backstretch.
Jockey Victor Espinoza, riding California Chrome, suits up before the race.
A woman watches pre-race action.
Fans make their way into Belmont Park prior to the Belmont Stakes.
A racing fan wears a nasal strip, in honor of California Chrome, who also wears a nasal strip when he races.
A fan places a bet at Belmont Park.
Feathers adorn the hat of a racing fan, dressed for the occasion at Belmont Park.
Race fans line up to place their bets.
Steve Coburn, co-owner of California Chrome, waves to fans before the race.
Kylie Fouchee, left, takes a photo of Vicki Dimitri, center, and her mother Linda Fouchee while enjoying the scene at Belmont Park.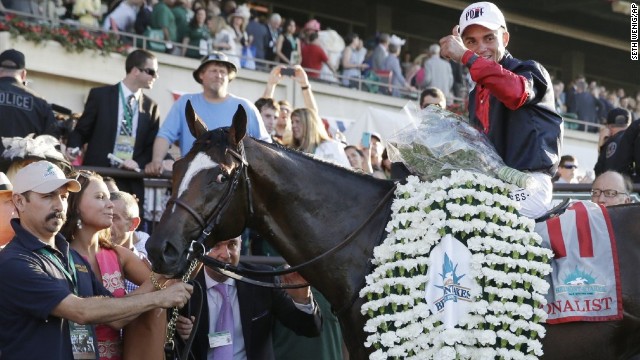 Photos: 146th Belmont Stakes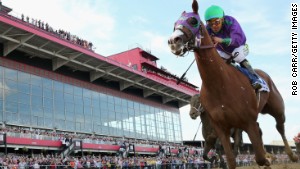 From Nags to Riches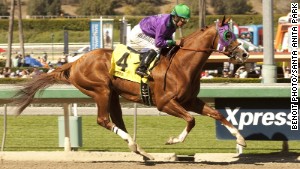 Jockey: California Chrome likes to run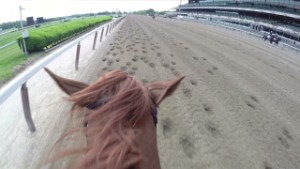 What California Chrome will see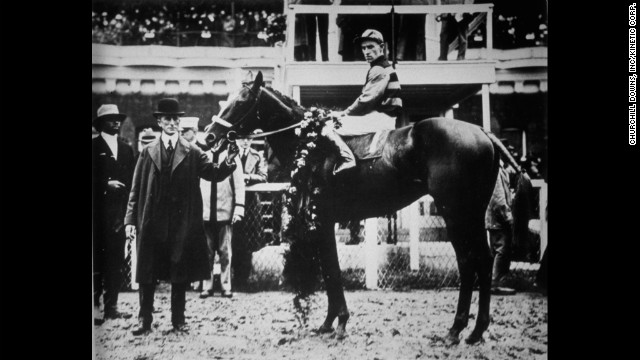 Here's a look back at the 11 horses who've managed the feat. Sir Barton was the first horse to earn the Triple Crown of Thoroughbred Racing, as it would come to be known, by winning the Kentucky Derby, Preakness Stakes and Belmont Stakes in 1919.
More than a decade later, Gallant Fox captured the Triple Crown in 1930.
Omaha -- the son of Gallant Fox -- won the Triple Crown in 1935. Here, jockey Pat Beasley rides the horse in 1936.
War Admiral took the Triple Crown in 1937. He won 21 of his 26 career starts.
Whirlaway (here with horse Robert Morris) won the Triple Crown in 1941 and was named Horse of the Year.
Count Fleet, who won the Triple Crown in 1943, is adorned with a garland of flowers after winning the Preakness Stakes in 1943.
Assault won the Triple Crown in 1946.
Citation at Belmont Park in 1947. He would win the Triple Crown the following year.
Secretariat, left, heads to victory with jockey Ron Turcotte at the Kentucky Derby in 1973. Considered by many to be the greatest racehorse of all time, Secretariat still holds the record for the fastest times in all three Triple Crown races. He won the Belmont Stakes by an astounding 31 lengths.
Jockey Jean Cruguet guides Seattle Slew to the Triple Crown at the Belmont Stakes in 1977.
Jockey Steve Cauthen rides Affirmed to victory at the Belmont Stakes in 1978.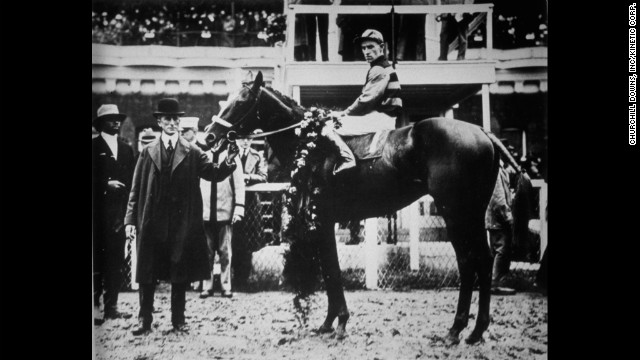 Triple Crown winners
Neither Tonalist nor Commissioner ran in the Derby or Preakness. Medal Count, the third-place finisher, didn't run in the Preakness.
California Chrome appeared sluggish and finished in a dead heat for fourth with Wicked Strong in his bid to become the first Triple Crown winner since Affirmed in 1978. In the 135 years the grueling series of races for 3-year-old thoroughbreds have all been contested, only 11 horses have won all three.
A visibly upset Coburn said his horse "didn't have it in him."
"I'll never see, and I'm 61 years old, another Triple Crown winner in my lifetime because of the way they do this," he said. "It's not fair to these horses that have been in the game since Day One. If you don't make enough points to get into the Kentucky Derby, you [shouldn't] run in the other two races. ... It's all or nothing because this is not fair to these horses that have been running their guts out for these people and for the people who believe in them. This is a coward's way out, in my opinion."
Tonalist owner Robert Evans declined to comment on Coburn's remarks.
Tonalist covered the mile and a half in 2:28.52 and returned $20.40 to win on a $2 bet.
California Chrome's jockey Victor Espinoza described his horse moments after the race as "a little tired."
"Turning for home I was just waiting to have the same kick like he always had before, and today he was a little bit flat down the lane," Espinoza said. "I think it was tough for him. He ran back-to-back races in different tracks -- and all those fresh horses."
Rosario called his victory bittersweet.
"I'm a little bit upset about California Chrome," he told NBC Sports. "If I was going to get beat, I wanted to just get beat by him."
Belmont Park has been especially unkind to Triple Crown contenders in recent years. Big Brown, a prohibitive favorite in 2008, failed to finish the Belmont, and in 2012 I'll Have Another failed to start, scratched due to an injury.
The daunting Triple Crown challenge squeezes three races into a five-week period, in an era when thoroughbreds normally run no more than once a month.
Adding to the rigor is the course itself: Belmont is a quarter-mile longer than Churchill Downs, home of the Derby, and five-sixteenths longer than Pimlico Race Course, where the Preakness is run.
California Chrome started in the second post position -- the same gate that Secretariat shot out from in 1973 on track to Triple Crown glory and racing immortality.
Tonalist was among the horses considered to be California Chrome's biggest threats, along with Ride on Curlin and Commanding Curve.
The Belmont Stakes prize is about $800,000 to the winner, but in the view of some in the thoroughbred racing community, there was much, much more riding on the outcome. The beleaguered racing industry, battered for decades by gambling competition and changing entertainment tastes, stood to benefit from a Triple Crown.
"If California Chrome wins," Christopher Kay, CEO of the New York Racing Association, said prior to the race, "I think it will bring a whole new generation of fans to this great sport."
It wasn't to be.
The people who know the horse: California Chrome's biggest fans
California Chrome's jockey ready for another shot at Triple Crown
Matt Majendie and CNN's Richard Roth and Laura Dolan contributed to this report.