STORY HIGHLIGHTS
Memorial service celebrates life and work of Maya Angelou
Michelle Obama: "She celebrated black women's beauty like no one had ever dared to"
Oprah Winfrey: "The loss I feel I cannot describe"
Bill Clinton: "God loaned her his voice"
(CNN) -- Poetry, performance and prayer celebrated the voice of literary giant Maya Angelou at a memorial service held Saturday at Wake Forest University in Winston-Salem, North Carolina.
"She taught us that we are each wonderfully made, intricately woven and put on this earth for a purpose," first lady Michelle Obama said during her tribute to the celebrated poet and actress.
Angelou, 86, died at her Winston-Salem home on May 28. Angelou had been "frail" and suffering from heart problems, her literary agent said. Angelou taught American studies for years at Wake Forest.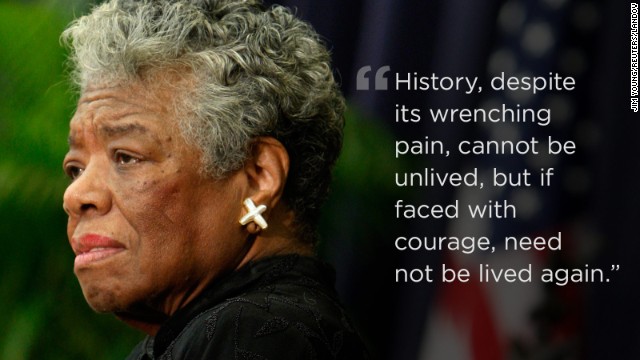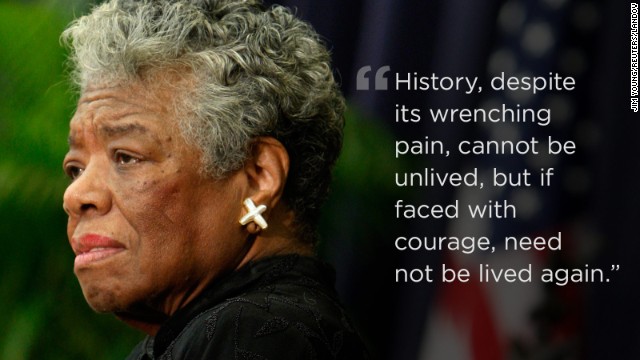 Maya Angelou: In her own words
Obama did not meet Angelou until 2008, while on the campaign trail, but she said Angelou's poem 'Phenomenal Woman' had a profound impact on her life.
"I was struck by how she celebrated black women's beauty like no one had ever dared to," Obama said in the service held at Wait Chapel.
"She also graced us with an anthem for all women, a call to all of us to embrace our God-given beauty. How desperately black girls needed that message," the first lady said, remembering that as a young girl her first doll was a white Malibu Barbie.
She said that Angelou reminded everyone that " We must each find our own voice, decide our own value and then announce it to the world with all the pride and joy that is our birthright as members of the human race."
'Spiritual queen mother'

Oprah tears up remembering Maya Angelou
Oprah Winfrey remembered her friend as the greatest woman she has ever known.
"The loss I feel I cannot describe," Winfrey said, holding back tears. "It's like something I've never felt before. She was my spiritual queen mother and everything that that word implies. She taught me the poetry of courage and respect."
Winfrey recalled meeting Angelou in the late 1970s, when she worked as a news reporter.
"She looked at me and said, 'Who are you girl?'" Winfrey said.
"I will miss her."
'She had the voice of God'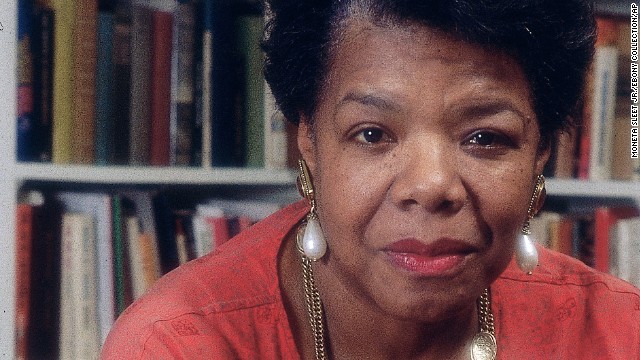 Maya Angelou, a renowned poet, novelist and actress best known for her book "I Know Why the Caged Bird Sings," has died at the age of 86, according to her literary agent, Helen Brann.
Angelou was also a professor, singer and dancer whose work spanned several generations. Here, she dances next to a fire in this promotional portrait taken for the cover of her first album, "Miss Calypso," in 1957.
Angelou poses with her book "I Know Why the Caged Bird Sings" in 1971. It was the first in a series of autobiographical books.
From left, actress Betty Furness, educator Bettye Caldwell, Angelou, singer Kate Smith, first lady Betty Ford, Dr. Annie D. Wauneka and former Olympic diver Micki King pose for a photo during the taping of the television special "Woman of the Year 1976" in New York City.
Angelou acts in a scene from the television miniseries "Roots" in 1977.
Angelou speaks during an interview at her home in 1978.
Angelou poses with U.S. Sen. Ted Kennedy and two other women who received the 1983 Matrix Award from the New York Chapter of Women in Communications. At the far left is Jane Bryant Quinn, contributing editor of Newsweek and Woman's Day. At the far right is Mary McGrory, syndicated columnist for The Washington Post.
Angelou recites her poem "On the Pulse of Morning" at the inauguration of President Bill Clinton in 1993.
Angelou works on the set of "Down in the Delta" in 1998. Angelou directed the film, which starred Alfre Woodard.
Angelou receives an honorary doctorate from Shenandoah University in Winchester, Virginia, in 2008.
Angelou reads a poem during a 2008 ceremony to present South African Archbishop Desmond Tutu with the William J. Fulbright Prize for International Understanding.
Clinton speaks to Angelou on stage at the the 2009 Women of the Year event hosted by Glamour magazine.
Angelou laughs during her 82nd birthday party at her home in Winston-Salem, North Carolina, in 2010.
Angelou and talk show host Oprah Winfrey laugh during the taping of "Surprise Oprah! A Farewell Spectacular" in 2011.
Angelou receives the Medal of Freedom from President Barack Obama at the White House in 2011. The Medal of Freedom is the country's highest civilian honor.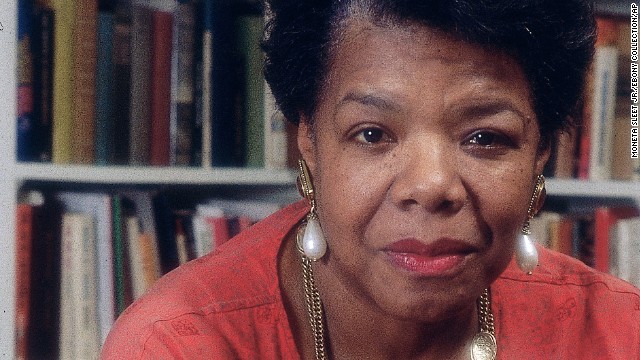 Maya Angelou: Poet, novelist and actress
"I Loved Maya," said former President Bill Clinton during his reflection. He said the two last met in April in Austin during a celebration of of the 50th anniversary of the Civil Rights Act.
Clinton recalled that he hugged Angelou and said, " I cannot believe that you have gotten yourself here." He said she responded, "Just because I'm wheelchair-bound doesn't mean I don't get around."
Clinton became aware of Angelou while in college by reading her book. "I Know Why the Caged Bird Sings," her lasting contribution to literature that bore witness to the brutality of a Jim Crow South.
He said Angelou was always paying attention and used her voice to call attention to the things that really mattered.
"God loaned her his voice. She had the voice of God and he decided he wanted it back from her," Clinton told the audience.
Music and more
Actress Cicely Tyson reflected on a friendship that began in 1960, when both were in a play called "The Blacks," which ran for three years.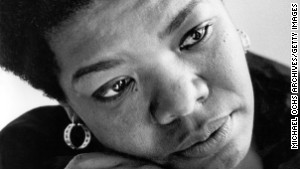 Legendary author Maya Angelou dies
"Every emotion known to man was exhibited by Maya. She held nothing (back). She spoke her mind no matter what the situation," Tyson remembered.
The memorial service also featured singer Lee Ann Womack performing "I Hope You Dance," considered Angelou's favorite song.
At the conclusion of the service Saturday, Angelou's voice once more was heard in a recording of the 1996 Ashford & Simpson song "Been Found."
Maya Angelou remembered by those she inspired
Legendary author Maya Angelou dies at age 86