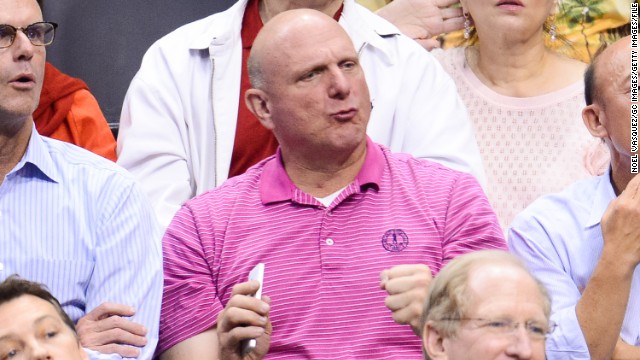 Steve Ballmer, the former CEO of Microsoft, appears set to buy the L.A. Clippers. Ballmer, seen here at a NBA playoff game on April 29, is not one to hide his emotions. Rather, he is known for his exuberant persona at tech events. Here's a look at some of his many mugs:
Here Ballmer responds during an interview at a 2000 tech conference in Florida. If only we knew what the question was.
"Don't ask me again about Windows Vista."
Oh, this is a caption contest waiting to happen. Here Ballmer speaks at the Web. 2.0 Summit in 2011 in San Francisco.
Here Ballmer (pick one: 1. grimaces 2. grins 3. remembers he left the stove on) while talking about Windows 7 during a 2009 appearance in Munich, Germany.
"I'll shout louder so you guys in the back can hear me."
If this Microsoft thing hadn't worked out, Ballmer might have made a fearsome football coach.
"Well, Apple has had some success, sure. And Facebook is big. Don't get me started on Google. ... What was the question again?"
Please don't make Steve Ballmer angry. Just don't.
Ballmer speaks, or perhaps yells excitedly, during the 2013 opening of a Microsoft store in Troy, Michigan.
The many faces of Steve Ballmer
The many faces of Steve Ballmer
The many faces of Steve Ballmer
The many faces of Steve Ballmer
The many faces of Steve Ballmer
The many faces of Steve Ballmer
The many faces of Steve Ballmer
The many faces of Steve Ballmer
The many faces of Steve Ballmer
The many faces of Steve Ballmer