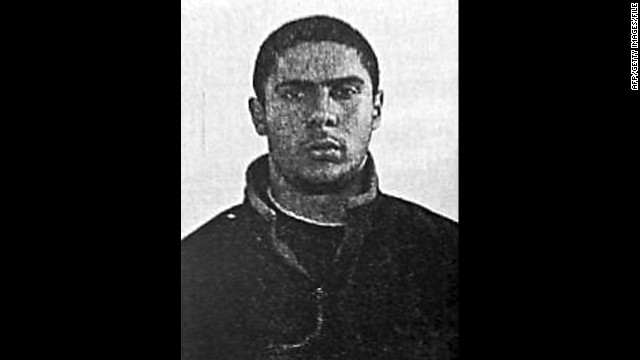 Police have arrested Mehdi Nemmouche, a 29-year-old Frenchman, in Marseille, France, in connection with the shooting deaths of three people on May 24 at the Jewish Museum in Brussels, Belgium, according to Belgian authorities.
Three people were killed and a fourth was critically injured in the May 24 shooting. Here, people pay their respects Sunday, May 25, in front of a makeshift memorial at the entrance of the museum.
A man places a candle in front of the entrance of the museum on May 25.
A man wipes away tears during a vigil in front of the museum on May 25.
A woman lays flowers at the museum entrance on May 25.
Police cordon off the area near the museum after the shootings on Saturday, May 24.
In this hand out photo distributed by the Belgian Federal Police, a surveillance camera shows the suspected killer near the museum on May 24.
The photographs and video released by police show the suspect wearing a cap and blue shirt, carrying two bags over his shoulder. The images do not show his face clearly.
Police and crime scene investigators work at the scene of the shootings on May 24. A person arrived by car at the museum, entered and quickly opened fire before leaving, Belgian Interior Minister Joelle Milquet told CNN affiliate Bel RTL.
Officers and investigators work in an cordoned-off area of the scene on May 24.
Forensic experts examine the shooting site on May 24.
The circumstances of the shooting have raised suspicions that it might have been an anti-Semitic attack, but no motive has been determined.
Investigators work the shooting scene after the museum and its surroundings were sealed off.
Shooting at Jewish Museum of Belgium
Shooting at Jewish Museum of Belgium
Shooting at Jewish Museum of Belgium
Shooting at Jewish Museum of Belgium
Shooting at Jewish Museum of Belgium
Shooting at Jewish Museum of Belgium
Shooting at Jewish Museum of Belgium
Shooting at Jewish Museum of Belgium
Shooting at Jewish Museum of Belgium
Shooting at Jewish Museum of Belgium
Shooting at Jewish Museum of Belgium
Shooting at Jewish Museum of Belgium
Shooting at Jewish Museum of Belgium