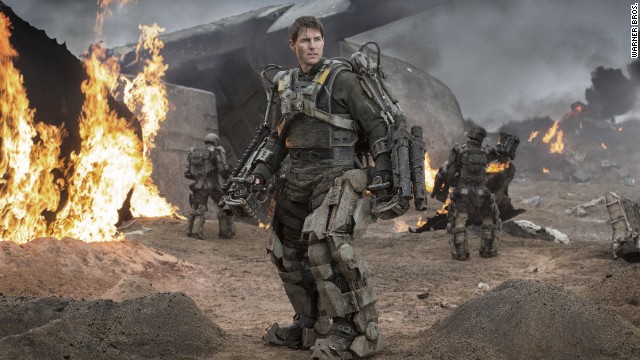 Tom Cruise has been entertaining us at the movies for more than 30 years, and he's still going strong. With his latest release, sci-fi action thriller "Edge of Tomorrow," now in theaters, we take a look back at the actor's time in the limelight:
This scene from 1983's "Risky Business," which features Cruise's Joel Goodson dancing around sans his pants, has been immortalized in Guitar Hero commercials and 1999's "Never Been Kissed."
Cruise's Maverick saved the day and got the girl in 1986's "Top Gun." In real life, the actor married Mimi Rogers in May 1987. They divorced in 1990. Emilio Estevez, Cruise's "Outsiders" co-star, was the best man at their wedding, according to
People.
Cruise starred with Dustin Hoffman in 1988's "Rain Man." The film won four Academy Awards, including best picture.
Jack Nicholson's Col. Nathan R. Jessup told Cruise's Lt. Daniel Kaffee, "You can't handle the truth!" in 1992's "A Few Good Men." The film was nominated for four Academy Awards.
Cruise received a star on the Hollywood Walk of Fame in 1993.
Cruise and Kidman's characters got hot and steamy in 1999's "Eyes Wide Shut."
Cruise dated his "Vanilla Sky" co-star, Penélope Cruz, until 2004.
"The Last Samurai," which hit theaters in December 2003, was nominated for four Academy Awards.
Cruise took young actress Dakota Fanning under his wing for Steven Spielberg's "War of the Worlds" in 2005.
In June 2005, actress Katie Holmes flashed her engagement ring at the London premiere of "War of the Worlds."
Cruise's Les Grossman was such a hit in 2008's "Tropic Thunder," he got back into character for the 2010 MTV Movie Awards.
Cruise greeted fans at the Madrid premiere of "Mission Impossible -- Ghost Protocol" in 2011.
Cruise played rock star Stacee Jaxx in Adam Shankman's Rock of Ages," which hit theaters in June.
Tom Cruise's starring turn as Lee Child's Jack Reacher
Cruise has apparently developed a taste for sci-fi in his later years, as prior to "Edge of Tomorrow" he starred in another futuristic flick called "Oblivion." Playing a veteran who's sent to Earth to extract the planet's remaining resources, Cruise's turn alongside Morgan Freeman was met with a modest reception.
Spotlight on Tom Cruise
'Risky Business' (1983)
'Top Gun' (1986)
'Rain Man' (1988)
'A Few Good Men' (1992)
June 1993
'Eyes Wide Shut' (1999)
August 2001
'The Last Samurai' (2003)
June 2005
June 2005
June 2010
December 2011
'Rock of Ages' (2012)
'Jack Reacher' (2012)
'Oblivion' (2013)
STORY HIGHLIGHTS
Tom Cruise's new sci-fi movie is in theaters
It's been met with largely positive reviews
But it may not hold up well against box office competition
(CNN) -- Tom Cruise's latest movie may be just the "Edge" the actor needs.
Since 2011's "Mission Impossible: Ghost Protocol" -- his last feature to cross the $100 million mark at the domestic box office -- the 51-year-old has had a spotty track record. The 2012 comedy "Rock of Ages" and the 2013 sci-fi drama "Oblivion" were both mildly received by audiences and film critics, while his 2012 outing as Lee Child's imposing Jack Reacher didn't fare much better.
But with Friday's "Edge of Tomorrow," critics are placing their bets on Cruise.
Directed by Doug Liman, "Edge of Tomorrow" stars Cruise as a military PR rep who finds himself thrown into a battle against an alien invasion. Cruise's character swiftly dies, only to find himself in a sort of time loop that causes him to come back to life.
Yet every time Cruise's Maj. William Cage returns to the land of the living, he is acquiring more skills to help him stay alive and potentially reach victory. The person helping him navigate the war zone is Emily Blunt's warrior-like soldier Rita Vrataski.
The plot might sound convoluted -- it's based on the Japanese novel "All You Need Is Kill," and has elicited more than one comparison to "Groundhog Day" -- but the movie has received largely positive reviews.
"Just when you were ready to give up on the summer season and its cookie-cutter, been-there blockbusters, 'Edge of Tomorrow' saves the day," raves the Los Angeles Times. "It's a star-driven mass-market entertainment that's smart, exciting and unexpected while not stinting on genre satisfactions."
Part of the movie's fresh appeal is its casting of Cruise as the guy who doesn't want to dive right into the action. As The New York Times' Manohla Dargis points out, we've become used to seeing Cruise walk on screen fully equipped as the grim action hero, and his "Edge of Tomorrow" role is essentially the antithesis of that.
"(W)atching him glide through the opening of 'Edge of Tomorrow' ... it's hard not to think, 'Where has this guy been?'" Dargis writes. "It's been years since Mr. Cruise felt this light on screen."
Blunt as his co-star is no slouch, either. USA Today calls her Cruise's "action-hero equal," making "Edge of Tomorrow" "better for it" -- and, as a whole, Time's Richard Corliss was impressed.
"A furiously time-looping joy ride, (it's) the smartest action film of the early summer season," Corliss says in his review. "The movie's only static element is its title, which oddly suggests a mashup of TV soap operas."
(Well, unless you count the tedium that can set in from watching Cruise "live, die and repeat" over and over again, as The Hollywood Reporter's Todd McCarthy warns.)
But, as any studio head can tell you, good buzz is just half the battle in building a summer blockbuster. And with heady competition from "The Fault In Our Stars," Variety's Brent Lang is predicting the teen romance will hold back "Edge of Tomorrow" at the box office.
If Cruise doesn't re-emerge as box office king, he can at least rest easy knowing he's won over several critics once again.
"(G)ive Cruise credit," says Entertainment Weekly's Chris Nashawaty. "Not only is he hard-headed enough to get right back on the horse that bucked him, but he manages to show us why he still matters as a movie star."