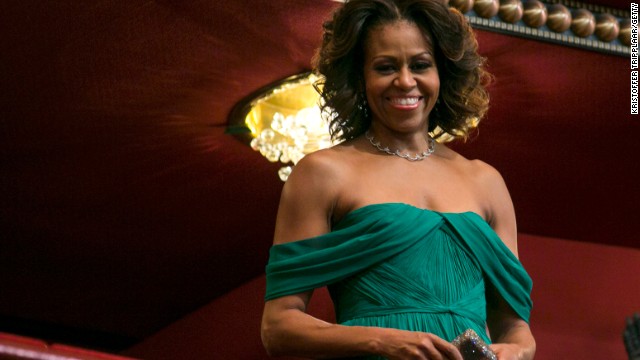 First lady Michelle Obama celebrates her 50th birthday on Friday, January 17. Click through the gallery to see photos from her life.
Obama was born Michelle LaVaughn Robinson in Chicago. Here, she is seen as a baby with her father, Fraser Robinson III; her mother, Marian; and her brother, Craig, in 1964.
Obama attended Bryn Mawr Elementary School in Chicago from 1970-1977.
Obama's 1980 yearbook photo from Whitney Young High School in Chicago. The magnet school was far from her home on the south side of the city, however, and her round-trip commute was three hours.
"I was a pretty serious student," Obama said in a November interview with BET's "106 & Park." "One of the things I wanted to make sure was that I didn't peak in high school. ... So I focused on school. I was really clear that I wanted to go to college. So I needed to have myself together, go to my classes, be on point, be involved in the school."
Obama, seen here in her 1981 yearbook photo, was salutatorian of her high school's senior class.
Obama attends prom in 1982 with her first boyfriend, David Upchurch.
Obama graduated from Princeton University in 1985. She received a bachelor's degree in sociology and minored in African-American studies.
She met Barack Obama when she was assigned to be his mentor at Sidley & Austin, a Chicago law firm. Here, the two pose for a photo in Hawaii in 1989.
The couple married on October 3, 1992.
The Obamas have dinner in 2000 with their first child, Malia. Malia was born on July 4, 1998.
The Obamas are seen in March 2000, when Barack Obama, then an Illinois state senator, was running for the U.S. House of Representatives. He lost the Democratic primary to four-term incumbent Bobby Rush.
The Obamas are seen with daughters Malia and Sasha at Sasha's christening. Sasha was born on June 7, 2001.
The Obamas check in with poll workers in Chicago in November 2004. Barack Obama would go on to win a U.S. Senate seat.
The Obamas celebrate during a victory party in Chicago on November 2, 2004.
Barack Obama gives his wife a playful kiss as they tour the Iowa State Fair in Des Moines, Iowa, in August 2007. Obama was campaigning at the time for the Democratic presidential nomination.
Michelle Obama has breakfast at Pamela's Diner in Pittsburgh in April 2008.
Michelle Obama speaks during the Democratic National Convention on August 25, 2008.
During his inauguration ceremony in Washington, Barack Obama takes the oath of office as his wife holds the Lincoln Bible.
The first lady meets with former South African President Nelson Mandela in June 2011.
Michelle Obama exits a Target department store in Alexandria, Virginia, after doing some shopping in September 2011.
The first lady kisses her husband during an inauguration reception at the National Building Museum in Washington in January 2013.
Michelle Obama, via satellite, announces the Oscar for best picture at the end of the Academy Awards show in February.
Michelle Obama dances with Jimmy Fallon on Fallon's late-night show in February.
Michelle Obama plants the White House Kitchen Garden on the South Lawn of the White House in April. To help her, she invited students from schools "that have made exceptional improvements to school lunches." It was part of the first lady's "Let's Move" campaign, which she launched in 2010 to reduce childhood obesity.
The first lady rides a bike while vacationing in Martha's Vineyard, an island off the coast of Massachusetts, in August.
Michelle Obama dances alongside "Sesame Street" character Rosita at the White House in October, after it was announced that "Sesame Street" characters would promote and market fresh fruit and vegetables by Produce Marketing Association growers, suppliers and retailers. It was part of the first lady's "Let's Move" initiative.
Michelle Obama reacts as Ashtyn Gardner, a 2-year-old from Mobile, Alabama, loses her balance while greeting Sunny, one of the Obamas' dogs, at a White House event in December.
Michelle Obama listens as her husband speaks to members of the U.S. military and their families at a Christmas Day meal in Kaneohe, Hawaii, last month.
Michelle Obama turns 50
Michelle Obama turns 50
Michelle Obama turns 50
Michelle Obama turns 50
Michelle Obama turns 50
Michelle Obama turns 50
Michelle Obama turns 50
Michelle Obama turns 50
Michelle Obama turns 50
Michelle Obama turns 50
Michelle Obama turns 50
Michelle Obama turns 50
Michelle Obama turns 50
Michelle Obama turns 50
Michelle Obama turns 50
Michelle Obama turns 50
Michelle Obama turns 50
Michelle Obama turns 50
Michelle Obama turns 50
Michelle Obama turns 50
Michelle Obama turns 50
Michelle Obama turns 50
Michelle Obama turns 50
Michelle Obama turns 50
Michelle Obama turns 50
Michelle Obama turns 50
Michelle Obama turns 50
Michelle Obama turns 50
Michelle Obama turns 50