STORY HIGHLIGHTS
Martin was in the U.S. 101st Airborne Division, and parachuted into Normandy
He parachutes from a plane again into the same area again, at the age of 93
It didn't compare to his D-Day jump "because there wasn't anybody shooting"
Martin wants to show "you don't have to sit and die just because you get old"
Normandy, France (CNN) -- Jim "Pee Wee" Martin acted like he'd been here before, like jumping from a plane is as easy as falling off a log.
Maybe that's because he had -- 70 years ago.
"I'm feeling fine," Martin told reporters moments after landing in a French field. "... It was wonderful, absolutely wonderful."
Martin was part of the U.S. 101st Airborne Division that parachuted down over Utah Beach in their bid to retake France and, eventually, the rest of Europe from Nazi Germany. They actually touched down in enemy-controlled territory a night before what's referred to as D-Day.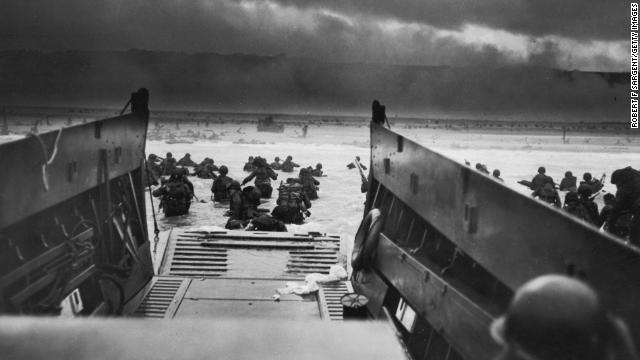 American troops storm the beaches of Normandy, France, on June 6, 1944. D-Day was the largest seaborne invasion in history. More than 150,000 Allied troops -- about half of them Americans -- invaded Western Europe, overwhelming German forces in an operation that proved to be a turning point in World War II.
U.S. troops wait to disembark a landing craft on D-Day.
American troops help their injured comrades after their landing craft was fired upon. Allied forces secured the beaches at a cost of about 10,000 casualties.
French commandos equipped with bicycles disembark from their landing craft after Allied forces stormed the Normandy beaches. Germans rained mortars and artillery down on Allied troops, killing many before they could even get out of their boats. Fighting was especially fierce at Omaha Beach, where Nazi fighters nearly wiped out the first wave of invading forces and left the survivors struggling for cover.
The British Army's 50th Infantry Division lands on beaches in Normandy. This photograph is part of an exhibit in London at the Imperial War Museum.
An aerial view shows 32 intentionally sunk American merchant ships that served as a breakwater as well as anti-aircraft platforms.
Traffic builds up on the beach and on the road leading to Le Hamel, France, during the landing of the 50th Infantry Division.
U.S. troops and vehicles are ready to disembark. D-Day was one of history's most consequential and gut-wrenching battles.
A sign outside of Trinity Church in New York invites worshippers to pray for Allied victory in the D-Day invasion.
Commandos with the Royal Navy's 4th Special Service Brigade advance to Juno Beach at Saint-Aubin-sur-mer.
Lance Cpl. Walter Ray of the British Army shares a bottle of rum he found floating in the sea.
U.S. Gen. Dwight D. Eisenhower, left, supreme commander of the Allied forces, and British Field Marshal Bernard Montgomery, right, discuss plans at an undisclosed location in June 1944. The Allies went to elaborate lengths to maintain secrecy and mislead Adolf Hitler. They employed double agents and used decoy tanks and phony bases in England to hide actual troop movements.
Eisenhower gives the order of the day to paratroopers in England. "Full victory -- nothing else" was the command just before they boarded their planes to participate in the first wave. The invasion -- code-named Operation Overlord -- had been brewing for more than two years.
British troops pose for a photograph with a French woman in La Breche d'Hermanville.
U.S. troops huddle behind the protective front of their landing craft as it nears a beachhead. Smoke in the background is naval gunfire, giving cover to troops on land.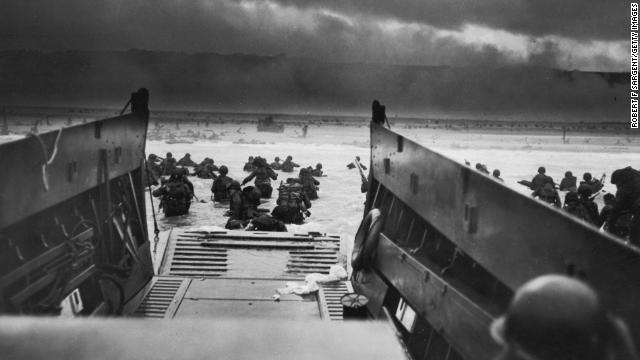 Photos: The Allied invasion of Normandy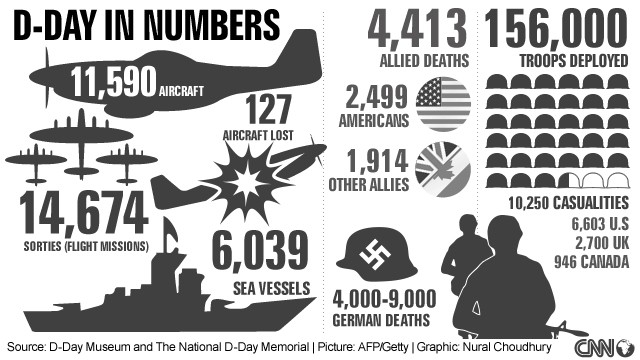 D-Day by the numbers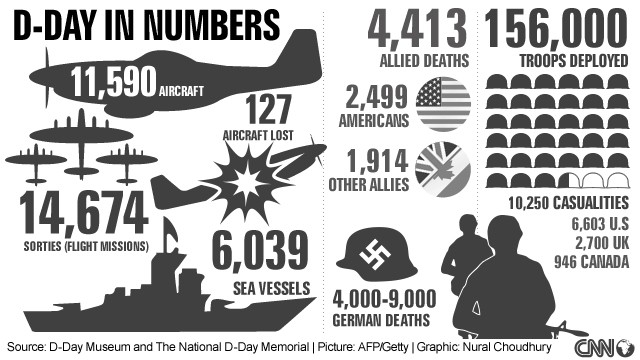 D-Day by the numbers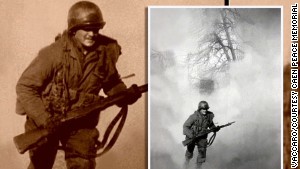 Viewing WWII through a soldier's lens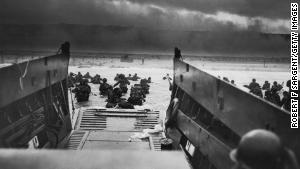 Vet recalls 'Saving Private Ryan' battle
His jump Thursday in the same area was different and -- despite his being 93 years old now -- a whole lot easier.
"It didn't (compare)," Martin said, "because there wasn't anybody shooting at me today."
Every year, every day it seems, the number of surviving World War II veterans like Martin dwindles. He estimates there are only a few dozen members of his unit who took part in the now historic D-Day invasion who are still around.
Share your family's D-Day stories
It's ironic, in a sense, because Martin was among the oldest of his bunch in June 1944 -- at 23 years old -- surrounded by others who were mere teenagers.
Together, they parachuted onto France's northern coast in the dark of night not knowing what awaited them. Whatever it was, it would not be friendly or easy, they expected.
"Everybody (was) scared all the time, and if they tell you anything differently they are full of crap," the former paratrooper recalled. "But you just do what you had to do regardless of it. That's the difference."
And they didn't stop. According to a Facebook page he regularly updates, Martin fought for 43 days as part of the Normandy campaign before moving onto invade Holland, fending off Nazi fighters during the Battle of the Bulge and finishing off by taking Berchtesgaden, site of Hitler's "Eagle's Nest" redoubt in the German Alps.
None of it was easy, but Martin insists, "I don't ever have flashbacks. Never. Nothing ever bothered me."
All these years later, he has become a celebrity of sorts -- as evidenced by a mob of reporters who greeted him after his parachute landing Thursday. Martin says he feels "kind of humbled and embarrassed at the adulation because I don't feel we did anything that we weren't supposed to do or anything exceptional."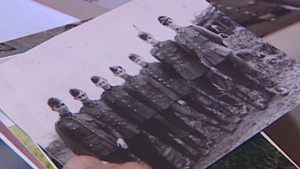 German soldier reflects on Normandy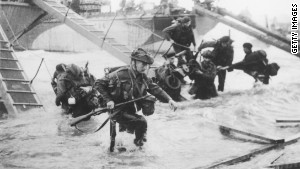 D-Day: By the numbers
He adds: "We just did what we trained to do."
Seven decades later, Martin did it again -- not fighting a bloody war but at least reliving his role in a military campaign that changed the course of history. Others joined him in this now daytime jump, though he was the only one from his generation.
This time, he said that he wasn't scared because, "once you get in the plane, you forget everything." Bored would be more like it.
As he told reporters afterward, "To tell you the truth, riding around in the plane is boring. It's when you get off the plane, that's when it gets exciting ... But there's no fear to it. It's just something you do."
Martin admitted that he was motivated by "a little bit of ego, (to show that) I'm 93 and I can still do it."
"And also I just want to show all the people that you don't have to sit and die just because you get old," he added. "Keep doing things."
Among those things he'd like to do is another jump in the same plane, one year from now.
"If I come back next year, I'll make a jump next year. You can bet on it."
READ: D-Day: Exploding the myths of the Normandy landings
READ: Obama: D-Day vets' stories should remain 'seared into memory'
CNN's Jim Bittermann reported from Normandy, and CNN's Greg Botelho wrote from Atlanta.