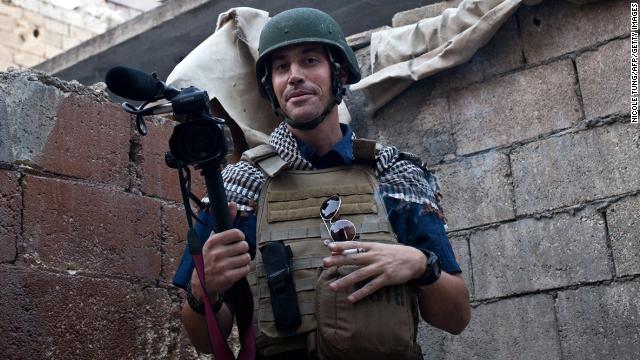 Freelance reporter
James Foley
went missing in November 2012 after his car was stopped by gunmen in Syria. A
video released by ISIS
on Tuesday, August 19, shows Foley being beheaded. The video posted on YouTube contained a message to the United States to end its military operations in Iraq.
Alan Gross
, at right with Rabbi Arthur Schneier, has been in Cuban custody since December 2009, when he was jailed while working as a subcontractor. Cuban authorities say Gross tried to set up illegal Internet connections on the island. Gross says he was just trying to help connect the Jewish community to the Internet. Former President Jimmy Carter and New Mexico Gov. Bill Richardson have both traveled to Cuba on Gross' behalf, but they were
unable to secure his release.
Jeffrey Edward Fowle, a U.S. citizen it says entered the country as a tourist on April 29 and broke the law. Citing unidentified diplomatic sources, the Japanese news agency Kyodo reported that Fowle was part of a tour group and that he was detained in mid-May after allegedly leaving a Bible in a hotel where he had been staying.
North Korea announced Friday, June 6, that it has detained
Sgt. Bowe Bergdahl, who had been held by insurgents in Afghanistan since 2009. The White House announced Bergdahl's release on May 31.
This undated image provided by the U.S. Army shows
Amir Hekmati, a former U.S. Marine charged with spying. But he was secretly retried in Iran and convicted of "practical collaboration with the U.S. government," his sister told CNN on April 11. He has been sentenced to 10 years in prison, she said. Hekmati was detained in August 2011 during a visit to see his grandmother. His family and the Obama administration deny accusations he was spying for the CIA.
An Iranian court threw out a 2011 death sentence for
Kenneth Bae
, a U.S. citizen, to 15 years of hard labor for committing "hostile acts" against the state. Those alleged acts were not detailed by the country's state-run news agency when it
announced the sentence
in May. Bae, here in a photo from a Facebook page titled Remember Ken Bae, was arrested in November 2012. "This was somebody who was a tour operator, who has been there in the past and has a visa to go to the North," a senior U.S. official told CNN.
A North Korean court sentenced
Robert Levinson
has been missing since 2007
. His family says he was working as a private investigator in Iran when he disappeared, and multiple reports suggest Levinson may have been working for the CIA. His family told CNN in January that they have long known that Levinson worked for the CIA, and they said it's time for the government to lay out the facts about Levinson's case. U.S. officials have consistently denied publicly that Levinson was working for the government, but they have repeatedly insisted that finding him and bringing him home is a "top" priority.
Retired FBI agent
Warren Weinstein
, a contractor held by al Qaeda militants, is a U.S. citizen who has been
held hostage in Pakistan
since August 2011.
Merrill Newman
arrives at the Beijing airport Saturday, December 7, after being released by North Korea. Newman was
detained October 26 by North Korean authorities
just minutes before he was to depart the country after visiting through an organized tour. His son Jeff Newman says the Palo Alto, California, man had all the proper paperwork and set up his trip through a North Korean-approved travel agency.
U.S. tourist and Korean War veteran
Yanira Maldonado, a U.S. citizen, right, in May 2013, for alleged drug possession. She and her husband, Gary, were traveling from Mexico back to the United States when their bus was stopped and searched. She was released a few days later and is now back in the United States.
Mexican authorities arrested
Saeed Abedini
, a 33-year-old U.S. citizen of Iranian birth, was
sentenced to eight years in prison
in January 2013, accused of attempting to undermine the Iranian government and endangering national security by establishing home churches.
Laura Ling
, center, and
Euna Lee
, to her right, spent 140 days in captivity after being charged with illegal entry to conduct a smear campaign. They were
freed in 2009
after a trip by former President Bill Clinton.
North Korea has arrested Americans before, only to release them after a visit by a prominent dignitary. Journalists
negotiated the release
of
Aijalon Gomes
, who was detained in 2010 after crossing into North Korea illegally from China. Analysts say high-level visits give Pyongyang a propaganda boost and a way to save face when it releases a prisoner.
Former President Jimmy Carter
Eddie Yong Su Jun
was released by North Korea a month after he was detained in April 2011. His alleged crime was not provided to the media. The American delegation that
secured his freedom
included Robert King, the U.S. special envoy for North Korean human rights issues.
Robert Park
was released by North Korea in 2010 without any apparent U.S. intervention. The Christian missionary crossed into North Korea from China, carrying a letter asking Kim Jong Il to free political prisoners and resign. North Korea's state-run news agency said
Park was released
after an "admission and sincere repentance of his wrongdoings." Here, Park holds a photo of Kim and a malnourished child during a protest in Seoul.
Josh Fattal
, center,
Sarah Shourd
, left, and
Shane Bauer
were detained by Iran while hiking near the Iraq-Iran border in July 2009. Iran charged them with illegal entry and espionage. Shourd was released on bail for medical reasons in September 2010; she never returned to face her charges. Bauer and Fattal were convicted in August 2011, but the next month they were
released on bail
and had their sentences commuted.
Haleh Esfandiari
, an Iranian-American scholar, was also detained at Evin Prison, spending months in solitary confinement before
Iran released her on bail
in August 2007. Esfandiari was visiting her ailing mother in Tehran when she was arrested and charged with harming Iran's national security.
Robert Becker
, right,
chose to stay
and stand trial.
Sixteen Americans were among the dozens arrested in December 2011 when Egypt raided the offices of 10 nongovernmental organizations that it said received illegal foreign financing and were operating without a public license. Many of the employees posted bail and left the country after a travel ban was lifted a few months later.
Timothy Tracy
was arrested in Venezuela
in April on allegations of funding opponents of newly elected President Nicolas Maduro, successor to the late Hugo Chavez. Tracy went to Venezuela to make a documentary about the political division gripping the country. He was released in June.
Filmmaker
Americans detained abroad
Americans detained abroad
Americans detained abroad
Americans detained abroad
Americans detained abroad
Americans detained abroad
Americans detained abroad
Americans detained abroad
Americans detained abroad
Americans detained abroad
Americans detained abroad
Americans detained abroad
Americans detained abroad
Americans detained abroad
Americans detained abroad
Americans detained abroad
Americans detained abroad
Americans detained abroad
Americans detained abroad
STORY HIGHLIGHTS
U.S. Army Sgt. Bowe Bergdahl was released last weekend by the Taliban
His case has drawn attention to other Americans held in the region
Bob Levinson disappeared after to traveling to an Iranian island in 2007
Other Americans are being held in Afghanistan and Pakistan
(CNN) -- The recent release of U.S. Army Sgt. Bowe Bergdahl by the Taliban in Afghanistan has refocused attention on some of the other Americans held captive in that region.
Bergdahl spent five years in the hands of the Taliban before the U.S. government reached an agreement for a prisoner swap with his captors stirring debate in the United States about the terms of the deal and circumstances surrounding his capture.
Although Bergdahl was the only American soldier in captivity, other U.S. citizens are being held in the region.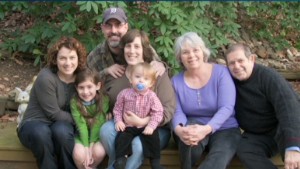 Family of captive fear Bergdahl backlash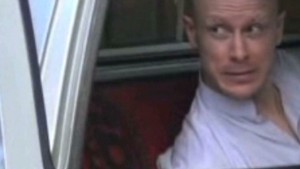 Is there a message in the Bergdahl video?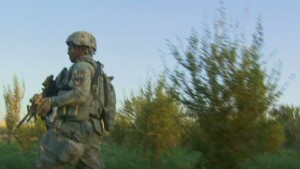 Is Bergdahl responsible for soldiers' deaths?
The longest detention is that of former FBI agent Bob Levinson, who went missing after traveling to an Iranian island more than seven years ago. His family says he was working for the CIA at the time.
Republican Congressman Duncan Hunter wrote to President Barack Obama this week to ask why three other Americans he said were being held by Taliban-linked militants were not part of the deal that freed Bergdahl.
Here are several of the most high-profile cases:
Bob Levinson
In March, Levinson, 66, passed a grim milestone, becoming the longest held hostage American in history.
He vanished after traveling to the Iranian island of Kish in March 2007. The FBI says he was there as a private investigator.
But news reports late last year said he was working as an independent CIA contractor when he disappeared.
That prompted his family to speak out, saying they kept it quiet for years that Levinson was working for the CIA, because the U.S. government had warned them that revealing it would put him in more jeopardy.
The FBI, White House and CIA have not publicly acknowledged any connection between the CIA and Levinson.
It's unclear who exactly is holding him or what his condition is. The family received a video in 2010 in which Levinson said he had been treated well but needed the help of the U.S. government "to answer the requests of the group that has held me for three-and-a-half years."
American officials have said they believe Levinson, who has diabetes and high blood pressure, is being held somewhere in southwest Asia.
In March, Secretary of State John Kerry said the U.S. government "remains committed to the safe return of Mr. Levinson to his family."
He asked the Iranian government to "work cooperatively with us" on the investigation, Kerry said.
But Iran has repeatedly said it isn't holding Levinson and doesn't know his whereabouts. During an interview in September with CNN's Christiane Amanpour, Iranian President Hassan Rouhani was asked what he could tell Levinson's family.
"We don't know where he is, who he is," Rouhani said. "He is an American who has disappeared. We have no news of him."
In January, Iranian Foreign Minister Mohammad Javad Zarif tolds CNN's Jim Sciutto that he hadn't seen "anything that could prove" that Levinson was ever in Iran. If he was, Zarif said, the United States should explain "what a CIA operative was doing" there.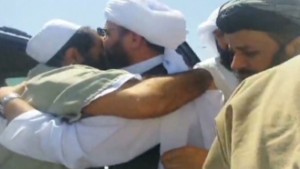 What's next for the freed Taliban detainees?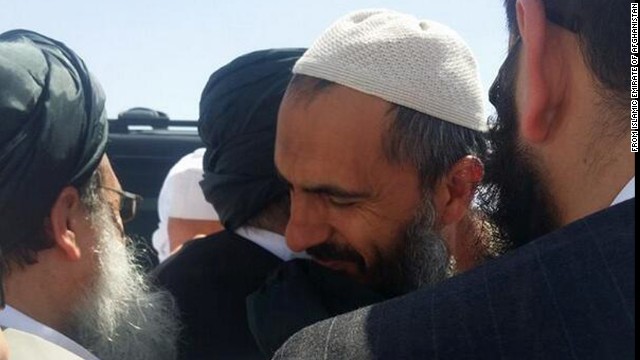 CNN has obtained photos from the purported Twitter account of Taliban spokesman Zabihullah Mujahid. The photos purportedly show the arrival of the Guantanamo detainees arriving in Doha, Qatar, after being released in exchange for U.S. Army Sgt. Bowe Bergdahl. This image allegedly shows Mullah Norullah Noori.
The Twitter account says that this photo is of Khair Ulla Said Wali Khairkhwa.
According to the Twitter account, this is Mullah Mohammad Fazl arriving in Qatar.
Mullah Norullah Noori and Abdul Haq Wasiq can be seen in this photo, according to the Twitter account.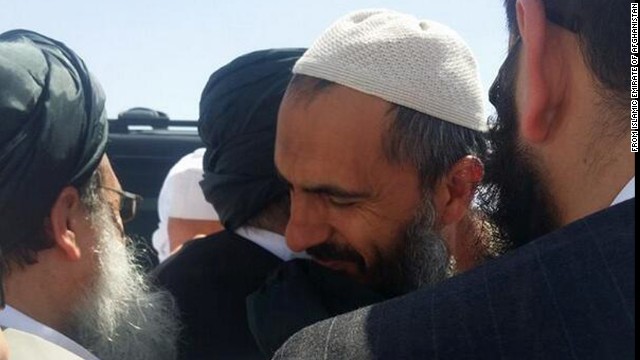 Photos: Released Guantanamo Taliban detainees arrive in Qatar
Warren Weinstein
Gunmen abducted Weinstein nearly three years ago from his home in Lahore, Pakistan. They posed as neighbors, offered food and then pistol-whipped the American aid worker and tied up his guards.
The 72-year-old is being held by al Qaeda, which released a video of Weinstein at Christmas, showing him looking tired and pale.
"Nine years ago, I came to Pakistan to help my government and I did so at a time when most Americans would not come here," he said. "And now, when I need my government, it seems I have been totally abandoned and forgotten."
His daughter, Alisa, says she's worried about his health: he has a heart condition and severe asthma.
She told CNN's "AC360" on Wednesday that the release of Bergdahl raised her hopes that her father could be next.
For years, when Warren Weinstein's case came up, U.S. officials called for his release but repeatedly said Washington wouldn't bargain with al Qaeda. Now, Alisa Weinstein says it's clear that negotiating is an option.
But she also said she's worried that the political backlash over Bergdahl's case could harm her father's cause.
"We started to realize that the administration is going to be a lot less likely to do this again if it causes some political problems for them," she said. "So does that mean that the door is closed for us?"
Weinstein was employed by J.E. Austin Associates Inc., a U.S. consulting firm based in Arlington, Virginia, that is a USAID contractor. He is a world-renowned development expert, according to the company's website.
"My father is just as deserving of freedom as Sgt. Bergdahl, as are all of the Americans who are being held abroad," his daughter said.
Caitlin Coleman
In October 2012, Coleman and her husband, Joshua Boyle, disappeared in Afghanistan.
In his last contact, Boyle, a Canadian, said they were in an "unsafe" part of the war-torn country.
Coleman's family received two videos last year in which the couple asked to be freed from the Taliban captors. The family gave the videos to The Associated Press.
In the videos, Coleman is nine-months pregnant and makes a direct plea to "my President Barack Obama for help."
"I would ask that my family and my government do everything they can to bring my husband, child and I to safety and freedom," she says.
Her family had already a posted video of their own on YouTube two months after she and Boyle disappeared, appealing for their safe return. They said they were concerned about her health and fearful for her unborn child.
"As parents and soon-to-be grandparents, we appeal to whomever is caring for her to show compassion and allow Catie, Josh, and our unborn grandbaby to come home," her father said.
Boyle's former wife, Zaynab, is the sister of Omar Khadr, a former Guantanamo detainee who allegedly received training from al Qaeda. Their father, Ahmed Said Khadr, was a senior al Qaeda leader with connections to Osama Bin Laden.
Less than two weeks after Khadr was released from Guantanamo and sent back to Canada, Boyle and Coleman went missing.
The videos Coleman's family received offer the only clue about what may have happened to the couple, but provide little proof they were indeed kidnapped. No demands for ransom have been made.
State Department officials say they are aware of the video and of the disappearance of the couple and are in touch with the family. But they say they can't say more because of privacy laws.
A spokesman for the Canadian Foreign Ministry says that the government is aware that Boyle and Coleman have been kidnapped in Afghanistan and is in contact with the Afghans about the case.
The six soldiers at center of Bergdahl debate
CNN's Randi Kaye, Elise Labott and Catherine E. Shoichet contributed to this report.